They could be your neighbor or your brother or sister-in-law.
They could be your cousin or your aunt or uncle.
They could be the person you are waiting behind while dropping your children off at school. Or, you could be in front of them in the check-out line at the local grocery store. Or, the person sitting next to you in the waiting room at the dentist's office.
They are teachers and organizers and they are standard bearers for a very important industry in Northeast Ohio.
They are members of the Northern Ohio Section of the Professional Golfers Association of America, known as "club professionals" in many circles.

The mission of the Northern Ohio PGA is to promote interest and enjoyment in the game while enhancing the well-being of its members.
The NOPGA, with headquarters in Warrensville Heights, will accomplish this by enhancing the skills of its professionals and the opportunities for amateurs, employers, manufacturers, employees, and the general public. In so doing, the Northern Ohio PGA will elevate the standards of the professional golfer's vocation, enhance the economic well-being of the individual member, stimulate interest in the game of golf, and promote the overall vitality of the game.
The PGA of America is one of the world's largest sports organizations, composed of PGA Professionals who work daily to grow interest and participation in the game of golf. PGA Professionals pursue a variety of exciting careers within the golf industry including golf operations, teaching and coaching and executive management.
Its members also are competitors and when they compete it is not much different than watching Rory McIlroy or Phil Mickelson or Justin Thomas. They intensity is there. The focus is there. The sportsmanship and etiquette is there as well.
Beginning in late April the Northern Ohio Section will begin conducting its annual series of weekly tournaments, much like the PGA Tour. And, like the PGA Tour, the Section has events it refers to as "majors."
Here is a look at those three tournaments:
THE 99th OHIO OPEN CHAMPIONSHIP
Weymouth and Fox Meadow Country Clubs, June 29-July 1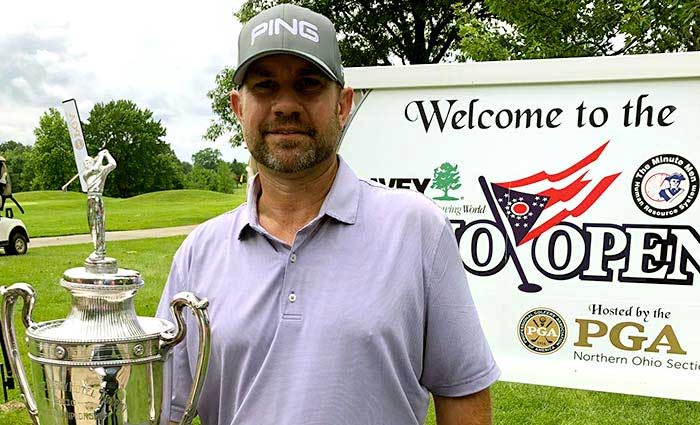 It is the grandest of the NOPGA's calendar of events, won by such icons as Jack Nicklaus, Byron Nelson, Herman Keiser, Frank Stranahan, Denny Shute, Billy Burke and Bob Shave Jr.
Think of it as the U.S. Open for Ohio residents.
The 72-hole event with a cut to the Top 50 scores and ties after 36 holes, is open to any Ohio resident, professional or amateur, as long as they have a handicap of 4.0 or lower. Approximately 200 players compete every year.
For the fourth year in a row and for the sixth time since 2011 the Open will be played at Weymouth Country Club and Fox Meadow Country Club, ideally located a few miles apart in Medina County.
Pyramid Treating, Mark Vaughn, Minute Men HR and Meritech, Inc. are the gracious sponsors.
Delaware's Stephen Gangluff has an opportunity to join an elite group as a three-time winner following his come-from-behind playoff win last year and his one-stroke, wire-to-wire victory in 2018.
Another victory would make Gangluff, 44, the 10th three-time winner, joining Al Espinosa (1932, 1933, 1936), Nelson (1940, 1941 and 1942), Stranahan (1948, 1960 and 1961), Shave Jr. (1958, 1962 and 1963), Bob Wynn (1970, 1971 and 1972), Rob Moss (1999, 2001 and 2005) and Bob Sowards (2002, 2004 and 2010).
Shute and Burke remain the only 4-time winners.
Shute, who would go on to win three major championships and join the World Golf Hall of Fame in 2008, won in 1930, 1931, 1932 and then returned to win again in 1950.
Burke, who had won the U.S. Open in 1931 and was a two-time Ryder Cup member, won in 1938, 1939, 1945 and 1955.
THE 35TH OHIO SENIOR OPEN CHAMPIONSHIP
Firestone Country Club West Course, May 27-28

Don't let their age fool you. These guys can still play.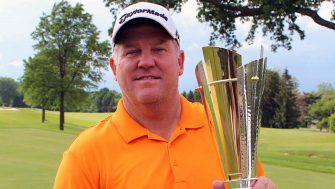 Don't think so? Then, how does one explain Dublin's Bob Sowards knocking eight strokes off par over 36 holes to win last year with rounds of 69-63? The 51-year-old, a three-time winner of the Ohio Open, came from behind in his Senior Open debut and did not make a bogey on the final day until the final hole.
Clevelander Walt Roberston and Silver Lake's Jim Durr both went under par in the final round last year before Robertson won his second Super Seniors title by making a 15-foot birdie putt on the first playoff hole.
Is golf great, or what? Indeed, it is a game for all ages.
The seniors return to the challenging West Course at Firestone Country Club in late May for the most prestigious senior event in Ohio, sponsored by Michelob Ultra (House of LaRose) and 1-888-OhioComp (Minute Men Human Resource System).
The event, which annually draws approximately 100 entrants who carry handicaps of 8.0 or lower, has had several multiple winners. Most are well known names in Ohio golf, such as four-time champion Gary Robison and Jim Logue, who owns the distinction of being a three-time winner in the Main Division and a three-time Super Seniors champ.
Gary Trivisonno, who won the Main Division in 2008 and 2011 and was the 1979 Ohio Open champion, will compete in the Super Seniors (players 60-and-over) in 2020.
THE 90TH HABITEC TOLEDO OPEN
Belmont Country Club, September 14-15

Along with the Ohio Open, and of course The Memorial, the Toledo Open owns a rightful place on Ohio golf prestige meter.
Its list of former champions includes Byron Nelson, Frank Stranahan, former PGA Tour player and current Kent State head coach Jon Mills and current PGA Tour player Ryan Armour.
The all-time king, however, remains Toledo's own Val Chiaverni, who won six times from 1939 to 1953.
The event moves to Belmont Country Club this fall and will be contested over 36 holes. Unlike the Ohio Open, there is no residency requirement. It is open to all professionals and amateurs with handicaps of 4.0 or lower. Like the Ohio Open, there is a Senior Division for players 50-and-over.
Non-Ohioans have won the last two years as Beau Breault (Howell, MI) and Kyle Rhodes (Plymouth, MI) prevailed in the Regular Division, with Breault defeating Kentuckian Ashton Van Horne in a one-hole playoff last year. Breault, a former Mid-American Conference Golfer of the Year out of Eastern Michigan, birdied his 36th hole to force the playoff.
2020 NOPGA Tournament Schedule [PDF] >
Apr 20-21
Pro-Pro Premier
Firestone CC – North Akron, OH
Firestone CC – South Akron, OH
Apr 27
Pro-Pro Scramble
Shady Hollow
Massillon, OH
May 4
Holden Pro-Pro Shootout
Glenmoor North Canton, OH
May 11
Pro-Pro & Team Match Play Qualifier
Firestone CC – South Akron, OH
May 11 – Oct 29
Season Long Team Match Play
TBD
May 18
Stableford Stroke Play Series #1
Elyria CC Elyria, OH
May 26
Pro-Assistants
Barrington Aurora, OH
May 27-28
35th Ohio Senior Open
Firestone CC – West Akron, OH
Jun 1
Associate Stableford #2
Kirtland Willoughby, OH
Jun 1
Stroke Play Series #2
Kirtland Willoughby, OH
Jun 15
Pro-1 Am Scratch
Mayfield SRC – Mayfield S. Euclid, OH
Jun 22
Stroke Play Series #3
Congress Lake Hartville, OH
Jun 24
Smuckers Foundation Pro-3 Am
Firestone CC – North Akron, OH
Jun 28
Pyramid Treating Ohio Open Pro-Am
Fox Meadow Country Medina, OH
Jun 29 – Jul 1
99th Pyramid Treating Ohio Open Championship
Weymouth Club Medina, OH
Fox Meadow Country Club Medina, OH
Jul 6
Associate Stableford #3
Westwood CC Rocky River, OH
Jul 6
Stroke Play Series #4
Westwood Rocky River, OH
Jul 13
Stroke Play Series #5
Youngstown CC Youngstown, OH
Jul 24
Janice Moodie Pro-3 Lady
Avon Oaks CC Avon, OH
Jul 26
Pro-3 Junior
Firestone CC – West Akron, OH
Jul 27
RC Miller Pro-Pro-Am-Am
Alliance CC Alliance, OH
Aug 10
Associate Stableford #4
Westbrook CC Mansfield, OH
Aug 10
Stroke Play Series #6
Westbrook CC Mansfield, OH
Aug 17
Stroke Play Series #7
The Pepper Pike Club Pepper Pike, OH
Aug 19-20
Northern Ohio Senior PGA Professional Championship
Brookside CC Canton, OH
Aug 24-26
NOPGA Professional Championship
Beechmont CC Cleveland, OH
Aug 31
Pro-Pro
Oberlin CC Oberlin, OH
Sep 1
Pro-Official
Lakewood CC Westlake, OH
Sep 8
Assistants Championship
Club Walden Aurora, OH
Sep 14-15
90th Habitec Toledo Open
Belmont CC Perrysburg, OH
Sep 21-22
Mitchell-Haskell Tour Championship
The Country Club Pepper Pike, OH
Sep 24-25
15th East-West Assistants Cup
Mayfield SRC – Sand Ridge Chardon, OH
Sep 29
Shoot-Out at Shaker
Shaker Heights CC Shaker Heights, OH
Oct 1
Pro-Super
Mayfield SRC – Sand Ridge Chardon, OH
Oct 6-7
The 24th Ohio Cup Matches
Firestone CC – South Akron, OH
Oct 12
Fall Pro-Pro
Westfield CC – South Westfield Center, OH
Oct 19-21
Denny Shute Match Play Championship
Portage CC Akron, OH
Nov 8-11
21st Las Vegas Pro-Am
Four Courses, Las Vegas NV