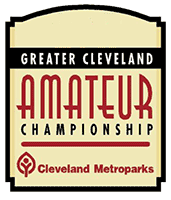 Nick Latimer of Brooklyn closed out a record-setting performance at the 2009 Greater Cleveland Amateur Golf Championship at Sleepy Hollow, shooting an even-par 71 final round on Sunday for a 54-hole total of 9-under par.
Latimer birdied three of the first four holes Sunday, eliminating any doubt as to whether or not another player might mount a final round charge. A double-bogey at 12 was the only real misstep over the course of three days, but an off-setting birdie and bogey over the final six holes locked up the lop-sided victory.
Defending champion Kyle Cobb of Strongsville posted a solid 71 on Sunday and an even par 213 over the 54 holes to finish second to Latimer.
A special thanks and congratulations to John Fiander, Mike Raby and all of the Cleveland Metroparks golf professionals. The course championships and the Cleveland Amateur have become one of the top golf events in Northeast Ohio each summer, and the level of play in the last few stagings reflects the quality of the event management. Also congratulations to Sleepy Hollow's grounds staff for the fine conditions over the weekend.
SKINS GAME: $86 ea for Scott Heran (birdie #6), Brad Stevens (birdie #8), Dave Sotka (birdie #9), Kory Oslie (birdie #11), Matt Heestand (birdie #15) and John Iosue (birdie #18).
FINAL RESULTS, 2009 CLEVELAND AMATEUR CHAMPIONSHIP
Sleepy Hollow Golf Course, Brecksville, Ohio – August 7 – 9, 2009
| | | | | | |
| --- | --- | --- | --- | --- | --- |
| Pos | Player | Rd 1 | Rd 2 | Rd 3 | Total |
| 1 | Nick Latimer | 66 | 67 | 71 | 204 |
| 2 | Kyle Cobb | 74 | 68 | 71 | 213 |
| 3 | Matt Heestand | 74 | 67 | 75 | 216 |
| 4 | A.J. Borisa | 69 | 73 | 75 | 217 |
| 4 | Mike Grasso | 73 | 74 | 70 | 217 |
| 4 | Steve Blackburn Jr. | 70 | 76 | 71 | 217 |
| 7 | Brian Smith | 73 | 71 | 75 | 219 |
| 7 | Monty Guest | 71 | 73 | 75 | 219 |
| 9 | Zach Glassman | 75 | 70 | 75 | 220 |
| 9 | Doug Barber | 69 | 71 | 80 | 220 |
| 9 | Norton Brick | 75 | 73 | 72 | 220 |
| 9 | Dan Metzendorf | 71 | 75 | 74 | 220 |
| 13 | Brad Steven | 72 | 76 | 73 | 221 |
| 14 | David Griffith | 73 | 71 | 78 | 222 |
| 14 | Chris Okeson | 74 | 72 | 76 | 222 |
| 16 | Andrew Bailey | 75 | 71 | 77 | 223 |
| 16 | Billy Barbour | 70 | 77 | 76 | 223 |
| 18 | David Sotka | 74 | 73 | 77 | 224 |
| 18 | Ryan Stefanski | 72 | 74 | 78 | 224 |
| 20 | John Furlong | 74 | 74 | 77 | 225 |
| 20 | Kyle Jastromb | 76 | 74 | 75 | 225 |
| 22 | Jim Schaefer | 74 | 72 | 80 | 226 |
| 22 | Scott Heran | 78 | 72 | 76 | 226 |
| 24 | Joe Zucker | 79 | 74 | 74 | 227 |
| 24 | Pete Skirpstas | 68 | 81 | 78 | 227 |
| 26 | Johnathan Riemer | 79 | 72 | 77 | 228 |
| 26 | Andrew Jendre | 76 | 76 | 76 | 228 |
| 26 | Allen Freeman | 71 | 77 | 80 | 228 |
| 29 | Anthony Yacovazzi | 75 | 76 | 78 | 229 |
| 30 | Pat Elber | 71 | 77 | 82 | 230 |
| 31 | Phil Latsko | 75 | 74 | 82 | 231 |
| 31 | Mark Borlin | 75 | 75 | 81 | 231 |
| 31 | Mark Belasic | 74 | 76 | 81 | 231 |
| 31 | Kory Oslie | 73 | 78 | 80 | 231 |
| 31 | John Iosue | 74 | 79 | 78 | 231 |
| 31 | Michael Mintz | 74 | 79 | 78 | 231 |
| 37 | Dan Predovic | 74 | 75 | 83 | 232 |
| 37 | Steve Bedell | 76 | 77 | 79 | 232 |
| 39 | Larry Russell | 75 | 77 | 83 | 235 |
| 39 | Robert Button | 72 | 79 | 84 | 235 |
| 41 | David Wein | 76 | 76 | 85 | 237 |
| | | | | | . |
| | MISSED CUT | | | | |
| | Mark Foss | 75 | 79 | | 154 |
| | Scott Saari | 74 | 80 | | 154 |
| | George Martin | 79 | 76 | | 155 |
| | Eric Coven | 78 | 77 | | 155 |
| | Steve Blackburn Sr. | 78 | 77 | | 155 |
| | Tom Alshouse | 77 | 78 | | 155 |
| | Tony Briggs | 83 | 73 | | 156 |
| | Drew Thompson | 77 | 79 | | 156 |
| | Sam Core | 76 | 80 | | 156 |
| | Kevin Richardson | 82 | 75 | | 157 |
| | Bill Schaefer | 78 | 80 | | 158 |
| | Joseph Yezbak | 78 | 80 | | 158 |
| | Chet DeLong | 77 | 81 | | 158 |
| | Paul Woznicki | 76 | 82 | | 158 |
| | Mike Kemble | 80 | 79 | | 159 |
| | Daniel Grincewicz | 78 | 81 | | 159 |
| | Derek Duda | 80 | 80 | | 160 |
| | Mark Ciccarello | 80 | 80 | | 160 |
| | Brian Harpster | 77 | 83 | | 160 |
| | Eric Fritz | 77 | 83 | | 160 |
| | Joe Ribelli | 79 | 82 | | 161 |
| | Jerry Miller | 78 | 83 | | 161 |
| | Greg Sowa | 77 | 84 | | 161 |
| | Mark Ronan | 83 | 79 | | 162 |
| | Jack Elber | 82 | 80 | | 162 |
| | Joe Zabukovec | 78 | 84 | | 162 |
| | Joe Osterfeld | 77 | 86 | | 163 |
| | Jim Zebris | 82 | 82 | | 164 |
| | Craig Gabel | 85 | 80 | | 165 |
| | Bill Bergold | 84 | 81 | | 165 |
| | Matt Timmons | 84 | 82 | | 166 |
| | Bryan Bober | 83 | 83 | | 166 |
| | Kenny Kowall | 82 | 84 | | 166 |
| | Mike Angie | 86 | 81 | | 167 |
| | Andrew Lavecchia | 81 | 86 | | 167 |
| | Dennis Berkheimer | 83 | 85 | | 168 |
| | Phil Bojc | 83 | 86 | | 169 |
| | David Goldense | 89 | 81 | | 170 |
| | Elijah Jackson | 81 | 90 | | 171 |
| | John Niedzailek | 83 | 89 | | 172 |
| | Mike Inman | 87 | 97 | | 184 |
| | Charles Milo | 80 | NC | | NC |