Northeast Ohio Golf Becomes Northern Ohio Golf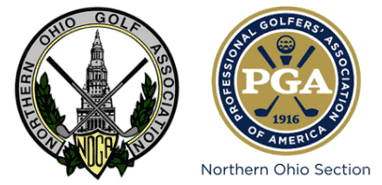 In 2021, the Northern Ohio Golf Association will take over administration of the Toledo District Golf Association.
The Northern Ohio PGA has run its Toledo Chapter for many, many years.
Since both of our regional golf organizations now span the entire upper portion of the state, we figured 2021 was the perfect time to match that coverage area.
So we've renamed and rebranded the website to Northern Ohio Golf.
All of the past content remains active, with every link redirected to this new domain.
Plus we've polished the design for a brand new look, and upgraded the server for a faster feel.
A New Site Experience
Analytics tell us that of our 205,000+ unique users in 2020, a whopping 72.16% visited on a mobile device. So we've streamlined some of the mobile content to provide a faster experience for those users.
To those 23.35% of desktop users and 4.49% of tablet visitors, no worries — you still get the giant photos, wide logos and mega menus you love.
Some New Voices
To bring about the Cleveland / Akron / Canton / Youngstown / Toledo coverage that the new name suggests, we're building relationships with new writers and content creators across the state for the upcoming season. Watch for announcements on those additions in the months ahead.
Become an Advertiser
If you run a business, please join Northern Ohio Golf as an Advertiser, Sponsor or Course Member for the upcoming season. Between the unbelievable rounds-played numbers of the 2020 season and our new geo/content expansion, 2021 is the perfect time for any company to come on board. Just shoot us an email to our new address to discuss options to fit any budget: golf@northernohio.golf.
(Did I mention we reached 205,000 unique users in 2020?)
UPDATES TO SOCIAL MEDIA
We've updated the look, names and handles on our social media accounts, too! (Both are now @NOHIOGOLF) If you already like/follow these account, you should be good to go. But if not, join us! FACEBOOK | TWITTER
BONUS: AN INSIDER TIP
Want to "cut the dogleg" when visiting the new site? Instead of typing out that whole "Northern" thing, try shortening it up to NOHIO.GOLF — it sends you to the same homepage.
Time Flies
It's hard to believe this site has covered golf in our region for the last 13 years. We're thankful for our partnerships with the pros, owners, GMs, tournament directors and golf associations. And we're honored to take on this expansion — hopefully for many more years to come.