Uniontown's Maxwell Moldovan, an incoming senior at Green High School and a committed recruit to the Ohio State Buckeyes golf team, won the 2019 Ohio Amateur Championship at Moraine Country Club today in Dayton.
In what turned into a two horse race, Moldovan finished at 7-under par 277 to win by a single shot over 36-year old Scott Anderson of Columbus, a former Buckeye golfer. The next best finishers were a pair at 1-under par.
Cleveland's Andrew Bailey also played well, finishing at T6 with a 3-over par 287 total. Complete results below.
Game Stories from the Dayton Daily News:
RD1: Ohio State Recruit Moldovan Takes Early Lead
RD2: Luke Campbell Takes Midway Lead
RD3: Moldovan, Campbell Tied for Lead at Moraine Country Club
RD4: Moldovan wins 113th Ohio Amateur Championship
PHOTO GALLERY: 2019 Ohio Amateur RD4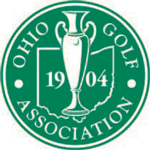 FINAL RESULTS:
Ohio Golf Association
2019 Ohio Amateur Championship
Moraine Country Club, Dayton, Ohio
July 9 – 12, 2019
1 Maxwell Moldovan, Uniontown, OH 68 – 73 – 67 – 69 = 277
2 Scott Anderson, Columbus, OH 69 – 74 – 66 – 69 = 278
T3 Clay Amlung, Cincinnati, OH 71 – 71 – 70 – 71 = 283
T3 Kyle Schmidt, Middletown, OH 76 – 66 – 70 – 71 = 283
5 Luke Campbell, Whitehouse, OH 69 – 68 – 71 – 77 = 285
T6 Austin Sipe, Dayton, OH 70 – 77 – 71 – 69 = 287
T6 Peter Samborsky, Centerville, OH 72 – 69 – 71 – 75 = 287
T6 Troy Taylor II, Westerville, OH 74 – 72 – 71 – 70 = 287
T6 Tyler Goecke, Xenia, OH 70 – 70 – 75 – 72 = 287
T6 Andrew Bailey, Cleveland, OH 71 – 68 – 74 – 74 = 287
T11 Luke Wells, Springfield, OH 74 – 72 – 74 – 69 = 289
T11 Rodrigue Vie, Epinal, France 72 – 71 – 71 – 75 = 289
T13 Drew Salyers, Howard, OH 73 – 76 – 70 – 71 = 290
T13 Robert F. Gerwin II, Cincinnati, OH 71 – 70 – 72 – 77 = 290
15 Jack Herceg, Dublin, OH 71 – 74 – 71 – 75 = 291
T16 Cameron Frazier, Cincinnati, OH 70 – 77 – 70 – 75 = 292
T16 Oscar Zimmerman, Cincinnati, OH 71 – 74 – 73 – 74 = 292
T16 Tyler Riley, Findlay, OH 70 – 72 – 76 – 74 = 292
T19 Bill Williamson, Cincinnati, OH 72 – 75 – 74 – 72 = 293
T19 Caleb Westfall, Mechanicsburg, OH 72 – 75 – 72 – 74 = 293
T19 Geoff Stevens, Loveland, OH 71 – 72 – 72 – 78 = 293
T19 Jake Fox, Cincinnati, OH 73 – 73 – 74 – 73 = 293
T19 Mason Lenhart, Cincinnati, OH 74 – 70 – 74 – 75 = 293
T24 Connor Yakubov, Columbus, OH 73 – 74 – 74 – 73 = 294
T24 Dylan Van Fossen, Norwich, OH 73 – 76 – 74 – 71 = 294
T24 Sean McGuire, Twinsburg, OH 74 – 74 – 71 – 75 = 294
T27 Josh Gilkison, Springboro, OH 72 – 76 – 75 – 72 = 295
T27 Joey McCarthy, North Bend, OH 74 – 71 – 74 – 76 = 295
T29 Frankie Morgan, Dayton, OH 72 – 76 – 75 – 73 = 296
T29 Kevin Grabeman, Columbus, OH 72 – 75 – 74 – 75 = 296
T29 Trey Rath, Powell, OH 72 – 75 – 73 – 76 = 296
T32 Brendan Keating, Cincinnati, OH 71 – 77 – 74 – 75 = 297
T32 Blake Solomon, Dublin, OH 71 – 76 – 74 – 76 = 297
T34 Cameron Willis, Eaton, OH 71 – 71 – 80 – 76 = 298
T34 Dhaivat Pandya, Dayton, OH 74 – 71 – 73 – 80 = 298
T34 Tyler Jones, Westerville, OH 74 – 75 – 74 – 75 = 298
T37 Jonathan Feldkamp, Maineville, OH 75 – 72 – 75 – 78 = 300
T37 Jordan Gilkison, Springboro, OH 74 – 72 – 75 – 79 = 300
39 Trey Walker, Bowling Green, OH 71 – 74 – 76 – 83 = 304
WD Evan DiSanto, Cincinnati, OH 71 – 76 – 76 – WD = WD
MISSED SECOND CUT
CUT Brennen Walsh, Cincinnati, OH 71 – 77 – 76 = 224
CUT Charlie Toman, Chardon, OH 73 – 76 – 75 = 224
CUT Grant Godfrey, Delaware, OH 74 – 73 – 77 = 224
CUT Austin Schoonmaker, Maineville, OH 76 – 71 – 77 = 224
CUT Grant Engle, Springfield, OH 70 – 78 – 76 = 224
CUT Andrew Montooth, Columbus, OH 72 – 76 – 77 = 225
CUT Brandon Ellis, Columbus, OH 73 – 76 – 76 = 225
CUT Mert Selamet, Dublin, OH 76 – 73 – 76 = 225
CUT Brayden Baldridge, Howard, OH 76 – 70 – 79 = 225
CUT Mikel Merker, Cincinnati, OH 72 – 73 – 80 = 225
CUT Andy Mayhew, Dayton, OH 73 – 76 – 77 = 226
CUT Cameron Root, Dublin, OH 75 – 73 – 78 = 226
CUT Ron Eubel, Dayton, OH 73 – 74 – 79 = 226
CUT Beau Bayerl, Ashland, OH 70 – 77 – 80 = 227
CUT Daniel Belden, Canton, OH 72 – 75 – 80 = 227
CUT Hunter Foltz, Van Buren, OH 77 – 72 – 78 = 227
CUT Tanner Grzegorczyk, Glenshaw, PA 71 – 74 – 82 = 227
CUT David Becher, Dublin, OH 73 – 72 – 82 = 227
CUT Hayden Zimmerer, Louisville, KY 71 – 77 – 80 = 228
CUT Matt Wininger, Westerville, OH 72 – 77 – 80 = 229
MISSED FIRST CUT:
CUT Domenic Maricocchi, Loveland, OH 73 – 77 = 150
CUT Vin Cahill, Hilliard, OH 80 – 70 = 150
CUT Christopher Williard, Blacklick, OH 73 – 77 = 150
CUT Cole Corder, Beavercreek, OH 75 – 75 = 150
CUT Kyle Gordon, Dayton, OH 76 – 74 = 150
CUT Nick Montes, Pickerington, OH 74 – 76 = 150
CUT Zach Mandry, Solon, OH 75 – 75 = 150
CUT Ben Jones, Strongsville, OH 76 – 75 = 151
CUT Cameron Conley, Lancaster, OH 73 – 78 = 151
CUT Vaughn Snyder, Canton, OH 77 – 74 = 151
CUT Ken Keller, Youngstown, OH 73 – 78 = 151
CUT Matthew Wetterich, Cincinnati, OH 75 – 76 = 151
CUT Michael Denner, Toledo, OH 76 – 75 = 151
CUT Miles Demuesy, Clinton, OH 75 – 76 = 151
CUT Noah Frase, Lancaster, OH 76 – 75 = 151
CUT Ryan Reichley, Beavercreek, OH 77 – 74 = 151
CUT Sam Griffith, Findlay, OH 76 – 75 = 151
CUT Josh Brandon, Powell, OH 78 – 74 = 152
CUT Scotty Brown, Lebanon, OH 80 – 72 = 152
CUT Austin Beyers, Dayton, OH 75 – 77 = 152
CUT Connor Quigley, Dayton, OH 74 – 78 = 152
CUT Jack Kunkel, Sylvania, OH 80 – 72 = 152
CUT Mitchell McFarland, Wheelersburg, OH 76 – 76 = 152
CUT Palmer Yenrick, Oregon, OH 75 – 77 = 152
CUT Trey Wilson, Powell, OH 73 – 79 = 152
CUT Tyler Overberg, West Chester, OH 74 – 78 = 152
CUT William Leboeuf, Oakwood, OH 79 – 73 = 152
CUT Bryce Haney, Huber Heights, OH 79 – 74 = 153
CUT Casey Gilligan, Liberty Township, OH 77 – 76 = 153
CUT Connor Curry, Mount Vernon, OH 74 – 79 = 153
CUT Curran Gimeson, Worthington, OH 75 – 78 = 153
CUT Jeff Scohy, Bellbrook, OH 78 – 75 = 153
CUT Ken Kinkopf, Dublin, OH 76 – 77 = 153
CUT Rod Kinsey Jr., Dublin, OH 75 – 78 = 153
CUT Nick Harmon, Pickerington, OH 76 – 77 = 153
CUT Cameron Casto, Galena, OH 77 – 77 = 154
CUT Jeff Mallette, North Canton, OH 75 – 79 = 154
CUT Jonathon Knapp, Uniontown, OH 75 – 79 = 154
CUT Charles Winkler, Oxford, OH 78 – 76 = 154
CUT Colton Vincelette, Wadsworth, OH 77 – 77 = 154
CUT Robert Pickett, Columbus, OH 77 – 77 = 154
CUT Todd Block, Cincinnati, OH 73 – 81 = 154
CUT Josh Steyer, Powell, OH 78 – 77 = 155
CUT Austin Dyson, Dublin, OH 73 – 82 = 155
CUT Britton Hensel, Kenton, OH 76 – 79 = 155
CUT Dylan Stevens, Cincinnati, OH 73 – 82 = 155
CUT Dave McKee, Columbus, OH 76 – 80 = 156
CUT Mark Akers, Tiffin, OH 78 – 78 = 156
CUT Mason Witt, Xenia, OH 74 – 82 = 156
CUT Will Sattler, Rossford, OH 81 – 75 = 156
CUT Andrew Wyss, Canton, OH 76 – 81 = 157
CUT Ross Teeter, Johnstown, OH 80 – 77 = 157
CUT Aaron Siekmann, Powell, OH 81 – 76 = 157
CUT Nate Matthews, Cleveland, OH 80 – 77 = 157
CUT Alex Vegh, Gahanna, OH 81 – 77 = 158
CUT Jules Blakely, Westlake, OH 82 – 76 = 158
CUT Andrew Wayman, Wapakoneta, OH 81 – 77 = 158
CUT Ian Hardesty, Chardon, OH 82 – 77 = 159
CUT John Catanzarite, Columbus, OH 78 – 81 = 159
CUT Justin Horn, Milford, OH 79 – 80 = 159
CUT Cam Wardley, New Carlisle, OH 78 – 81 = 159
CUT Grant Christman, Dublin, OH 80 – 79 = 159
CUT Jack Soper, Mason, OH 81 – 78 = 159
CUT Jacob English, Westerville, OH 81 – 78 = 159
CUT Jack Kozlowski, Columbus, OH 77 – 83 = 160
CUT Mark Burkhart, Pataskala, OH 78 – 82 = 160
CUT Alan Fadel, Perrysburg, OH 80 – 81 = 161
CUT Alec Velasco, Dayton, OH 81 – 80 = 161
CUT Brock Rumpke, Maineville, OH 82 – 79 = 161
CUT Jarrod Kasunick, Canton, OH 80 – 81 = 161
CUT Ben Herman, Germantown, OH 84 – 78 = 162
CUT Chris Horne, Rocky River, OH 80 – 82 = 162
CUT Josh Veith, Hilliard, OH 83 – 79 = 162
CUT Matthew McAdooT, winsburg, OH 82 – 80 = 162
CUT Robert Schustrich, Windham, OH 83 – 79 = 162
CUT Peyton Houston, Liberty Township, OH 80 – 83 = 163
CUT Conner Stevens, Brookfield, OH 80 – 84 = 164
CUT Justin Dearth, Dublin, OH 81 – 83 = 164
CUT Jamie Thompson, Marion, OH 83 – 82 = 165
CUT Justin Skinner, Dublin, OH 82 – 83 = 165
CUT Jessie Brumley, Mason, OH 86 – 81 = 167
CUT Logan Klatt, Columbus, OH 83 – 84 = 167
CUT Derek Miller, Garrettsville, OH 83 – 85 = 168
CUT Joshua Spiess, New Albany, OH 85 – 89 = 174