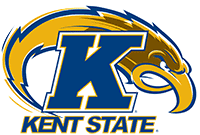 Kent State University Women's Golf head coach Lisa Strom has been named the 2019 LPGA Teaching and Club Professional (T&CP) National Coach of the Year.
The national award winners were selected on Thursday by the LPGA T&CP membership's Executive Committee from the pool of the section award winners voted on by officers of the six regional sections.
"I am honored to be named the LPGA T&CP National Coach of the Year," said Strom. "It wouldn't be possible without the mentors I have in my life, along with the incredibly talented student-athletes and clients I have been able to work alongside."
Strom, who took over the program as KSU women's head coach this season, guided the sixth-ranked Flashes to four top-two finishes during the fall season which included three-straight tournament wins.