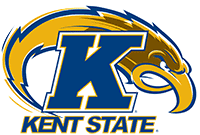 The No.5 Kent State Women's Golf Team won its fifth tournament of the season by a seven-stroke margin on Tuesday at the ICON Invitational, hosted by Houston at The Woodlands Country Club in Texas.
"This team just continues to be tough down the stretch and when it matters most," said head coach Lisa Strom. "We got off to a great start with six birdies early and continued to keep the gas pedal down."
The Flashes turned in a 10-under par three-round total of 854 (290-287-277) to capture the event while having three golfers finish under par and in the top-5. Purdue placed second with a 3-under par total of 861, while No. 37 Texas A&M finished third with an even-par 864.
Freshman Caley McGinty shot her lowest round of the tournament in Tuesday's round with a 68 (-4). McGinty carded four birdies and had no holes over par in the final 18 holes en route to finish in third place at 211 (-5).
Senior Pimnipa Panthong also shot her lowest score in the final round of 68 (-4) after she went 17 holes for par or better with five birdies. Panthong finished in fourth place overall with a 212 (-4) score.
Junior Chloe Salort turned in a 69 (-3) for her final round after carding four birdies. Salort finished tied for fifth at 213 (-3).
Senior Karoline Stormo finished tied for 21st at 219 (+3) after completing her final round with a 72 (E) score, while junior Kory Nielsen finished tied for 39th at 222 (+6) after posting a 72 (E) in the final round.