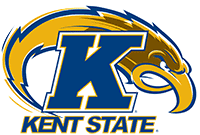 The 12th-ranked Kent State Flashes earned the No. 3 seed in the NCAA Women's Golf East Lansing Regional on May 6-8 for their next round of postseason play.
The East Lansing Regional, hosted by Michigan State, will be played at the par-72, 6,387-yard Forest Akers West Golf Course. The 54-hole event takes place over three days with 18 holes played each day.
For each of the four Regionals, the low six teams and three individuals not on those teams from each regional will advance to the finals. The national championships will be conducted May 17-22 at The Blessings Golf Club in Fayetteville, Arkansas hosted by the University of Arkansas, Fayetteville. The final three days of the championships will be televised live by the Golf Channel.
PARTICIPATING TEAMS (in order of seed):
1. Stanford
2. Arizona
3. Kent State
4. UCLA
5. Michigan State
6. Campbell
7. Illinois
8. Baylor
9. North Carolina
10. Georgia
11. Louisville
12. Augusta
13. LSU
14. Indiana
15. Long Beach State
16. Xavier
17. Harvard
18. IUPUI
PARTICIPATING INDIVIDUALS
1. Hee Ying Loy – East Tennessee State University
2. Emma Albrecht – University of Notre Dame
3. Kirsty Hodgkins – University of Colorado, Boulder
4. Cecilie Finne-Ipsen – The University of North Carolina at Charlotte
5. Ashley Lau – University of Michigan
6. Tereza Melecka – East Tennessee State University
Story courtesty of KentStateSports.com