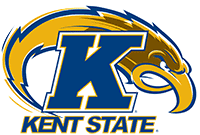 A final round battle on Sunday between Kent State and Eastern Michigan for the 2019 Men's Golf Mid-American Conference title never took place, as heavy overnight rains forced the cancellation of Sunday's round at Club Walden.
Instead, Kent State and Eastern Michigan share the team championship. But the Flashes earned the league's automatic bid to the NCAA Championships due to a tiebreaker: Kent State won the cumulative total of the non-counting score by three, 154-151.
This is the Flashes' 26th MAC title, their 11th in the last 12 seasons.
The Flashes will move on to the NCAA Regional Tournament May 12-15. Kent State will find out the seed and destination during the selection show, airing Wednesday, May 1 at 9 p.m. ET on the Golf Channel.