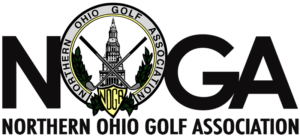 2-player teams of NOGA members can take on a virtual version of Scotland's Royal Troon in the January 2021 edition of the NOGA 1899 Four Ball Tournament!
At registration, teams choose between the Scratch Division (No Handicaps/Gross with Seniors age 55+ moving up a tee box) or the Net Division (85% of player's GHIN handicaps will be applied/Net).
Entry fee is $190 per team paid through the NOGA tournament website. That entry fee covers both the "greens fees" at 1899 and the tournament prizes; about $80 of each player's entry fee will go into the prize pot.
NOGA will notify 1899 of each registration, and 1899 will email a Trackman event invite to the participants to create a Trackman profile and book a day/time to play.
Have additional questions? Call the Northern Ohio Golf Association at 440-686-1070 or email noga@noga.org.