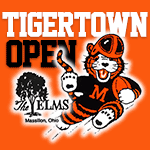 Strongsville's Jake Scott posted a course-record score of 61 at the 68th Tigertown Open at The Elms Country Club in Massillon on Friday.
And he made a bogey.
With just a few holes to play, it actually crossed Scott's mind that he could shoot 59 — and that he might have to go that low if he wanted to win. Two days of heavy rains leading up to the Thursday pro-am left standing water across much of The Elms course. So the rules-of-the-day were lift, clean and place within 12 inches across the general area. That made scoring just a touch easier, so Scott wasn't sure how low "low" meant.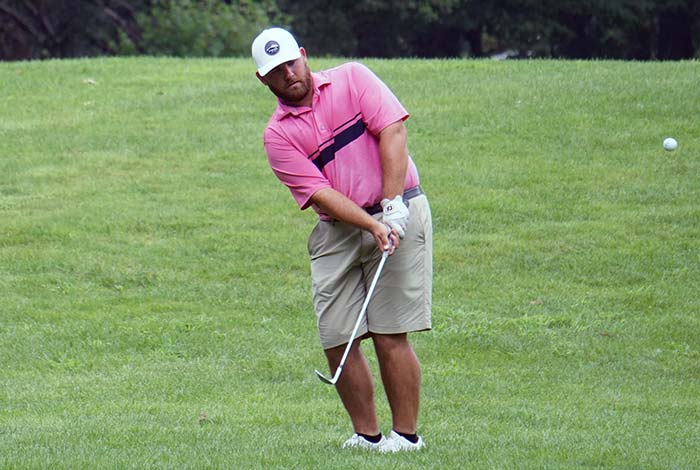 Case in point, Tyler McHugh (above) of Aurora and Stow's Fox Den Golf Club. Playing in the group just ahead of Scott, McHugh shot a 28 on the front nine while hitting just 10 putts there. He made nine birdies on his day with a clean scorecard, and posted a silky total of 63. Most scoreboard watchers thought he was the tournament winner when his score was posted, but McHugh's "victory" only lasted one group.
There were other incredibly low scores, too.
Michigan pro Ryan Lenahan was the early leader in the clubhouse, shooting an early morning 64.
Four other professionals shot 7-under par 65 on the day — including two past champions and one senior pro playing from the same tees as the youngsters.
Yes, a super-low score was require to win the 2019 Tigertown Open, and Jake Scott knew it. Scott had played the Tigertown many times before, and the need to go so low usually psyched him out. "I probably shot more under par today than I have in all of the other times I've played here combined," Scott mused. "It's easy to start trying too hard because you know that a 'good' round won't be low enough."
Oddly, it might have been that lone bogey that kick-started Scott's record-setting performance.
Scott birdied the short par-4 first hole and the reachable par-5 third, both of which are almost required of the winner. But then on the fourth hole, Scott missed an 18-inch putt for par that put him back to 1-under on the day. Instead of pressing, the bogey may have actually relaxed Scott, as he refocused and played the front nine in 29. An eagle-3 at the par-5 eighth helped the cause.
Scott's thought of 59 was a realistic one, as he finished the back nine without making birdie on two of the par-5s, including a miss from 5-feet for birdie on the 15th. But a two-putt par on the difficult 18th green — "all I was looking for there" Scott admitted — closed out a 5-under par back nine and an 11-under par total.
Congratulations to Jake Scott on his record-setting victory.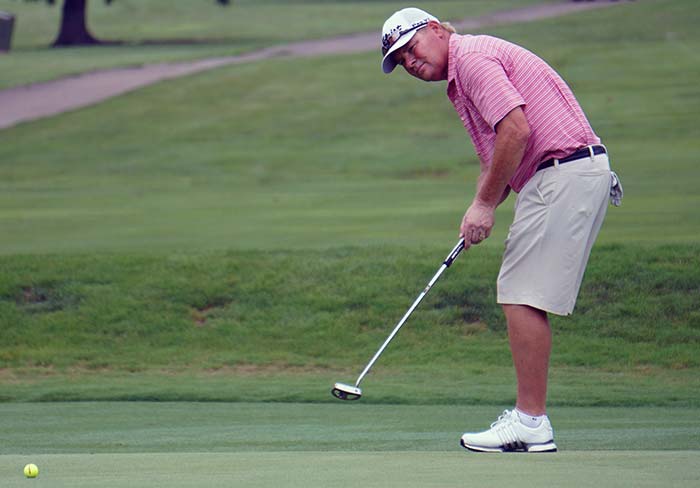 In the Senior Professional division, Jeff LeMaster of Las Vegas (pictured above) — the player previously mentioned who shot 65 from the same tees as the main division — put together a great round while playing with a pair of "super seniors". The 65 gave LeMaster a 3-shot victory over last year's Tigertown Senior Pro champ Gary Rusnak.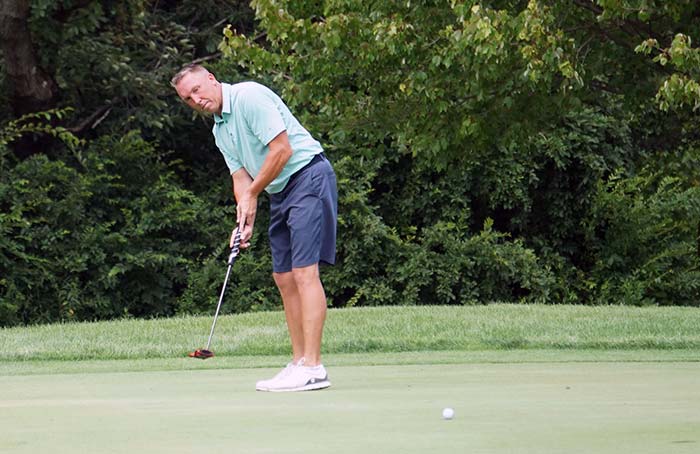 Pittsburgh's Rick Stimmel (above), a 50-year old who chose to play in the Tigertown's Amateur division instead of heading up to the Senior Am, won convincingly with a score of 66 in the warmer and slightly windier afternoon wave. Stimmel won by two shots former Ohio Am and Ohio Open champ Vaughn Snyder of Massillon, now a reinstated amateur.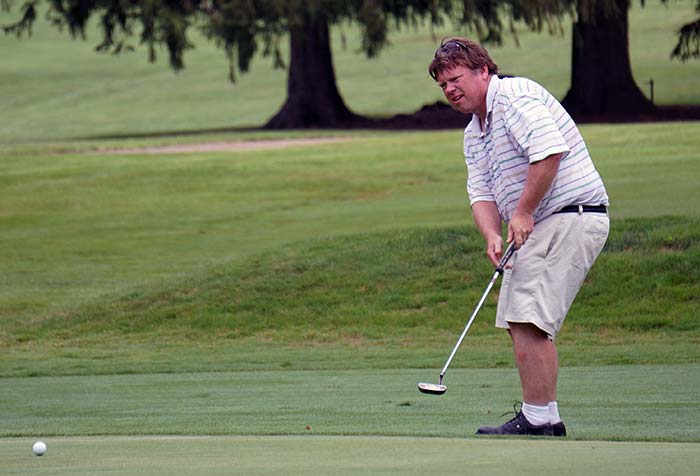 Finally, Dave Trier of Stow "had one of those days where I made every putt I looked at" in shooting 5-under par 67 in the Tigertown's Senior Amateur division. Trier started his round off the tenth and finished with an eagle-3 on the par-5 8th then a birdie-2 on the par-3 9th to win by two shots over Doug Rockich and his 69.
Kudos to Tournament Director Tony Mastrianni and staff for another fun, interesting, competitive tournament with a full field of very talented players…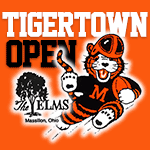 FINAL RESULTS:
2019 Tigertown Open
The Elms Country Club, Massillon OH
Friday, July 19, 2019
PROFESSIONAL DIVISION
61- Jake Scott- $5,000.00
63 – Tyler McHugh- 1500.00
64 – Ryan Lenahan – 1000.00
65 – Patrick Luth – 250.00
65 – Tyler Light – 250.00
65 – Stephan Gangluff – 250.00
67 – Michael Blacar – 113.33
67 – Ryan Troyer – 113.33
67 – Logan Lagodich – 113.33
Out of the Money:
Hall, Kevin 68
Paxos, Nick 68
Tepe, David 68
Vaughan, Darrin 68
Dietz, Randy 69
Gurska, Matt 69
Miday, Alex 69
Unk, Brian 69
Wilson, Chase 69
Holub, Dennis 70
Mercatoris, C.G. 70
Saferian, Rich 70
Schiffbauer, Jay 70
Smith, Ben 70
Wackerly, Paul 70
Kraft, Kevin 71
Krecic, Joey 71
Johnson, Chase 72
Munko, Dennis 72
Stone, Mike 72
Lee, Steve 73
Obermiller, Brandon 74
Petretti, Ryan 74
Weir, Steve 74
Denny, Richard 75
Laird, Mason 75
Miller, Justin 76
Beneke, Mark 77
Sommers, Matt 77
Kurtz, Joey 79
Pozderac, Tony 79
Widner, Josh 80
Wilson, Justin 83
Owens, Brian 85
Boyd, Will NC
Traeger, Dan NC
SENIOR PROFESSIONAL DIVISION
65- Jeff LeMaster – $1,000.00
68 – Gary Rusnak – 400.00
69 – Gary Trivisonno – 200.00
70 – Steve Stone – 140.00
71- Scott Pollack – 140.00
Out of the Money:
Bush, Ray 72
Cichra, Jim 72
Ferenz, Jack 72
Milam, Tony 72
Robertson, Walt 72
Adcock, Tony 73
Snyder, Davey 76
Holcomb, Joe 81
Currence, Bill 82
Papa, Russ 82
DeMuesy, Scott WD
AMATEUR DIVISION
66 – Rick Stimmel – $750.00
68 – Vaughn Snyder – 375.00
69 – Ben Jones– 262.50
69 – Michael Klaric – 262.50
70– Aaron Crewse – 200.00
70 – Drew Savage – 200.00
70 – Brian Terlesky – 200.00
71 – Jarrod Kasunick – 73.33
71 – Cade Kreps – 73.33
71 – Daqn Martina – 73.33
71 – Daniel Mosher – 73.33
71 – Roni Shin – 73.33
71 – Caleb Westfall – 73.33
Out of the Money:
Frase, Noah 72
Levengood, Mitch 72
O'Hara, Adam 72
Slayman, Andy 72
Culbertson, Ryan 73
Jellel, Chris 73
Mokros, Mark 73
Vincelette, Colton 73
Borisa, A.J. 74
Koprievic, Kenny 74
McCollins, Gunnar 74
Witmer, Michael 74
Garswood, Jack 75
Lahnan, Larry 75
Milo, Charles 75
Strang, Lance 75
Tucker, Dylan 75
Fitchet, Dylan 76
Gamble, Brian 76
Hoops, Collin 76
Jones, Brad 77
Mollica, Nick 77
Prok, Joshua 77
Scarbrough, Caden 77
Tanner, Luke 77
Beebe, Brian 78
DeMuesy, Miles 78
Eggleton, Chris 78
Filo, Adam 78
Prokop, Victor 78
Renner, Michael 78
Adcock, Alec 79
Jenkins, Evan 79
O'Byrne, Gene 79
Patton, Mike 79
Ramold, Ben 79
Arman, Adam 80
Lowers, Ryan 80
Smith, D.J. 81
Kallay, Hunter 82
Sweany, Michael 82
Chase Jr, George 83
Zgrabik, Andrew 83
Schneider, Mark 84
Vellios, John 84
Maurer, Alex 85
VanRyzin, Zach 85
Vellios, Yianni 85
McKenzie, Joe 86
Milam, Michael 86
Grant, David 88
Berndt, Fred 90
Slater, Brandon 98
Stoops, Robert NC
Currence, Jason NS
Collins, RyAn WD
SENIOR AMATEUR DIVISION
67 – David Trier – $400.00
69 – Doug Rockich – 250.00
70 – Larry Crisswell – 175.00
70 – Bobby Spino – 175.00
71 – Kurt Peterson – 125.00
72 – Rod Bordman – 56.66
72 – Mark Thomas – 56.66
72 – Nick Lambos – 56.66
Out of the Money:
Sparks, Jeff 73
Miller, Fred 75
Stefanov, Larry 75
Pluto, Keith 76
Burge, Geoffrey 77
Congin, Gary 77
Hedrick, Joe 78
Toth, John 78
Flemming, Douglas 79
Pozderac, Mike 79
Ferencz, Bob 80
Marks, Bob 81
Tarter, Jim 81
Hanzel, Andy 82
Heavner, Tim 82
Myers, Brent 82
Mirelli, Jeff 83
Luckenbaugh, Troy 84
Moon, Jeff 84
Rositani, Ron 84
Fox, Paul 85
LeMaster, Lonnie 85
Niedzialek, John 86
Fox, Jeff 87
Barr, Dennis 89
Karshner, Robert 89
Howser, Bill 90
Weston, Mike 90
Candusso, Danny 104
Kern, John NC
LeMaster, Leon WD