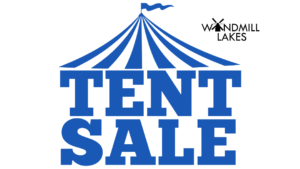 It's back! Northeast Ohio's #1 public green grass pro shop, Windmill Lakes Golf Club in Ravenna, is once again hosting its annual Tent Sale!
The Tent Sale at Windmill Lakes always brings the lowest prices of the year on all kinds of golf gear.
TENT SALE DAYS & TIMES
TUESDAY, AUGUST 16 12:00PM – 7:30PM
THURSDAY, AUGUST 18 – 10:00AM – 7:30PM
FRIDAY, AUGUST 19 – 10:00AM – 7:30PM
SATURDAY, AUGUST 20 – 10:00AM – 7:30PM
SUNDAY, AUGUST 21 – 10:00AM – 4:00PM

Head on out to Windmill Lakes this week at the dates and times above to get the golf gear you want at a deal price. Sooner the better, too, as quantities of specific items may be limited.
Questions? Call Windmill Lakes at 330-297-0440