The team from Inverness Club in Toledo has defended their NOGA Interclub Team Championship title by shooting even par at Oberlin Golf Club.
The Interclub features an aggregate total format counting the three best individual scratch stroke play scores from each club's four-player team. Trey Walker of Bowling Green (71), and Toledoens Matt Abendroth (72), Justin Kruse (73) and Ben Silverman (75) crafted the Inverness team total. Kruse and Silverman played with John Swigart and Doug Peterson at the 2022 Interclub.
This website's NOHIO.GOLF Club finished in second place, two shots behind Inverness. Fairview Park's Jack Garswood led the scoring for the NOHIO.GOLF Club with an even par 72, followed by Justin Trzebuckowski of Broadview Heights (73), Allen Freeman of Brecksville (73) and Shaun Kloetzer of Fairlawn (77).
PHOTO GALLERY: 2023 Interclub Team Championship >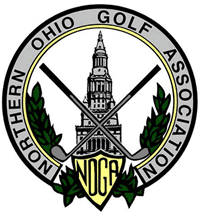 FINAL RESULTS: Northern Ohio Golf Association
2023 Interclub Team Championship
Oberlin Golf Club, Oberlin, Ohio
Thursday, August 31, 2023
Golf Genius Hole-by-Hole Results >
TEAM RESULTS:
1 Inverness Club E $1,000.00
Trey Walker -1
Matt Abendroth E
Justin Kruse +1
Ben Silverman +3
2 NOHIO.GOLF Club +2 $750.00
Jack Garswood E
Allen Freeman +1
Justin Trzebuckowski +1
Shaun Kloetzer +5
T3 Mayfield Sand Ridge Club +5 $375.00
Gabe Reynolds E
Chandler Walnsch +2
Ryan Brawley +3
Chris Okeson +5
T3 Oberlin Golf Club +5 $375.00
Brian Smith -1
Michael Meecha +2
Todd Desmarais +4
Larry Schuler +9
Teams Out of the Money:
T5 Red Tail Golf Club +8
T5 Westwood Country Club +8
T7 Elyria Country Club +11
T7 Toledo Country Club +11
9 Westfield Country Club +12
10 Avon Oaks Country Club +14
11 Quail Hollow Country Club +15
12 Tippecanoe Country Club +18
13 Lakewood Country Club +20
14 Plum Brook Country Club +21
15 Stone Oak Country Club +32
16 Beechmont Country Club +37
Individual Results:
T1 Trey Walker 71 $150.00
T1 Brian Smith 71 $150.00
T3 Matt Abendroth 72 $25.00
T3 Gabe Reynolds 72 $25.00
T3 Jack Garswood 72 $25.00
T3 Matt Paterini 72 $25.00
T7 Justin Kruse 73
T7 Allen Freeman 73
T7 Justin Trzebuckowski 73
T7 Jeff Sawitke 73
T7 Patrick Rollins 73
T7 Chris Walsh 73
T7 Chris Horne 73
T14 Chandler Walnsch 74
T14 Michael Meecha 74
T14 David Hilditch 74
T17 Ryan Brawley 75
T17 Ben Silverman 75
T17 Bryn Irvine 75
T17 Rick Kies 75
T17 Mike Belacic 75
T17 Matt Fuller 75
T17 Nick Graf 75
T24 David Skok 76
T24 Todd Desmarais 76
T24 Mark Wise 76
T27 Chris Okeson 77
T27 Shaun Kloetzer 77
T27 John Williams 77
T27 Jimmy Clark 77
T27 Drew Thompson 77
T27 Kevin Neitzel 77
T27 Josh Bialecki 77
T34 Barry Cohn 78
T34 Wes Immler 78
T34 Jeff Butler 78
T34 Joey Cilone 78
T34 Griffin Todd 78
T34 Jason McDowell 78
T34 John Doughton 78
T34 Keith Hughes 78
T34 Joe Weisenburger 78
T43 Ryan Dorff 79
T43 Mike Cawley 79
T43 Jeff Mihalick 79
T43 Connor Outcalt 79
47 Adam Mastone 80
T48 Larry Schuler 81
T48 Kevin Huster 81
T48 Joe Glass 81
T48 Benjamin Dumm 81
T48 Kevin Burns 81
T48 Christopher Brown 81
T54 Saumil Jhaveri 82
T54 Scott Cormiea 82
T54 Justin Kearns 82
T54 Justin Kelley 82
58 Daniel Malloy 83
59 Mike King 84
60 Mike Distefano 85
61 Greg Reece 86
62 Robert Edelstein 87
63 Dan King 88
64 Robert Widen 90
SKINS: $235 ea
Justin Kruse – Birdie on 6
Justin Trzebuckowski – Birdie on 8
Allen Freeman – Eagle on 15
Justin Kruse – Birdie on 16