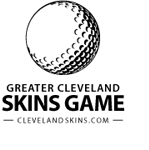 The Greater Cleveland Skins Game was originally started in 1990 at Fairway Pines Golf Course in Painesville.
This 9-hole 'pins-and-skins' game weekly event series is now rotated to various golf courses throughout Greater Cleveland.
The Skins game has always tried to maximize the payout for players while working to keep green fee rates low. Many courses have worked with the game over the years to do just that.
The Thompson Cup is awarded annually to the season-long leading money winner of the Greater Cleveland Skins Game.
Thompson Cup Winners
The following players have won The Thompson Cup, the trophy awarded to the leading money winner on the season in the Greater Cleveland Skins Game (links go to final season results of that year):
2001 Paul Kish
2002 Jeff Bors
2003 Tom Evans
2004 Patrick Tyrrell
2005 Patrick Tyrrell
2006 Steve Blackburn Jr.
2007 David Sotka
2008 Steve Blackburn Jr.
2009 Steve Blackburn Jr.
2010 Eddie Neer
2011 David Sotka
2012 Steve Blackburn Jr.
2013 Steve Blackburn Jr.
2014 Steve Blackburn Jr.
2015 Steve Blackburn Jr.
2016 Steve Blackburn Jr.
2017 Steve Blackburn Jr.
2018 Steve Blackburn Jr.
2019 Steve Blackburn Jr.
2020 Joe Tasca