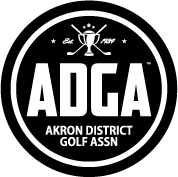 The Akron District Golf Association was established in 1934 as a non-profit organization to promote amateur golf in the greater Akron area.
Throughout the years the ADGA has maintained its open division status of a scratch, no handicap tournament competition. We remain dedicated to providing the highest quality competition possible throughout the tournament season. We remain dedicated to providing the highest quality competition possible throughout the tournament season.
As the association has grown, we now offer a Senior division as well as the Championship division.
Many of our past champions and participants have accomplished playing careers in both amateur and professional golf.
On the amateur side, Joe Ungvary, Sr. (USGA Senior Amateur Champion), Barry Terjesen and Rick Merrow (British Amateur and USGA Senior Amateur Championship Participants) have made national headlines. More recently, Dave Pulk won the 2012 Ohio Senior Amateur and qualified for the 2012 USGA Senior Amateur, and Norton Brick has participated in both the U.S. Senior Open and U.S. Senior Ams and has won the Northeast Ohio Am and Cleveland Am multiple times.
Professionally, Ryan Armour, Brian Unk, Tim Conley, Rob Wakeling, and Steve Parker, just to mention a few, grew up competing in the ADGA and have made their marks on the pro game.
The Board of Governors and its officers serve on a voluntary basis throughout the year to organize and operate tournaments and to solicit sponsors and members. These men are elected annually and are guided by the association's bylaws and the U.S.G.A. Rules of Golf.
Much of the success of the organization is due to the financial support of area businesses through tournament sponsorships. Without support from these organizations and our area golf clubs, our tournament schedule would not be possible. In recent years, the annual budget and operating expenses have increased to over $45,000.
Tournament payouts are made in the form of gift certificates to the top finishers in each event which conform to the rule and guide lines of the USGA of Amateur Status.
See ADGA event results since 2008 here.
UNGVARY CUP CHAMPIONS
[Governors Cup was renamed in 2006 to honor Joe Ungvary, Sr.]
2016 – Mike Simpson
2015 – Aaron Crewse
2014 – Howard Clendenin
2013 – Aaron Crewse
2012 – Mike Simpson
2011 – Ross Beal
2010 – Mike Simpson
2009 – Aaron Crewse
2008 – Vaughn Snyder
2006 – Dave Pulk
2005, 07 – Chris Minear
2004 – Dave Trier
2002, 03 – Rob Wakeling
2000, 01 – Dave Oates
1986, 99 – Rick Bryson
1998 – Nick Lambos
1997 – Randy Skorman
1996 – Joe Ungvary, Jr.
1995 – Dean Cutlip
1994 – Chris Durban
1980, 89, 91 & 1993 – Larry Horner
1990 – Bob Vogley
1988, 92 – Tim Davis
1987 – Paul Findley
1985 – Ken Hyland
1984 – Jim McFarren
1977, 78, 79, & 83 – Joe Ungvary, Sr.
1981, 1982 – Alex Rotar, Jr.
BARNES CUP CHAMPIONS
[Leading Season-Long Points Earner in the Senior Division]
2016 – Ron Bell
2015 – Mark Thomas
2014 – Rick Bryson
2013 – Jim Cea
2012 – Mark Thomas
ADGA PAST PRESIDENTS
2009 – Current – Tim Davis
2008 – Kevin Larizza
1990 to 2007 – Larry Zimmerman
1988 to 1989 – Joe Ungvary, Sr.
1987 – Doug Faris
1985 to 1986 – Dan Heffelman
1984 – Bob Heffelman
1983 – Dave Poling
1981 to 1982 – Wayne Zuelsdorf
1979 to 1980 – Dave Keller
1978 – Denny Adkins
1977 – Rick Wagner
1976 – Bud McAnallen
1975 – Jim Raden
1974 – Malin Tusko
1973 – Jim Hackett, Jr.
1972, 1974 – Bill Gore
1969 to 1970 – Tim Edwards
1966 to 1968 – Dennis Murphy