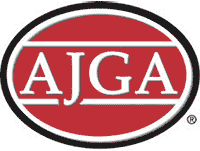 Barberton's Nolan Haynes shot 66 in Sunday's final round in the 2020 AJGA Mahoning Valley Hospital Foundation Junior All-Star to blow out the Boys Division field at Mill Creek's South Golf Course in Boardman.
Starting the day one shot behind Nathan Miller of Dallas, TX, Haynes put together a bogey-free round with two birdies on each side. After his Saturday 69, the 4-under par Sunday sparkler left Haynes with a 5-under par total of 135. Miller finished in second place at 1-under par 139.
"Just to say that you've won one of the AJGA's is amazing," said Haynes, who plays for Akron's Archbishop Hoban golf team. "I feel like I've put in a lot of hard work and dedication. At least double the amount of effort I did last year and it's showing."
Fellow Hoban teammate Jack Vojtko of Stow shot a solid 68 on Sunday to finish T10.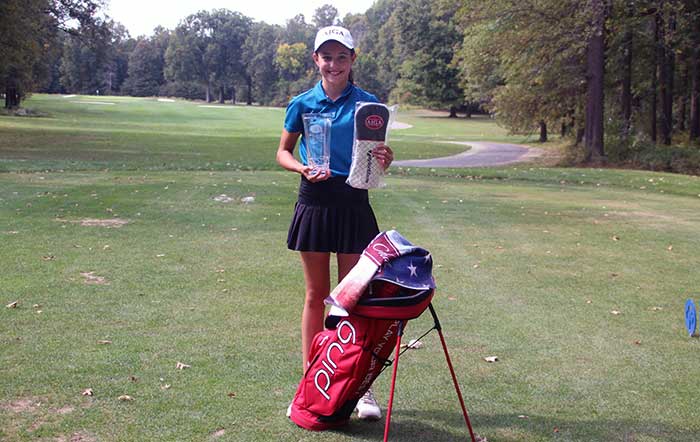 In the Girls Division, Vanessa Borovilos of Toronto backed up her first round 69 with a Sunday 68, chipping in on the final hole to win by two shots over Megan Meng of Pennington, NJ.
Solon's Kaitlin Kormuth finished T4 after rounds of 72-70.
Earlier in the week, the AJGA named Mill Creek PGA pro Brian Tolnar its AJGA Golf Professional of the Year. STORY >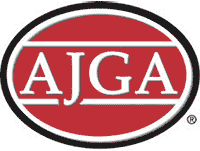 FINAL RESULTS: American Junior Golf Association
2020 AJGA Mahoning Valley Hospital Foundation Junior All-Star
Mill Creek South Golf Course, Boardman, Ohio
Sat/Sun, September 26-27, 2020
BOYS RESULTS:
1 Nolan Haynes Barberton, Ohio (2023) 69 – 66 = 135
2 Nathan Miller Dallas, Texas (2025) 68 – 71 = 139
3 Aidan Gutierrez Valparaiso, Ind. (2024) 69 – 71 = 140
T4 Benjamin Newfield Arlington, Va. (2023) 68 – 73 = 141
T4 Chase Nevins Great Falls, Va. (2023) 68 – 73 = 141
T6 Lorenzo Pinili Rochester Hills, Mich. (2023) 72 – 70 = 142
T6 Awesome Burnett Flower Mound, Texas (2024) 69 – 73 = 142
T6 Sam Morris Tulsa, Okla. (2024) 67 – 75 = 142
T6 PJ Maybank Cheboygan, Mich. (2023) 68 – 74 = 142
T10 Jack Vojtko Stow, Ohio (2024) 75 – 68 = 143
T10 Matt Moloney Vienna, Va. (2024) 73 – 70 = 143
T10 Colin Li San Diego, Calif. (2024) 72 – 71 = 143
T10 Bryant Hernandez Downey, Calif. (2024) 71 – 72 = 143
14 Colin Elias Staten Island, N.Y. (2022) 72 – 72 = 144
T15 John Hiller New York, N.Y. (2024) 73 – 72 = 145
T15 Peter Barros Bethesda, Md. (2023) 72 – 73 = 145
T17 Reese Sato Folsom, Calif. (2023) 77 – 69 = 146
T17 Julian Dugan Cleveland, Ohio (2024) 74 – 72 = 146
T17 Jeffrey Andrus Clawson, Mich. (2022) 74 – 72 = 146
T17 John Brady Knight Kennesaw, Ga. (2024) 71 – 75 = 146
T21 Ryan Banas Winnetka, Ill. (2023) 72 – 75 = 147
T21 Christopher Yeilding Birmingham, Ala. (2024) 71 – 76 = 147
T21 Matthew Vital Bethlehem, Pa. (2023) 71 – 76 = 147
T24 Eddie Sandoval El Paso, Texas (2023) 73 – 75 = 148
T24 Grant Roscich Glen Ellyn, Ill. (2024) 74 – 74 = 148
T24 Tyler Loree El Paso, Texas (2025) 73 – 75 = 148
T24 Daniel Macias Austin, Texas (2024) 70 – 78 = 148
T28 Kyle Leydon Commerce City, Colo. (2023) 76 – 73 = 149
T28 Adam Wrenn Lake Oswego, Ore. (2024) 76 – 73 = 149
T28 Mike Zhang McKinney, Texas (2023) 76 – 73 = 149
T28 Henry Yang Chino, Calif. (2023) 73 – 76 = 149
T28 Robert Gefaell Winston-Salem, N.C. (2023) 73 – 76 = 149
T28 Griffin Barke Crestwood, Ky. (2025) 71 – 78 = 149
T34 Maverick Conaway Tipton, Ind. (2023) 81 – 69 = 150
T34 Fisher Kennedy Winston Salem, N.C. (2023) 75 – 75 = 150
T34 Barnes Blake Westfield, N.J. (2023) 76 – 74 = 150
T34 Reed Greyserman Boca Raton, Fla. (2024) 75 – 75 = 150
T34 James Ackerman Leawood, Kan. (2024) 75 – 75 = 150
T34 Jack Darke Cumming, Ga. (2023) 73 – 77 = 150
T34 Alexander Hall Longwood, Fla. (2023) 71 – 79 = 150
41 Hayden Adams Lexington, Ky. (2023) 79 – 73 = 152
T42 Jacob Ryan Akron, Ohio (2023) 78 – 75 = 153
T42 Thomas O'Neill Oradell, N.J. (2022) 78 – 75 = 153
T42 Nicolas Simon Elk Grove Village, Ill. (2024) 75 – 78 = 153
T42 Alex Koenig Wales, Wis. (2023) 75 – 78 = 153
46 Jack Stamato Severna Park, Md. (2024) 76 – 78 = 154
T47 Kevin Zhao Buffalo, N.Y. (2022) 76 – 79 = 155
T47 Hugh Donegan Austin, Texas (2023) 72 – 83 = 155
T49 Hudson Pace Richmond, Va. (2023) 78 – 78 = 156
T49 Ieuan Jones UK/Ann Arbor, Mich. (2024) 77 – 79 = 156
51 Cooper Watt Rockford, Ill. (2023) 78 – 80 = 158
52 Bradley Parker Canada/Isle of Palms, S.C. (2022) 79 – 82 = 161
53 Brian Tillman Chelsea, Mich. (2025) 83 – 82 = 165
WD Richard Yang Duluth, Ga. (2024) 81 – WD
WD Drew Clark Kennett Square, Pa. (2023) 85 – WD
GIRLS RESULTS:
1 Vanessa Borovilos (Canada) Toronto, Ontario (2024) 69 – 68 = 137
T2 Megan Meng Pennington, N.J. (2024) 68 – 71 = 139
T2 Cassandra Psuik Greenfield, Wis. (2023) 68 – 71 = 139
T4 Kaitlin Kormuth Solon, Ohio (2023) 72 – 70 = 142
T4 Lauren Pham Las Vegas, Nev. (2023) 71 – 71 = 142
T6 Olivia Duan Cupertino, Calif. (2024) 74 – 71 = 145
T6 Ellison Lundquist Furlong, Pa. (2025) 72 – 73 = 145
T6 Michelle Woo Fremont, Calif. (2025) 72 – 73 = 145
T9 Sawyer Brockstedt Rehoboth Beach, Del. (2025) 75 – 71 = 146
T9 Lily Zhang Buffalo, N.Y. (2026) 71 – 75 = 146
11 Elyssa Abdullah Hinsdale, Ill. (2025) 73 – 74 = 147
T12 Mariana Rodriguez Chavez Ibague, Colombia (2024) 75 – 73 = 148
T12 Sarah Shao Green Brook, N.J. (2024) 73 – 75 = 148
T14 Lisa Copeland Naperville, Ill. (2026) 76 – 73 = 149
T14 Jessica Guiser Hartland, Wis. (2024) 76 – 73 = 149
T16 Hadley Ashton Erie, Colo. (2025) 77 – 73 = 150
T16 Sarah Thornton Hinsdale, Ill. (2023) 75 – 75 = 150
T16 Anna Swan North East, Pa. (2024) 72 – 78 = 150
19 Olivia Cong Germantown, Md. (2024) 74 – 77 = 151
20 Emily Duan Buffalo Grove, Ill. (2022) 76 – 79 = 155
21 Lucy Wang Diamondbar, Calif. (2025) 78 – 81 = 159
22 Alyssa Kurji Dallas, Texas (2024) 80 – 80 = 160
23 Harper Edwards Victoria, Texas (2024) 81 – 83 = 164
24 Meiyi Wu Cincinnati, Ohio (2023) 84 – 85 = 169