When people think of the business of golf in northern Ohio, International Management Group often comes to mind. The Cleveland-based company effectively pioneered the art and science of golf sponsorship and marketing, with Arnold Palmer, Jack Nicklaus and Gary Player leading a dominant stable of major tournament winners under its oversight. Tiger Woods would follow as an IMG client.
While most attention rightfully focused on IMG founder Mark McCormack, one of its early golf department leaders was a man by the name of John Simpson. To say John Simpson's story isn't unique would be an understatement.
At the age of two, Simpson was stricken with polio that he carries with him today, wearing a caliper on a left leg.
His father was a distinguished Spitfire and Hurricane fighter pilot for Britain in the second World War; an uncle was shot down at Arnhem.
Simpson was introduced to golf by one of his father's friends who had an amputation below the knee but didn't complain despite the physical pain (a pain that Simpson similarly felt).
Smitten by the golf bug, Simpson figured out on his own that the sport of golf was going to be a big business in the future, because people had considerable time on their hands and athletics were growing with immensely talented and entertaining players.
In 1978, Simpson wrote a letter to McCormack jokingly saying he didn't think the icon could grow his business without the twenty-something. After a three-month trial at IMG, Simpson went full-time.
Simpson persevered to become a longtime executive with IMG, where he managed the business affairs for Nick Faldo, Vijay Singh, Bernhard Langer, Nick Price and other many other Tour players. In total, Simpson contributed to the careers of 17 major golf tournament winners.
From his home office in London and frequently from IMG Center on East 9th Street in Cleveland, Simpson successfully connected hundreds of corporations with the PGA TOUR players he represented to endorse their brands.
Simpson's life turned to philanthropy in 2008. That's the year he visited Headley Court Rehabilitation Center in the U.K. and saw a high number of injured young service members there. They were despondent about their lives.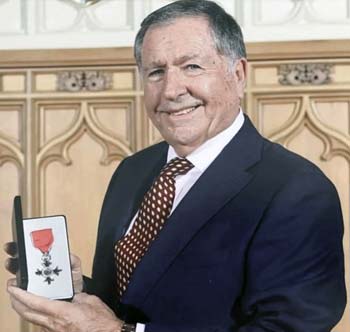 "That's when the light bulb went off," said Simpson, now 70 years old. "Why can't I marry a love for golf with my ability to overcome a personal disability while paying homage my dad's and uncle's military careers?"
Two years later, On Course Foundation was born. The organization uses golf to help wounded, injured and sick military veterans with their physical and mental recoveries, and harvests newfound confidence into careers in golf. Most "members" (it's free to them) were first introduced to golf by On Course Foundation, where they learned playing skills, overcoming lost limbs, gaining mobility and mental acuity, and dealing with other physical and psychological debilitations.
Then there's the organization's Simpson Cup that pits 13-person teams from the U.S. and U.K. against one another in Ryder Cup-style matches with competitors amazingly sporting single-digit handicaps.
In addition to exposure to myriad facets involved in playing golf, On Course Foundation provides golf-business educational programs in 15 markets across America. It prepares and helps place members in full- and part-time jobs at Callaway, ClubCorp, Marriott Vacations, TaylorMade, Topgolf and other scores of other golf companies, golf courses, clubs and resorts.
Simpson humbly submits the only complaints On Course Foundation receives from these employers is that its members work too hard.
"Our members have become good golfers and, with our organization's help, have secured meaningful employment in the game," says Simpson with utmost pride. "Many members went through extremely grim times, post-military, assimilating back into society. These turnarounds are amazing for everyone involved."
There are nearly four million wounded American veterans and, horrifically, a staggering 22 of them commit suicide every day. It's On Course Foundation's goal to consistently get wounded veterans out of the house and focused on golf as a mental and physical rehabilitation tool. Enhancing family relationships and financial security are also common outcomes.
"It's not just single-, double- and triple-amputees," says Simpson. "Many don't have physical wounds, but come out their military deployments with invisible hardships like anxiety, depression and all that come with post-traumatic stress disorder are prevalent beyond words."
Simpson's life-long changing and saving of lives all around the world started with a letter to the world's foremost golf marketing icon, right here in the heart of downtown Cleveland.

— story by Todd Styles on behalf of On Course Foundation