It is a little before 10 o'clock on a bright Saturday morning a few weeks back, and the golf bag of Maxwell Moldovan is strapped to a cart parked near the driving range at Prestwick Country Club.
While most high school kids were likely still in the sack –- after all, summer vacation is less than two weeks old — Moldovan is ready to go to work. Just as he has done for practically his entire life.
"As soon as I could walk my dad put a club in my hand," Moldovan says. "He had me coming up to Prestwick in the mornings before I went to school. I would come up and hit balls. I think I was three or four years old when I first started."
Actually, Moldovan and clubs became acquainted earlier than he remembers.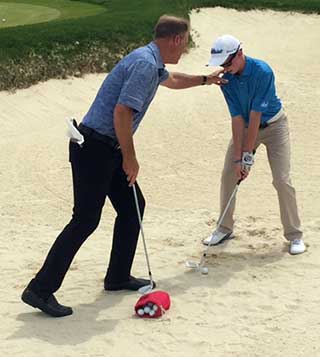 "Well, he could stand up," said John Moldovan, Maxwell's father and the director of instruction at Prestwick. "I have a picture of him at home. He was one-year-old and he has a club in his hand."
When dad is a professional it only stands to reason the son will follow; see Davis Love III, the Harmons, Nicklauses, and thousands of other pro's kids. The younger Moldovan took to the game at first swings.
"Just being up here with my dad and seeing everyone play it seems like it was fun because everyone usually had a smile on their face when they were walking around here," Maxwell recalls. "Once I got a little older and started playing I was able to hit the ball and that made it even more fun."
Things have not changed much. It seems Maxwell, now 15 and entering his sophomore year at Green High School, always has club in hand. And, he is having loads of fun.
He spends approximately six hours a day working on his game. The first hour to 90 minutes is devoted to putting drills. Then, it is off to the range to hit balls for at least 30 minutes, utilizing every club in the bag. Another 30 minutes or so is spent paying attention to chipping and bunker play. Finally, he plays 18 holes, often times extending that to 27.
"I like to practice," he said. "I think what matters most is if you can putt and chip. You can hit it mediocre (off the tee) but you can still shoot a good score if you can make a bunch of putts and hit good chips. I don't think I've ever taken a day off except in the winter."
Maxwell's work has paid off, both on the scoreboard and in attracting attention from some of the top collegiate programs in the country. He began competing at the age of 7 and he and his father estimate he won approximately 100 U.S. Kids events. His first "official" win came in a 9-hole event at Tam O'Shanter.
Maxwell keeps a list on his cell phone of which colleges he has heard from and the list is impressive, from 10-time national champion Oklahoma State to 7-time winner Stanford to two-time champ Georgia and includes Alabama, Notre Dame, Texas A&M, Texas, UCLA and Wake Forest.
While he still has three years of high school remaining, he said he is leaning toward Georgia.
"If I had to make a decision today it would be Georgia," he said. "But, that's a long way off."
Moldovan said he enjoys high school golf and is looking forward to the 2017 season, which gets underway on August 1st.
"If one or two players on a team have a bad day the team can still win because the other guys can make up for it," he said. "I am looking forward to the season because I think we have a good chance. We are one of two teams that were at state last year that didn't lose anyone (Boardman is the other) and I think we can win."
The Bulldogs finished 10th in last year's tournament on the Ohio State Scarlet Course, shortened to 18 holes because of inclement weather. Moldovan's 77 was second-best on his team to Cade Breitenstine's 76, but it was the lowest round posted by a freshman and left him in a tie for 16th overall. Green and Boardman are the only two schools that can return to Columbus with their entire 2016 teams intact.
Moldovan's solid play continued this spring, highlighted by an even-par 71 at Beechmont Country Club in the U.S. Open Local Qualifier, placing him in a tie for sixth in the 118-player field and earning him a spot as the first alternate to the sectional qualifier at Springfield Country Club. When sectional medalist Justin Lower from Canal Fulton chose to play in the Web.Com Tour Rust-Oleum Championship, Moldovan took his spot. He shot 74-78 at Springfield, but it took 133 or lower to advance to Erin Hills.
While golf is Moldovan's main interest, he also played basketball until last season when a broken wrist curtailed his season. His interest in basketball was inspired, no doubt, by his mother. Leigh Moldovan (then Burdette) was a 3-point specialist at the University of Akron (1989-93) and still stands fourth on the school's all-time list, making 139 on 391 attempts (.355).
While Maxwell's golf game does not require regular maintenance, he still visits Dad on occasion.
"When I'm struggling I ask him for a tip or something to help me out," he said. "Some kind of swing thoughts. He'll watch me hit some balls or we'll use one of his training aides."
Dad insists his son's swing is as personal as his DNA and vows there will be no major overhauls.
"I will never change his swing," senior Moldovan said. "His swing is his swing and I will never try to do anything to it. It's like Arnold Palmer's commercial for Dick's. 'Swing Your Swing.' That's Maxwell's swing and that's the way he should always play. I would not be happy if he went to college and the coach wanted to do some kind of swing change. Obviously he doesn't need it. He's a great ball-striker the way he is."
EDITOR'S NOTE: just today, Maxwell won the 54-hole AJGA All-Stars event at Mill Creek Golf Club in Boardman by three shots.