On September 25th, three new members will be inducted into the Northern Ohio Golf Association Hall of Fame. Bob Wharton is one of those new inductees.
---

Visionary.
Leader.
Administrator.
Innovator.
Mentor.
Thinker.
Savior.
Pick the adjective. All of them — and more — fit comfortably and accurately around the late Bob Wharton.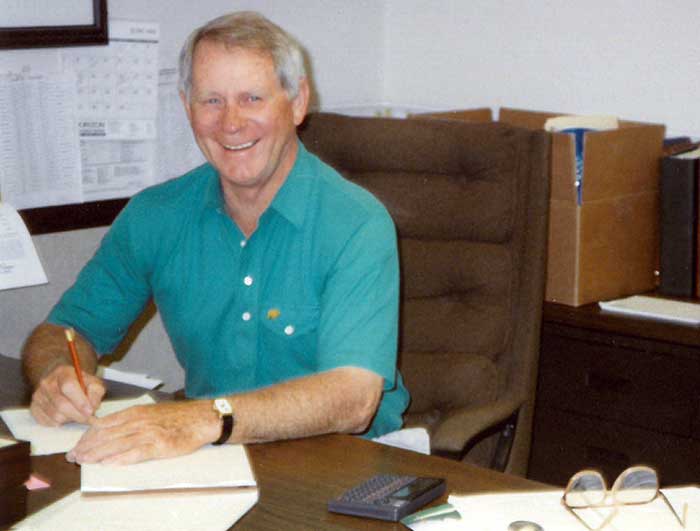 Wharton, who passed away on March 15, 2019 at the age of 88, served as the executive director of the Northern Ohio Golf Association, from 1993 to 2005.
However, a more fitting title might have been, "Mr. Ohio Golf."
He meant that much to the game and to those who play it in Northern Ohio.
And, we can't think of a more deserving candidate for the NOGA Hall of Fame.
Realistically, where would NOGA be without Wharton's early, never-ending influence and compulsion? Aided by long-time assistant Kathy Shankleton, Wharton was a game-changer. Pure and simple.
"His visions for NOGA took some time to be realized, but the NOGA of today is a direct by-product of Bob's dedication and achievements," long-time colleague Frank Rihtar wrote upon Wharton's death. "Without the Wharton Center, NOGA's offices would be in an office park or strip mall and The Turn would not exist."
The TURN was originally named "Return to Golf" was one of Wharton's endless list of contributions to the game. Initiated in 2001, The TURN serves more than 200 golfers with life-altering disabilities, providing golf and fitness instruction free of charge, as well as staging social activities aimed at improving their quality of life.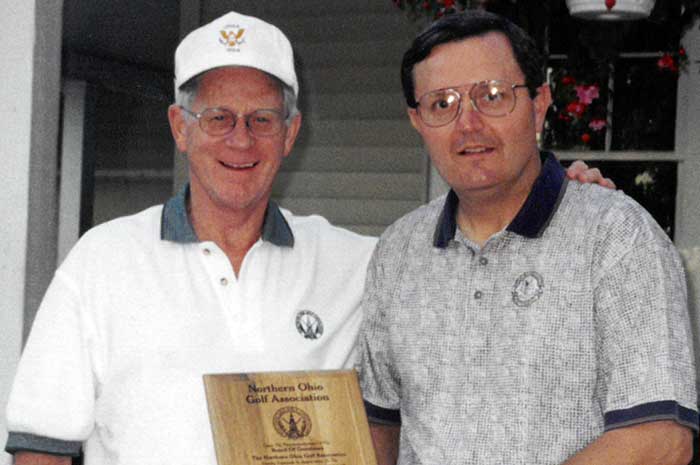 "Bob was a constant thinker," said Rihtar, NOGA's director of operations. "He always had a million great ideas, many of which were ahead of their time. I credit much of my knowledge and success today to our daily conversations in his office about golf and life."
Wharton, a long-time member and two-time president of Oberlin Golf Club, saw the importance of creating initiatives to enhance the game in Northeast Ohio, actively engaging golfers, club officials and golf course superintendents.
He dreamed of establishing a "home" for golf in Northeast Ohio and it came to fruition after he was the main cog in the acquisition of North Olmsted Golf Club. The "NOGA Golf House" was renamed the "Wharton Golf Center" the complex now houses the NOGA offices, the NOGA Hall of Fame, circle of champions, its library and archives and the course that is used for turfgrass research, junior golf and serves as the home for The Turn participants.
In 1990 Wharton was awarded the Platinum Putter Award for his involvement with The Plain Dealer Junior Golf Program.
After a 40-year career at B.F. Goodrich, Wharton became NOGA President in 1988 and the executive director five years later.
Current NOGA Executive Director Robb Schulze said, "In many ways, both NOGA and The TURN are standing on Bob's shoulders. His vision and wisdom to move NOGA's headquarters to a facility at the North Olmsted Golf Club was a game-changer for both entities. Bob was chosen a couple of months ago to be a 2019 inductee into the NOGA Hall of Fame, the Hall of Fame which Bob started. I can't think of a more fitting tribute to all that he accomplished."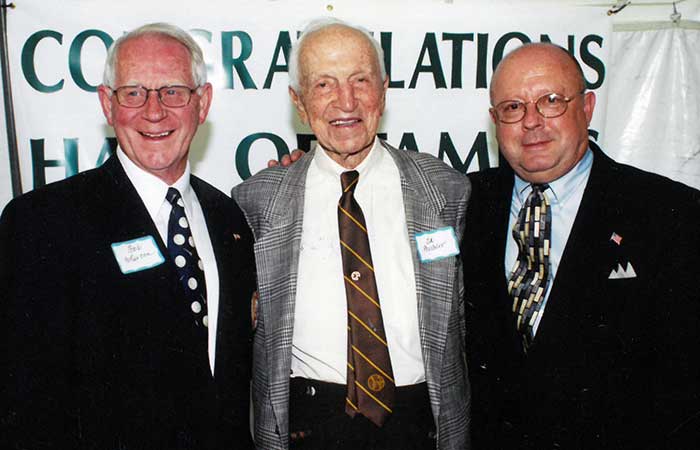 ---
2019 NOGA Hall of Fame Induction Ceremony
The 2019 NOGA Hall of Fame Induction Ceremony will be held Wednesday, September 25th at Oberlin Golf Club. New for 2019, attendees can enjoy golf at Oberlin Golf Club before the ceremony! Create your own foursome or play as a single (or twosome) and get paired up. Four-person team format will be two net best-balls of four, with each player playing their own ball with full handicaps.
Schedule of Events:
12:00 p.m. – Golf Shotgun (Optional)
4:30 p.m. – Heavy Hors d'oeuvres & Cocktail Reception
6:00 p.m. – HOF Induction Ceremony
Ceremony Tickets: $40 per person (includes hors d'oeuvres and cocktail reception)
Golf & Ceremony Tickets: $90 per person (includes golf, cart, prizes, hors d'oeuvres and cocktail reception)
Tribute: $60 (includes opportunity to have your name and personal message to inductees in the event program)