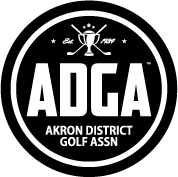 It was a tight race in both the Championship and Senior Divisions for the 2016 Akron District Golf Association's Players of the Year.
In the Championship Division, the Ungvary Cup goes to Mike Simpson (photo above), who came out on top after a strong showing at the Golfer of the Year Tournament at Shady Hollow Country Club in Massillon.
Simpson passed Howard Clendenin for the top spot after after the GOY, as Howard had a previous commitment and could not compete at the event.
The 2016 ADGA Player of the Year title marks the third time Simpson has put his name on the Ungvary trophy, also winning in 2010 and 2012.
2015 Player of the Year Aaron Crewse finished in third place on the year, while GOY champ Brian Smith took fourth place.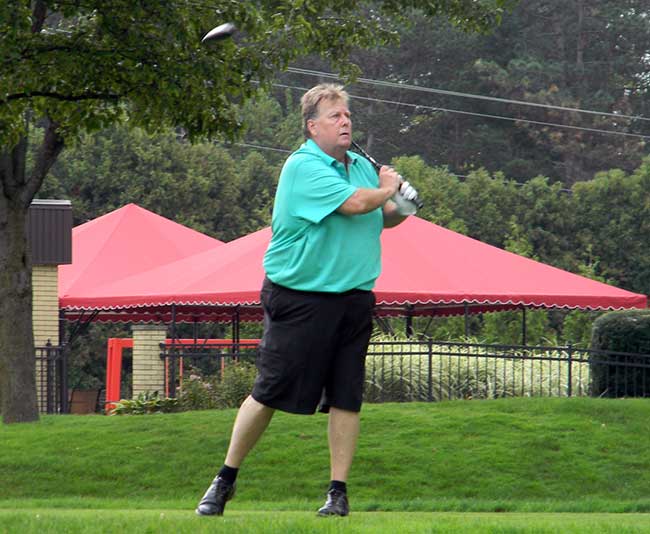 In the Senior Division, Ron Bell (shown above) leap-frogged Jim Cea and Fred Miller with his play at Shady Hollow to earn the Barnes Cup as the ADGA Senior Player of the Year crown.
Bell nabbed the top spot on the season after finishing in a tie for first at the GOY, eventually giving way to Larry Lahnan in a playoff.
Bell earned his first ADGA Player of the Year cup.
Lahnan's victory at the GOY left him in second place for the year, after starting the event in 7th place on the points list. Fred Miller grabbed third place on the Senior season.
Congratulations to Mike Simpson and Ron Bell!
FINAL ADGA CHAMPIONSHIP DIVISION STANDINGS:
Mike Simpson 1886
Howard Clendenin 1627
Aaron Crewse 1506
Brian Smith 1420
Jim Krivanek 1236
Kurt Peterson 1135
Dan Marr 1010
Allen Freeman 974
Bob Spino 770
Dean Cutlip 767
Shane Bishop 749
Dave Trier 747
Rob Schustrich 728
Ty Kovach 709
Shaun Kloetzer 706
Brian Vincelette 697
Kory Hull 688
Mike Armour 601
Matt Warren 593
John Topeka 555
Brian Beebe 531
Jake McBride 530
Brian Polick 505
Dave Oates 498
Tyler Watkins 492
Niko Anagnost 471
Eric Vought 438
Jeff Stormer 437
Dennis Berkheimer 431
Dave Sotka 411
Jeff Barbas 356
Ryan Stefanski 320
John Karamas 298
Tyler McHugh 280
Lenton 278
Heim 278
Alex Loftin 253
Bob Berkheimer 245
Blake Foutty 225
Chris Reuscher 216
Swiatkowski 216
John Kabasky 209
Federonick 202
Micheal Lenartowizc 190
Dr. Jeff Mallette 188
Matt Lewis 175
Steve Fricker 142
Chris Plute 123
Hinchliffe 120
Mike Shisler 118
Chapman 117
Charlie Schrader 115
Thomas Li 115
Adam Trent 109
Walker 95
Eddie Pearce 90
Harbert 82
Mark Schneider 73
Steve Blackburn 60
Barry 59
Sam Wade 51
Eugene Obyrne 50
Matt Thiel 50
Walchek 34
Bruce Bailey 33
Bill Steiger 25
Vellios 20
FINAL ADGA SENIOR DIVISION STANDINGS:
Ron Bell 1877
Larry Lahnan 1749
Fred Miller 1536
Mark Borlin 1495
Jim Cea 1476
Rick Bryson 1348
Doug Fleming 1334
Tim Davis 1194
Tom Skidmore 1117
Mark Thomas 1072
Tom Baugh 954
Tom Seever 893
Tom Stack 834
Ed Marsinek 806
Brian Huntley 794
Jim Herchek 774
Dave Cutlip 756
Mark Ciccarello 728
Fred Martin 699
Raul Mendoza 627
Tom Laubacher 569
Jeff Dean 562
Doug Hull 543
Joe Hedrick 530
Sam Spino 516
Jim Tarter 500
William Downing 497
Rob Yanko 490
Mike Demeter 460
Bruce Dean 431
Mark Foss 415
Troy Luckenbaugh 410
Russell Rybka 408
Tom Ream 408
Rick Merrow 375
Brian Roth 305
Rich Lowry 257
Monty Guest 254
Tom DiFrancesco 195
Tom Thompsom 195
Jim niskanen 195
James Grosso 158
Mike Hochswender 155
Steve Wilson 155
Nick Lambos 134
Russ Swartz 130
Mark Guadagni 112
James Durr 112
Terry Szwast 103
Dave Bolas 100
John Kern 98
Larry Horner 93
Chris Helaney 91
Mike Yaich 85
Pat Ziga 78
steve Fiest 75
John Johnston 67
Doran DaVello 65
Doug Rockich 63
Woody Woodrum 62
JP Jones 56
Joe Nemeth 55
John Bader 52
Joel Recht 50
Dr. Tim Cox 50
Dave Sattler 25
Galehoue 25
Tom Markham 25