The Dublin Jerome Girls Golf Team never trailed on its way to winning its seventh OHSAA Division I State Championship, while New Albany sophomore Mia Hammond went a record-setting 4-under par over the two days on the Gray Course at The Ohio State University.
With seven titles, Jerome is still the only girls' golf team with more than four state championships. The Celtics took home the gold trophy for the first time since 2015 (2005-11-12-13-14-15). Jerome junior Alexa Prettyman led the team with a 71-72=143, a score that tied for second place overall, while junior Ellie Ryu shot a 73-76=149 to finish in the Top 10. Junior Mia Ringger (77-71=151) and senior Addie Yarbrough (76-78=156) were both in the Top 20.
Rocky River's Magnificat finished in second place as a team, 11 shots behind. Their two-day total of 306 was tied by New Albany, but Magnificat won the fifth-player tie-breaker.
New Albany's Hammond set the OHSAA Division I individual state tournament record and tied the all-divisions record at an OHSAA girls golf state tournament. Hammond shot 67-69=136, which tied the all-divisions record held by Sarah Willis from Eaton, who shot 68-68=136 at the 2016 Division II state tournament. The previous Division I state tournament record was set by Katie Hallinan from Cincinnati Walnut Hills with a 68-69=137 in 2017.
Joining Prettyman with runner-up medalist honors at 143 were senior Isabella Goyette from Medina Highland, junior Skylar Dean from Lewis Center Olentangy Orange, and senior Sydney Deal from Perrysburg.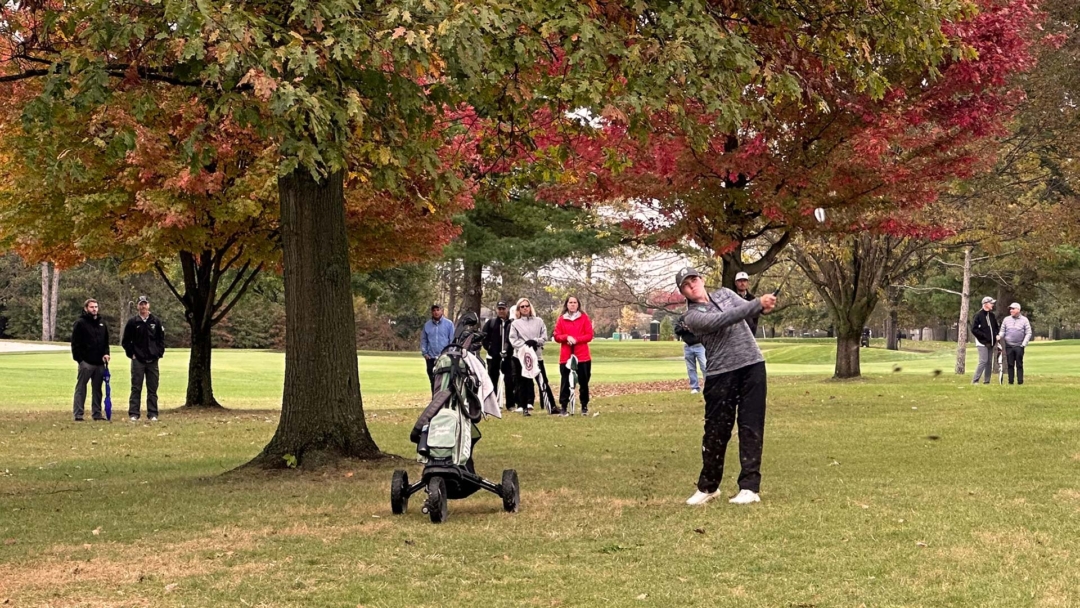 FINAL RESULTS: Girls High School Golf
2023 OHSAA Division I Girls State Championship
Ohio State University Golf Club Gray Course, Columbus
Friday, October 20 – Saturday, October 21, 2023

Team Results:
1 Dublin Jerome 297 – 300 = 597
2 Magnificat 307 – 301 = 608
3 New Albany 301 – 307 = 608
4 Medina Highland 315 – 314 = 629
5 Sycamore 321 – 312 = 633
6 Springboro 315 – 342 = 657
7 Hudson 342 – 321 = 663
8 Ursuline Academy 337 – 331 = 668
9 Hoover 333 – 336 = 669
10 Toleda St. Ursula Academy 338 – 343 = 681
11 Granville 340 – 346 = 686
12 Perrysburg 355 – 345 = 700
Individual Results:
1 Mia Hammond , New Albany SO 67 – 69 = 136
2 Alexa Prettyman , Dub. Jerome JR 71 – 72 = 143
2 Isabella Goyette , Medina Highland SR 70 – 73 = 143
2 Skylar Dean , Olentangy Orange JR 71 – 72 = 143
2 Sydney Deal , Perrysburg SR 71 – 72 = 143
6 Meadow Tian , Olentangy SO 73 – 72 = 145
7 Clare Yeazell , Lakota East SR 72 – 74 = 146
8 Emerson Purcell , New Albany SR 74 – 73 = 147
9 Cammy Reed , Magnificat JR 77 – 71 = 148
10 Ellie Ryu , Dub. Jerome JR 73 – 76 = 149
10 Maureen Burns , Mt. Notre Dame SR 79 – 70 = 149
10 Caroline Thompson , Sycamore SR 76 – 73 = 149
13 Cara Heisterkamp , Magnificat SR 77 – 73 = 150
Maureen O'Leary , Magnificat JR 75 – 75 = 150
Debra Brogan , Oak Hills SR 79 – 71 = 150
16 Mia Ringger , Dub. Jerome SR 77 – 74 = 151
17 Gabriella Berlingieri , Stow-Munroe Falls SR 76 – 76 = 152
Faith Brumfield , Ursuline Academy SR 74 – 78 = 152
19 Sophia Stanton , Anthony Wayne SO 76 – 78 = 154
Gracyn Vidovic , Aurora JR 75 – 79 = 154
Addie Yarbrough , Dub. Jerome SR 76 – 78 = 154
Emmy Burling , Hudson JR 81 – 73 = 154
Serena Wu , Solon SO 79 – 75 = 154
Eva Becerril , Sycamore SO 78 – 76 = 154
25 Elizabeth Coleman , Med Highland SO 81 – 74 = 155
26 Saylor Wharff , Marietta SR 76 – 81 = 157
Elle Furrow , New Albany SO 75 – 82 = 157
Kinsley Brown , Springboro SO 78 – 79 = 157
29 Jenna Dejonckheere , Sycamore JR 79 – 79 = 158
Madolyn Kost , Roosevelt SR 79 – 79 = 158
31 Medha Pothuru , Dub. Jerome SR 79 – 80 = 159
Ellie Hutzler , Hoover FR 80 – 79 = 159
Ella Puthoff , Ursuline Academy SR 79 – 80 = 159
34 Kayla Knaze , Magnificat FR 78 – 82 = 160
35 Lydia Wigal , Granville SO 77 – 85 = 162
Ava Kemp , Hoover JR 82 – 80 = 162
37 Kristina Chill , Magnificat SO 78 – 85 = 163
38 Elise Dunkle , Springboro FR 79 – 86 = 165
39 Paige McKendry , Med Highland SR 88 – 78 = 166
Emma Myers , Tol. St. Ursula Acad. JR 84 – 82 = 166
41 Danielle Stinson , Springboro SR 78 – 89 = 167
42 Avery Staten , Granville SO 83 – 85 = 168
Sherry Du , Hudson SR 87 – 81 = 168
Elena Varga , Hudson FR 85 – 83 = 168
Taylor Dunkle , Springboro JR 80 – 88 = 168
46 Ava Hesselschwardt , Defiance FR 83 – 86 = 169
47 Ceci Coccia , New Albany JR 85 – 85 = 170
48 Olivia Jones , Granville JR 87 – 85 = 172
Kavya Chada , Med Highland SR 81 – 91 = 172
Kendall Sprutte , Med Highland JR 83 – 89 = 172
Kylie Porter , Hoover JR 85 – 87 = 172
Allison Weisbrod , New Albany FR 89 – 83 = 172
Lindsey Kornowa , Tol. St. Ursula Acad. SO 85 – 87 = 172
Sonali Singla , Sycamore JR 88 – 84 = 172
55 Ellie Davis , Hudson SR 89 – 84 = 173
Sophia Antypas , Tol. St. Ursula Acad. SR 85 – 88 = 173
57 Alyssa Evans , Hoover JR 86 – 90 = 176
Kennedy Donnelly , Tol. St. Ursula Acad. SO 90 – 86 = 176
59 Leah Mulcahy , Ursuline Academy FR 94 – 83 = 177
60 Julia Van Bokkelen , Hudson JR 93 – 85 = 178
Sydney Socha , Tol. St. Ursula Acad. SO 84 – 94 = 178
62 Ariyah Ellis , Perrysburg SR 90 – 90 = 180
Molly Beckstedt , Ursuline Academy JR 90 – 90 = 180
64 Emily Pettigrew , Springboro SR 90 – 92 = 182
65 Isabella Gollin , Sycamore SR 91 – 92 = 183
66 Hannah Huggins , Granville JR 93 – 91 = 184
Olivia Eisaman , Perrysburg SR 96 – 88 = 184
68 Olivia Pfannenschmidt , Hoover SR 94 – 91 = 185
69 Ainsley Laidlaw-Smith , Granville JR 94 – 93 = 187
70 Paige Feldkamp , Perrysburg SR 98 – 95 = 193
Claire Renners , Ursuline Academy JR 97 – 96 = 193
72 Mia Moffitt , Perrysburg SR 101 – 109 = 210