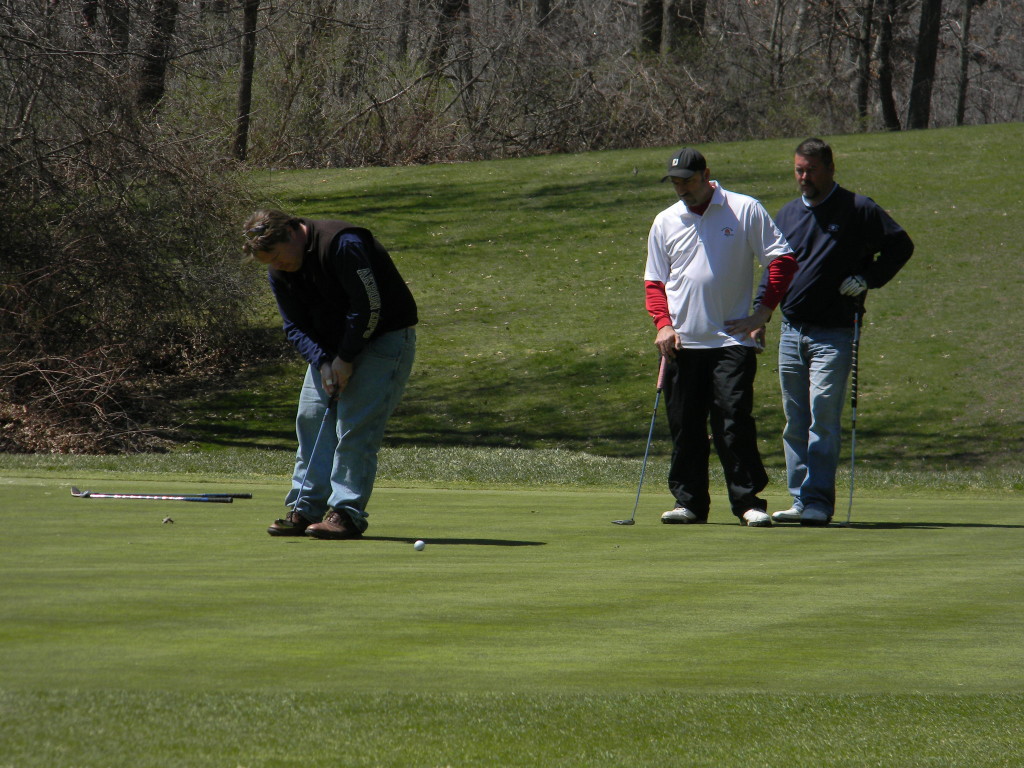 The superintendent at The Fairways at Twin Lakes won the first event on Saturday.
The golf course was in truly great shape for an April event, with impressive green speeds and course conditions for so early in the golf season. But superintendent Harold Burns was a bit aggressive cutting three of the hole locations on run-off-the-green slopes on holes 2, 5 and 8, and that led to a few team-crash-and-burns and a fairly high winning total score.
(Tournament Director Chris Plute wanted to assure players that those hole locations were a one-time miscommunication that were not intended. The monthly tournament setup is to be 'challenging but fair'; players won't see an 'extreme' setup like that again until November.)
Tim Morrow and Griffin Todd (pictured at right) played solid golf and were able to stay away from any big numbers in posting a 6-under par score of 64 to win the April event in this monthly season-long series.
They nipped Mike Simpson and Jim Krivanek by a single shot. But Simpson and Krivanek were the big money winners on the day, as they combined their second place finish with two different skin opportunities to earn a team total of $1,446.
Morrow and Todd added a Double-Skin on holes 7/16 of the 9-hole layout to their first place winnings to earn $996 total as a team.
A strong field of 22 teams participated in great springtime weather on a golf course that was tournament ready, setting up what looks to be another fun season at Twin Lakes. A number of different teams and players had high finishes and won skins and pin shots, spreading the wealth around a bit. Complete results below.
The first posting of the season-long points totals will be made late next week, to begin a monthly update on the race to the 2014 Twin Lakes Series Championship.
See the April event photo gallery here.
The next event of the 2-Man Scramble Series at The Fairways at Twin Lakes will be played on Sunday, May 18th; register through the link to the Tournament Calendar.

FINAL RESULTS:
April 2014 2-Man Scramble Series Event
The Fairways at Twin Lakes, Kent, Ohio
Saturday, April 19th, 2014
Par 70

1 – Tim Morrow – Griffin Todd 31-33=64 $680
2 – Mike Simpson – Jim Krivanek 32-33=65 $470
T3 – Mark Thomas – Tom Seever 32-34=66 $255
T3 – Ed Marsinek – Dave Cutlip 34-32=66 $255
T5 – Dan Marr – Bobby Spinno 33-34=67 $25
T5 – Quinn Parker – John Kabasky 34-33=67 $25
T5 – Brian Smith – Ryan Stefanski 34-33=67 $25
T5 – Ryan Mikita – Mike Sampson 33-34=67 $25
T9 – Aaron Crewse – Brian Vincellette 35-33=68
T9 – Al Freeman – Ty Kovach 32-36=68
T9 – Bob Blaze – Greg Omen 35-33=68
T9 – Phil Bojc – Partner 34-34=68
13 – Dave Sotka – Steve Blackburn 34-35=69
T14 – Ian Marek – Kyle Jacob 35-35=70
T14 – Tim Hepner – Bart Busby 35-35=70
T16 – Adam Stinogle – John Kovolyn 37-34=71
T16 – Tim Sullivan – Randy Steel 35-36=71
18 – Nick Bryan – Chris Parker 40-34=74
T19 – Chris Plute – Bruce Bailey 38-37=75
T19 – Mike Armour – Dave Trier 36-39=75
21 – Brian Harvey – Greg Robb 40-42=82
22 – Phil Puma – Dave 47-49=96
Big Skins: (each hole stands on its own, 18 chances)
Birdie Hole #8: Aaron Crewse – Brian Vincellette – $660
Birdie Hole #18: Mike Simpson – Jim Krivanek – $660
Double Skins: (each hole played twice, combined score)
Double Birdie Hole 9-18: Mike Simpson – Jim Krivanek – $316
Double Birdie Hole 7-16: Tim Morrow – Griffin Todd – $316
Double Birdie Hole 6-15: Dave Sotka – Steve Blackburn – $316
Closest to the Pin: (each par 3 played twice, closest on two chances)
Hole 2-11: Ty Kovach – $200
Hole 8-17: Al Freeman – $200
Closest to the Pin, Second Shot Hole #9/18:
Aaron Crewse – $20 Gift Card