SOWARDS WINS OHIO SENIOR OPEN FOR 5TH TIME

Some things will never change. The sun will always set in the West, the underdog will always get the girl, the final round of the U.S. Open will always fall on Father's Day and Bob Sowards will always win the Michelob Ultra Ohio Senior Open.
As long as he enters, that is.
Okay, that might be a bit of a stretch but it sure seemed that way Thursday when Sowards won the event conducted by the Northern Ohio Section of the PGA of America for the fifth consecutive year with a final-round two-under 68 for a 36-hole total of 5-under 135 and a two-shot victory over Loveland's Mike Thomas (69-68).
It is safe to say that Sowards, the Director of Instruction at Kinsale Golf and Fitness Club in Powell, has yet to meet an Ohio Senior Open that he didn't like. No one in the 38-year history of the event has dominated as he has.
He has been eligible for five years and he has won every year.
In his 10 Senior Open rounds he has 10 rounds under par.
His five victories break the tie of four that he shared with NOPGA Hall-of-Famer Gary Robison.
It also is safe to say that Sowards likes the Fazio Course, which drew rave reviews from a number of players.
"I wish every event I played was played on this course," he said. "This course suits me perfectly. I love the sight lines. I've never played bad here. It's just perfect. It's always in great condition. It's just a great event at a place I really like."
Sowards, who has qualified for the U.S. Senior Open, credited fellow Southern Ohio PGA member and former Senior Open champ Larry King with a putting tip prior to his round.
"I really didn't putt that well on Wednesday and Larry gave me a little lesson and it really helped," Sowards said. "I really have to give Larry credit. I putted a lot better today."
The victory was worth $2,500.
Thomas, the general manager of Sharon Woods Golf Club in Sharonville, was the only other player in the Senior Division to post two rounds in the 60s. Two birdies and an eagle on the 506-yard 17th led Thomas to a back-nine 31 and sole possession of second place.
Centerville's Tim Krapfel, another solid SOPGA member, made a slight run at Sowards, getting to within one shot at one time on the back side, and finished solo third at 70-68. A bogey on the par-3 16th doomed practically any chance of Krapfel catching Sowards as he fell to 2-under par and three shots back.
NOPGA stalwarts and Kent State pals Steve Parker and Rob Moss finished fourth and fifth, respectively. Parker, former Director of Golf at Portage Country Club, went 69-70 and Moss, head professional at the Pepper Pike Club, went 69-71.
Perrysburg's Mike Stone, who shared the first-round lead with Sowards at 3-under, closed with a 74 to finish sixth.
Brad Steven, who began the day one shot behind Sowards and Stone, also closed with a 74. The amateur from Concord Township and Cleveland State graduate, fell to a tie for seventh at 142 but earned low amateur honors.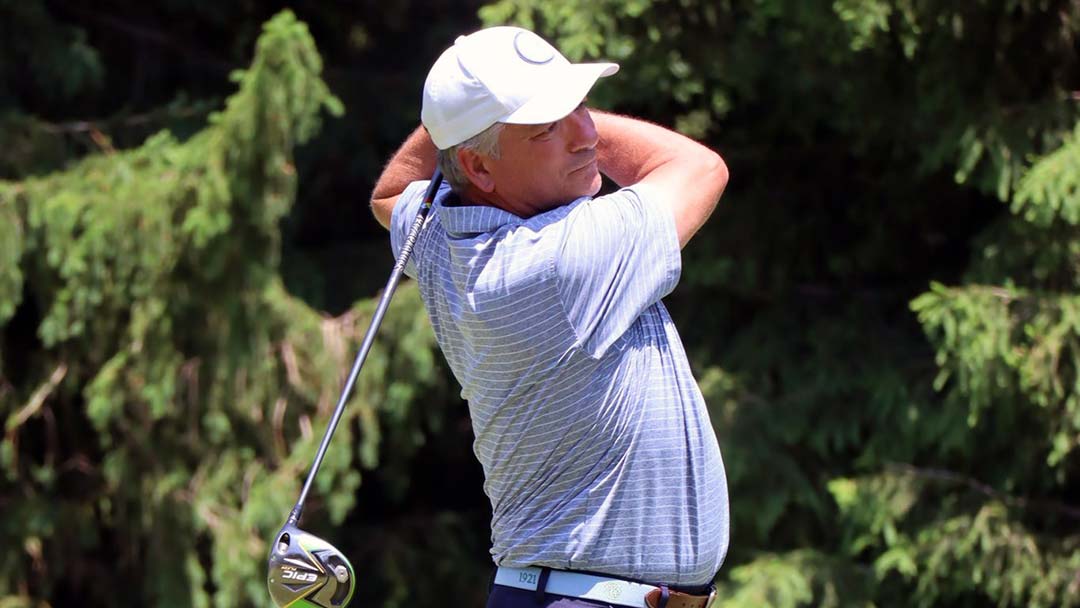 Sowards, who turns 55 in eight days, birdied two of the first five holes and made the turn at one-under 34 and 4-under for the tournament. Another birdie on the 385-yard 10 got him to five-under but he quickly gave it back with his second bogey of the day – and just his third of the tournament – on the 421-yard 11th.
A chip to five feet set up a birdie on the par-5 13th returned him to 5-under and a crafty up-and-down on the 132-yard par-3 14th might have been the turning point.
"Before the 14th I was playing solid, no one was really making a run and I felt I had a pretty good grasp on the trophy," Sowards said. "I tried to hit a little chippy pitching wedge and just cold shanked it. That really rattled me. The last four holes I was as nervous as I've ever been. That was kind of weird because I wasn't nervous before that. But once you shank one from a perfect lie off a tee you start wondering. I almost shanked it again on 15. But, luckily, my short game always travels and I didn't make any bogeys the rest of the way."
SENIOR PLUS TITLE GOES TO RELATIVE NEWCOMER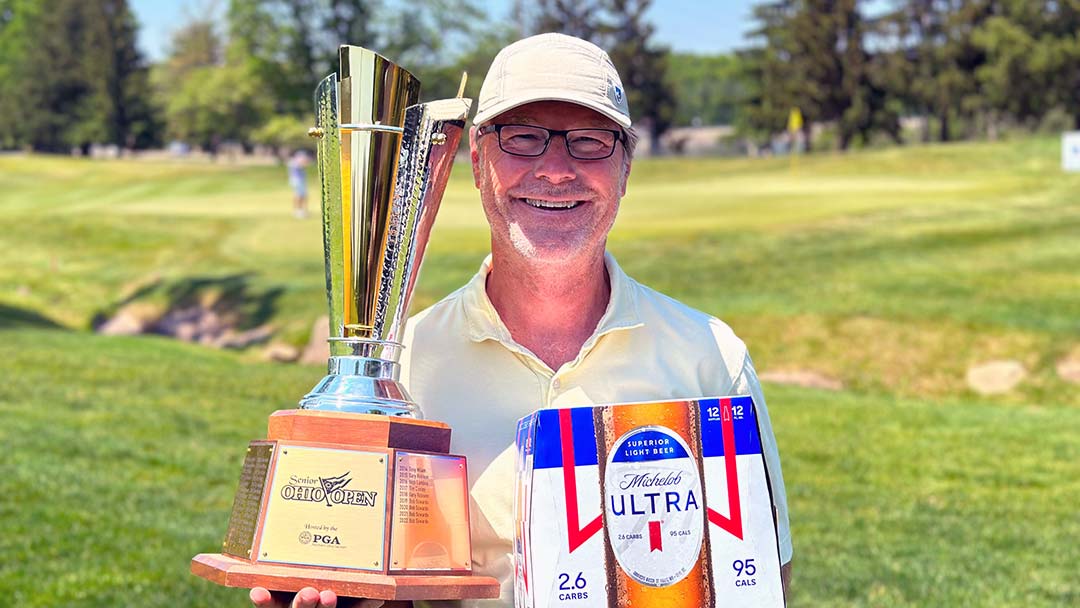 Cal Wood, a 61-year-old amateur from Athens, won the Senior Plus Division with rounds of 69-67-136 and a 3-shot win over Youngstown amateur and first-round leader Richard Marlowe (68-71). To say Wood was a surprise winner would not be out of bounds. Even he was surprised.
"It was a miracle," he said. "I haven't been playing all that well lately, but all of a sudden, presto!"
PHOTO GALLERY: 2023 Ohio Senior Open Rds 1+2 >

FINAL RESULTS: Northern Ohio PGA
2023 Michelob Ultra Ohio Senior Open
Firestone Country Club, Fazio Course, Akron – Par 70
Wednesday, May 31 – Thursday, June 1, 2023
Sponsored By: Michelob Ultra and House of LaRose
Presented By: Invited Club and Firestone Country Club
Professional Results (50 & Over)
1 Bob Sowards Dublin, OH 67-68–135 -5 $2,500.00
2 Mike Thomas Loveland, OH 69-68–137 -3 $1,900.00
3 Tim Krapfel Centerville, OH 70-68–138 -2 $1,500.00
4 Steve Parker Akron, OH 69-70–139 -1 $1,100.00
5 Rob Moss Broadview Heights, OH 69-71–140 E $900.00
6 Mike Stone Perrysburg, OH 67-74–141 +1 $800.00
T7 Mitch Camp Aurora, OH 72-70–142 +2 $650.00
T7 Jon Jones Warren, OH 69-73–142 +2 $650.00
T9 Jim Karr Columbia Station, OH 74-71–145 +5 $393.75
T9 Gary Rusnak Painesville, OH 74-71–145 +5 $393.75
T9 Sam Arnold Cincinnati, OH 70-75–145 +5 $393.75
T9 Harold Wallace McDermott, OH 71-74–145 +5 $393.75
T13 Scott Pollack Chagrin Falls, OH 73-73–146 +6 $275.00
T13 Tom Atchison Silver Lake, OH 72-74–146 +6 $275.00
T13 Craig Goldsberry Lewis Center, OH 71-75–146 +6 $275.00
T16 Timothy Ailes Delaware, OH 77-70–147 +7
T16 Paul Hollenbaugh New Albany, OH 72-75–147 +7
T16 Sean Kenily New Philadelphia, OH 75-72–147 +7
T16 Nick Myers Sylvania, OH 74-73–147 +7
T20 Tony Adcock Canton, OH 74-74–148 +8
T20 Darrin Vaughan Bolivar, OH 72-76–148 +8
T22 Bob Stephens Springboro, OH 77-72–149 +9
T22 Tom Waitrovich Westlake, Ohio 75-74–149 +9
T22 Chris Black Lancaster, OH 74-75–149 +9
T25 Steve Stone Maumee, OH 73-77–150 +10
T25 Kevin Sullivan Painesville, OH 77-73–150 +10
T25 Eric Morgan Sandusky, OH 76-74–150 +10
T28 Robert Koch Medina, OH 74-77–151 +11
T28 Mike Kaido Zanesville, OH 75-76–151 +11
T30 Gary Trivisonno Aurora, OH 77-75–152 +12
T30 Ronald Salerno Broadview Hts, OH 77-75–152 +12
T30 Scott Savage Mount Vernon, OH 77-75–152 +12
T33 Justin Long Ravenna, OH 80-74–154 +14
T33 Ray Finnearty Delaware, OH 78-76–154 +14
T33 Larry King Cincinnati, OH 77-77–154 +14
T33 Tony Milam Concord Township, OH 75-79–154 +14
T37 Dan Sutton Toledo, OH 80-75–155 +15
T37 Joseph Borawski Massillon, OH 79-76–155 +15
T39 Scott Karabin Warren, OH 79-77–156 +16
T39 Jack Pawelkoski Dayton, OH 77-79–156 +16
T39 Thomas Bach Springboro, OH 76-80–156 +16
T39 Andy Santor Youngstown, Ohio 75-81–156 +16
43 John Goodson Hudson, OH 79-81–160 +20
T44 Daniel Terry Wadsworth, OH 82-79–161 +21
T44 Russell Papa Aurora, OH 81-80–161 +21
T44 Michael Shulas Salem, OH 79-82–161 +21
47 Brad Cavey Medina, OH 85-88–173 +33
Amateur Results (50 & Over)
1 Brad Steven (a) Concord Township, OH 68-74–142 +2 $800.00
2 Peter Betzold (a) West Chester, OH 72-71–143 +3 $600.00
3 Monty Guest (a) Solon, OH 74-70–144 +4 $500.00
T4 Ken Kinkopf (a) Dublin, OH 73-72–145 +5 $375.00
T4 Dan Belden (a) Massillon, OH 69-76–145 +5 $375.00
6 Troy Boswell (a) Reynoldsburg, OH 75-71–146 +6 $325.00
T7 Robert Spino (a) New Franklin, OH 78-69–147 +7 $262.50
T7 Michael Riley (a) Akron, OH 77-70–147 +7 $262.50
T7 Doug Ison (a) Jackson, OH 75-72–147 +7 $262.50
T7 Dave Antill (a) Dublin, OH 70-77–147 +7 $262.50
11 Howard Clendenin (a) Fairlawn, OH 74-74–148 +8 $200.00
T12 Roy Fankhauser (a) Avon, OH 76-74–150 +10 $58.33
T12 Mike Haynes (a) Gallipolis, OH 70-80–150 +10 $58.33
T12 Joe Podolski (a) Worthington, OH 75-75–150 +10 $58.33
15 Dean Cutlip (a) Copley, OH 75-76–151 +11
16 Stephen Mayes (a) Westerville, OH 76-76–152 +12
T17 Allen Freeman (a) Brecksville, OH 72-81–153 +13
T17 Kurt Peterson (a) Massillon, OH 75-78–153 +13
T19 Brian Vincelette (a) Wadsworth, OH 80-74–154 +14
T19 Jeff Harper (a) Coolville, OH 74-80–154 +14
T19 Michael Sweany (a)Massillon, OH 77-77–154 +14
T22 Rick Harmon (a) Winchester, OH 74-81–155 +15
T22 Mark Guadagni (a) Hudson, OH 72-83–155 +15
24 Mark Warden (a) Vincent, OH 76-81–157 +17
25 Peter Butler (a) Medina, OH 79-79–158 +18
26 Brian Beebe (a) Uniontown, OH 82-77–159 +19
T27 Jeff Thrams (a) North Canton, OH 85-76–161 +21
T27 Dean Pahr (a) Beachwood, OH 78-83–161 +21
29 Edward Diebold (a)Coventry Township, OH 82-81–163 +23
T30 Dennis Dempsey (a)Madison, OH 82-83–165 +25
T30 Michael McCarthy (a) Toledo, OH 81-84–165 +25
T30 Benjamin Aveni (a)Painesville, OH 79-86–165 +25
T33 John Toth (a) Akron, OH 86-80–166 +26
T33 Roger Tolley (a) Willard, OH 83-83–166 +26
35 Derek Kesig (a) Delaware, OH 81-87–168 +28
36 Robert Wadsworth (a) Uniontown, OH 88-81–169 +29
37 Wayne Moler (a) Waterford, OH 95-80–175 +35
38 Brad Stewart (a) Doylestown, OH 97-86–183 +43
39 Chris Helaney (a) Lakewood, OH 91-100–191 +51
Senior Plus Professional Division (60 & Over)
1 Pat Delaney Springfield, OH 69-71–140 E $800.00
T2 Steve Groves Columbus, OH 75-73–148 +8 $600.00
T2 Scott Spence Sunbury, OH 70-78–148 +8 $600.00
4 Larry Stefanov Uniontown, OH 76-75–151 +11 $350.00
5 Terry Shell Wintersville, OH 78-74–152 +12
6 Steven Shaw Brecksville, OH 76-84–160 +20
7 Kim Boehlke Youngstown, OH 84-77–161 +21
8 Charles Goodwin Amherst, OH 81-81–162 +22
Senior Plus Amateur Division (60 & Over)
1 Cal Wood (a) Athens, OH 69-67–136 -4 $800.00
2 Richard Marlowe (a) Youngstown, OH 68-71–139 -1 $600.00
3 Dan Malloy (a) Avon, OH 73-68–141 +1 $500.00
4 Edward Steiber (a)Cincinnati, OH 74-70–144 +4 $400.00
T5 John Rodney (a) Kettering, OH 71-74–145 +5 $337.50
T5 Scott Perry (a) Lowell, OH 72-73–145 +5 $337.50
7 Jeffrey Knox (a)Boston Hts., OH 75-71–146 +6 $300.00
8 Mark Borlin (a) Stow, OH 78-69–147 +7 $275.00
9 Dan DeVore (a) Cincinnati, OH 76-72–148 +8 $250.00
10 Michael Hochschwender (a) Akron, OH 73-76–149 +9 $225.00
11 Jeff Semple (a) Canton, OH 77-74–151 +11 $200.00
T12 Randy Reifers (a) Milford, OH 78-74–152 +12 $29.17
T12 Terry Tyson (a) Perrysburg, OH 76-76–152 +12 $29.17
T12 Marc Fried (a) Solon, OH 76-76–152 +12 $29.17
T12 Mark Boothby (a)Cincinnati, OH 75-77–152 +12 $29.17
T12 George Allen (a)Warren, OH 75-77–152 +12 $29.17
T12 John Jewell (a) Centerville, OH 73-79–152 +12 $29.17
T18 David Belden (a)Port Clinton, OH 77-76–153 +13
T18 Curtis Cranmer (a)Waynesville, OH 76-77–153 +13
T20 Raul Mendoza (a)North Lawrence, OH 80-74–154 +14
T20 Tom Baugh (a) Akron, OH 76-78–154 +14
T20 William Downing (a)Akron, OH 76-78–154 +14
23 David Clarke (a) Saint Clairsville, OH 76-79–155 +15
T24 Jim Durr (a) Silver Lake, OH 77-79–156 +16
T24 Larry Lahnan (a)Aurora, OH 76-80–156 +16
T24 Frank Guise (a) Westlake, OH 75-81–156 +16
T27 Raymond Najda (a)Olmsted Township, OH 76-81–157 +17
T27 Jim Groh (a) Hinckley, OH 74-83–157 +17
T29 Ron Rositani (a)Willowick, OH 79-79–158 +18
T29 Clay Baker (a) Galena, OH 78-80–158 +18
T31 Lou Boarman (a) Mogadore, OH 79-80–159 +19
T31 Mark Thomas (a) Jackson Twp, OH 80-79–159 +19
33 Dave Ison (a) Pedro, OH 79-81–160 +20
34 Mike Cassell (a)Hudson, OH 82-79–161 +21
T35 Randy Crider (a)Brunswick, OH 82-80–162 +22
T35 Jeff Luken (a) Middleburg Hts., OH 81-81–162 +22
T35 Michael Ross (a)Hinckley, OH 81-81–162 +22
38 Jeff Thompson (a)Cincinnati, OH 81-85–166 +26
39 Stephen Baker (a)North Royalton, OH 83-84–167 +27