ROYALTON'S DAVID SWAB SETS SCORING MARK IN WINNING 40TH KENNY NOVAK AT CLUB WALDEN
North Royalton's David Swab shot a single-round tournament record of 6-under 66 on Wednesday to come from behind and win the 40th Kenny Novak Northern Ohio PGA Junior Tour Championship with a two-day total of 3-under 141 at Club Walden.
Swab, who will be a freshman at Detroit Mercy, finished five strokes in front of runner-up Dillon Pendergast of Mogadore, who had two rounds of 1-over 73 and 11 shots over third-place finisher Rocco Turner of Canfield, who had rounds of 78-74.
Competing in the Boys 16-19 age group, Swab began the day three shots out of the lead after opening with a 3-over 75 on Tuesday. He played bogey-free on Wednesday until the 17th hole and finished with seven birdies.
His round also is believed to have equaled the competitive course record, set four years ago during the Mid-American Conference tournament.
The victory was Swab's fourth of the summer and third in NOPGA Junior Tour events. He also won single-day NOPGA events at Ellsworth Meadows and Manakiki and has seven top-10 finishes overall.
The event attracted 131 boys and girls in five age-groups.
Ella Wong, Mick Ambrose, Serena Wu, Elijah Stewart Capture Age Group Titles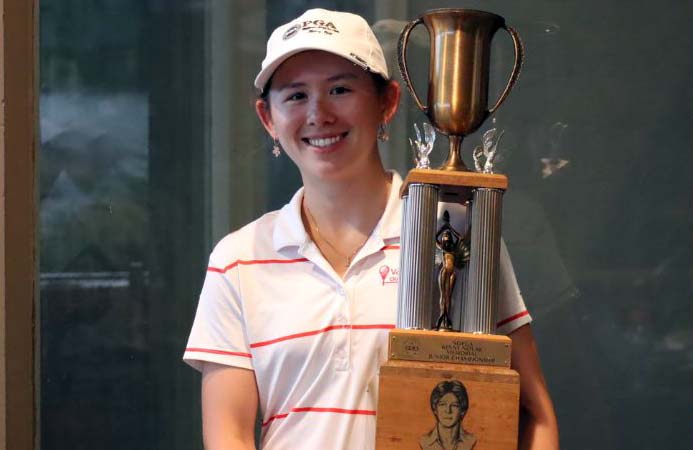 GIRLS 16-19: Pepper Pike's Ella Wong, who will be a freshman at Washington & Lee, shot rounds of 71-74 for a 1-over 145 to post a 3-shot win over Waite Hill's Dixon Hill (76-72=148). Wong had a 2-shot lead after the first round and maintained it throughout 18 holes on Wednesday. Hill, the 11-15 winner last year, trailed by five shots entering the final 18 holes, but an even par-72 – the second-best score of the tournament – lifted her into second place. Wong, who was third last year, picked up her second victory of the season to go with two other top-three finishes.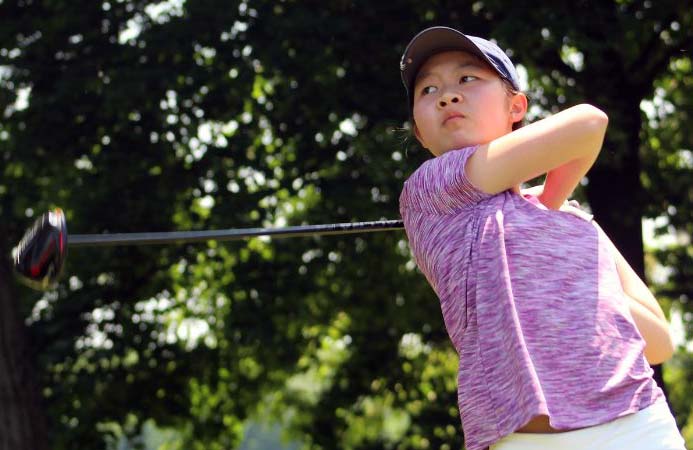 GIRLS 11-15: Solon's Serena Wu had rounds of 72-74=146 to win by a whopping 13 shots. Fairview Park's Korrine Knaze (83-76) was second and Medina's Elizabeth Coleman (81-82) was third. Wu, who finished third in this event last year, had a 9-shot lead after the first round and birdied two of her final six holes to win comfortably. Wu, 15, was not challenged as she padded her lead in the player-of-the-year points race by earning her 11th win in 18 events this season.
BOYS 14-15: Canfield's Mick Ambrose cruised to a wire-to-wire victory with rounds of 79-71=150 and a 9-shot win. Chesterland's Dylan Phillips climbed into second place at 81-78=159 and Medina's Cameron Stafford (79-81) was third. Ambrose, 15, and Stafford shared the first-round lead but pulled away with an even-par on the front nine and a 1-under 35 on the back when he birdied two of his final five holes.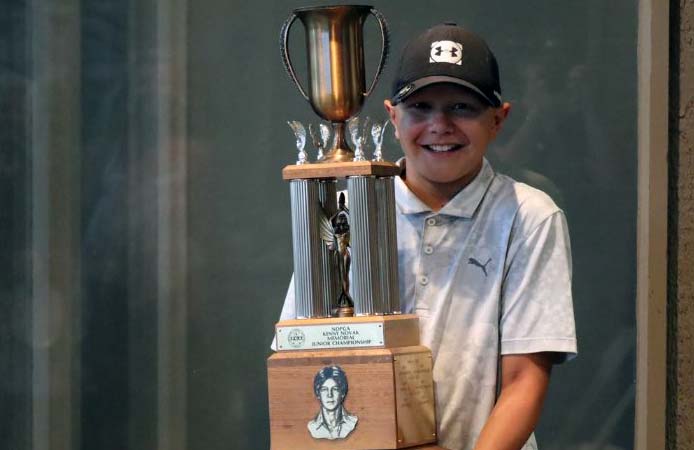 BOYS 11-13: East Liverpool's Elijah Stewart also was a comfortable winner with consecutive rounds of 1-over 73 for a 146 and a coast-to-coast 8-shot win over runnerup Nicholas Pollak, of Aurora, who had rounds of 74-80. Wadsworth's Ray Koeberle (78-83=161) was third, which is how the trio finished the opening round. Stewart birdied two of his last four holes for a 1-under 35.
PHOTO GALLERY: 2023 Kenny Novak RD2 >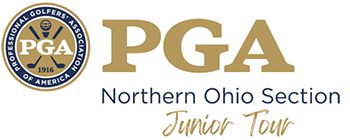 FINAL RESULTS: Northern Ohio PGA
40th Kenny Novak NOPGA Junior Tour Championship
Club Walden, Aurora
Tuesday, July 25 – Wednesday, July 26, 2023
BLUE GOLF HOLE-BY-HOLE SCORING >
BOYS 16-19
1. David Swab, North Royalton, OH, 2023, *75-66-141 -3
2. Dillon Pendergast, Mogadore, OH, 2023, *73-73-146 +2
3. Rocco Turner, Canfield, OH, 2024, *78-74-152 +8
4. Anthony Gore, Copley, OH, 2023, *78-75-153 +9
4. Jackson Pinney, Hunting Valley, OH, 2025, *78-75-153 +9
4. Ray Dress, Medina, OH, 2025, *75-78-153 +9
7. Ben Scheeff, Olmsted Township, OH, 2023, *80-74-154 +10
7. Brendan Lehman, Dalton, OH, 2023, *79-75-154 +10
9. Sion Park, Westlake, OH, 2024, *80-76-156 +12
9. Callahan Lawler, Hudson, OH, 2024, *80-76-156 +12
11. Ken Williams, Champion, OH, 2023, *83-74-157 +13
11. Trey Lautenschleger, Dover, OH, 2024, *80-77-157 +13
11. Luke Dietrich, Rocky River, OH, 2024, *79-78-157 +13
11. Adam Sands, Chagrin Falls, OH, 2025, *72-85-157 +13
15. Charlie Tzefronis, Pepper pike, OH, 2024, *82-76-158 +14
16. Zachary Huscusson, Canal Fulton, OH, 2023, *80-79-159 +15
16. Tim Mai, Avon, OH, 2025, *80-79-159 +15
16. Frankie Adamo, Avon, OH, 2024, *76-83-159 +15
19. Ryan Dinan, Akron, OH, 2024, *81-79-160 +16
19. Alexander Stiegele, Westlake, OH, 2026, *79-81-160 +16
21. Jack Myslenski, Richfield, OH, 2024, *79-82-161 +17
22. Bryan Stone, Grafton, OH, 2023, *81-81-162 +18
22. Brian Myers, Wadsworth, OH, 2023, *80-82-162 +18
22. Maxwell Devins, Aurora, OH, 2024, *76-86-162 +18
25. Michael Tyler Polca, Rocky River, OH, 2025, *84-79-163 +19
25. Austin Wilhoit, Stow, OH, 2025, *86-77-163 +19
25. Vinh Lai, Lakewood, OH, 2025, *80-83-163 +19
25. Bryce Van Horn, Cortland, OH, 2024, *84-79-163 +19
25. Jaxon Robb, Alliance, OH, 2024, *78-85-163 +19
30. Blake Hopkins, North Ridgeville, OH, 2024, *86-78-164 +20
31. Nathan Menapace, New Philadelphia, OH, 2024, *83-82-165 +21
31. Dante Turner, Canfield, OH, 2026, *80-85-165 +21
31. Silas Kirkpatrick, Clinton, OH, 2026, *85-80-165 +21
31. Daniel Gambone, North Canton, OH, 2025, *79-86-165 +21
35. Patrick Witschey, Wadsworth, OH, 2023, *84-82-166 +22
36. Eli Zimmerman, Medina, OH, 2025, *83-84-167 +23
36. Dylan Maninga, Hartville, OH, 2024, *83-84-167 +23
36. Alec Miller, Shaker Heights, OH, 2024, *88-79-167 +23
36. Paul Witschey, Wadsworth, OH, 2025, *86-81-167 +23
36. Parker Barrett, Aurora, OH, 2024, *79-88-167 +23
41. Craig Carneval, Hinckley, OH, 2025, *92-76-168 +24
41. Caden Bender, West Middlesex, PA, 2024, *85-83-168 +24
43. Benjamin Matava, Hudson, OH, 2025, *84-85-169 +25
43. Brock Jenkins, Massillon, OH, 2024, *88-81-169 +25
43. Jackson Sommer, Westlake, OH, 2026, *86-83-169 +25
43. Cayden de Wever, Medina, OH, 2024, *86-83-169 +25
47. Ty Keinath, Shelby, OH, 2024, *84-87-171 +27
47. Chase Forsyth, Poland, OH, 2024, *82-89-171 +27
49. Hunter McCourt, Avon, OH, 2024, *93-82-175 +31
49. Jack Zeid, Aurora, OH, 2024, *89-86-175 +31
51. Jack Senghas, Lagrange, OH, 2024, *85-91-176 +32
51. Caden Boyd, Concord TWP, OH, 2025, *84-92-176 +32
53. Charlie Hagopian, Mentor, OH, 2024, *92-88-180 +36
54. Harrison LaBahn, Strongsville, OH, 2025, *99-82-181 +37
54. Peyton Vacca, Parma, OH, 2025, *87-94-181 +37
56. Brayden Abbott, Painesville, OH, 2024, *94-88-182 +38
57. Mason Reville, Northfield, OH, 2023, *98-86-184 +40
58. Rob Prevette, Twinsburg, OH, 2025, *93-100-193 +49
59. Michael Haddix, Elyria, OH, 2025, *100-98-198 +54
BOYS 11-13
1. Elijah Stewart, East Liverpool, OH, 2030, *73-73-146 +2
2. Nicholas Pollak, Aurora, OH, 2029, *74-80-154 +10
3. Ray Koeberle, Wadsworth, OH, 2028, *78-83-161 +17
4. Matthew Czenszak, Twinsburg, OH, 2028, *84-84-168 +24
5. Nathan Vorthong, Akron, OH, 2029, *87-82-169 +25
6. Marcus Beun, Millersburg, OH, 2030, *89-89-178 +34
7. Declan West, Medina, OH, 2028, *93-87-180 +36
8. Lucas Cutlip, Stow, OH, 2028, *91-93-184 +40
9. Carter Van Putten, North Ridgeville, OH, 2029, *95-95-190 +46
Boys 14-15
1. Mick Ambrose, Canfield, OH, 2026, *79-71-150 +6
2. Dylan Phillips, Chesterland, OH, 2028, *81-78-159 +15
3. Cameron Stafford, Medina, OH, 2026, *79-81-160 +16
4. Dominic Castelluccio, Westlake, OH, 2027, *81-80-161 +17
5. Anthony Gambone, North Canton, OH, 2028, *84-78-162 +18
5. Andrew Fredenburg, Niles, OH, 2026, *80-82-162 +18
7. Fitch Farina, North Ridgeville, OH, 2027, *82-82-164 +20
7. Jerry Du, Hudson, OH, 2027, *82-82-164 +20
9. Leo Carey, Brecksville, OH, 2026, *84-81-165 +21
10. Ryan Czenszak, Twinsburg, OH, 2026, *81-85-166 +22
11. Kyle Malicki, Avon, OH, 2027, *83-84-167 +23
12. Dalton Beattie, Nova, OH, 2026, *87-81-168 +24
13. Kevin Dang, Twinsburg, OH, 2026, *86-83-169 +25
14. Wren Spires, Medina, OH, 2027, *85-86-171 +27
14. Andrew Beun, Millersburg, OH, 2027, *81-90-171 +27
16. Peyton Wolf, Westlake, OH, 2027, *88-84-172 +28
16. Tyler Cheetham, Stow, OH, 2026, *83-89-172 +28
18. Jack Tully, Rocky River, OH, 2027, *88-85-173 +29
19. Griffin Pickett, Painesville, Oh 44077, OH, 2027, *87-89-176 +32
19. Joseph Maloof, Avon, OH, 2026, *81-95-176 +32
21. Jackson Keller, Uniontown, OH, 2026, *92-91-183 +39
22. Jayden Park, Pepper Pike, OH, 2026, *98-88-186 +42
23. Carter Briskey, Mentor, OH, 2027, *102-101-203 +59
Girls 11-15
1. Serena Wu, Solon, OH, 2026, *72-74-146 +2
2. Korrine Knaze, Fairview Park, OH, 2029, *83-76-159 +15
3. Elizabeth Coleman, Medina, OH, 2026, *81-82-163 +19
4. Kayla Knaze, Fairview park, OH, 2027, *84-82-166 +22
5. Yumi Kohara, Cuyahoga Falls, OH, 2027, *82-85-167 +23
6. Anna Phillips, Chesterland, OH, 2030, *86-84-170 +26
7. Olivia Berlingieri, Stow, OH, 2026, *91-82-173 +29
8. Emerson Glending, Avon, OH, 2026, *91-87-178 +34
8. Elena Varga, Hudson, OH, 2027, *88-90-178 +34
10. Sarah Vojtko, Stow, OH, 2028, *94-85-179 +35
11. Colleen Stadler, Seven Hills, OH, 2026, *89-91-180 +36
12. Sophia Clarico, LaGrange, OH, 2028, *92-96-188 +44
13. Adrianna Mineo, Kent, OH, 2026, *96-94-190 +46
14. Lily Taylor, Akron, OH, 2027, *104-102-206 +62
GIRLS 16-19
1. Ella Wong, Pepper Pike, OH, 2023, *71-74-145 +1
2. Dixon Hill, Waite Hill, OH, 2025, *76-72-148 +4
3. Alexandra Petrochko, Hermitage, PA, 2024, *77-78-155 +11
4. Julia Gulla, Sagamore Hills, OH, 2025, *79-78-157 +13
4. Gianna Reginelli, Broadview Hts, OH, 2025, *73-84-157 +13
6. Alyssa Zhang, Allison Park, PA, 2028, *78-80-158 +14
7. Erin Strouse, Louisville, OH, 2022, *82-81-163 +19
7. Gracyn Vidovic, Aurora, OH, 2025, *82-81-163 +19
9. Emily Burling, Hudson, OH, 2025, *85-80-165 +21
10. Avery Paez, Rocky River, OH, 2025, *85-81-166 +22
11. Molly McGreal, Independence, OH, 2024, *87-83-170 +26
12. Annelise Stencel, Akron, OH, 2024, *88-83-171 +27
13. Blake Cody, Shaker Heights, OH, 2025, *88-88-176 +32
14. Alexandria Vardon, Akron, OH, 2024, *91-87-178 +34
15. Gabriella Berlingieri, Stow, OH, 2024, *94-86-180 +36
16. Sophia Thompson, Cuyahoga Falls, OH, 2025, *92-96-188 +44
17. Lydia Dorman, Medina, OH, 2024, *91-98-189 +45
18. Brooke Barnes, Northfield, OH, 2024, *100-90-190 +46
18. Manisha Girn, Aurora, OH, 2025, *96-94-190 +46
20. Chloe Holton, Rocky River, OH, 2024, *94-97-191 +47
21. Mallory Meister, Milan, OH, 2024, *92-100-192 +48
22. Lucy Myers, Galion, OH, 2024, *100-94-194 +50
23. Julia Van Bokkelen, Hudson, OH, 2025, *103-99-202 +58
24. Teagan Miller, Milan, OH, 2025, *107-99-206 +62