Sean McGuire Wins with Playoff Birdie Over 2x Defending Champ Balcar
Sean McGuire erased four years of frustration and disappointment and all it took was 36 holes of near-flawless golf and a birdie on the 37th.
Sometimes, that's what it takes to win a golf tournament.
That performance propelled the assistant professional at the Pepper Pike Club to win the 54th NOPGA Assistants Championship at Avon Oaks Country Club on Tuesday.
McGuire, 29, ended a steamy and sun-baked day – the kind that can zap your energy faster than a tour of Death Valley – with a birdie on the first playoff hole to turn back Brandywine Assistant Professional Michael Balcar, the two-time defending champion, after both had finished regulation play at eight-under par 136.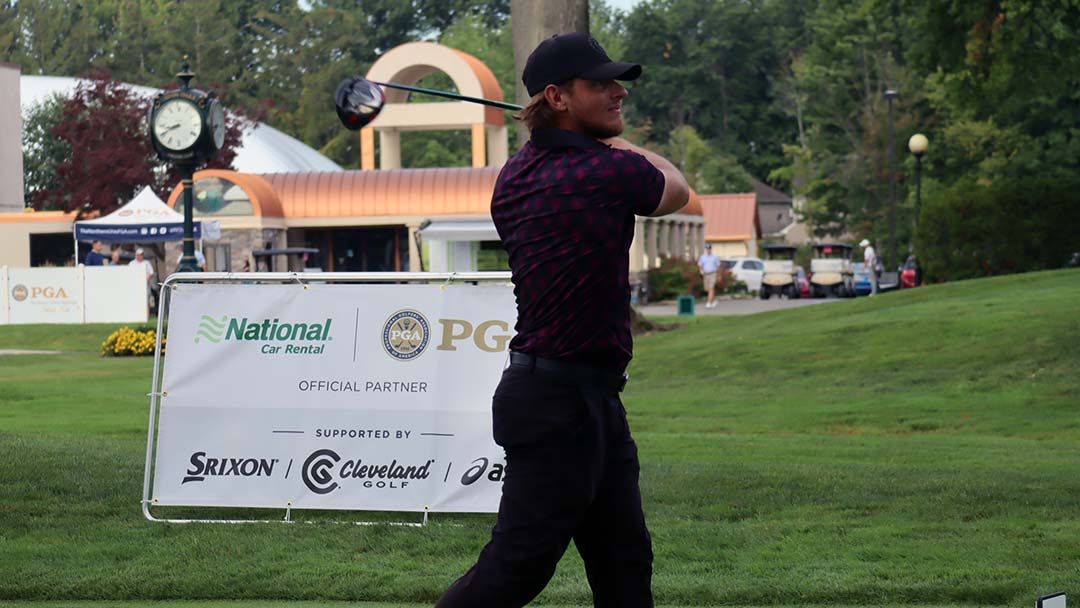 DJ Holub, also a Pepper Pike assistant, finished third at six-under 138 and Shaker Heights Country Club assistant Jordan Paolini was fourth at three-under 141. Andy Silverman, an assistant at Canterbury Golf Club and Alex Treuel, assistant of Oberlin Golf Club rounded out the top five at two-under 142.
Normally, that would determine the two qualifiers and three alternates to the 47th National Car Rental PGA Assistants Championship to be held in November at the PGA Golf Club in Port St. Lucie, Fla.
However, a rule change made this year that requires Professional Associates (Assistants) to have passed Level 1 and moved onto Level 2 of the PGA PGM Program in order to be eligible, drastically alters the final official results.
McGuire, who opened with a 6-under 66 and closed with a 2-under 70 – while going 28 holes without a bogey — meets the requirements and will move on to Florida as the tournament champion.
Second place – and the final qualifying spot – goes to Paolini (72-69).
Silverman (75-67) claimed the first alternate spot and Canterbury Golf Club's Anthony Panepento (72-73—145) and Sam Wilding (73-73), an assistant at Mayfield-Sand Ridge, earned the final two alternate spots.
But, as Pepper Pike head professional Rob Moss said as he watched his assistant, "the day belongs to Sean."
It was McGuire's fourth time attempting to qualify for the national tournament. The first attempt ended in frustration as he did not play well. The next two ended in disappointment as he only reached alternate status.
Balcar, who had won the two previous championships at Mayfield-Sand Ridge and Weymouth Country Club and is the reigning Ohio Open champ, forced the playoff with a second-round 65, the best score of the day.
That included a front-nine 4-under 32 which included four birdies and an eagle.
Balcar, Holub and Paolini led the field with 11 birdies and McGuire finished with nine.
McGuire, arguably the longest-hitter in the NOPGA, put the pressure on Balcar on the first playoff hole with a booming drive to the middle of the fairway on the 458-yard first hole.
Balcar's drive, not quite as far, faded slightly into the right rough and between two trees. His second shot clipped a branch and only moved about 40 yards. His third shot ended up about 15 feet below the hole and his birdie attempt stopped about three inches short.
McGuire, who had finished as an alternate in each of the last two years and was the first-round leader with a 67 last year before struggling home with a 74, had no trouble in reaching the green in two and safely two-putted from about 18 feet for his birdie and the win.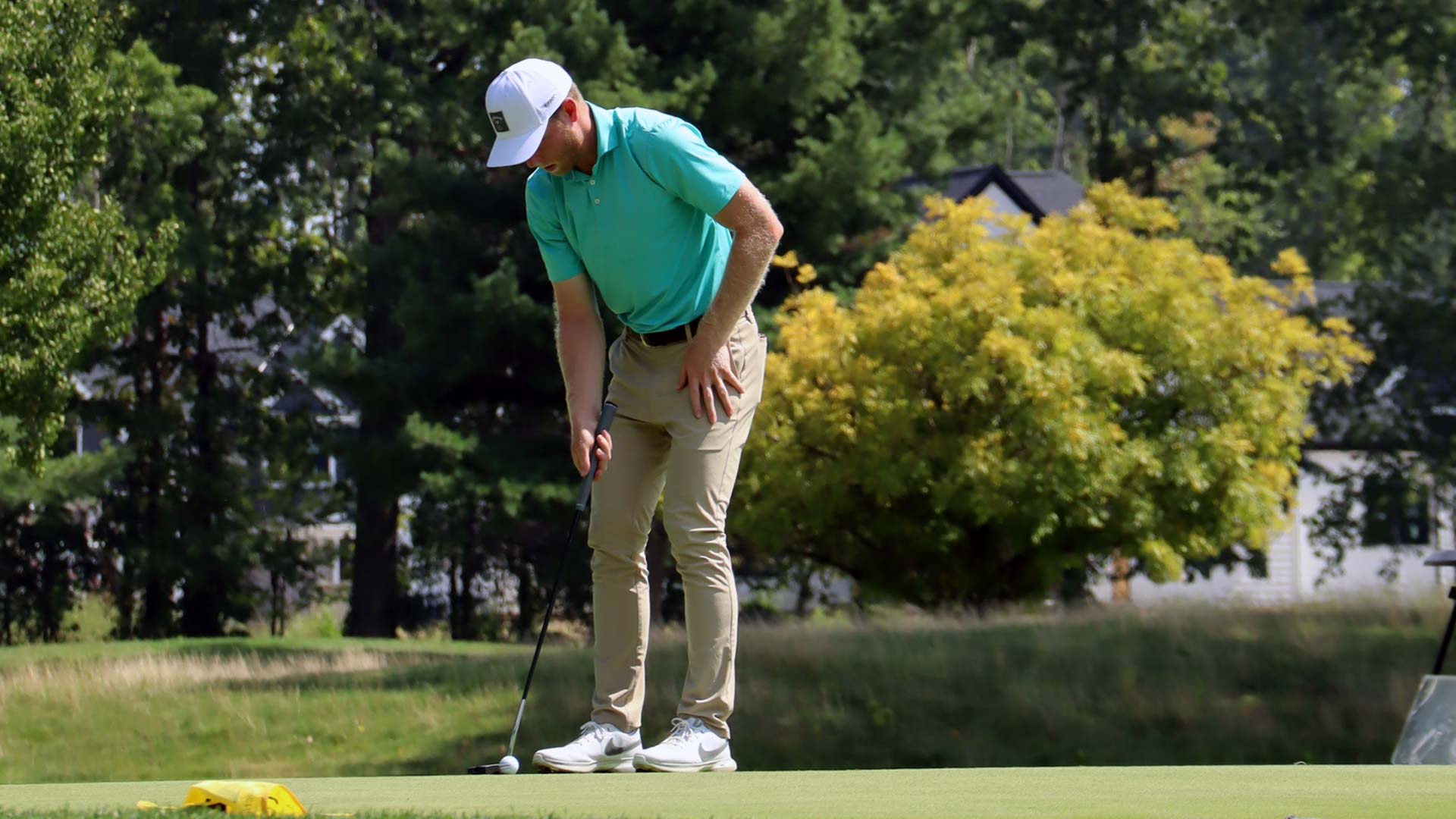 McGuire, who lives in Twinsburg and is in his fourth season as an assistant at Pepper and ninth overall with stints as a caddie and bag room attendant, credited his physical regimen for being able to endure the 90-degree temperatures. He said he works out six days a week under the guidance of his sister, Maggie, a Cross-Fit coach at Crossfit Saol in Twinsburg.
"This off-season I have gotten in the gym a lot," he said. "I work my fanny off. My sister has taken me under her wing and I have spent a lot of hours in there this year, working hard. Today it paid off."
McGuire, a 2019 graduate of Kent State, built a two-shot lead after the opening 18 over fellow Pepper assistant Holub by going 33-33 with three birdies on each side.
"Felt I played pretty well, pretty solid, in the first round, similar to last year," he said. "The second round I thought about last year and tried to stay steady and finish it off."
McGuire got to 8-under quickly with birdies on the 528-yard 10th (his opening hole) and the 146-yard 12th, when he chipped in from about 20 feet from the swale that looms on the right side of the green. Seven straight pars followed with an assortment of big drives and nifty chip shots that set up tap-ins.
His tee shot on the 321-yard 15th landed pin-high, but 30 yards left of the green. He deftly chipped to about four feet but his birdie attempt lipped out.
McGuire's medium to short-range talents came to the fore on the concluding 370-yard ninth hole, his final hole of regulation. While driving the ball steadily all day he chose an iron off the tee and the ball drifted right, onto the gravel cart path.
He preferred not to take a drop and instead lofted a delicate chip to about 15 feet. He two-putted for par to match Balcar at 8-under.
"This means a lot," he said of his victory. "Not so much for the resume, but just for the feeling that all the work I have done has paid off. All the work I have done, all the time at Pepper, all the practice has paid off. Knowing you can come out here and succeed, especially through 36 holes, that's what makes it special."
PHOTO GALLERY: 2023 NOPGA Assistants Championship >

FINAL RESULTS: Northern Ohio PGA
2023 NOPGA Assistants Championship
Avon Oaks Country Club, Avon
Tuesday, September 5, 2023
Hole-by-Hole Blue Golf Scoring >
National Qualifiers:
1. Sean McGuire, Pepper Pike Club, $1,400.00, *66-70-136 -8
2. Jordan Paolini, Shaker Heights Country Club, $850.00, *72-69-141 -3
Alternates (in order):
3. Andy Silverman, Canterbury Golf Club, $700.00, *75-67-142 -2
4. Anthony Panepento, Canterbury Golf Club, $500.00, *72-73-145 +1
5. Sam Wilding, The Mayfield Sand Ridge Club – Mayfield, $350.00, *73-73-146 +2
Overall Results:
1. Sean McGuire, Pepper Pike Club, $1,400.00, *66-70-136 -8 (playoff)
2. Michael Balcar, Brandywine Country Club, $1,100.00, *71-65-136 -8
3. DJ Holub, Pepper Pike Club, $900.00, *68-70-138 -6
4. Jordan Paolini, Shaker Heights Country Club, $850.00, *72-69-141 -3
5. Andy Silverman, Canterbury Golf Club, $700.00, *75-67-142 -2
5. Alex Treuel, Oberlin Golf Club, $700.00, *70-72-142 -2
7. Brock Kehres, Westbrook Country Club, $500.00, *72-73-145 +1
7. Anthony Panepento, Canterbury Golf Club, $500.00, *72-73-145 +1
9. Sam Wilding, The Mayfield Sand Ridge Club – Mayfield, $350.00, *73-73-146 +2
10. Dustin Roth, Eagle Creek Golf Club, $250.00, *74-73-147 +3
11. Ian Haidle, Shady Hollow Country Club, $200.00, *74-77-151 +7
12. Anthony Julius, The Mayfield Sand Ridge Club – Mayfield, $150.00, *74-80-154 +10
13. Louis Pikula, Inverness Club, $150.00, *84-71-155 +11
Out of the Money:
T14 Tyler Peterson, Portage Country Club 83 – 74 = 157
T14 Luke Tanner, Beechmont Country Club 74 – 83 = 157
16 Zachary Miner, The Toledo Country Club 83 – 75 = 158
T17 David Morgan, Westfield Group Country Club 82 – 78 = 160
T17 Scott Siler, Red Tail Golf Club 82 – 78 = 160
19 Averi Hanna, Westfield Group Country Club 83 – 78 = 161
20 Joshua Diemer, Chagrin Valley Country Club 84 – 78 = 162
21 Cooper Wrobel, The Country Club of Hudson 84 – 80 = 164
22 Joshua Widner, Chippewa Golf Club 81 – 84 = 165
23 Ryan Eisinger, The Toledo Country Club 86 – 83 = 169
24 Anthony Cosentino, Westwood Country Club 88 – 83 = 171
T25 Max Argento, The Country Club 94 – 80 = 174
T25 James Lewandoski, Westwood Country Club 88 – 86 = 174
27 Augustin Lanshe, Westfield Group Country Club 92 – 84 = 176
28 Anthony Stanley, Sand Ridge 90 – 88 = 178
29 Ryan Cook, Westfield Group Country Club 87 – 93 = 180
30 Michael Martin, Sand Ridge 92 – 94 = 186
31 Nick TremayneC, lub Walden 107 – 114 = 221