Barrington Golf Club's Ian Hardesty had no problem defending his Northern Ohio Golf Association Tour Championship title on Monday at Firestone Country Club. He backed up his first round 66 at the Firestone Fazio course with a 1-over par 71 on the South Course, and ran away with a 7-shot victory.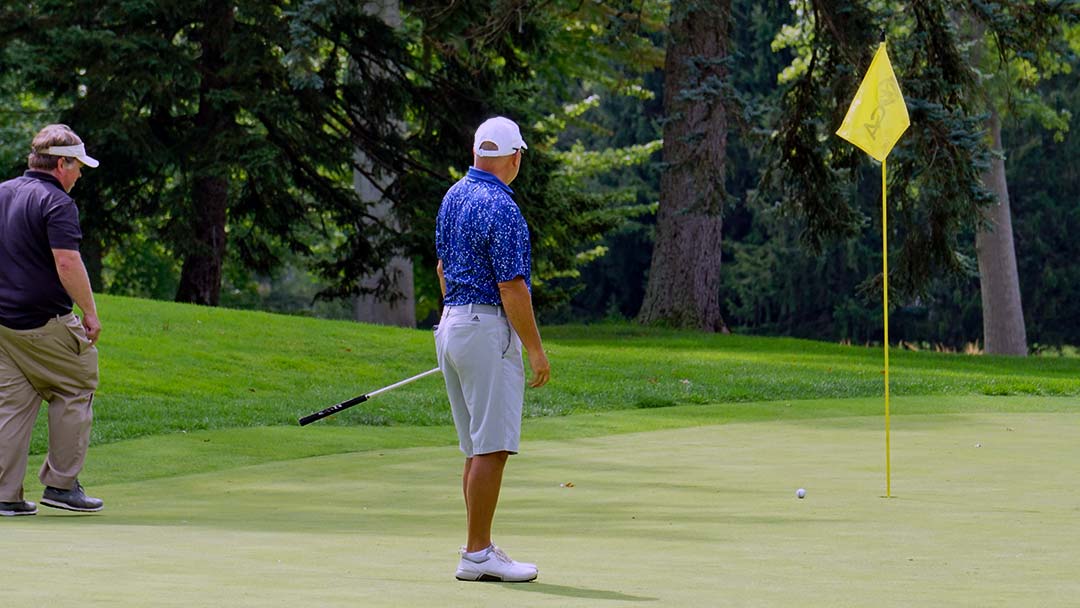 In the Senior Division, Mike Belacic of Westfield Country Club topped Silver Lake's Dave Trier on the second hole of a sudden-death playoff.
Both victors recently won their divisions for the NOGA Individual Scratch Match Play Championship as well.
PHOTO GALLERY: 2023 NOGA Tour Championship RD2 >
FINAL RESULTS: Northern Ohio Golf Association
2023 NOGA Great Lakes Auto Tour Championship
Firestone Country Club, Akron | Fazio + South
Sunday, September 10 – Monday, September 11, 2023
Golf Genius Hole-by-Hole Results >

CHAMPIONSHIP DIVISION:
1 Ian Hardesty, Barrington Golf Club 66 – 71 = 137 $400.00
2 Christopher Brown, Lakewood Country Club 77 – 67 = 144 $300.00
3 Jack Garswood, NOHIO.GOLF Club 69 – 76 = 145 $225.00
4 Jeff Mihalick, Plum Brook Country Club 72 – 75 = 147 $175.00
5 Andrew Grayson, Weymouth & Fox Meadow CC 73 – 75 = 148 $125.00
6 Matthew Roth, NOHIO.GOLF Club 74 – 76 = 150 $100.00
7 Harrison Vonderau, Red Tail Golf Club 70 – 81 = 151 $75.00
8 Jeff Blechschmidt, Mayfield Sand Ridge Club 72 – 81 = 153
9 Brian Smith, Oberlin Golf Club 76 – 78 = 154
T10 Doug Barber, NOHIO.GOLF Club 78 – 77 = 155
T10 Chris Okeson, Mayfield Sand Ridge Club 78 – 77 = 155
T10 Andrew Malkus, NOHIO.GOLF Club 73 – 82 = 155
13 Brian Beebe, Ohio Prestwick Country Club 78 – 78 = 156
14 Shaun Kloetzer, NOHIO.GOLF Club 74 – 83 = 157
15 Ryan Malkus, NOHIO.GOLF Club 77 – 82 = 159
16 Adam Arman, Chippewa Golf Club 77 – 83 = 160
17 Justin Krotine, NOHIO.GOLF Club 77 – 84 = 161
WD John Angelo, Gleneagles Golf Club WD
RD2 CHAMPIONSHIP SKINS: $75 ea
Jack Garswood – Birdie on 3
Christopher Brown – Birdie on 6
Christopher Brown – Birdie on 8
Christopher Brown – Birdie on 14

SENIOR DIVISION:
1 Mike Belacic, Westfield Country Club 70 – 75 = 145 $400.00 (playoff)
2 David Trier, Silver Lake Country Club 69 – 76 = 145 $300.00
3 Allen Freeman, NOHIO.GOLF Club 70 – 78 = 148 $200.00
4 Dean Cutlip, Firestone Country Club 71 – 77 = 148 $200.00
5 Mark Borlin, Silver Lake Country Club 72 – 78 = 150 $112.50
6 Tom Skidmore, Weymouth & Fox Meadow CC 71 – 79 = 150 $112.50
7 Tom Laubacher, Club Walden 75 – 76 = 151 $25.00
8 Robert Schustrich, Trumbull Country Club 76 – 75 = 151 $25.00
9 Tom Baugh, Portage Country Club 73 – 78 = 151 $25.00
10 Mark Guadagni, Silver Lake Country Club 75 – 77 = 152
11 Jim Durr, Silver Lake Country Club 77 – 76 = 153
12 Scott Saari, Bob-O-Link Golf Course 78 – 76 = 154
13 David Belden, Catawba Island Club 80 – 77 = 157
14 Scott Winckowski, Toledo Metro Golf Association 77 – 81 = 158
15 Robert Wadsworth, NOHIO.GOLF Club 73 – 88 = 161
16 Mark Ciccarello, NOHIO.GOLF Club 80 – 83 = 163
17 John Toth, Fox Den Golf Course 86 – 82 = 168
DNF Monty Guest, Signature of Solon 73 – DNF
RD2 SENIOR SKINS: $35.56 ea
Mark Ciccarello – Birdie on 1
Dean Cutlip – Birdie on 2
Tom Skidmore – Birdie on 4
Mark Borlin- Birdie on 5
Jim Durr – Birdie on 7
Jim Durr – Birdie on 10
Jim Durr – Birdie on 12
Tom Laubacher – Birdie on 13
Tom Baugh – Birdie on 16