How often have you finished a good round — maybe a personal best — and thought, "Darn, if only I could have that drive or that downhill three-footer back?" One stroke and I would have broken 100 or 90 or 80 or, for the gifted few, 70 for the first time. The errant drive that caused you to chip back into the fairway. The penalty stroke you called on yourself. I'm not talking about pencil pros, either. As you know, there are no refs or umpires in golf. Golf is an honorable game. Check out the parchment, the original 13 articles hanging in the clubhouse in Scotland – aye lads, at Muirfield, home of The Honourable Company of Edinburgh Golfers. They'll tell you.
The game isn't a beauty contest, either. You hit good shots that sometimes take bad bounces, landing you in a divot or worse. Or, you cringe watching your tee-shot head OB only to clip a branch and sail back into the fairway. None of us, I should say very few, can honestly say " I didn't leave any shots out there today." When the round is over, you tally your score and post it. That's what seventy-five of arguably Ohio's best boys' golf teams did this past Sunday and Monday at the Canterbury Kiely Cup.
The winning team, Archbishop Hoban (Akron), won by one stroke over the runner-up, Archbishop Alter (Kettering), 596 to 597!
Sunday's weather broke like a miserable cold Lake Erie day — steely grey skies, light misty rain — not what was forecast. Luckily, the rain petered out in time for the 1 p.m. shotgun start. First-day scores were surprisingly low (4,700) despite the conditions. Archbishop Alter led by one over Archbishop Hoban, by two over Upper Arlington, and by three over St. Xavier. The top seven teams were a mere seven strokes apart. Monday was shaping up to produce an exciting finish, exactly what I predicted when the team's vans arrived Sunday morning.
Meanwhile, Monday's weather was a Chamber of Commerce day: bright sun, low humidity, 70f with light wind. The 2nd round scores reflected it too, (4,665) thirty-five strokes lower.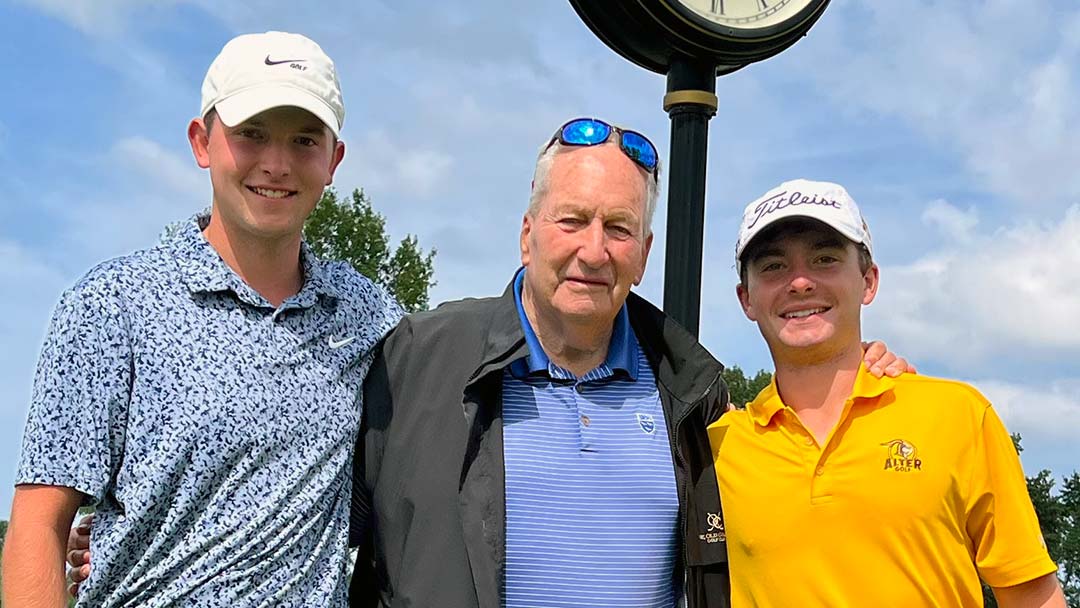 Individually, the low tournament score was dead even. David Gochenouer, Archbishop Alter, and Chris Pollak, Archbishop Hoban, shared medalist honors. David shot: 70-71 141; Chris the reverse: 71-70 141.
It's the sixth time since the inaugural Kiely Cup that two players shared medalist honors. The first occurred in 2007. Who could forget Mac McLaughlin (University School), a Mike Kiely favorite who caddied at Canterbury, and Pat Spittler (Walsh Jesuit) each carding a pair of one-over-par 73's. The following year, Michael Fazio (University School) and Michale Witmer (Brecksville) shared 76's. In 2010, Alex Andrew (Gilmour) and Tyler McHugh (Walsh Jesuit) shot even par 72's. Five years later, Dan Berlin (Chagrin Falls) and Will Kurtz (Hudson) shared the honor with a pair of one-over-par 145s. 2016 was also the first year the Kiely Cup mirrored a collegiate tournament by becoming a two-day, 36-hole competition. The following year Cade Christman (Boardman) and Dhaivat Pandya (Centerville) shared top honors 148s.
Currently a junior, Chris Pollak, will have the opportunity to become the first back-to back medalist next year.
All Kiely Cup-winning teams receive an invitation to return the following year. Admittedly, I've tried to invite a cross section of the best Division 1, 2 & 3 teams, public and parochial. However, as the years wear on, fewer D2 & D3 teams are strong enough to compete. Craig Yakscoe's 2019 Columbus Academy team is the only D2 team that became a Kiely Cup champion.
The balls are flying further, the scores continue to be lower, and the talent these young aspirants demonstrate is a thrill to behold. Join me next year when we conduct the 19th Kiely Cup over Canterbury's famed layout on September 8th & 9th. Interested? Hope to see you there under Chamber of Commerce conditions. For more information check out www.kielycup.com

FINAL RESULTS: Boys High School Golf
2023 Kiely Cup
Canterbury Golf Club, Beachwood
Sunday, Sep 10 – Monday, Sep 11, 2023

Archbishop Hoban Knights 301-295 596
Quinn Parker, Head Coach
Jack Vojtko, Sr. 72-71 143
Chris Pollak, Jr. 71-70 141 Co-Medalist
Braden Herstich, Jr. 78-77 156
Ray Dress, Jr. 79-77 156
Brett Bagatti, Jr. 82-81 164
Archbishop Alter Knights 300-297 597
Alex Schuster, Head Coach
Davis Gochenouer, Jr. 71-70 141 Co-Medalist
TJ Kreusch, Jr. 75-77 152
Gavin Leen, Sr. 81-80 161
Andrew Gochenouer, Soph. 74-74 148
Matthew Kreusch, Frosh. 83-75 158
St. Xavier Bombers 301- 299 600
Alex Kepley, Head Coach
Robert Gerwin, III, Sr. 78-68 146
Luke Kahle, Sr. 81-78 159
Charlie Fish, Sr. 77-81 158
Jason Muraca, Sr. 76-73 149
Michael Stagnaro Jr. 75-80 155
Springboro Panthers 312-295 607
Justin Martin, Head Coach
Gavin Augenstein, Sr 77-72 149
Bradley Hinkel, Sr 79-74 153
Eian Cambria, Sr 77-75 152
Jack Rott, Sr 79-76 155
Brogan Cambria, Sr 87-74 161
Upper Arlington Golden Bears 303-308 611
Troy Arbaugh, Head Coach
Brady Catalano, Sr 73-73 146
Bric Baird, Jr 73-79 152
Mitch Stock, Jr 80-82 162
Chase Bokker, Sr 80-75 155
Will Mangas, Soph 77-81 158
Anthony Wayne Generals 307-306 613
Pat Phillips, Head Coach
Logan Sutto, Sr 74-72 146
Myles Murphy, Sr 77-79 156
Ian Briars, Jr. 79-79 159
Ted Robertson, Jr. . 80-81 161
Michael Disefano, Soph 77-76 153
University School Preppers 307-309 616
Mike Sarris, Head Coach
Jackson Pinney, Jr 79-72 151
Adam Sands, Jr 75-79 154
Ethan Roberts, Jr 76-76 152
Slater Schoaf, Jr 85-82 167
Bennett Johnson, Soph 77-87 164
Jackson Polar Bears 305-312 617
Jim Kish, Head Coach
Jordan Kish. Sr. 79-77 156
Max Webber, Jr. 82-79 161
Aidan Loy, Sr. 73-76 149
Ethan Kasler, Sr. 73-80 153​
Raffaefe Scassa, Soph 80-88 168
Dublin Coffman Shamrocks 310-309 619
Scott Sutherland, Head Coach
Luke Warner, Sr 75-83 158
Tyler Redman Sr 75-80 155
Ryan Schiefferle. Sr 82-79 161
Julian Myers, Sr 82-76 158
AJ Frost. Sr 78-74 152
St. Ignatius Wildcats 316-303 619
Kevin Neitzel, Head Coach
Bradley Chill, Sr 74-70 144
Julian Dugan, Sr 78-78 156
Frank Adamo, Sr 80-78 156
Fitch Farina, Frosh 86-81 167
Alex Stiegele, Soph 84-77 161
​
St. Charles Prep Cardinals 314-316 630
Brian Unk, Head Coach
Leo Walling, Jr. 81-81 162
Jonas Borland, So. 79-80 159
Michael Beckman, Soph 88-83 171
Ted Cahill, Sr. 76-78 154
Hudson Burkey, Frosh 78-77 155
Green Bulldogs 318-320 638
Greg Andrego, Head Coach
Kyle Smith, Sr 72-77 149
Silas Kirkpatrick, Soph 73-76 149
Brady Trejbal, Sr 87-80 167
Evan Raymond, Sr 89-87 176
Grant Price, Sr 86-97 183
Newark Catholic Green Wave 325-322 647
Phil West, Head Coach
Brian Luft, Sr. 86-83 169
Brogan Sullivan, Jr. 82-81 163
Max Vanoy, Jr. 77-74 151
Nathan Riggleman, Sr. 82-91 173
​Bobby Kieber, Fr. 84-84 168
JFK Eagles 334-341 675
James LoPolla, Head Coach
Bryce Vanhorn, Sr 81-87 168
Andrew LaPolla, Soph 85-84 169
Andrew Fredenberg, Soph 89-85 174
Henry Phillips, Soph 79-85 164
Julian Bolino, Soph 93-88 181
Seven Hills Stinger 342-333 675
Jim Vining, Head Coach
Charlie Mullin, Sr 81-82 163
Billy Good, Jr 88-80 168
William Hartman, Jr 83-85 168
Martia Kastner, Frosh 90-86 176
Andrew Zhou, Jr 99-94 193