Doyle Wins 93rd Habitec Toledo Open Wire to Wire; Mike Stone Earns a Senior Playoff Victory
Brendon Doyle led wire to wire to win the 93rd Habitec Toledo Open after shooting rounds of 64-68 (-12) at Belmont Country Club. The Louisville, Kentucky native carded two bogey-free rounds on the way to a stress-free win over Grant Haefner (Bloomfield Hills, MI) who shot 66-68 (-10). Other notables in the regular division included defending Ohio Open Champion and Northern Ohio PGA Associate, Michael Balcar, who finished in fourth place at 8-under.
In the Senior Division, Belmont Country Club Director of Instructor Mike Stone, PGA defeated Bob Sowards, PGA (Kinsale Golf & Fitness Club) in a four-hole playoff after tying at 3-under par 129. Sowards made birdie on the difficult eighteenth hole to shoot 70-71 (-3) to force a playoff with Stone, who made two birdies and an eagle for the comeback win at 73-68 (-3).
PHOTO GALLERY: 2023 Habitec Toledo Open RD2 >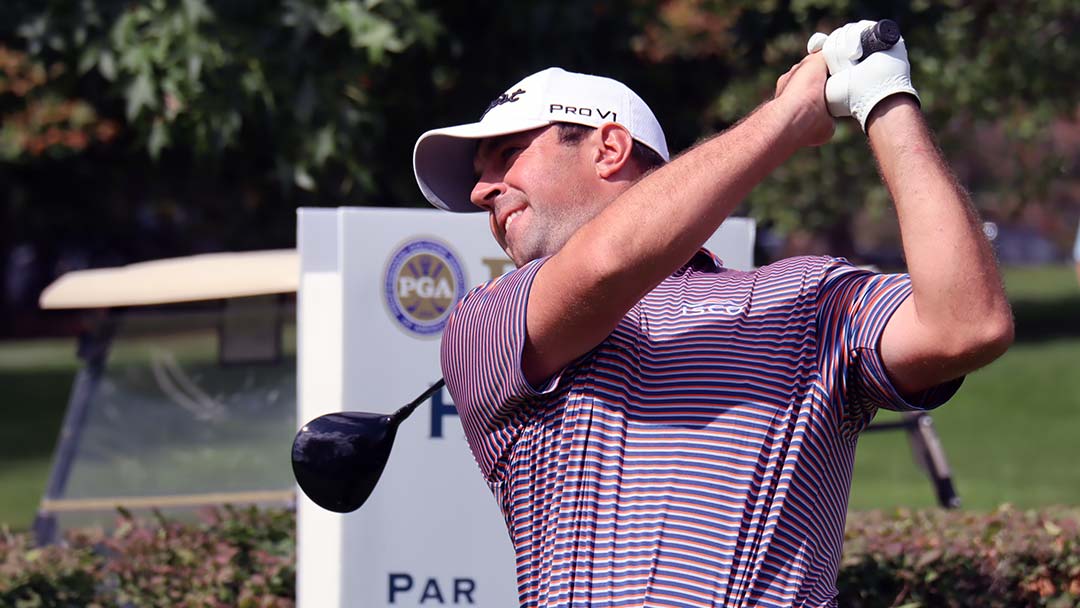 FINAL RESULTS: Northern Ohio PGA
93rd Habitec Toledo Open
Belmont Country Club, Perrysburg – Par 72
Monday, September 11 – Tuesday, September 12, 2023
Blue Golf Hole-by-Hole Results >
Championship Division:
1. Brendon Doyle, Louisville, KY, *64-68-132 -12 $5,000
2. Grant Haefner, Bloomfield Hills, MI, *66-68-134 -10 $2,000
3. Brent Ito, New Rochelle, NY, *68-67-135 -9 $1,300
4. Michael Balcar, Toledo, OH, *68-68-136 -8 $1,000
5. Nick Bienz, Hoagland, IN, *69-68-137 -7 $850
6. Beau Breault, Howell, MI, *71-67-138 -6 $775
6. Shawn Tipton, Clay City, KY, *72-66-138 -6 $775
8. Nathan Tarter, Mogadore, OH, *72-67-139 -5 $700
9. Andrew Arft, Casselberry, FL, *72-69-141 -3 $600
9. Tyler Copp, Ann Arbor, MI, *71-70-141 -3 $600
9. Dan Yustin, East Amherst, NY, *68-73-141 -3 $600
12. Blake Sattler, Dover, OH, *72-70-142 -2 $393
12. Donnie Trosper, Canton, MI, *72-70-142 -2 $393
12. Ethan Farnam, Crystal Lake, IL, *72-70-142 -2 $393
12. Zak Knoll (a), Commerce, MI, *71-71-142 -2 $467 M
12. Jerred Barley (a), Tipton, MI, *74-68-142 -2 $467 M
12. Connor Curry, Mount Vernon, OH, *70-72-142 -2 $393
12. Winton Munch, Traverse City, MI, *69-73-142 -2 $393
12. Joseph Juszczyk, Dearborn Heights, MI, *73-69-142 -2 $393
12. Justin Sui (a), Lake Orion, MI, *73-69-142 -2 $467 M
12. Grant Engle, Springfield, OH, *68-74-142 -2 $393
22. Jordan Less, Elmhurst, IL, *72-71-143 -1 $175
22. Ian Martin, Saline, MI, *74-69-143 -1 $175
22. Andrew Ruthkoski, Muskegon, MI, *71-72-143 -1 $175
22. DJ Holub, Twinsburg, OH, *69-74-143 -1 $175
22. Craig Isabel, Winona Lake, IN, *68-75-143 -1 $175
22. Ben Kern, S Bloomfield, OH, *72-71-143 -1 $175
28. J.T. Barker, Bethlehem, PA, *76-68-144 E
28. Cannon Risner (a), Leslie, MI, *73-71-144 E $200 M
28. Jaysen Hansen, Twinsburg, OH, *67-77-144 E
31. Dylan Van Fossen, Norwich, OH, *72-73-145 +1
31. Cam Lippoldt, Midland, MI, *72-73-145 +1
31. Garrett Willis, Fort Wayne, IN, *74-71-145 +1
31. Jordan Schroeder, Findlay, OH, *71-74-145 +1
31. Joshua Burt, Kalamazoo, MI, *72-73-145 +1
31. Jim Troy, Strongsville, OH, *72-73-145 +1
37. Avery Schneider, New Albany, OH, *72-74-146 +2
37. Jeff Nichols, Mesa, AZ, *75-71-146 +2
37. Cory Kumpf, Massillon, OH, *74-72-146 +2
37. David Abolt, Cuba, MO, *71-75-146 +2
41. Brett Coluccio, Sylvania, OH, *74-73-147 +3
41. Kyle Petrovich (a), Royal Oak, MI, *71-76-147 +3 $150 M
43. Matt Winkelmann, Dunlap, IL, *78-70-148 +4
43. Philip Ritchie, Aventura, FL, *72-76-148 +4
43. Patrick Sullivan, Grosse Pointe, MI, *75-73-148 +4
43. Nick Paez, Rocky River, OH, *74-74-148 +4
43. Cole Corder, Beavercreek, OH, *71-77-148 +4
43. Ken Keller, Youngstown, OH, *74-74-148 +4
43. Nick Vick, Birmingham, MI, *70-78-148 +4
43. Logan Lagodich, Canton, OH, *73-75-148 +4
51. Michael Busse, Rochester Hills, MI, *77-72-149 +5
51. Sean McGuire, Twinsburg, OH, *75-74-149 +5
51. Brock Kehres, Shelby, OH, *71-78-149 +5
51. Nick Gustin, Perry, OH, *74-75-149 +5
51. JonErik Alford, Columbus, OH, *71-78-149 +5
51. Matthew Wininger, Westerville, OH, *73-76-149 +5
51. Nathan Viverette, Cincinnati, OH, *74-75-149 +5
51. Tyler Sipes (a), Georgetown, KY, *73-76-149 +5
59. Drew Pierson, Cleveland, OH, *77-73-150 +6
59. Joe Kiss, Kalamazoo, MI, *73-77-150 +6
61. Joseph Baker, Clarkston, MI, *77-74-151 +7
61. Mat Little, Warren, MI, *72-79-151 +7
61. Cole Moore, Huntington, WV, *74-77-151 +7
61. Kyle Rybicki, White Lake, MI, *73-78-151 +7
65. Brody Andrews, Monroeville, IN, *79-73-152 +8
65. Douglas Piesko, Davison, MI, *76-76-152 +8
65. Dan Wasinski, Twinsburg, OH, *75-77-152 +8
68. Andy Silverman, Copley, OH, *78-75-153 +9
68. Randy Dietz, Tallmadge, OH, *75-78-153 +9
68. Forde Makas (a), Mesa, AZ, *76-77-153 +9
68. Nicholas Graf (a), Toledo, OH, *72-81-153 +9
68. Julian Pina, OH, *75-78-153 +9
73. Joel Cutlip, Myrtle Beach, SC, *80-74-154 +10
73. Adam Lewicki, Macedonia, OH, *78-76-154 +10
73. Brian Chaney, Powell, OH, *75-79-154 +10
73. Ben Thieman (a), Perrysburg, OH, *74-80-154 +10
73. Tommy Prato (a), Dearborn, MI, *74-80-154 +10
78. Nick Mollica, Dublin, OH, *78-77-155 +11
78. Joey Kurtz, Toledo, OH, *75-80-155 +11
80. Dustin Roth, Norwalk, OH, *77-79-156 +12
81. Willie Yacknow, Fairlawn, OH, *80-77-157 +13
81. Andrew Proctor, Stevens Point, WI, *79-78-157 +13
81. Robby Golobo, Highland, MI, *79-78-157 +13
81. John Popeck, Washington, PA, *78-79-157 +13
85. Flynn Makas (a), Chicago, IL, *81-77-158 +14
85. Jordan Paolini, Tallmadge, OH, *79-79-158 +14
87. Ethan Mcbean (a), West Liberty, OH, *82-77-159 +15
87. Troy Chapman (a), Lexington, OH, *78-81-159 +15
89. Daniel Mosher, Canton, OH, *83-77-160 +16
89. Wyatt Wilson, Tipp City, OH, *83-77-160 +16
89. Jon Addis (a), Grand Rapids, OH, *81-79-160 +16
89. Jason Rabinowitz (a), North York, ON, *75-85-160 +16
89. Joe Meglen, Mentor, OH, *75-85-160 +16
94. Jason Moscone, Marine City, MI, *81-80-161 +17
94. Riley Wilcoxon, Bellefontaine, OH, *78-83-161 +17
96. Jeremie Lopez, Canton, MI, *82-80-162 +18
97. Nick Metaxas (a), Dearborn, MI, *83-80-163 +19
97. Sammy Spayd, Livonia, MI, *79-84-163 +19
99. Joshua Widner, Massillon, OH, *83-81-164 +20
99. Dylan Champney, Vermilion, OH, *80-84-164 +20
101. Drake Koegel, Oregon, OH, *83-82-165 +21
101. Jake Kruk (a), Rochester, MI, *76-89-165 +21
103. Daniel Terry, Wadsworth, OH, *81-86-167 +23
103. Jonny Filler, Fort Wayne, IN, *79-88-167 +23
105. AJ Carpenter (a), Dundee, MI, *90-95-185 +41
WD. Chris Muse, Galloway, OH, *+1
WD. Jeffrey Tritt, Stow, OH, *
JWD. Jake Scott, Strongsville, Ohio, *E
Senior Division:
1. x-Mike Stone, Perrysburg, OH, *73-68-141 -3 $1,200
2. Bob Sowards, Dublin, OH, *70-71-141 -3 $750
3. Tom Atchison, Silver Lake, OH, *72-72-144 E $600
3. Kenneth Lacy, Nekoosa, WI, *71-73-144 E $600
5. Rob Moss, Broadview Heights, OH, *71-74-145 +1 $450
6. Steve Parker, Akron, OH, *75-71-146 +2 $300
6. Nick Szymanski, Toledo, OH, *74-72-146 +2 $300
6. Joe Podolski (a), Worthington, OH, *73-73-146 +2 $400 M
9. Gary Rusnak, Painesville, OH, *74-73-147 +3
10. Dan Sutton, Toledo, OH, *80-68-148 +4
10. Tony Adcock, Canton, OH, *73-75-148 +4
12. Mitch Camp, Aurora, OH, *80-69-149 +5
12. Paul Wackerly, Minerva, OH, *74-75-149 +5
12. Gary Trivisonno, Aurora, OH, *73-76-149 +5
15. Terry Tyson (a), Perrysburg, OH, *74-77-151 +7 $200 M
15. Kevin Sullivan, Painesville, OH, *75-76-151 +7
15. Darrin Vaughan, Bolivar, OH, *73-78-151 +7
18. Roy Fankhauser (a), Avon, OH, *77-76-153 +9
19. Jon Jones, Warren, OH, *79-75-154 +10
19. James Duncan (a), Scarborough, ON, *79-75-154 +10
21. Tom Harding, Beverly Hills, MI, *82-73-155 +11
21. John Bascuk, Waterville, OH, *80-75-155 +11
23. Patrick Shaw, Auburn, CA, *78-80-158 +14
23. Mike Rankin, Marion, OH, *78-80-158 +14
23. Tony Milam, Concord Township, OH, *74-84-158 +14
26. Sean Winters (a), Benton Harbor, MI, *83-78-161 +17
26. Russell Papa, Aurora, OH, *80-81-161 +17
28. Leo Szczepanski (a), Seven Hills, OH, *82-82-164 +20
JWD. Greg Smith, Mansfield, OH, *+13
JWD. Frank Guise (a), Westlake, OH, *