The final round of the annual Zoar Memorial Amateur Championship was played Sunday afternoon, May 29th, at Zoar Golf Club just north of Dover, Ohio.
When the final putt was made on the thirty-sixth hole, Vaughn Snyder of Canton emerged as the winner. His two-day total of 137 was enough for a two-stroke edge over Connor Curry. Curry from Mt. Vernon plays collegiately at Malone University.
Tim Hepner of Dover finished solo third at 141.
Three players tied for fourth: Andrew Simpson (Dublin), Mitch Levengood (New Philadelphia) and Anthony Savage (Mt Vernon) played the weekend at even par 144.
The Senior Division title was taken again by Rob Schustrich of Windham. His score of 141 was good for a four-stroke victory over Jeff Sparks (Cincinnati). Brad Baker was third at 146. Fred Ginert out of Pearland, TX took home fourth place money with a 147.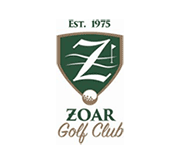 FINAL RESULTS:
2022 Zoar Memorial Amateur Championship
Zoar Golf Club, Zoar, Ohio
Saturday, May 28 – Sunday, May 29, 2022
CHAMPIONSHIP DIVISION
Vaughn Snyder 68-69=137 $750
Connor Curry 68-71=139 $450
Tim Hepner 69-72=141 $400
Mitch Levengood 71-72=144 $193
Andrew Simpson 72-72=144 $193
Anthony Savage 71-73=144 $193
Dave Oates 75-71=146 $145
Mike Simpson 74-72=146 $145
Aaron Crewse 72-75=147 $41
Zehnder Gibson 73-74=147 $41
John Fryman 75-72=147 $41
Out of the Money:
Eric Crone 74-74=148
Andrew Strope 76-72=148
Josh Prok 72-79=151
Gavis Gress 76-75=151
Mark Mokros 78-74=152
Brandon Goldsmith 77-75=152
Brock White 80-73=153
Brian Gasser 73-81=154
Hunter Lowder 78-76=154
Trace Gibson 76-78=154
Rob Loomis 79-75=154
Nate Garwood 80-75=155
Mark Schneider 74-81=155
Adam Filo 76-79=155
Spencer Crone 79-76=155
Jack Curtis 79-77=156
Matt Gasser 80-78=158
Colton Gress 81-82=163
Ben Koshmider 84-79=163
Zach Dale 79-84=163
Josh Hido 86-781=164
Aiden Allen 86-82=168
Jordan DeLillo 86-86=172
John Idoine 89-86=174
Blake Ring-Fish 82-92=179
SUNDAY SKINS: $370
Vaughn Snyder Eagle 3 #14
SENIOR Division
Rob Schustrich 70-71=141 $550
Jeff Sparks 76-69=145 $370
Brad Baker 74-72=146 $270
Fred Ginert 75-72=147 $170
Zoran Karic 73-77=150 $80
Marty Howarth 74-76=150 $80
Ron Chapman 76-74=150 $80
Jon Jadgchew 74-76=150 $80
Out of the Money:
Doug Lockwood 77-74=151
Tim Cunningham 79-72=151
Mark Johnson 76-75=151
Matt Edwards 79-73=152
Scott Ginert 77-76=153
Bill Jenkins 78-76=154
Dave Clark 79-77=156
Mark Ciccarello 81-76=157
Shawn Dillion 81-78=159
Geoff Burge 85-76=161
Joe Denk 83-78=161
Matt Bitikofer 81-81=162
Brent Myers 86-78=164
Geo Allen 85-80=165
Vince Amicone 83-86=169
Johb Sibila 86-87=173
SUNDAY SENIOR SKINS: $48/Per
Matt Bitikofer Birdie 3 #5
John Sibila Birdie 2 #6
Tim Cunningham Birdie 3 #10
Zoran Karic Birdie 3 #11
Matt Edwards Birdie 3 #16