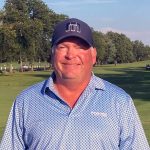 On a rainy Sunday in Akron, Fairlawn's Howard Clendenin made birdie on the second playoff hole to defend his title in the 2022 Turkeyfoot Course Championship.
Clendenin tied with Aaron Crewse of Canton after 36 holes, as Crewse posted a Sunday 69 to Clendenin's final round 70. Both players finished at 3-under par 139.
The playoff began at the par-3 13th hole, where both players made pars. Then on the 14th hole, Crewse flared his tee shot right into the waste area and missed the green with his second. Clendenin hit the fairway and nestled his second shot to 7 feet, and made the putt for birdie when two putts would do.
Crewse came out the big winner of the week though, as he swept the Sunday skins pot worth $980 with an eagle-2 on the drivable par-4 fifth hole.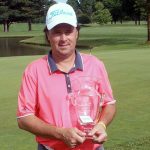 In the Senior Division, Windham's Rob Schustrich crushed the field, shooting even par 142 with matching 71s to win by 10 shots. Schustrich lost in a playoff for the Senior title last year.
In the Super Senior Division, Hudson's Randy Steele went wire-to-wire to win by five shots over Fred Martin.
In the Sunday's Women's Championships, Diane Rubin-Schuld shot 82 on a tough weather day to defend her title, while Arika Hull posted an adjusted 77 to win the Net event.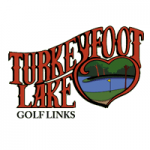 FINAL RESULTS:
2022 Turkeyfoot Course Championship
Turkeyfoot Lake Golf Links, Akron
Sat/Sun, September 3-4, 2022
HOLE-BY-HOLE SCORING RESULTS >
CHAMPIONSHIP DIVISION
T1 Howard Clendenin 69 – 70 = 139 $700.00 (playoff)
T1 Aaron Crewse 70 – 69 = 139 $550.00
3 Shaun Kloetzer 71 – 72 = 143 $450.00
4 Dave Oats 72 – 72 = 144 $350.00
5 Michael Witmer 69 – 76 = 145 $245.00
6 Brian Smith 78 – 68 = 146
T7 Kyle Jones 74 – 73 = 147
T7 Zack Drunkenbrod 72 – 75 = 147
9 Justin Trzebuckowski 73 – 75 = 148
10 Mike Simpson 74 – 75 = 149
T11 Chad Dawson 78 – 72 = 150
T11 Kory Hull 74 – 76 = 150
T13 Adam Arman 75 – 77 = 152
T13 Joshua Prok 73 – 79 = 152
T15 Ryan Stefanski 78 – 75 = 153
T15 Jimmy Wilde 78 – 75 = 153
T17 Andrew Malkus 79 – 75 = 154
T17 Matthew Roth 79 – 75 = 154
T17 Dustin Buehler 75 – 79 = 154
20 Mark Mokros 77 – 78 = 155
T21 Andrew Schultz 81 – 75 = 156
T21 Michael Yoder 80 – 76 = 156
T23 Alexander Moran 83 – 75 = 158
T23 Mark Schneider 81 – 77 = 158
T25 Dillon Bright 82 – 78 = 160
T25 Rich Mastcko 80 – 80 = 160
T25 Jeff Hetler 77 – 83 = 160
T25 Joe Sutter 76 – 84 = 160
T29 Chance Phifer 85 – 77 = 162
T29 Brandon Kachurchak 84 – 78 = 162
T29 Michael Shisler 82 – 80 = 162
T29 Robert Loomis 82 – 80 = 162
33 Eddie Diebold 85 – 78 = 163
34 Logan Hull 87 – 80 = 167
35 Ryan Hostetler 85 – 83 = 168
36 Dennis Berkheimer 83 – 86 = 169
T37 Nathan Ryan 85 – 85 = 170
T37 Tristan Arno 81 – 89 = 170
39 Erik Flora 91 – 83 = 174
40 Jonathan Thornton 92 – 83 = 175
41 Yianni Vellios 90 – 89 = 179
42 Jonathan Callihan 92 – 90 = 182
43 Mike Stefko 95 – 91 = 186
44 Keegan Straub 99 – 88 = 187
45 Josh Porter 94 – 96 = 190
46 Nick Arno 93 – 102 = 195
47 Michael Sullivan 97 – 102 = 199
48 Joshua Callihan 110 – 112 = 222
WD Bob Spino WD – WD
WD William Mooney WD – WD
NC Alex Loftin 77 – NC
NC Nick Foschia 92 – NC
NS Vaughn Snyder 80 – NS
NS Joey Ragazinne 85 – NS
NS Tommy Li 91 – NS
SUNDAY SKINS: $980
Aaron Crewse Eagle on 5
SENIOR DIVISION
1 Robert Schustrich 71 – 71 = 142 $400.00
2 David Trier 73 – 79 = 152 $300.00
3 Mark Thomas 78 – 80 = 158 $245.00
4 Tim Heavner 81 – 78 = 159
T5 Jeff Barbas 80 – 80 = 160
T5 Randy Crider 79 – 81 = 160
T5 Raul Mendoza 76 – 84 = 160
8 Lenny Herbert 80 – 81 = 161
9 Dave Canter 83 – 81 = 164
T10 Doug Hull 85 – 80 = 165
T10 John Toth 85 – 80 = 165
T10 Robert Wadsworth 82 – 83 = 165
13 Eric Peterman 84 – 82 = 166
14 Ricky Good 80 – 87 = 167
15 Derik Reichard 85 – 88 = 173
T16 Sean Arno 89 – 92 = 181
T16 Ted Straub 90 – 91 = 181
NC Doug Flemming NC – NC
NS Brian Vincelette 73 – NS
NS Randy Skorman 85 – NS
NS Russ Rybka NC – NS
SUNDAY SENIOR SKINS: $57 ea
Robert Schustrich Birdie on 3
Dave Canter Birdie on 6
John Toth Birdie on 7
John Toth Birdie on 15
Jeff Barbas Birdie on 16
Tim Heavner Birdie on 17
Derik Reichard Birdie on 18
SUPER SENIOR DIVISION
1 Randy Steele 76 – 77 153 $200.00
2 Fred Martin 78 – 80 158 $160.00
3 Tom Stack 81 – 78 159
4 Mike Yaich 88 – 81 169
5 Jack Cox 82 – 90 172
6 Terry Szwast 86 – 88 174
7 Steven Wilson 83 – 93 176
NS Jim Tarter 89 – NS
NS Fred Miller NS
SUNDAY SUPER SENIOR SKINS: $53 ea
Tom Stack Par on 3
Randy Steele Birdie on 10
Terry Szwast Par on 12
WOMEN'S DIVISION
1 Diane Rubin-Schuld 82 $140.00
T2 Emily Baumgartner 86 $80.00
T2 Cari Hetler 86
4 Corri Camp 89
5 Debbie Yaich 93
T6 Mary Mozingo 99
T6 Arika Hull 99
WOMEN'S NET DIVISION
1 Arika Hull 77
T2 Debbie Yaich 78
T2 Diane Rubin-Schuld 78
4 Corri Camp 79
5 Mary Mozingo 80
6 Cari Hetler 84
7 Emily Baumgartner 85