The weather could not have been better for a weekend of golf. AJ Borisa played very clean golf, carding 9 birdies, 4 bogeys and 23 pars over the two-day stretch. His rounds of 68-69 were good enough to beat the rest of the field by four shots.
Colin Burns took second place with two great scores of 69-72. Brandon Bodis followed in third place with matching rounds of 71.
Ten players earned a spot in the 2022 Greater Cleveland Amateur Championship at Sleepy Hollow Golf Course in Brecksville on Aug 12-14, designated by the asterisks below. After removing the players who were already exempt, a score of 155 was required to advance.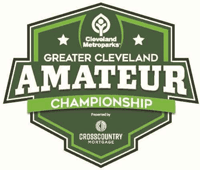 FINAL RESULTS: Cleveland Metroparks Golf
2022 Shawnee Hills Course Championship + Cleveland Amateur Qualifier
Shawnee Hills Golf Course, Beford Heights, Ohio
Sat/Sun, July 30 – 31, 2022

AJ Borisa 68 – 69 = 137 $460
Colin Burns 69 – 72 = 141 $300
Brandon Bodis* 71 – 71 = 142 $210
Jimmy Wild 77 – 68 = 145 $155
Rick Deichert* 72 – 73 = 145 $155
Brad Coleman* 70 – 75 = 145 $155
Andrew Malkus 73 – 73 = 146 $135
Tim Cebula* 72 – 75 = 147 $125
Ryan Wirtz 77 – 71 = 148 $105
Anthony Briggs 70 – 78 = 148 $105
Jonathan Reimer 75 – 74 = 149 $72
Colin Mccree* 75 – 74 = 149 $72
Tom Hallaran* 77 – 74 = 151 $50
Matt Drockton* 78 – 76 = 154
Jim Herchek* 77 – 77 = 154
Rob Loomis* 79 – 76 = 155
Andrew Teribery* 78 – 77 = 155
Douglas Polk 78 – 78 = 156
George Rimes 77 – 80 = 157
Aaron Meikle 83 – 75 = 158
Ron Ritner 81 – 77 = 158
Abhijit Shetti 76 – 83 = 159
Daniel Benson 82 – 78 = 160
Dan Elber 82 – 78 = 160
Matthew Burns 78 – 82 = 160
Ward Crane 83 – 78 = 161
Andy Blackburn 81 – 80 = 161
Jake Kemelhar 77 – 84 = 161
Daniel Terry 85 – 78 = 163
Logan Frank 85 – 79 = 164
Jerrod Jones 83 – 81 = 164
Aryan Ahlawat 81 – 83 = 164
Joe Ribelli 88 – 77 = 165
Mark Beltavski 83 – 82 = 165
Kyle Strowe 79 – 87 = 166
Jacob Zbin 89 – 78 = 167
Emilio Noguez 82 – 85 = 167
Bill Mooney 81 – 86 = 167
Joshua Anderson 85 – 83 = 168
Matthew Wheeler 85 – 84 = 169
Mike Mandela 84 – 85 = 169
Max Lurie 83 – 87 = 170
Brandon Kutrubs 81 – 89 = 170
Keith Pluto 86 – 86 = 172
Tristan Arno 88 – 85 = 173
Aaron Ceja 88 – 86 = 174
Chad Szabo 85 – 90 = 175
Dennis Kramarz 89 – 90 = 179
Paul Monahan 87 – 92 = 179
Andrew Coddington 87 – 93 = 180
Eric Rush 86 – 97 = 183
Sam Coddington 105 – 89 = 194
Nick Arno 100 – 97 = 197
Dennis Berkheimer W/D
Dontez Sanders W/D
Bam Childress W/D
Austin Adams W/D
Sam Swenton W/D
Sean Mchugh W/D
Xander Moran W/D
Michael Hochschwender W/D
Mike Crawford W/D
Jeff Mihalick W/D
Brian Kukoleck W/D
Paul Dilyard W/D
Steven Petite W/D
Mark Angelou W/D

— courtesy of Ben Ladaika, Golf Professional/Clubhouse Manager, Shawnee Hills Golf Course