The Final Round of the 2022 PGA Junior League Section Championship took place at Eagle Creek Golf Course today in Norwalk, OH.
Yesterday, twenty 13U teams played a stroke play format and took the top three of four scores from each player for the team score. The top two teams from the front nine qualified to play each other in this morning's semi-final matches, and the top two teams from the back nine. From yesterday's stroke play portion, Fox Den & JB Golf shot 98 and Cleveland SE shot 115 to qualify from the front nine. On the back nine, Medina Deegan shot 89 and Medina Union shot 94.
The semi-final matches were Fox Den & JB Golf coached by Joe Vojtko, PGA and Jimmy Beers, PGA, against Cleveland SE coached by Bill Reilly, PGA. Fox Den & JB Golf took the win with the score 9-3.
The second semi-final match was between Medina Union coached by Jim Wise, PGA, and Medina Deegan, coached by Chris Reed. Medina Deegan was named after former PGA Jr. League National Championship qualifier, Deegan Bee, who was fatally injured in a car accident in June. Medina Deegan took home the win with the score 8-4.
The final match of the 13U Division between Fox Den & JB Golf vs Medina Deegan ended with Medina Deegan winning by a score of 10.5 points to 1.5 points, qualifying for the Regional PGA Jr. League Championship at Milam Park Golf Club in Kalamazoo, Michigan on September 2-4.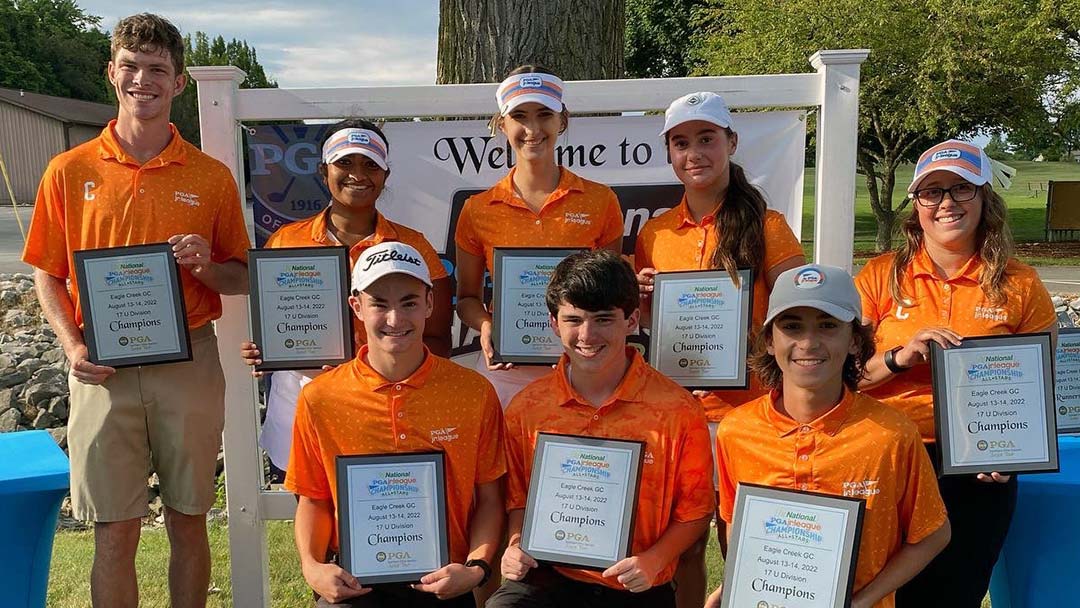 The 17U Division Finals was played between North Olmsted Golf Club and Medina Country Club. North Olmsted Golf Club was captained by Erin Craig, PGA, while Medina Country Club was captained by Jim Wise. The team of Medina Country Club made up of Kristina Chill, Mridulaa Badri, Reagan Elwell, Owen Smith, Vinnie Boros, and Jack Kelley took home the Northern Ohio PGA Jr. League Section Championship 17U Division Championship.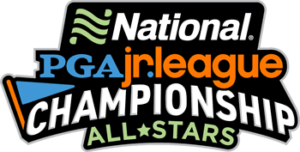 FINAL RESULTS: Northern Ohio PGA
2022 Northern Ohio PGA Jr. League Section Championship
Eagle Creek Golf Course, Norwalk, Ohio – Par 36
Sunday, August 14, 2022
13U Semi-Finals Results #1
Fox Den & JB Golf
Sammy Morgan/Lucas Cutlip 0.5 0 0.5 1
Ellie Gonzalez-Ribble/Frankie Hutzler 1 0.5 1 2.5
Emma Gonzalez-Ribble/Ellie Hutzler 0.5 1 1 2.5
Nick Pollak/Sarah Vojtko 1 1 1 3
Total Score: 9
Cleveland SE
Anthony Gambone/Isaac Bowland 0.5 1 0.5 2
Elena Varga/Barrett Atchison 0 0.5 0 0.5
Jack Hayward/Graham Owcarz 0.5 0 0 0.5
Tyler Piroli/Caige Cochran 0 0 0 0
Total Score: 3
13U Semi-Finals Results #2
Medina Deegan
Ethan White/Lucas Massa 0.5 0.5 0.5 1.5
Dylan Phillips/Calli Reed 0.5 1 1 2.5
Nico Ward/Elijah Stewart 0 1 1 2
Clint Lewis/Patrick Myers 1 1 0 2
Total Score: 8
Medina Union
Fitch Farina/Lincoln Miller 0.5 0.5 0.5 1.5
Nathan Chege/Hamilton Miller 0.5 0 0 0.5
Noah Risman/John Kaczka 1 0 0 1
Nate Hazard/Trent Riedel 0 0 1 1
Total Score: 4
Northern Ohio PGA Jr. League Section Championship 13U Finals Results
Medina Deegan
Ethan White/Lucas Massa 1 1 1 3
Dylan Phillips/Calli Reed 1 1 1 3
Nico Ward/Elijah Stewart 1 1 1 3
Clint Lewis/Patrick Myers 1 0 0.5 1.5
Total Score: 10.5
Fox Den & JB Golf
Ellie Gonzalez-Ribble/Frankie Hutzler 0 0 0 0
Emma Gonzalez-Ribble/Ellie Hutzler 0 0 0 0
Sammy Morgan/Lucas Cutlip 0 0 0 0
Nick Pollak/Sarah Vojtko 0 1 0.5 1.5
Total Score: 1.5
Northern Ohio PGA Jr. League Section Championship 17U Finals Results
Medina CC
Vinnie Boros/Jack Kelley 1 1 1 3
Regan Elwell/Owen Smith 1 0.5 0 1.5
Kristina Chill/Mridulaa Badri 1 1 1 3
Total Score: 7.5
North Olmsted Golf Club
Liam Martin/Jaxon Gozar 0 0 0 0
Cooper Elbers/Santino Ott 0 0.5 1 1.5
Will Durbin 0 0 0 0
Total Score: 1.5