Starting the day three shots behind the first round leader, Grand Rapids pro Sam Weatherhead put together a bogey-free 6-under par 65 to earn a comeback victory in the 92nd Habitec Toledo Open at Stone Oak Country Club in Holland, Ohio.
Weatherhead, who is heading to Korn Ferry Q-School next week, scorched the front nine in the finale, making five birdies – including four straight birdies from holes 6 through 9 – for a 31. A late birdie at the 17th made the difference, as Weatherhead won by a single shot.
Dover's Blake Sattler finished in second place after putting together his own bogey-free second round, shooting a solid 5-under par 68.
Brent Ito of New Rochelle, NY took solo third place after a 68 of his own. But bogeys at the seventh and eighth holes on Tuesday derailed his hopes for a Toledo Open victory.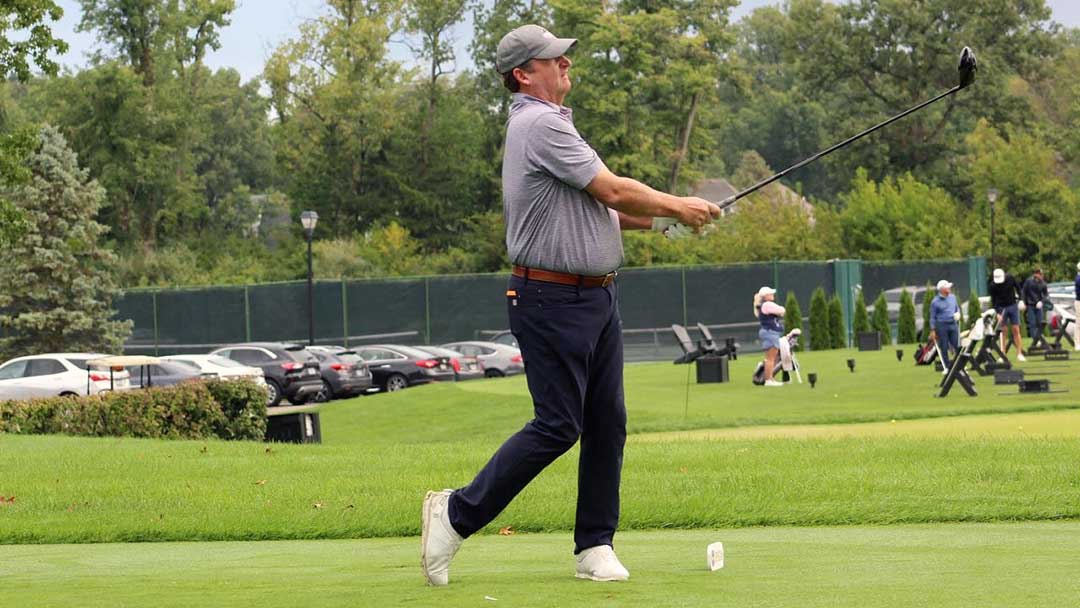 In the Senior Division, past Section President Steve Parker, PGA of Akron's Portage Country Club, backed up his first round leading 69 with a 1-over par 72 on Tuesday to earn a three shot victory over Perrysburg's Mike Stone.

FINAL RESULTS: Northern Ohio PGA
2022 92nd Habitec Toledo Open
Stone Oak Country Club, Holland, OH
Mon/Tue, Sep 12 – Sep 13, 2022
Championship Division
Sam Weatherhead  Grand Rapids, MI 68 – 65 = 133 $5,000.00
Blake Sattler  Dover, OH 68 – 66 = 134 $2,000.00
Brent Ito  New Rochelle, NY 69 – 68 = 137 $1,400.00
Connor Gdovin (a)  Highland Heights, OH 69 – 68 = 137 $650.00
Logan Lagodich  Canton, OH 69 – 69 = 138 $883.00
Jake Scott  Strongsville, Ohio 69 – 69 = 138 $883.00
Beau Breault  Howell, MI 69 – 69 = 138 $883.00
Peter Bradbeer  Rosemont, PA 66 – 73 = 139 $750.00
Randy Dietz  Tallmadge, OH 70 – 70 = 140 $625.00
Patrick Sullivan  Grosse Pointe, MI 69 – 71 = 140 $625.00
Kenneth Hess  Parkersburg, WV 73 – 67 = 140 $625.00
Nathan Tarter  Mogadore, OH 68 – 72 = 140 $625.00
James Holley  Howell, MI 76 – 65 = 141 $450.00
Grant Engle  Springfield, OH 72 – 69 = 141 $450.00
David Erdy  Maineville, OH 74 – 67 = 141 $450.00
Brian Bullington  Frankfort, IL 72 – 70 = 142 $350.00
Domenic Mancinelli  Northville, MI 72 – 70 = 142 $350.00
David Tepe  Delaware, OH 74 – 68 = 142 $350.00
Logan Holt  Phoenix, AZ 73 – 69 = 142 $350.00
DJ Holub  Twinsburg, OH 72 – 71 = 143 $233.00
Michael Balcar  Toledo, OH 72 – 71 = 143 $233.00
Zach Sudinsky  Boynton Beach, FL 72 – 71 = 143 $233.00
Cameron Willis  Eaton, OH 71 – 72 = 143 $233.00
Matthew Wininger  Westerville, OH 69 – 74 = 143 $233.00
Bryce Messner  Howell, MI 73 – 70 = 143 $233.00
Cory Kumpf  Massillon, OH 72 – 72 = 144
Alex Weiss  Pickerington, OH 72 – 72 = 144
Adam M White  Ann Arbor, MI 75 – 69 = 144
Ian Martin  Saline, MI 70 – 74 = 144
Tom Bell (a)  Waterloo, IA 73 – 71 = 144 $500.00
Timothy Ailes  Delaware, OH 72 – 73 = 145
Matt Gurska  Hermitage, PA 72 – 73 = 145
Avery Schneider  New Albany, OH 75 – 70 = 145
Richard Denny  Germantown, OH 74 – 71 = 145
Jordan Less  Elmhurst, IL 75 – 70 = 145
Collin Hoops (a)  Bowling Green, OH 70 – 75 = 145 $350.00
Winton Munch  Traverse City, MI 79 – 67 = 146
Kyle Kochevar  Glen Ellyn, IL 72 – 74 = 146
Jordan Eck  Williamsport, PA 75 – 71 = 146
Caleb Davern  Grove City, OH 72 – 74 = 146
Milton Carswell  Toledo, OH 74 – 72 = 146
Michael Nagy  Clio, MI 73 – 73 = 146
Justin Sui (a)  Lake Orion, MI 74 – 72 = 146 $250.00
Scott Shapin  Royal Oak, MI 77 – 70 = 147
Joseph Juszczyk  Dearborn Heights, MI 73 – 74 = 147
Baker Stevenson  Hartland, MI 76 – 71 = 147
Cole Moore  Spencer, WV 72 – 75 = 147
Nick Paez  Rocky River, OH 71 – 76 = 147
Dan Yustin  East Amherst, NY 71 – 77 = 148
Roni Shin (a)  Rocky River, OH 74 – 74 = 148 $50.00
Ryan Norkin (a)  Dublin, OH 74 – 74 = 148 $50.00
Darin Hudak (a)  Tallmadge, OH 74 – 74 = 148 $50.00
Jaysen Hansen  Twinsburg, OH 74 – 75 = 149
Connor Jones  Shelby Twp., MI 78 – 72 = 150
Brett Seward  Valparaiso, IN 77 – 73 = 150
Kosta Ramirez  Dearborn, MI 73 – 77 = 150
Dylan Fitchet (a)  Conneaut, OH 76 – 74 = 150
Jim Troy  Strongsville, OH 81 – 70 = 151
Nick Myers  Sylvania, OH 72 – 79 = 151
Andrew Ruthkoski  Muskegon, MI 74 – 77 = 151
Brady Pevarnik (a)  Bowling Green, PA 81 – 70 = 151
Brandon Rattray (a)  St-Bruno, QC 75 – 76 = 151
Cal Wollack  Saline, MI 77 – 75 = 152
Adam Lescalleet  Nashport, OH 76 – 76 = 152
Douglas Piesko  Davison, MI 78 – 74 = 152
Kyle Rybicki  White Lake, MI 79 – 73 = 152
Jordan Paolini  Tallmadge, OH 75 – 77 = 152
Philip Ritchie  Aventura, FL 72 – 80 = 152
Joel Cutlip  Myrtle Beach, SC 82 – 71 = 153
Sean McGuire  Twinsburg, OH 80 – 73 = 153
Adam Lewicki  Macedonia, OH 77 – 76 = 153
Jacob English  Columbus, OH 76 – 77 = 153
Nick Gustin  Perry, OH 75 – 78 = 153
Ethan Irvine (a)  Ancaster, ON 77 – 76 = 153
Bennett Berger (a)  Lake Mills, IA 77 – 76 = 153
Mat Little  Warren, MI 75 – 79 = 154
Brett Coluccio  Sylvania, OH 74 – 80 = 154
David Reiter Jr  Brunswick, OH 81 – 74 = 155
Drew Pierson  Cleveland, OH 80 – 75 = 155
Ken Keller  Youngstown, OH 79 – 76 = 155
Patrick Milkovich  Beachwood OH 79 – 76 = 155
Matt Urban  Maumee, OH 82 – 74 = 156
Matt Winkelmann  Edelstein, IL 77 – 79 = 156
Kegan Riley  Toledo, OH 81 – 76 = 157
Tim Heffelfinger  Livonia, MI 81 – 77 = 158
Jonathon Widmer  Toledo, OH 79 – 80 = 159
Jason Moscone  Marine City, MI 81 – 80 = 161
John Karcher  Novi, MI 80 – 81 = 161
Brian Hurst  Cranberry Township, PA 83 – 79 = 162
Daniel Terry  Wadsworth, OH 82 – 80 = 162
Eddie Charlton (a)  Perrysburg, OH 81 – 82 = 163
Flynn Makas (a)  Chicago, IL 80 – 83 = 163
John Popeck  Washington, PA 81 – 83 = 164
Eric Luebke (a)  Bloomfield Hills, MI 83 – 81 = 164
Trent Maxwell  Akron, OH 83 – 82 = 165
John Sparagowski (a)  Toledo, OH 89 – 76 = 165
Wyatt Wilson  Tipp City, OH 84 – 82 = 166
Josh Widner  NW Massillon, OH 85 – 82 = 167
Addison Cortez  Alexandria, OH 88 – 81 = 169
Ross Pilliod  Reading, PA 85 – 84 = 169
Joey Kurtz  Toledo, OH 82 – 87 = 169
Michael Earls  Westerville, OH 82 – 91 = 173
Drake Koegel  Oregon, OH 91 – 90 = 181
Brent Kraft  Cincinnati, OH 95 – 87 = 182
Corbin Stykemain (a)  Defiance, OH  DNF    
Nick Sanscrainte  Allen Park, MI DNF     
Alan Keshock  Bedford, OH   DNF    
Anthony Conaway  Fremont, OH   DNF   
Spencer Lendzion  Rochester Hills, MI   DNF    
Senior Division
Steve Parker  Akron, OH 69 – 72 = 141 $1,200.00
Mike Stone  Perrysburg, OH 74 – 70 = 144 $800.00
Ian Harris (a)  Bloomfield Hills, MI 76 – 70 = 146 $450.00
Scott Pollack  Chagrin Falls, OH 74 – 73 = 147 $550.00
Gary Trivisonno  Aurora, OH 75 – 72 = 147 $550.00
Thomas Harding  Beverly Hills, MI 73 – 74 = 147 $550.00
Gary Rusnak  Painesville, OH 73 – 75 = 148 $350.00
Terry Tyson (a)  Perrysburg, OH 70 – 78 = 148 $250.00
Nick Szymanski  Toledo, OH 74 – 75 = 149 $300.00
E.A. Tischler  Munster, IN 80 – 71 = 151
Tony Adcock  Canton, OH 76 – 76 = 152
Dan Sutton  Toledo, OH 77 – 76 = 153
Larry Lahnan (a)  Aurora, OH 78 – 75 = 153
Tony Milam  Concord Township, OH 78 – 77 = 155
Darrin Vaughan  Bolivar, OH 77 – 78 = 155
Jon Jones  Warren, OH 77 – 78 = 155
Kevin Sullivan  Painesville, OH 76 – 79 = 155
Craig Goldsberry  Lewis Center, OH 81 – 77 = 158
John Bascuk  Waterville, OH 81 – 77 = 158
Michael Wilson (a)  Perrysburg, OH 77 – 82 = 159
Michael McCarthy (a)  Toledo, OH 78 – 81 = 159
Roy Hobson  Plain City, OH 86 – 100 = 186
Russell Papa  Aurora, OH DNF
Steve Stone  Maumee, OH DNF
Brad Heilman  Delta, OH DNF
Ryan Baker  Chesterfield, MO DNF
Mark Riddle (a)  Seven Hills, OH DNF
Leo Szczepanski (a)  Seven Hills, OH DNF