Mentor's Antonio Bodziony, a member of the Lake Erie College golf team, finished with a flair on Sunday at Sleepy Hollow to earn a blowout win at the 2022 Greater Cleveland Amateur Championship.
It was a fairly wobbly front nine by all three players in the final group. 36-hole leader Brett Kaufman of Akron started the day with a three shot lead after a spectacular Saturday 67. But after making a birdie at the first, he made three bogeys and a double to turn in 39 — yet still held the lead.
Bodziony was one shot better than that after his first nine, making a bogey and a double for 38.
Mark Belasic of Mentor began the day in second place and had the best front side of the three leaders in shooting 37, but it was even more roller-coaster still: three birdies, a bogey and a pair of double-bogeys.
Once the final group headed to the tenth tee box, Bodziony turned on the jets. As tough as they are, he birdied both the 10th and 11th holes. Kaufman went bogey-triple after hitting his tee shot OB on the cavern-surrounded 11th and Belasic went bogey-bogey.
With his newfound lead in hand standing on the 12th tee, Bodziony promptly squandered it, missing the par-3 green then three-putting for double-bogeyed to let Kaufman and Belasic right back in the game.
But from there on, Bodziony was brilliant. He blistered a drive and made birdie at the downhill par-4 13th, which Kaufman matched. He then followed that up with stock pars at the par-5 14th and short par-4 15th, while Kaufman made bogey at the par-5.
Then on the final three finishing holes, Bodziony closed perfectly. He hit lob wedge from about 100 yards on three consecutive approach shots, leading to three straight birdies, all from within 8 feet.
The hot finish led to a five shot victory over Kaufman, who in turn finished four shots ahead of third place in Belasic and Dan Metzendorf, who closed with a Sunday 72.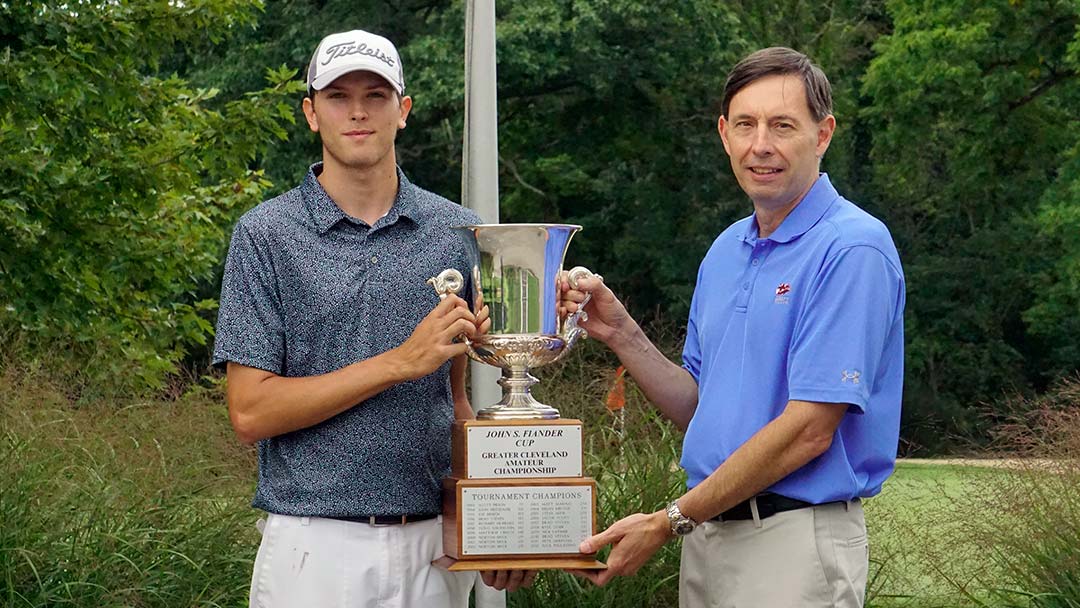 Bodziony earns a place for his name on the Fiander Cup, as the Cleveland Am trophy was renamed last year after the retirement of longtime Sleepy Hollow pro John Fiander, who was instrumental in growing the Cleveland Am.
The top-10 finishers listed below earn exemptions into next year's Cleveland Amateur, which will be played at Manakiki Golf Course in Willoughby Hills. Prize amounts listed below are for Cleveland Metroparks Gift Cards.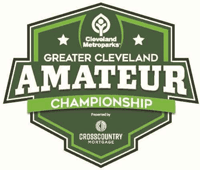 FINAL RESULTS: Cleveland Metroparks Golf
2022 Greater Cleveland Amateur Championship
Sleepy Hollow Golf Course, Brecksville, Ohio
Fri – Sun, August 12 – 14, 2022

1 Antonio Bodziony 75 – 70 – 70 = 215 $1,000
2 Brett Kaufman 75 – 67 – 78 = 220 $800
T3 Dan Metzendorf 77 – 75 – 72 = 224 $600
T3 Mark Belasic 74 – 70 – 80 = 224 $600
5 Vaughn Synder 73 – 77 – 76 = 226 $500
T6 Justin Trzebuckowski 78 – 76 – 73 = 227 $375
T6 Jimmy Wild 79 – 73 – 75 = 227 $375
T6 Doug Barber 78 – 73 – 76 = 227 $375
T6 Anthony Briggs 72 – 74 – 81 = 227 $375
T10 Mike Witmer 77 – 76 – 75 = 228 $225
T10 Robert Schustrich 76 – 76 – 76 = 228 $225
T12 David Sotka 72 – 83 – 74 = 229 $58
T12 Ryan Wirtz 80 – 74 – 75 = 229 $58
T12 Steve Blackburn 76 – 73 – 80 = 229 $58
15 Yadhu Urs 79 – 73 – 78 = 230
T16 Zachary Glassman 83 – 75 – 73 = 231
T16 Jonathan Riemer 80 – 77 – 74 = 231
T16 Adam Frey 81 – 74 – 76 = 231
T16 Rick Deichert 74 – 78 – 79 = 231
T20 Matt Marino 75 – 81 – 76 = 232
T20 Shaun Kloetzer 79 – 76 – 77 = 232
T20 Zach Drukenbrod 80 – 74 – 78 = 232
T20 Brad Coleman 79 – 73 – 80 = 232
T24 AJ Borisa 74 – 84 – 75 = 233
T24 Bryan Yeo 77 – 79 – 77 = 233
T24 Brandon Bodis 71 – 80 – 82 = 233
T27 Jeff Sawitke 78 – 78 – 79 = 235
T27 Evan Ferrara 78 – 74 – 83 = 235
T29 Brian Smith 80 – 78 – 78 = 236
T29 Charles Milo 78 – 77 – 81 = 236
31 Ryan Stefanski 80 – 77 – 80 = 237
32 Brian Tischler 77 – 79 – 83 = 239
33 Jason Jendre 80 – 76 – 84 = 240
34 Matt Frey 75 – 78 – 89 = 242
35 Mike Simpson 82 – 76 – 85 = 243
WD Howard Clendenin 72 – 77 – WD    
WD Max DeCheco 79 – 79 – WD
WD Phil Bojc 77 – 80 – WD
MISSED CUT
MC Andrew Grayson 159      
MC Nicco Anagnost 159      
MC Louis Durban 159      
MC Brandon Mihalo 160      
MC Mark Borlin 160      
MC Scott Abercrombie 160      
MC Scott Saari 161      
MC Nicholas Adams 161      
MC Colin McCree 162      
MC Ross Teeter 162      
MC Dean Cutlip 162      
MC Allen Freeman 162      
MC Tim Moore 162      
MC Rob Loomis 162      
MC Robert Kimmel 162      
MC Tim Cebula 162      
MC Eric Wonkovich 163      
MC Ryan Chipps 163      
MC Tom Hallaran 165      
MC Daniel Milo 165      
MC Scott Tarcy 165      
MC Tom Decaro 166      
MC Joe Jasin 167      
MC Andrew Teribery 168      
MC Andrew Malkus 169      
MC Ben Johannsen 169      
MC Matt Drockton 170      
MC Tyler Ankrom 174      
MC Jerrod Teeter 175      
MC Anthony Davis 178      
WD Andrew Perpetua          
WD Adam Arman            
WD Mike Richey            
DQ Matthew Mullen          
NC Mike Fierst          
JWD Dylan Roby            
JWD Ryan Sam            
JWD Dean Austalosh            
SUNDAY SKINS: $75 ea
Wild – Birdie 3, Hole 5
Smith – Birdie 2, Hole 6
Trzebuckowski – Birdie 2, Hole 8
Jendre – Birdie 3, Hole 10
Kloetzer – Birdie 3, Hole 11
Kloetzer – Birdie 2, Hole 12