Four players battled for the title all day long on Saturday at Good Park, each having a solid chance to win the 2021 Senior Summit County Amateur Championship.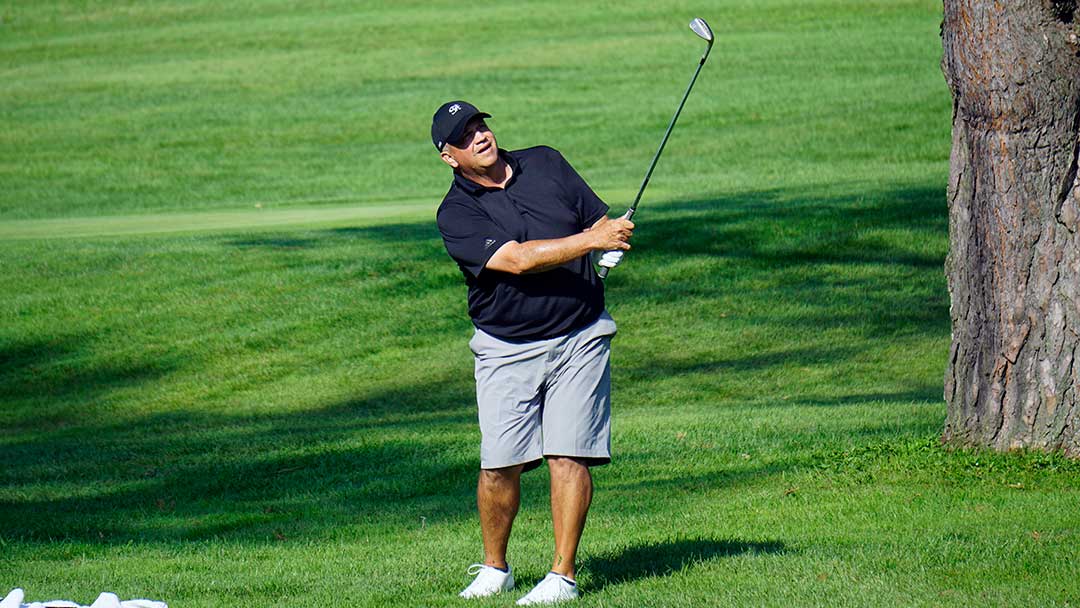 Bolivar's Kurt Peterson peppered the pin over and over again throughout his second round, leaving himself a number of 8-10 foot putts for birdie. But he couldn't get any of those putts to drop. His 1-over par Saturday 72 might have been a 66 if his putter would have co-operated at all.
In full contrast, Akron's Doug Fleming made a bundle of putts on Good Park's greens. After converting a pair of par-5 birdies after the turn, Fleming took a two shot lead with two holes left to play. But a hooked drive at the penultimate hole found the base of a tree inside a forest of trees, and led to an untimely double-bogey 6.
North Canton's Nolen Jatich played solid throughout the day, hitting greens and making par after par (along with a spectacular chip-in birdie at the 14th). At the final hole in regulation, Good Park's ninth (the nines are reversed for tournaments), and with all three players tied for the championship, Jatich stepped up to the tee and stuffed his shot from 198 yards to 8 feet. But he left the tournament winner just on the high side.
Peterson and Fleming both converted their par putts at the last, and it was off to a three way playoff for the championship.
(Playing in the group ahead, Akron's Tom Skidmore also scored well on both days at Good Park. With a solid front side on Saturday, Skidmore tied the tournament lead after 27 holes. He finished with a pair of 72s and missed the playoff by a single shot. But his sweep of Saturday's $1,050 skins pot will likely salve the pain of his solo fourth place finish.)
In the playoff starting at the long par-3 ninth, Fleming and Peterson both missed the green left. Jatich went a just bit right, but his solid strike still caught the right edge of the green. Neither Fleming nor Peterson were able to get their chips close, and Jatich rolled his long birdie putt to about three feet above the hole.
Once his challengers both missed their long par putts, Jatich stepped up calmly and rolled home the tournament winner, as seen in the featured photo above.
Jatich's son Brandon helped his dad as a caddie throughout the day, reading putts and talking through club selections. It was a family victory, for sure.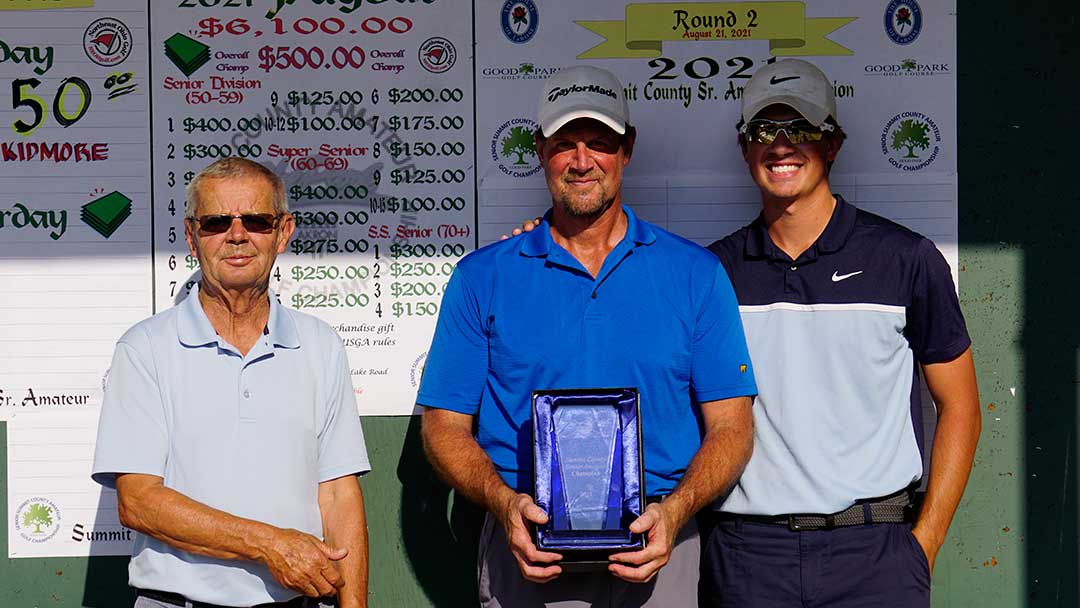 Thanks to Larry Zimmerman for another well-run tournament at Good Park! The merchandise certificate amounts listed below will be available at either Foxy Golf location (near Belden Village in Canton or next to Turkeyfoot Lakes GC in Akron) starting on Tuesday. Saturday skin winners should contact Larry to arrange receipt.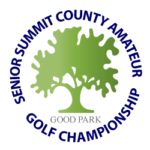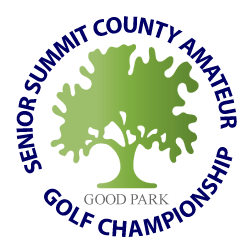 FINAL RESULTS:
2021 Senior Summit County Amateur Championship
Good Park Golf Course, Akron, Ohio
Saturday, August 21, 2021
TOP OVERALL RESULTS:
Jatich, Nolen 71 – 72 = 143 (won playoff)
Fleming, Doug 72 – 71 = 143
Peterson, Kurt 71 – 72 = 143
Skidmore, Tom 72 – 72 = 144
Cutlip, Dean 75 – 71 = 146
Trier, David 76 – 72 = 148
Chapman, Ron 75 – 74 = 149
Freeman, Al 72 – 77 = 149
Huntley, Brian 73 – 76 = 149
Lahnan, Larry 74 – 75 = 149
Bryson, Rick 73 – 77 = 150
RESULTS/PAYOUTS BY AGE DIVISION
SENIOR DIVISION: (age 50-59)
1st Jatich, Nolen 71 – 72 = 143 $500.00
T2 Fleming, Doug 72 – 71 = 143 $300.00
T2 Peterson, Kurt 71 – 72 = 143 $300.00
4th Cutlip, Dean 75 – 71 = 146 $250.00
5th Trier, David 76 – 72 = 148 $225.00
T6 Chapman, Ron 75 – 74 = 149 $175.00
T6 Freeman, Al 72 – 77 = 149 $175.00
T6 Huntley, Brian 73 – 76 = 149 $175.00
9th Vincelette, Brian 78 – 73 = 151 $125.00
10th Wakeling, Rob 75 – 77 = 152 $100.00
11th Burge, Geoffrey 76 – 77 = 153 $100.00
T12 Beebe, Brian 73 – 82 = 155 $50.00
T12 Harmon, Bobby 74 – 81 = 155 $50.00
Lewis, Alan 78 – 78 = 156
Grosso, Jim 81 – 76 = 157
Barbas, Jeffrey 78 – 80 = 158
Carpenter, Jay 79 – 79 = 158
Price, Glen 79 – 80 = 159
Toth, John 79 – 80 = 159
Wadsworth, Bob 80 – 81 = 161
Grosklos, Steve 82 – 80 = 162
Hull, Doug 78 – 85 = 163
Rybka, Russ 80 – 84 = 164
Feist, Steve 81 – 84 = 165
Mirelli, Jeff 84 – 81 = 165
Armour, Mike 83 – 83 = 166
Swartz, Russ 85 – 84 = 169
Helaney, Chris 86 – 84 = 170
Laubscher, Rocky 84 – 86 = 170
Canale, Joseph 87 – 88 = 175
Mathern, Rick 101 – 97 = 198
SUPER SENIOR DIVISION: (age 60-69)
1st Skidmore, Tom 72 – 72 = 144 $400.00
2nd Lahnan, Larry 74 – 75 = 149 $300.00
3rd Bryson, Rick 73 – 77 = 150 $275.00
4th Lockwood, Doug 73 – 78 = 151 $225.00
T5 Blackburn Sr., Steve 76 – 76 = 152 $200.00
T5 LaGrotteria, Paul 73 – 79 = 152 $200.00
T5 Wagner, John 75 – 77 = 152 $200.00
8th Bell, Ron 77 – 76 = 153 $150.00
T9 Baugh, Tom 75 – 79 = 154 $112.00
T9 Saari, Scott 75 – 79 = 154 $112.00
T11 Heavner, Tim 77 – 78 = 155 $83.00
T11 Lindquist, Fred 79 – 76 = 155 $83.00
T11 Miller, Fred 79 – 76 = 155 $83.00
T11 Peck, Dave 75 – 80 = 155 $83.00
T11 Salem, Greg 77 – 78 = 155 $83.00
T11 Thomas, Mark 78 – 77 = 155 $83.00
Herchek, Jim 78 – 78 = 156
Luken, Jeff 78 – 78 = 156
Allen, George 79 – 78 = 157
Crawford, Mike 81 – 76 = 157
Eckman, Kent 78 – 79 = 157
Mendoza, Raul 77 – 80 = 157
Cea, Jim 79 – 79 = 158
Crider, Randy 76 – 82 = 158
Ziga, Pat 80 – 78 = 158
Karic, Zoran 79 – 80 = 159
Congin, Gary 76 – 84 = 160
Bedell, Steve 80 – 81 = 161
Ciccarello, Mark 81 – 80 = 161
Skirpstas, Ron 81 – 80 = 161
Najda, Ray 79 – 84 = 163
Wheeler, Pat 85 – 78 = 163
Demeter, Mike 80 – 84 = 164
Oliver, Ron 81 – 83 = 164
Trenta, Larry 83 – 81 = 164
Davis, Tim 81 – 84 = 165
Granata, Joe 82 – 83 = 165
Jenkins, Jeff 88 – 79 = 167
Skeen, Randy 84 – 83 = 167
Breen, Kevin 83 – 86 = 169
Rositani, Ron 82 – 87 = 169
Mullen, Tom 84 – 86 = 170
Cardinali, Michael 84 – 87 = 171
Trenta, Paul 87 – 84 = 171
Wilson Sr., Steve 84 – 87 = 171
Livak, Frank 81 – 93 = 174
Butler, Mike 89 – 86 = 175
Holden, Joseph 85 – 91 = 176
Griffith, Mike 89 – 91 = 180
Green, Arthur 99 – 94 = 193
SUPER SUPER SENIOR DIVISION: (age 70+)
1st Martin, Fred 76 – 77 = 153 $300.00
2nd Merrow, Rick 78 – 76 = 154 $250.00
3rd Stack, Tom 77 – 79 = 156 $200.00
4th Kloetzer, Tom 80 – 78 = 158 $150.00
Cummins, Rob 79 – 82 = 161
Dean, Jeff 78 – 84 = 162
Krupa, Ken 80 – 87 = 167
Steinhilber, Steven 86 – 85 = 171
Sifford Jr., Charles 87 – 87 = 174
Goldman, George 91 – 87 = 178
Champagne, Bradley 99 – 105 = 204

SATURDAY SKINS: $175 each (No outright skins won on Saturday)
Birdie 3 on Hole #1: Trier, Crawford
Birdie 3 on Hole #7: Herchek, Huntley
Birdie 2 on Hole #13: Ziga, Goldman