Pifer of Mantua, Peck of Macedonia, Malkus of Streetsboro win the Senior Division Championships

The 51st Senior Portage County Amateur Championship had something for everyone, a changing leaderboard that created excitement throughout the day, an hour-long storm delay thanks to the thunder and lightening that chased the golfers off the course and scores so low that on the second day that included four under-par 18-hole rounds and four golfers under-par for the entire 36 holes.
SENIORS (Age 50-59)
This was Paul Malkus first playing time at the Senior Portage County Amateur.
The Streetsboro resident had lived in Florida for several years, not playing as much golf as he would have liked but played in several tournaments this summer.
His game came together at Windmill Lakes on the final day of the Portage County Senior Amateur.
Carding a 76 at Sugar Bush on the first day, Malkus was in a tie for second place behind Anthony Turrall of Bay Village (74).
On Sunday, Malkus fired a two-over-par 72 at Windmill Lakes Golf Club in Ravenna to jump past Turrall who fired a 75.
Malkus' two day total was enough to give him a one-stroke lead over Turrall and two-stroke cushion over Bill Jenkins of Canton (76-74 150).
Malkus fired the low round of the day in the 50-59 age division.
Allen Thigpen of Ravenna added a 75 to his first day 77 to finish fourth, just four strokes off the pace of Malkus.
GOLD DIVISION (Age 60-69)
The seniors in the Gold Division were on fire with four golfers finishing under-par for the 36-hole tournament and six golfers turning in under-par rounds during the final 18-holes at Windmill Lakes.
Dave Peck of Macedonia, retired superintendent from Grantwood Golf Course in Solon, led from the first drive on Saturday, firing a three-under-par 69 at Sugar Bush to his final, low 18-hole round of the tournament, a five-under-par 65 at Windmill for a 134 total.arry Lahnan of Aurora
So good was Peck on Sunday that he won by five strokes over Randy Crider of Brunswick who shot his way to a solid 66 at Windmill Lakes and a 139.
Larry Lahnan of Aurora was consistent during the two days, shooting back-to-back 70s for a 140, dropping back to third place.
For Mark Borlin of Stow, the defending champion in the 50-59 age division from 2020, he found the 60-69 age division welcoming but Borlin was also under-par for his two rounds (71-70 141) and still finished in fourth place.
Several other golfers felt a reprieve from their initial rounds at Sugar Bush.
Robert Gintert of Newton Falls shot a disappointing 78 at Sugar Bush but came roaring back on Sunday with a two-under-par 68 to earn sixth place behind George Allen of Champion.
Randy Wilburn of Deerfield also rode a 10-stroke improvement (79-69 148) into a tie for seventh place with former champion Steve Bedell of Brecksville. Wilbur regularly plays in the Portage County Amateur and finishes in the top 10 from the championship tees.
PLATINUM DIVISION (Age 70+)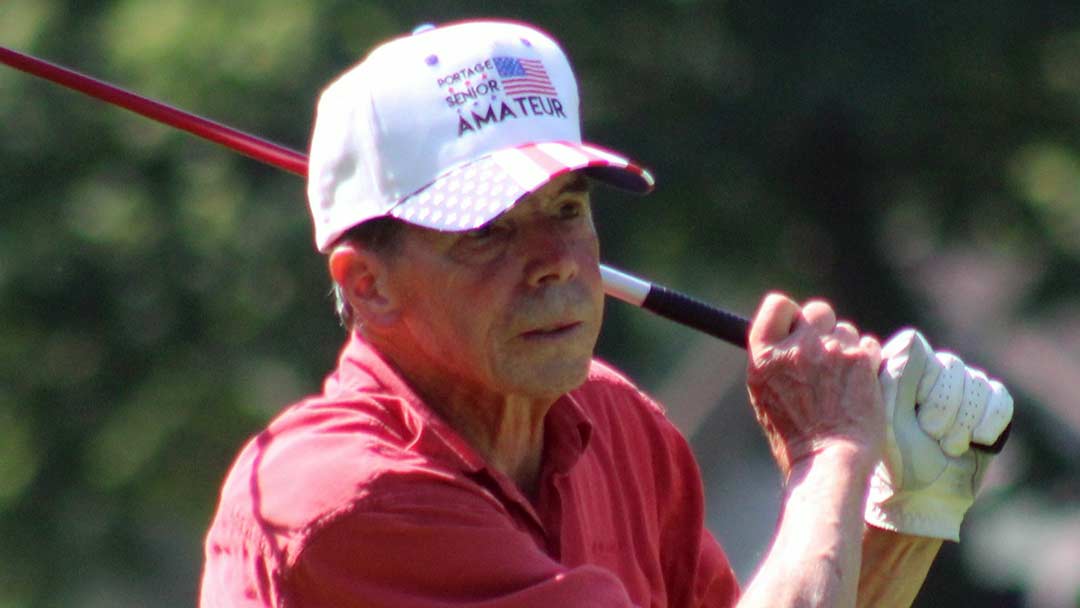 Dave Pifer of Mantua had a eight stroke lead going into the final round, firing an outstanding 71 at Sugar Bush Golf Course on a day when other golfers were struggling at the course in Garrettsville.
Following Pifer were four rounds of 79 (Don Schaeffer of Austinburg, R.E. Duff Long of Mantua, Ernest Johnson of Akron and Gerald Musiel of Chagrin Falls).
Despite Schaeffer moving up the leaderboard with a 75 at Windmill, he couldn't capture Pifer who is also the starter for the Portage County Amateur at Sugar Bush each summer.
Pifer added a 77 to shoot a 148 that topped runner-up Schaeffer (154) by six strokes. R.E. Duff Long of Mantua fired back-to-back rounds of 79 for a 158 that moved him out of the logjam for third place into the third spot by himself.

FINAL RESULTS:
51ST PORTAGE COUNTY SENIOR AMATEUR
Sugar Bush Golf Club, Garrettsvile | Par 72
Windmill Golf Club, Ravenna | Par 70
Sat, August 28 – Sun, August 29, 2021
AGE 50-59
Paul Malkus, Streetsboro 76-72 148
Anthony Turrall, Bay Village 74-75 149
Bill Jenkins, Canton 76-74 150
Allen Thigpen, Ravenna 77-75 152
Ed Marsinek, Ravenna 79-77 156
Bob Wadsworth 79-79-158
Tom Widman, Columbus 79-79-158
Dave Stover, Pepper Pike 77-81 158
Troy Luckenbaugh, Uniontown 81-78 159
David Bizjak, Solon 81-86 167
Mike Marsinek, Streetsboro 89-84 173
John Sales, Canton 93-92-185
Eric Ernsberger, Diamond 113-99 212
AGE 60-69
Dave Peck, Macedonia 69-65 134
Randy Crider, Brunswick 73-66 139
Larry Lahnan, Aurora 70-70 140
Mark Borlin, Stow 71-70 141
George Allen, Champion 73-70 143
Robert Gintert, Newton Falls 78-68 146
Randy Wilburn, Deerfield 79-69 148
Steve Bedell, Brecksville 77-71 148
Jeff Luken, Middleburg Hts. 77-74 151
John Sloe, Aurora 78-77 155
Jeff Hostetler, Rootstown 77-78 155
Frank Livak, Brimfield 74-82 156
Ric Everly, Ravenna 78-79 157
Ron Rositani, Willowick 84-75 159
Larry Ohman, Ravenna 82-80 162
John King, Aurora 82-81 163
Bill Furey, Twinsburg 88-84 172
AGE 70+
Dave Pifer, Mantua 71-77 148
Don Schaeffer, Austinburg 79-75 154
R.E. Duff Long, Mantua 79-79 158
Ernest Johnson, Akron 79-83 162
Gerald Musiel, Chagrin Falls 79-85 164
Don Labaj, Berea 83-85 168
Terry Kekic, Ravenna 91-90 181
Jim Crowe, Berlin Center 88-93 181