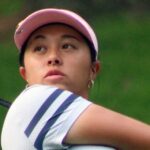 New Albany won the team championship by five shots over Dublin Jerome.
Dublin Jerome's Audrey Ryu was medalist after a final round 67 to finish at 2-under par 138.
Aurora's Brooklyn Millard (pictured) finished second by one shot after a Saturday 68. First round leader Cara Heisterkamp of Magnificat finished at even par 140 to finish in third place.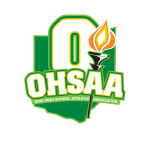 FINAL RESULTS: Girls High School Golf
2021 OHSAA Girls Division I State Golf Championship
Ohio State University Gray Course, Columbus
Friday, October 22 – Saturday, October 23, 2021
TEAM RESULTS:
1 New Albany 628
2 Mason 633
3 Dublin Jerome 635
4 Centerville 647
5 Medina Highland 661
6 Rocky River Magnificat 665
7 Cincinnati St. Ursula Academy 674
8 Massillon Jackson 693
9 Toledo St. Ursula Academy 714
10 Kent Roosevelt 738
11 Toledo Notre Dame Academy 739
12 New Concord John Glenn 788
INDIVIDUAL RESULTS:
1 Ryu, Audrey – Dublin Jerome 71 – 67 = 138
2 Millard, Brooklyn – Aurora 71 – 68 = 139
3 Heisterkamp, Cara – Rocky River Magnificat 67 – 73 = 140
4 Purcell, Emerson – New Albany 72 – 69 = 141
5 Reemsnyder, Madison – Canton GlenOak 71 – 72 = 143
6 Ritter, Anna – New Albany 77 – 68 = 145
T7 Xie, Demi – Mason 73 – 73 = 146
T7 Wright, Avery – Massillon Jackson 72 – 74 = 146
T7 Rodgers, Morgan – Centerville 75 – 71 = 146
T7 Goyette, Isabella – Medina Highland 74 – 72 = 146
T11 Mater, Nicole – Mason 77 – 71 = 148
T11 Hollenbaugh, Kary – New Albany 74 – 74 = 148
T11 Middleton, Lilly – Wilmington 75 – 73 = 148
T11 James, Gracie – Pataskala Watkins Memorial 71 – 77 = 148
T15 Xie, Nicole – Mason 74 – 75 = 149
T15 Luebbers, Zoe – Cincinnati St. Ursula Academy 74 – 75 = 149
17 Ryu, Ellie – Dublin Jerome 76 – 74 = 150
T18 Madden, Ally – Mason 74 – 77 = 151
T18 Hayes, Jenna – Centerville 74 – 77 = 151
T20 Harker, Leeann – Centerville 73 – 79 = 152
T20 Jenkinson, Kenna – Greenville 76 – 76 = 152
T20 Deal, Sydney – Perrysburg 77 – 75 = 152
T23 Reed, Cammy – Rocky River Magnificat 78 – 75 = 153
T23 Prettyman, Alexa – Dublin Jerome 76 – 77 = 153
T25 Coccia, Anna – New Albany 81 – 73 = 154
T25 Kelly, Gracey – Cincinnati St. Ursula Academy 76 – 78 = 154
T25 Sparling, Emma – Dublin Jerome 78 – 76 = 154
T25 Paramore, Klaira – Ashland 79 – 75 = 154
29 Porter, Savanna – Massillon Jackson 81 – 74 = 155
T30 McKendry, Paige – Medina Highland 79 – 78 = 157
T30 Liptak, Emily – Green 77 – 80 = 157
T32 Love, Abby – Mason 82 – 76 = 158
T32 Seaholts, Maren – Kent Roosevelt 80 – 78 = 158
T32 Nickell, Brigid – Centerville 80 – 78 = 158
T32 Thompson, Caroline – Cincinnati Sycamore 78 – 80 = 158
T36 Goyette, Alessandra – Medina Highland 81 – 78 = 159
T36 Blackburn, Abby – North Canton Hoover 81 – 78 = 159
38 Devore, Sydney – New Philadelphia 81 – 79 = 160
39 Reddy, Sanjana – Centerville 80 – 81 = 161
40 Prentiss, Grace – Medina Highland 77 – 85 = 162
T41 O'Leary, Maureen – Rocky River Magnificat 83 – 80 = 163
T41 Fesenmeier, Gretchen – Cincinnati St. Ursula Academy 82 – 81 = 163
T41 Yarbrough, Addie – Dublin Jerome 82 – 81 = 163
44 Donnelly, Payton – Toledo St. Ursula Academy 78 – 87 = 165
45 Lim, Ellie – Dublin Coffman 88 – 78 = 166
T46 Frey, Anna – Cincinnati St. Ursula Academy 85 – 83 = 168
T46 Groh, Emily – Medina Highland 86 – 82 = 168
T46 Reece, Paige – Toledo Notre Dame Academy 86 – 82 = 168
T49 Paez, Isabella – Rocky River Magnificat 85 – 84 = 169
T49 Myers, Emma – Toledo St. Ursula Academy 81 – 88 = 169
T49 Chung, Hannah – Toledo St. Ursula Academy 84 – 85 = 169
T49 Milam, Gracie – New Concord John Glenn 91 – 78 = 169
T53 Baird, Ella – Rocky River Magnificat 85 – 86 = 171
T53 Leavery, Sydnie – Kent Roosevelt 85 – 86 = 171
T55 McNutt, Ellie – New Albany 87 – 85 = 172
T55 Antypas, Sophie – Toledo St. Ursula Academy 79 – 93 = 172
57 Nikolaidis, Abrielle – Massillon Jackson 84 – 89 = 173
58 Fesenmeier, Molly – Cincinnati St. Ursula Academy 88 – 86 = 174
59 Sanford, Grace – Toledo Notre Dame Academy 93 – 82 = 175
T60 Bauza, Morgan – Kent Roosevelt 91 – 85 = 176
T60 Simpson, Sydney – Toledo Notre Dame Academy 85 – 91 = 176
62 Colangelo, Rylee – Massillon Jackson 91 – 88 = 179
63 Burris, Addy – New Concord John Glenn 84 – 96 = 180
64 Boyd, Lauren – Toledo Notre Dame Academy 90 – 92 = 182
65 Dansack, Emily – Toledo Notre Dame Academy 91 – 93 = 184
66 Murphy, Lexie – Toledo St. Ursula Academy 95 – 92 = 187
67 Prodafikas, Vanessa – Massillon Jackson 93 – 97 = 190
68 Leavery, AshlynKent Roosevelt 93 – 103 = 196
69 Abrams, Elise – New Concord John Glenn 101 – 97 = 198
70 McCullough, Abby – New Concord John Glenn 98 – 103 = 201
71 Picicco, Anna – Kent Roosevelt 103 – 100 = 203
72 Ellsworth, Carlie – New Concord John Glenn 106 – 107 = 213