Tyler Goecke shot a final round 67 on Monday at Windmill Lakes Golf Club to win the 2021 Northeast Ohio Amateur Championship going away.
Goecke, a native of Xenia who plays golf at Wright State, finished the 54-hole Championship with a 7-under par total, good for a four shot victory after starting the final day with just a one shot lead.
"I just wanted to do what I did the last two days, and I did," said Goecke about his Monday finale. "I struck it really well again, another round of 17 greens in regulation. I hit some putts and had some good motivation and competition behind me, which made me focus a lot."
Goecke had to wait a bit for his win, as a heavy rainstorm hit Ravenna with just a three holes to play, halting the tournament for almost two hours. But the delay had almost no effect on the final outcome, as Goecke birdied the par-5 16th soon after the restart.
Goecke finished second in the 2021 NEO Am Championship to Kent State's Cade Breitenstine, who also shot a 7-under par total over three days last year.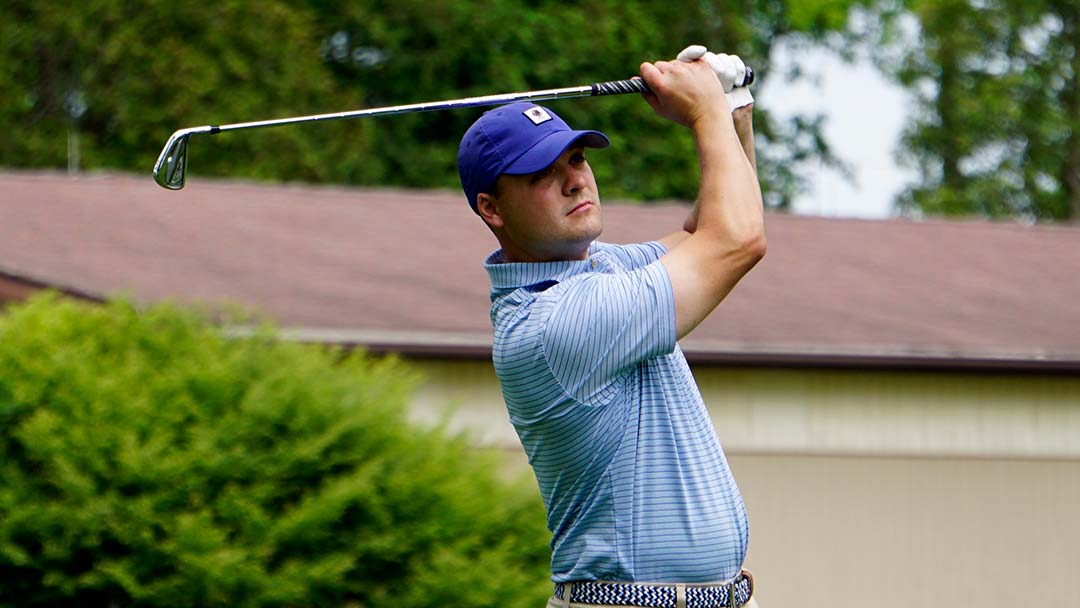 Michael Klaric III of Peninsula finished runner-up to Goecke in the Championship, while also earning the Mid-Am Division title for players age 25+.
Klaric posted a three-under par 67 on Monday to match the champion, making him the only other player besides Goecke to finish under par in the Championship Division for the three rounds.
Klaric won the Mid-Am Division wire-to-wire over defending NEO Am Mid-Am champ Michael Kelley of Westerville.
"Just drove the ball really well today and rolled in a couple putts," Klaric said. "The wind died down today which helped lower scores."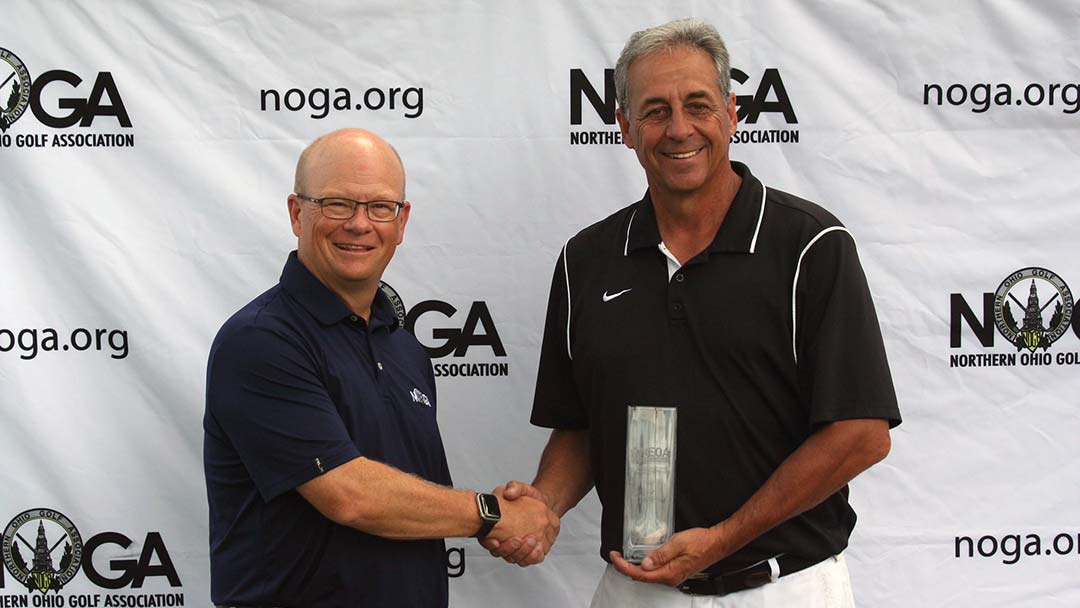 In the Senior Division, Solon's Monty Guest survived a late run by Allen Freeman of Brecksville to win his third NEOA title, to go along with his 2015 and 2020 trophies. Guest finished with a 2-under par total for 54 holes, while Freeman finished at even par for a solo second place.
"At this place, you have to drive it straight because there are so many trees so I really worked hard on keeping the ball in play and hitting the greens and taking the putts when they fall," Guest said.
For a complete set of winner's video interviews and highlight clips from the day's play, see the NOGA Twitter feed > courtesy of Justin Golba, NOGA's Boatwright intern (and the quote machine for the story above).
PHOTO GALLERY:
[Click any thumbnail to view the gallery in a lightbox.]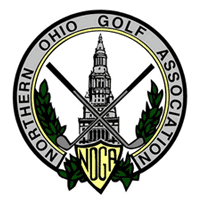 FINAL RESULTS:
Northern Ohio Golf Association
2021 Northeast Ohio Amateur Championship
Windmill Lakes Golf Club, Ravenna, Ohio
Saturday, June 5 – Monday, June 7, 2021
CHAMPIONSHIP DIVSION
1 Tyler Goecke, Xenia 69 – 67 – 67 = 203 $750.00
2 Michael Klaric III, Peninsula 69 – 71 – 67 = 207 $500.00
T3 Jules Blakely, Westlake 75 – 69 – 66 = 210 $375.00
T3 Zach Mandry, Solon 74 – 68 – 68 = 210 $375.00
T3 Andrew Wyss, Canton 72 – 69 – 69 = 210 $375.00
T3 Michael Kelley, Westerville 71 – 71 – 68 = 210 $375.00
7 Cole Corder, Beavercreek 68 – 69 – 74 = 211 $275.00
T8 Brett Kaufman, Westlake 73 – 71 – 68 = 212 $237.50
T8 Jack Crawshaw, Winnetka, IL 71 – 71 – 70 = 212 $237.50
T10 Ethan Snyder, Dublin 73 – 73 – 67 = 213 $175.00
T10 Jeff Blechschmidt, Cleveland 77 – 68 – 68 = 213 $175.00
T10 Justin Atkinson, Brookfield 70 – 73 – 70 = 213 $175.00
13 Cole Christman, Canfield 71 – 70 – 74 = 215 $125.00
14 Aaron Crewse, Akron 71 – 73 – 72 = 216 $100.00
T15 Ken Keller, Youngstown 73 – 71 – 73 = 217 $25.00
T15 Max Watson, Ashland 74 – 70 – 73 = 217 $25.00
T15 Blake Solomon, Dublin 72 – 71 – 74 = 217 $25.00
T15 Jack Doody, Columbus 73 – 70 – 74 = 217 $25.00
T15 Kyle Buzaki, Stow 67 – 75 – 75 = 217 $25.00
T20 Ben Hogan, Elyria 76 – 74 – 68 = 218
T20 Dylan Fitchet, Conneaut 76 – 72 – 70 = 218
T20 Chris Okeson, Lyndhurst 77 – 69 – 72 = 218
T20 Andrew Grayson, Medina 73 – 72 – 73 = 218
T20 Tim Skufca, Westlake 72 – 72 – 74 = 218
T25 Jonathan Filler, Fort Wayne IN 73 – 75 – 71 = 219
T25 Conor Mead, Amherst 73 – 74 – 72 = 219
27 Jack Hanus, Bowling Green 71 – 77 – 72 = 220
T28 Dean Austalosh, Campbell 77 – 73 – 71 = 221
T28 Kurt Peterson, Bolivar 74 – 74 – 73 = 221
T28 Bryan Kordupel, Youngstown 76 – 72 – 73 = 221
T28 Miles Miller, Dublin 69 – 79 – 73 = 221
T32 Evan Disanto, Cincinnati 76 – 72 – 74 = 222
T32 PJ Malik, Pepper Pike 75 – 72 – 75 = 222
T32 Paul Mastros, Wintersville 74 – 72 – 76 = 222
T35 Cade Kreps, Boardman 77 – 75 – 72 = 224
T35 Brandon Bodis, Avon Lake 74 – 78 – 72 = 224
T35 Don Padgett, Akron 78 – 73 – 73 = 224
T35 Scotty Bitar, Pittsburgh PA 75 – 74 – 75 = 224
T39 Jack Herceg, Dublin 76 – 76 – 73 = 225
T39 Andrew Kaye, Avon Lake 76 – 73 – 76 = 225
T39 Jay Prospal, Twinsburg 74 – 74 – 77 = 225
42 Brian Terlesky, Youngstown 78 – 74 – 75 = 227
43 Michael Richey, Cleveland 75 – 77 – 78 = 230
44 Colin Frimel, Medina 76 – 76 – 82 = 234
WD Daniel Berlin, Chagrin Falls 73 – 71 – WD = WD
MID-AM DIVSION – AGE 25+
1 Michael Klaric III, Peninsula 69 – 71 – 67 = 207 $500.00
2 Michael Kelley, Westerville 71 – 71 – 68 = 210 $350.00
3 Brett Kaufman, Westlake 73 – 71 – 68 = 212 $300.00
4 Jeff Blechschmidt, Cleveland 77 – 68 – 68 = 213 $250.00
5 Aaron Crewse, Akron 71 – 73 – 72 = 216 $200.00
T6 Ben Hogan, Elyria 76 – 74 – 68 = 218 $50.00
T6 Chris Okeson, Lyndhurst 77 – 69 – 72 = 218 $50.00
T6 Tim Skufca, Westlake 72 – 72 – 74 = 218 $50.00
9 Kurt Peterson, Bolivar 74 – 74 – 73 = 221
10 Don Padgett III, Akron 78 – 73 – 73 = 224
11 Jay Prospal, Twinsburg 74 – 74 – 77 = 225
12 Michael Richey, Cleveland 75 – 77 – 78 = 230
SENIOR DIVSION – AGE 55+
1 Monty Guest, Solon 69 – 69 – 70 = 208 $450.00
2 Allen Freeman, Brecksville 68 – 71 – 71 = 210 $300.00
T3 Marc Fried, Solon 76 – 71 – 71 = 218 $225.00
T3 Nick Lambos, Canton 70 – 75 – 73 = 218 $225.00
5 Jeffrey Knox, Brecksville 76 – 74 – 70 = 220 $175.00
6 Brian Sparrow, Chagrin Falls 70 – 77 – 75 = 222 $150.00
T7 Mark Guadagni, Hudson 75 – 77 – 71 = 223
T7 Mark Borlin, Stow 76 – 72 – 75 = 223
9 Jim Durr, Silver Lake 75 – 75 – 75 = 225
10 Ed Marsinek, Ravenna 74 – 78 – 76 = 228
11 Lou Boarman, Mogadore 77 – 77 – 78 = 232
DQ David Stover, Pepper Pike 77 – 76 – DQ = DQ