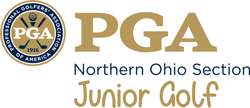 After two weather-perfect days and 36 grueling holes that was the path the four champions blazed in the 38th Kenny Novak NOPGA Junior Tour Championship, which concluded on Wednesday at Club Walden.
Strongsville's Michael Lee, Aurora's Chris Pollak and Lima's Mary Kelly Mulcahy led from start to finish in winning their divisions, while Strongsville's Natalie Kostalnick rallied from three shots back to claim her title in the event conducted by the Northern Ohio Section of the Professional Golfers Association of America.
Here is how each division unfolded:
BOYS 16-19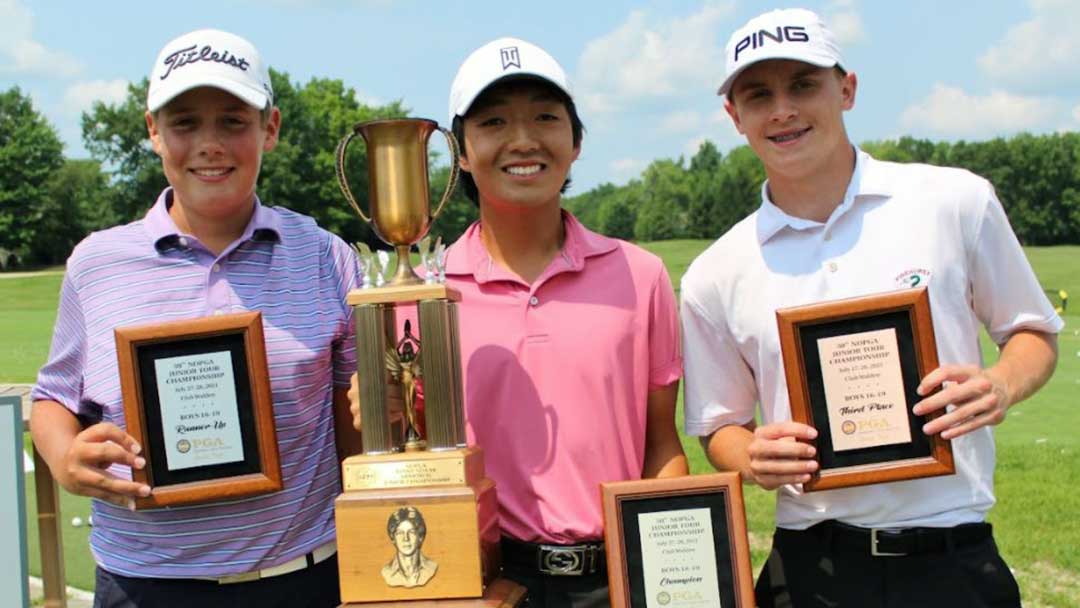 Winner: Michael Lee (Strongsville)
Runnerup: Jordan Kish (Massillon)
Lee, a recent graduate of Strongsville High who will be a freshman at Ohio State, closed out his junior career by beating Kish in a two-hole playoff after both finished regulation play tied at 5-over 149.
Lee, who plans on studying bio-chemical engineering, had 36-hole rounds of 73-76, while Kish, a sophomore at Jackson High School, reversed his scores with rounds of 76-73.
Lee, a high school state tournament qualifier last fall, won with a par-3 on Walden's 158-yard second hole, two putting from about 25 feet.
Kish, whose runner-up finish clinched the NOPGA's Jackson-Dieken Player-of-the-Year Award, left a chip shot from the second cut of rough about 12 feet short and his par attempt slid just by the hole.
Kish made it to the second hole by making a clutch 6-foot putt to save par on the first hole, but his tee shot on the second came to rest in the bushy rough and he left his second shot 12 feet short.
"I've been struggling this year with golf," said Lee. "I wasn't putting the time in I should have. I was concentrating more on my studies, but I've been practicing a little more and I'm glad to see it finally pay off. I've been playing better recently and when I got in trouble I just tried to minimize my mistakes. I got too greedy at times and it took me a while to learn how to minimize my mistakes."
BOYS 11-15
Winner: Chris Pollak (Aurora)
Runners-up: Dean Upholzer (Strongsville); Braden Herstich (Akron)
After opening with a 4-over 76 and sharing the first-round lead with Ray Dress (Medina), Pollak outclassed everyone during Wednesday's final round with a 4-under 68 – which included an eagle on the 579-yard 15th hole and a chip-in birdie from 35 feet on the par-3 eighth — to win by a whopping nine shots. It was the lowest round of the tournament.
Pollak, who will be a freshman at Archbishop Hoban, bogeyed the second hole but reeled off three birdies over the next seven to make the turn in 2-under 34. A bogey on the 11th was made null and void when he birdied the par-3 13th by making a 10-foot and followed with an eagle two holes later.
After hitting what he called his best drive of the tournament, Pollak said he had 178 yards to the hole. The left-hander hit 8-iron downwind to a tidy three feet and made the putt.
Upholzer, who won the Jackson-Dieken Player-of-the-Year for the age group, and Herstich each finished at 9-over 153.
"Winning this means a lot for me," said Pollak, who has worked with Todd Casabella and Ben Curtis. "I put in a lot of work. At the beginning of the year I had some mental issues with my attitude and getting my head in the right place. Over the winter I worked hard on my swing and my game. Finally, I just trusted myself and let the hard work pay off and went out and played.
GIRLS 16-19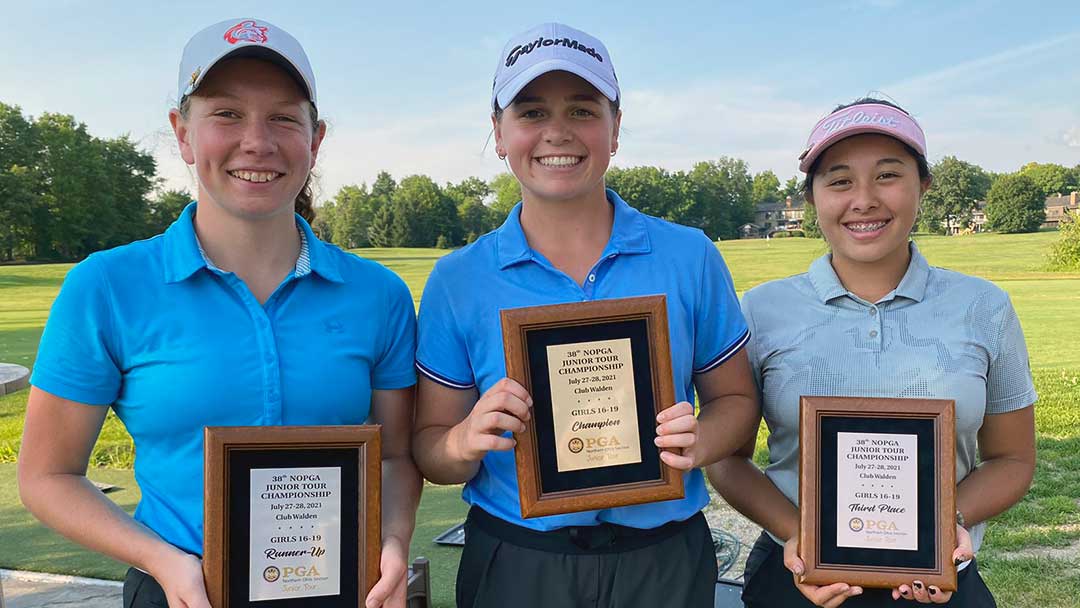 Winner: Mary Kelly Mulcahy (Lima)
Runnerup: Sydney Leyerle (Halena)
After taking the first-round lead with a 1-over 73 Mulcahy put together a stress-free round of 72 on Wednesday to win by one shot.
A runner-up in this event last year, Mulcahy, one of the twin daughters of Shawnee Country Club pro Steve Mulcahy, decided there was no reason not to improve on that finish.
"After the front nine on Tuesday (in which she finished at 1-over 37) I started thinking about last year and felt just why not finish it this year," she said.
It was a nice ending to her junior career as she will enter Findlay University in the fall after graduating from Lima Central Catholic.
Mulcahy bogeyed the first hole but got that back by making a 20-foot putt for birdie on the par-5 sixth following a pitching wedge from 110 yards.
One bogey, 10 pars and a birdie on the par-3 17th hole followed with the birdie on the penultimate hole being the key. She hit a 7-iron shot to three feet and made the putt.
GIRLS 11-15
Winner: Natalie Kostalnick (Strongsville)
Runnerup: Madolyn Kost (Kent)
A 1-under 35 on her final nine holes enabled the sophomore at Strongsville High to rally from a 3-shot deficit to a 2-shot victory in the biggest comeback of the tournament.
Kostalnick, who began the day in fourth place after an opening 85, put the finishing touches on her stellar comeback with three birdies, two pars and one bogey on her final six holes for a final-round of 2-over 74 while those in front of her faltered.
JACKSON-DIEKEN PLAYERS OF THE YEAR
BOYS 11-15: Dean Upholzer, Strongsville
BOYS 16-19: Jordan Kish, Massillon
GIRLS 11-15: Siena Maschke, Cleveland
GIRLS 16-19: Sophia Rosa, Canton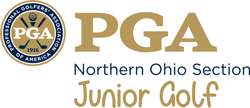 FINAL RESULTS: Northern Ohio PGA Junior Series
2021 NOPGA Junior Tour Championship
Club Walden, Aurora, Ohio
Tuesday, July 27 – Wednesday, July 28, 2021
BOYS 16-19:
Par: 72 Distance: 6900 Rating: 75.0 Slope: 138
1 Michael Lee Strongsville, OH 73-76–149 +5
2 Jordan Kish Massillon, OH 76-73–149 +5
T3 Connor Malicki Avon, OH 78-73–151 +7
T3 Matthew Stephan Green, OH 77-74–151 +7
T3 Dylan Dunn Stow, OH 74-77–151 +7
6 Jake Sylak Mineral Ridge, OH 78-74–152 +8
T7 Zach Miller Harrod, OH 76-77–153 +9
T7 Zachary Huscusson Canal Fulton, OH 75-78–153 +9
T9 Clark Nemer Hudson, OH 78-76–154 +10
T9 Ben Ellis Doylestown, OH 77-77–154 +10
T11 Michael Van Etten Avon Lake, OH 77-78–155 +11
T11 Michael Porter McDonald, OH 76-79–155 +11
T11 Josh Pethel Hudson, OH 76-79–155 +11
14 Joshua Weiner Macedonia, OH 77-79–156 +12
15 Kamden Mowry Ashland, OH 78-79–157 +13
T16 Casey Crooks Sandusky, OH 83-76–159 +15
T16 Ryan Sam Canfield, OH 79-80–159 +15
T16 Luke Schreck Seville, OH 85-74–159 +15
T16 Michael O'Leary Rocky River, OH 76-83–159 +15
T20 Sachin Singh Shaker Heights, OH 81-79–160 +16
T20 John A Thompson Avon, OH 78-82–160 +16
22 Andrew Yard Hudson, OH 78-84–162 +18
T23 Gavin Stutz Wooster, OH 82-81–163 +19
T23 Ben Scheeff Olmsted Township, OH 81-82–163 +19
T23 Jack Armstrong Uniontown, OH 85-78–163 +19
T26 Devon Starcher Wooster, OH 84-80–164 +20
T26 Mario Tortorella North Canton, OH 84-80–164 +20
T26 Kyle Salamon Medina, OH 77-87–164 +20
T29 Derek McCrum Avon Lake, OH 82-83–165 +21
T29 Griffin Braun Wooster, OH 82-83–165 +21
T29 Joseph DeSimone Munroe Falls, OH 80-85–165 +21
T29 Tyler Andersen Columbiana, OH 78-87–165 +21
33 Connor Keefe Highland Heights, OH 85-81–166 +22
34 Dominic Kapics Youngstown, OH 84-83–167 +23
T35 Timothy Caspio Medina, OH 88-80–168 +24
T35 Daniel Lee Strongsville, OH 88-80–168 +24
T35 Connor Daggett Canfield 79-89–168 +24
T38 Anthony Gore Copley, OH 84-85–169 +25
T38 Rocco Turner Canfield, OH 86-83–169 +25
40 Ayden Richmond geneva, Ohio 87-83–170 +26
41 Grayson Clark Port Clinton, OH 93-79–172 +28
42 David Swab North Royalton, OH 84-89–173 +29
43 Nicolas Fartelly Medina, OH 91-83–174 +30
44 Aryan Ahlawat Broadview Heights, OH 93-86–179 +35
T45 John Hammond Cleveland, OH 94-88–182 +38
T45 Nate Albrecht Massillon, OH 92-90–182 +38
47 Gabriel Emery Akron, OH 95-91–186 +42
48 Sion Park Westlake, OH 91-102–193 +49
49 Matthew Goldsberry Spencer, OH 96-106–202 +58
GIRLS 16-19:
Par: 72 Distance: 6070 Rating: 75.6 Slope: 134
1 Mary Kelly Mulcahy Lima, OH 73-74–147 +3
2 Sydney Leyerle Helena, Ohio 74-74–148 +4
3 Brooklyn Millard Aurora 77-77–154 +10
4 Erin Mulcahy Lima, OH 79-79–158 +14
T5 Ava Pulley Uniontown, OH 83-78–161 +17
T5 Emily Liptak Akron, OH 79-82–161 +17
7 Lauren Bangasser Concord Twp, OH 85-79–164 +20
8 Kenzie Gustas Hermitage, PA 82-83–165 +21
9 Amanda Ruminski Mansfield, OH 82-84–166 +22
T10 Maren Seaholts Kent, OH 88-81–169 +25
T10 Rachel DiDonato Akron, OH 86-83–169 +25
12 Kaitlin Kormuth Solon, OH 90-80–170 +26
T13 Sydnie Leavery Kent, OH 91-81–172 +28
T13 Abigail Blackburn North Canton, OH 84-88–172 +28
T13 Abigail Retherford Ravenna, OH 83-89–172 +28
16 Allyson Siewert Sagamore Hills, OH 92-81–173 +29
17 Olivia Swain Uniontown, OH 88-86–174 +30
T18 Grace May North Canton, OH 92-84–176 +32
T18 Erin Strouse Louisville, OH 86-90–176 +32
20 Halle Ellis Uniontown, OH 90-88–178 +34
21 Jayden Mitchell Louisville, OH 93-86–179 +35
22 Madison Gruber Louisville, OH 93-88–181 +37
23 Devon Carpenter Mogadore, OH 89-94–183 +39
24 Samantha Torres Olmsted Township, OH 87-98–185 +41
25 Aubrie Rush Avon, OH 96-90–186 +42
26 Hannah Higgins North Canton, OH 96-91–187 +43
27 Kandace Kellon Shaker Heights, OH 101-89–190 +46
28 Kate Potashnik Hartville, OH 99-92–191 +47
29 Larisa Golembiewski Northfield, OH 108-95–203 +59
BOYS 11-15:
Par: 72 Distance: 6244 Rating: 72.5 Slope: 133
1 Chris Pollak Aurora, OH 76-68–144 E
T2 Dean Upholzer Strongsville, OH 78-75–153 +9
T2 Braden Herstich Akron, OH 78-75–153 +9
4 Daniel Gambone North Canton, OH 79-78–157 +13
T5 Max Weber Massillon, OH 80-78–158 +14
T5 Charles Hite Akron, OH 78-80–158 +14
T7 Deegan Bee Fredericksburg, OH 83-76–159 +15
T7 Callahan Lawler Hudson, OH 84-75–159 +15
T7 Kyle Smith Green, OH 81-78–159 +15
T10 Maxwell Devins Aurora, OH 81-79–160 +16
T10 Parker Barrett Aurora, OH 78-82–160 +16
T10 Ray Dress Medina, OH 76-84–160 +16
T13 Sam Fauver Hudson, OH 82-80–162 +18
T13 Hunter McCourt Avon, OH 78-84–162 +18
15 Kevin Dang Twinsburg, OH 83-80–163 +19
T16 Liam Curtis Stow, OH 85-79–164 +20
T16 Marco Silva Barberton, OH 83-81–164 +20
18 Luke Dietrich Rocky River, OH 82-83–165 +21
T19 Ethan Roberts Shaker Heights, OH 84-82–166 +22
T19 Ryan Przybysz Wadsworth, OH 83-83–166 +22
21 Ryan Dinan Akron, OH 84-85–169 +25
22 Alexander Stiegele Westlake, OH 87-83–170 +26
23 William Bopp North Canton, OH 85-86–171 +27
24 Ashton Hoffbauer Shelby, OH 91-81–172 +28
25 Drew Kitzmiller Macedonia, OH 90-83–173 +29
26 Dante Turner Canfield, OH 85-89–174 +30
27 Bryce Daggett Canfield 85-91–176 +32
28 Nicholas Beistel Canfield, OH 95-82–177 +33
T29 Matthew DiMare Cuyahoga Falls, OH 87-91–178 +34
T29 Rocco Crawford Columbiana, OH 85-93–178 +34
31 Bryce Van Horn Cortland, OH 93-86–179 +35
32 MichaelTyler Polca Rocky River, OH 91-93–184 +40
33 Brock Jenkins Massillon, OH 94-91–185 +41
GIRLS 11-15:
Par: 72 Distance: 5426 Rating: 72.0 Slope: 126
1 Natalie Kostalnick Strongsville, OH 85-74–159 +15
2 Madolyn Kost Kent, OH 83-78–161 +17
3 Siena Maschke Cleveland, OH 82-86–168 +24
4 Emily Burling Hudson, OH 89-81–170 +26
5 Gabriella Berlingieri Stow, OH 84-87–171 +27
6 Sherry Du Hudson, OH 91-81–172 +28
7 Paige McKendry Hinckley, OH 89-85–174 +30
8 Hannah Lee Strongsville, OH 88-88–176 +32
9 Kayla Knaze Fairview Park, OH 87-92–179 +35
10 Gracyn Vidovic Aurora, OH 92-88–180 +36
11 Serena Wu Solon, OH 92-96–188 +44
T12 Julia Van Bokkelen Hudson, OH 95-94–189 +45
T12 Annelise Stencel Akron, OH 89-100–189 +45
14 Sophia Thompson Cuyahoga Falls, OH 93-99–192 +48
15 Gianna Reginelli Broadview Hts, OH 99-97–196 +52