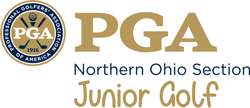 Andrew Yard of Hudson won the Boys Overall Championship and the Boys 16-19 Age Division in the 36-hole NOPGA Junior Series Championship at Windmill Lakes Golf Club on July 14-15th.
Grace May of North Canton won the Overall Girls Championship and Girls 16-19 Division in a playoff over Olivia Swain of Uniontown.
Dean Upholzer of Strongsville won the Boys 11-15 Division in a playoff over Kyle Smith of Green.
And Madolyn Kost of Kent took the Girls 11-15 Division — while finishing in third place overall — by one shot over Natalie Kostalnick of Strongsville.

FINAL RESULTS: Northern Ohio PGA Junior Golf
2021 NOPGA JUNIOR SERIES CHAMPIONSHIP
Windmill Lakes Golf Club, Ravenna, OH
Wednesday, July 14 – Thursday, July 15, 2021
Boys: Par: 70 Distance: 6935; Girls: Par: 70 Distance: 6141
OVERALL BOYS 11-19: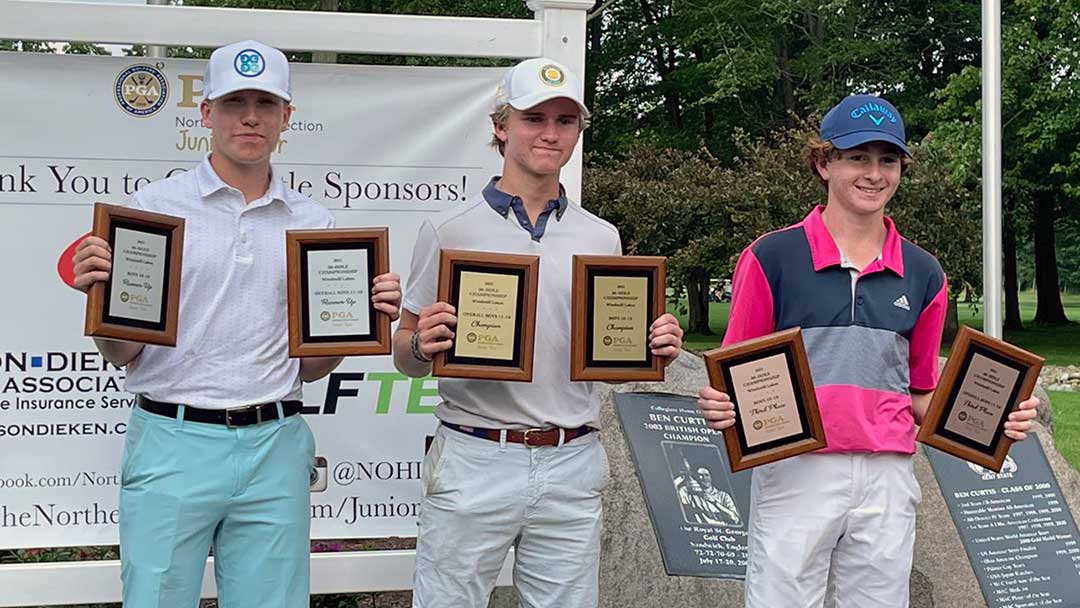 1 Andrew Yard Hudson, OH 71-70–141 +1
2 Ryan Sam Canfield, OH 74-70–144 +4
3 Joshua Weiner Macedonia, OH 72-74–146 +6
T4 Kyle Freudeman Canton, OH 76-71–147 +7
T4 Kyle Salamon Medina, OH 73-74–147 +7
T4 Connor Malicki Avon, OH 75-72–147 +7
T7 Kamden Mowry Ashland, OH 76-72–148 +8
T7 Michael Van Etten Avon Lake, OH 73-75–148 +8
T7 Dylan Dunn Stow, OH 74-74–148 +8
T10 Ethan Kasler Massillon, OH 78-72–150 +10
T10 Dean Upholzer Strongsville, OH 76-74–150 +10
T10 Dillon Pendergast Mogadore, OH 73-77–150 +10
T10 Kyle Smith Green, OH 72-78–150 +10
T14 Zachary Parker Medina 74-77–151 +11
T14 Max Crookston Stow, OH 75-76–151 +11
T14 Jordan Kish Massillon, OH 72-79–151 +11
T17 Josh Pethel Hudson, OH 78-74–152 +12
T17 Michael Porter McDonald, OH 75-77–152 +12
T17 Ray Dress Medina, OH 75-77–152 +12
T20 Braden Herstich Akron, OH 77-76–153 +13
T20 Luke Schreck Seville, OH 77-76–153 +13
T20 Michael Lee Strongsville, OH 75-78–153 +13
23 Troy Chapman West Salem, OH 76-78–154 +14
T24 Dominic Kapics Youngstown, OH 82-73–155 +15
T24 Sachin Singh Shaker Heights, OH 78-77–155 +15
T24 Griffin Braun Wooster, OH 75-80–155 +15
T27 Ryan Dinan Akron, OH 80-76–156 +16
T27 Bryce Van Horn Cortland, OH 77-79–156 +16
T29 Sam Fauver Hudson, OH 80-77–157 +17
T29 Anthony Gore Copley, OH 79-78–157 +17
T29 Daniel Lee Strongsville, OH 78-79–157 +17
T32 Hunter McCourt Avon, OH 87-72–159 +19
T32 Zachary Huscusson Canal Fulton, OH 85-74–159 +19
T32 Sion Park Westlake, OH 85-74–159 +19
T32 Parker Barrett Aurora, OH 82-77–159 +19
T32 Alexander Ventimiglia Aurora, OH 83-76–159 +19
T32 Max Weber Massillon, OH 79-80–159 +19
T32 Ted Hoover Canton, OH 79-80–159 +19
39 Ayden Richmond geneva, Ohio 82-78–160 +20
T40 Ethan Roberts Shaker Heights, OH 79-82–161 +21
T40 Jude Abbass Aurora, OH 77-84–161 +21
42 Connor Daggett Canfield 81-81–162 +22
T43 Ryder Kreps Youngstown, OH 85-78–163 +23
T43 Rocco Turner Canfield, OH 83-80–163 +23
T43 John Hammond Cleveland, OH 82-81–163 +23
T46 Spencer Sizemore Hudson, OH 81-83–164 +24
T46 Liam Curtis Stow, OH 79-85–164 +24
T48 Conner Shaffer Medina, OH 86-79–165 +25
T48 Sachin Nallapaneni Canfield, OH 83-82–165 +25
T48 David Swab North Royalton, OH 83-82–165 +25
T48 Gabriel Emery Akron, OH 81-84–165 +25
T52 Ethan Huly Warren, OH 87-79–166 +26
T52 Callahan Lawler Hudson, OH 85-81–166 +26
T52 Gavin Stutz Wooster, OH 84-82–166 +26
T55 Kevin Dang Twinsburg, OH 85-82–167 +27
T55 David Berry Hudson, OH 83-84–167 +27
T55 Cole Cartwright Avon Lake, OH 83-84–167 +27
T58 William Bopp North Canton, OH 86-82–168 +28
T58 Aryan Ahlawat Broadview Heights, OH 82-86–168 +28
60 Rocco Crawford Columbiana, OH 83-86–169 +29
T61 Andrew Leon Aurora, OH 84-86–170 +30
T61 Derek McCrum Avon Lake, OH 81-89–170 +30
T63 Mitchell Tyger Kent, OH 86-85–171 +31
T63 Cayden Testa North Canton, OH 82-89–171 +31
T63 Fletcher Clark Canton, OH 82-89–171 +31
66 Dante Turner Canfield, OH 89-83–172 +32
67 Ryan Przybysz Wadsworth, OH 87-86–173 +33
T68 Drew Kitzmiller Macedonia, OH 90-84–174 +34
T68 Brock Jenkins Massillon, OH 86-88–174 +34
70 Jackson Kubic Shaker Heights, OH 89-86–175 +35
T71 Simon Kovass Canfield, OH 90-86–176 +36
T71 Christian Mineo Kent, OH 89-87–176 +36
T71 Frankie Adamo Avon, OH 86-90–176 +36
T74 Andrew Mamer Medina, OH 93-84–177 +37
T74 Matthew Caldwell Canton, OH 86-91–177 +37
T76 Bryce Daggett Canfield 90-88–178 +38
T76 Andrew Gus Strongsville, OH 89-89–178 +38
T76 Mason Gurney Clyde, OH 86-92–178 +38
79 Ethan Pulido Hudson, OH 95-87–182 +42
T80 MichaelTyler Polca Rocky River, OH 93-90–183 +43
T80 Mica Thirion Twinsburg, OH 86-97–183 +43
T82 Matthew DiMare Cuyahoga Falls, OH 100-85–185 +45
T82 Josiah Worsencroft Youngstown, OH 94-91–185 +45
T82 Joshua Hammond Bay Village, OH 94-91–185 +45
T82 Tommy Urbancic Avon, OH 89-96–185 +45
T86 Landon Wilson Homeworth, OH 97-92–189 +49
T86 Tony Russo Canfield, OH 99-90–189 +49
88 William Guest Medina, Ohio 100-97–197 +57
89 Rowan Baynes Kent, OH 104-95–199 +59
90 Evan McGrath North Lima, OH 107-97–204 +64
91 Ryan Geary Appleton, WI 103-107–210 +70
OVERALL GIRLS 11-19: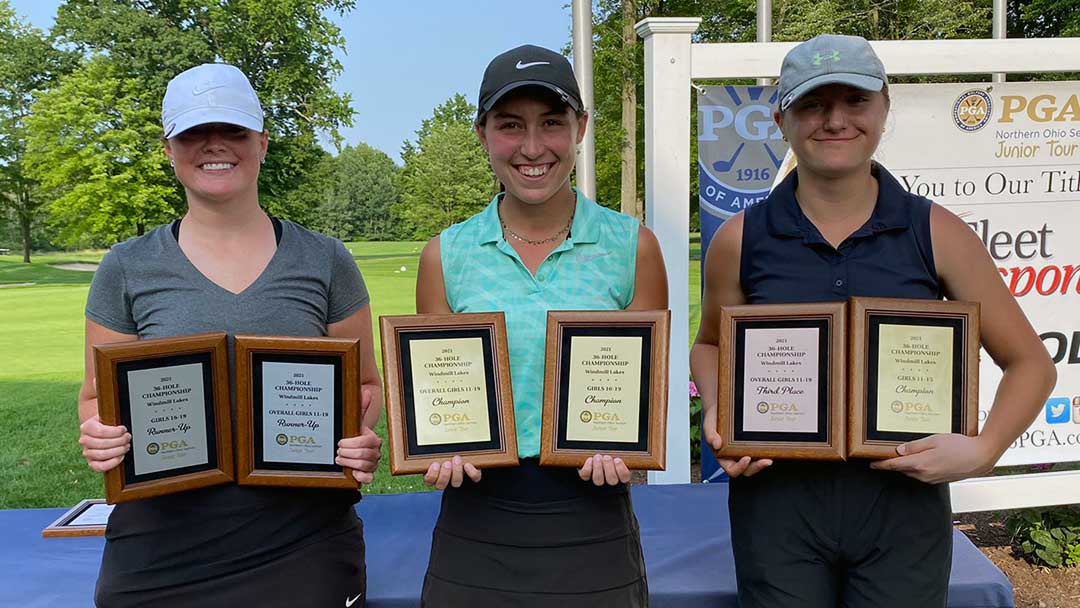 1 Grace May North Canton, OH 79-78–157 +17 (playoff)
2 Olivia Swain Uniontown, OH 78-79–157 +17
3 Madolyn Kost Kent, OH 83-79–162 +22
4 Natalie Kostalnick Strongsville, OH 81-82–163 +23
5 Maren Seaholts Kent, OH 82-83–165 +25
T6 Hannah Higgins North Canton, OH 83-83–166 +26
T6 Abigail Retherford Ravenna, OH 83-83–166 +26
T8 Samantha Torres Olmsted Township, OH 86-82–168 +28
T8 Aubrie Rush Avon, OH 83-85–168 +28
T8 Christina Nagy Macedonia, OH 81-87–168 +28
T11 Kira Moore Mansfield, OH 89-80–169 +29
T11 Jayden Mitchell Louisville, OH 82-87–169 +29
T13 Allyson Siewert Sagamore Hills, OH 83-87–170 +30
T13 Rachel DiDonato Akron, OH 81-89–170 +30
T13 Siena Maschke Cleveland, OH 82-88–170 +30
16 Kandace Kellon Shaker Heights, OH 85-86–171 +31
17 Hannah Lee Strongsville, OH 88-85–173 +33
18 Madison Gruber Louisville, OH 86-90–176 +36
19 Isabella Paez Rocky River, OH 90-89–179 +39
T20 Sydnie Leavery Kent, OH 93-88–181 +41
T20 Devon Carpenter Mogadore, OH 88-93–181 +41
T22 Kavya Chada Hinckley, OH 94-88–182 +42
T22 Gabriella Berlingieri Stow, OH 96-86–182 +42
24 McKenzie Ickes Munroe Falls, OH 99-87–186 +46
T25 Isabella Mineo Kent, OH 97-91–188 +48
T25 Emily Burling Hudson, OH 94-94–188 +48
27 Sophia Thompson Cuyahoga Falls, OH 96-93–189 +49
T28 Serena Wu Solon, OH 96-94–190 +50
T28 Alyson Veverka Olmsted Twp, OH 99-91–190 +50
30 Sylvia Stibley Broadview Heights, OH 98-96–194 +54
31 Grace Prentiss Wadsworth, OH 96-100–196 +56
32 Julia Van Bokkelen Hudson, OH 103-97–200 +60
33 Adrianna Mineo Kent, OH 103-102–205 +65
34 Ashlyn Leavery Kent, OH 98-109–207 +67
AGE DIVISION RESULTS:
GIRLS 11-15:
1 Madolyn Kost Kent, OH 83-79–162 +22
2 Natalie Kostalnick Strongsville, OH 81-82–163 +23
3 Siena Maschke Cleveland, OH 82-88–170 +30
4 Hannah Lee Strongsville, OH 88-85–173 +33
T5 Kavya Chada Hinckley, OH 94-88–182 +42
T5 Gabriella Berlingieri Stow, OH 96-86–182 +42
7 Emily Burling Hudson, OH 94-94–188 +48
8 Sophia Thompson Cuyahoga Falls, OH 96-93–189 +49
9 Serena Wu Solon, OH 96-94–190 +50
10 Julia Van Bokkelen Hudson, OH 103-97–200 +60
11 Adrianna Mineo Kent, OH 103-102–205 +65
12 Ashlyn Leavery Kent, OH 98-109–207 +67
BOYS 11-15: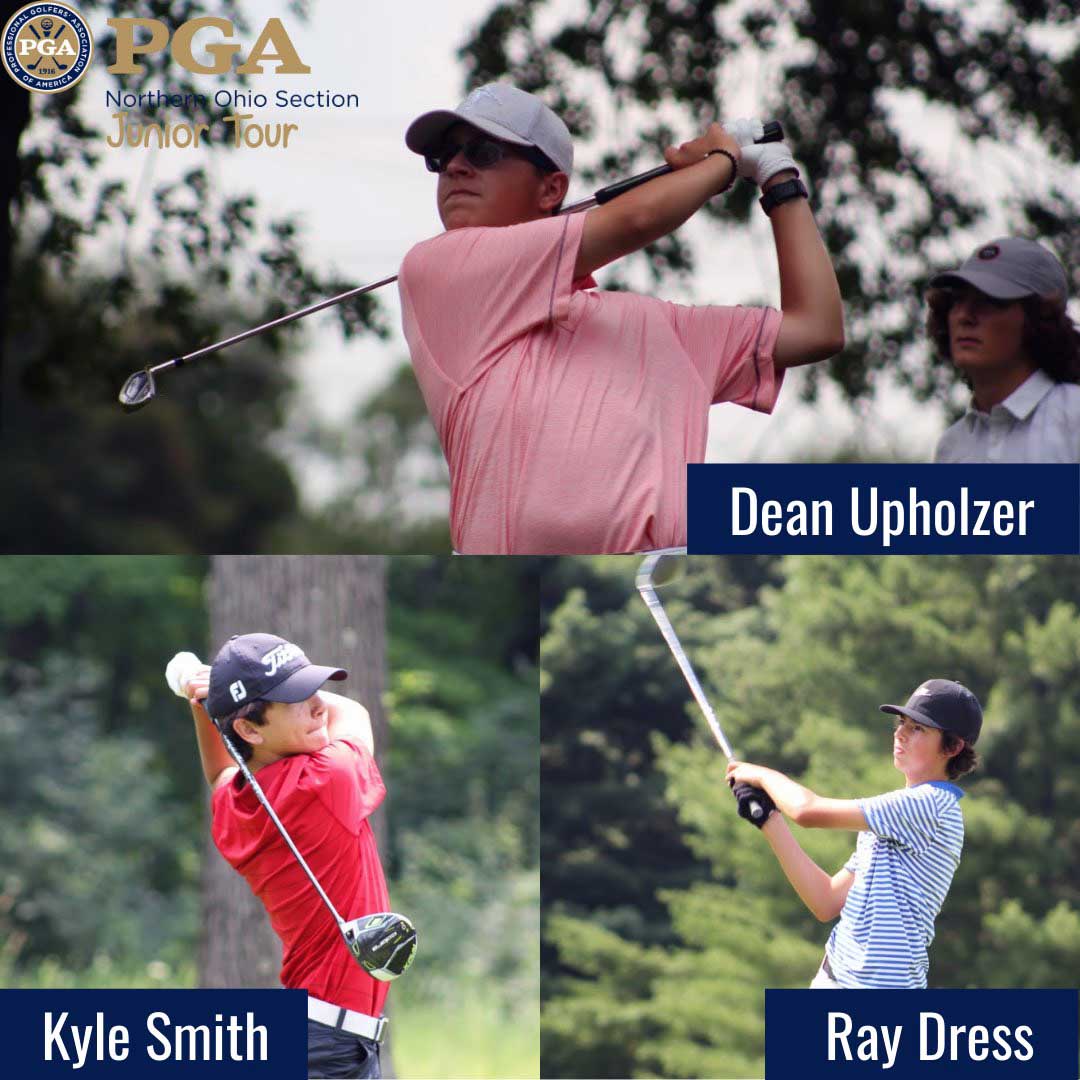 1 Dean Upholzer Strongsville, OH 76-74–150 +10 (playoff)
2 Kyle Smith Green, OH 72-78–150 +10
3 Ray Dress Medina, OH 75-77–152 +12
4 Braden Herstich Akron, OH 77-76–153 +13
T5 Ryan Dinan Akron, OH 80-76–156 +16
T5 Bryce Van Horn Cortland, OH 77-79–156 +16
7 Sam Fauver Hudson, OH 80-77–157 +17
T8 Hunter McCourt Avon, OH 87-72–159 +19
T8 Parker Barrett Aurora, OH 82-77–159 +19
T8 Max Weber Massillon, OH 79-80–159 +19
11 Ethan Roberts Shaker Heights, OH 79-82–161 +21
12 Liam Curtis Stow, OH 79-85–164 +24
13 Sachin Nallapaneni Canfield, OH 83-82–165 +25
14 Callahan Lawler Hudson, OH 85-81–166 +26
T15 Kevin Dang Twinsburg, OH 85-82–167 +27
T15 Cole Cartwright Avon Lake, OH 83-84–167 +27
17 William Bopp North Canton, OH 86-82–168 +28
18 Rocco Crawford Columbiana, OH 83-86–169 +29
19 Dante Turner Canfield, OH 89-83–172 +32
20 Ryan Przybysz Wadsworth, OH 87-86–173 +33
T21 Drew Kitzmiller Macedonia, OH 90-84–174 +34
T21 Brock Jenkins Massillon, OH 86-88–174 +34
T23 Simon Kovass Canfield, OH 90-86–176 +36
T23 Christian Mineo Kent, OH 89-87–176 +36
T23 Frankie Adamo Avon, OH 86-90–176 +36
26 Andrew Mamer Medina, OH 93-84–177 +37
27 Bryce Daggett Canfield 90-88–178 +38
T28 MichaelTyler Polca Rocky River, OH 93-90–183 +43
T28 Mica Thirion Twinsburg, OH 86-97–183 +43
T30 Matthew DiMare Cuyahoga Falls, OH 100-85–185 +45
T30 Joshua Hammond Bay Village, OH 94-91–185 +45
T30 Tommy Urbancic Avon, OH 89-96–185 +45
33 Tony Russo Canfield, OH 99-90–189 +49
34 William Guest Medina, Ohio 100-97–197 +57
35 Rowan Baynes Kent, OH 104-95–199 +59
36 Evan McGrath North Lima, OH 107-97–204 +64
37 Ryan Geary Appleton, WI 103-107–210 +70
BOYS 16-19:
1 Andrew Yard Hudson, OH 71-70–141 +1
2 Ryan Sam Canfield, OH 74-70–144 +4
3 Joshua Weiner Macedonia, OH 72-74–146 +6
T4 Kyle Freudeman Canton, OH 76-71–147 +7
T4 Kyle Salamon Medina, OH 73-74–147 +7
T4 Connor Malicki Avon, OH 75-72–147 +7
T7 Kamden Mowry Ashland, OH 76-72–148 +8
T7 Michael Van Etten Avon Lake, OH 73-75–148 +8
T7 Dylan Dunn Stow, OH 74-74–148 +8
T10 Ethan Kasler Massillon, OH 78-72–150 +10
T10 Dillon Pendergast Mogadore, OH 73-77–150 +10
T12 Zachary Parker Medina 74-77–151 +11
T12 Max Crookston Stow, OH 75-76–151 +11
T12 Jordan Kish Massillon, OH 72-79–151 +11
T15 Josh Pethel Hudson, OH 78-74–152 +12
T15 Michael Porter McDonald, OH 75-77–152 +12
T17 Luke Schreck Seville, OH 77-76–153 +13
T17 Michael Lee Strongsville, OH 75-78–153 +13
19 Troy Chapman West Salem, OH 76-78–154 +14
T20 Dominic Kapics Youngstown, OH 82-73–155 +15
T20 Sachin Singh Shaker Heights, OH 78-77–155 +15
T20 Griffin Braun Wooster, OH 75-80–155 +15
T23 Anthony Gore Copley, OH 79-78–157 +17
T23 Daniel Lee Strongsville, OH 78-79–157 +17
T25 Zachary Huscusson Canal Fulton, OH 85-74–159 +19
T25 Sion Park Westlake, OH 85-74–159 +19
T25 Alexander Ventimiglia Aurora, OH 83-76–159 +19
T25 Ted Hoover Canton, OH 79-80–159 +19
29 Ayden Richmond geneva, Ohio 82-78–160 +20
30 Jude Abbass Aurora, OH 77-84–161 +21
31 Connor Daggett Canfield 81-81–162 +22
T32 Ryder Kreps Youngstown, OH 85-78–163 +23
T32 Rocco Turner Canfield, OH 83-80–163 +23
T32 John Hammond Cleveland, OH 82-81–163 +23
35 Spencer Sizemore Hudson, OH 81-83–164 +24
T36 Conner Shaffer Medina, OH 86-79–165 +25
T36 David Swab North Royalton, OH 83-82–165 +25
T36 Gabriel Emery Akron, OH 81-84–165 +25
T39 Ethan Huly Warren, OH 87-79–166 +26
T39 Gavin Stutz Wooster, OH 84-82–166 +26
41 David Berry Hudson, OH 83-84–167 +27
42 Aryan Ahlawat Broadview Heights, OH 82-86–168 +28
T43 Andrew Leon Aurora, OH 84-86–170 +30
T43 Derek McCrum Avon Lake, OH 81-89–170 +30
T45 Mitchell Tyger Kent, OH 86-85–171 +31
T45 Cayden Testa North Canton, OH 82-89–171 +31
T45 Fletcher Clark Canton, OH 82-89–171 +31
48 Jackson Kubic Shaker Heights, OH 89-86–175 +35
49 Matthew Caldwell Canton, OH 86-91–177 +37
T50 Andrew Gus Strongsville, OH 89-89–178 +38
T50 Mason Gurney Clyde, OH 86-92–178 +38
52 Ethan Pulido Hudson, OH 95-87–182 +42
53 Josiah Worsencroft Youngstown, OH 94-91–185 +45
54 Landon Wilson Homeworth, OH 97-92–189 +49
GIRLS 16-19:
1 Grace May North Canton, OH 79-78–157 +17
2 Olivia Swain Uniontown, OH 78-79–157 +17
3 Maren Seaholts Kent, OH 82-83–165 +25
T4 Hannah Higgins North Canton, OH 83-83–166 +26
T4 Abigail Retherford Ravenna, OH 83-83–166 +26
T6 Samantha Torres Olmsted Township, OH 86-82–168 +28
T6 Aubrie Rush Avon, OH 83-85–168 +28
T6 Christina Nagy Macedonia, OH 81-87–168 +28
T9 Kira Moore Mansfield, OH 89-80–169 +29
T9 Jayden Mitchell Louisville, OH 82-87–169 +29
T11 Allyson Siewert Sagamore Hills, OH 83-87–170 +30
T11 Rachel DiDonato Akron, OH 81-89–170 +30
13 Kandace Kellon Shaker Heights, OH 85-86–171 +31
14 Madison Gruber Louisville, OH 86-90–176 +36
15 Isabella Paez Rocky River, OH 90-89–179 +39
T16 Sydnie Leavery Kent, OH 93-88–181 +41
T16 Devon Carpenter Mogadore, OH 88-93–181 +41
18 McKenzie Ickes Munroe Falls, OH 99-87–186 +46
19 Isabella Mineo Kent, OH 97-91–188 +48
20 Alyson Veverka Olmsted Twp, OH 99-91–190 +50
21 Sylvia Stibley Broadview Heights, OH 98-96–194 +54
22 Grace Prentiss Wadsworth, OH 96-100–196 +56