SOWARDS WINS THIRD STRAIGHT OHIO SENIOR OPEN; SHOOTS FINAL-ROUND 68 TO FINISH AT 7-UNDER PAR

Dublin's Bob Sowards joined a select company on Thursday when he cruised to his third consecutive Michelob Ultra Ohio Senior Open Championship on the Fazio Course at Firestone Country Club.
Sowards, who turns 53-years-old next week, shot a final-round 2-under 68 to finish the 36-hole tournament at 7-under par 133 for a 7-shot victory over three players.
Former three-time Ohio Open champion Rob Moss (72-68) and amateurs Dr. Jeff Mallette (72-68) and Michael Kelley (69-71) finished at even-par 140 on a day in which rain halted play for 90 minutes around 10:45 a.m. and turned the Fazio Course sponge-like for the rest of the day.
Sowards, Director of Instruction at Kinsale Golf and Fitness Club, joins former Canton Brookside professional Jim Logue as the only men to win three straight Ohio Senior Open titles. Logue won in 1993-94-95 when the event was at Ashland Country Club.
Former Firestone and Brookside professional Gary Robison has won the event for players 50-and-over four times, but never in succession. Former Fonderlac professional Bryan Abbott also won three times.
Sowards, who shot an opening 5-under 65, took a 3-shot lead into the final round. Fresh off a tie for fifth place in last week's Senior PGA Championship at Southern Hills, Sowards earned $2,500 for his win on Thursday. Painesville pro Gary Rusnak began the day in second place but tumbled to a tie for 12th with a second-round 77.
SENIOR PLUS DIVISION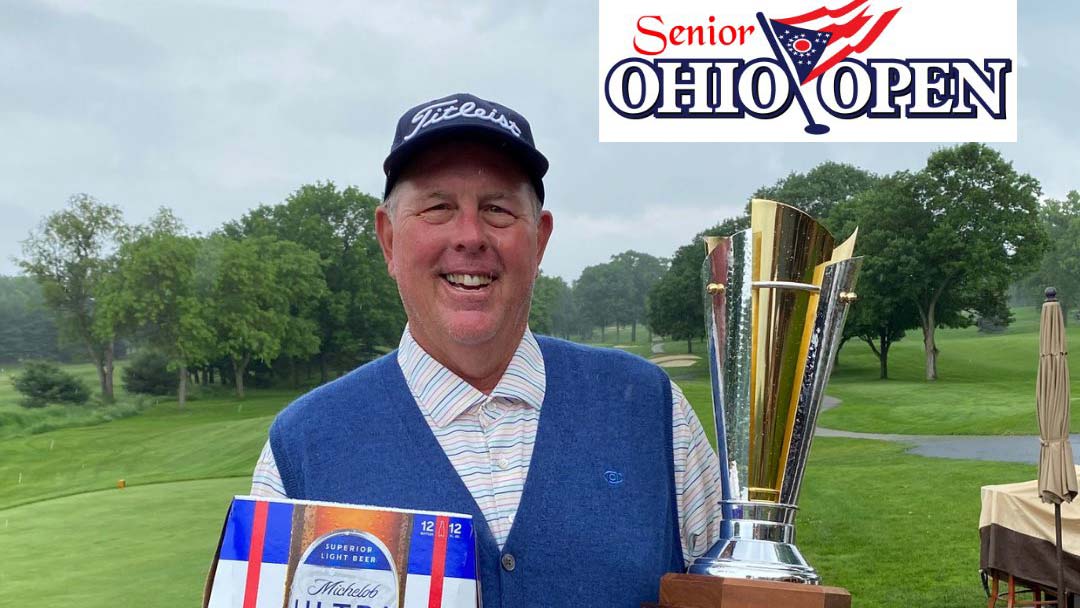 Scott Spence, Director of Instruction at The Lakes Golf and Country Club in Westerville, made a 15-foot putt for birdie on the third playoff hole to win the Senior Plus Division of the Ohio Senior Open for players ages 60+.
Spence, first round leader Dr. Steven Shaw of Seven Hills, and amateur Edward Steiber of Cincinnati all finished the 36-holes at 2-over par 142.

FINAL RESULTS: Northern Ohio PGA
2021 Michelob Ultra Ohio Senior Open Championship
Firestone Country Club Fazio Course, Akron, Ohio
Wednesday, June 2 – Thursday, June 3, 2021
Professional Division Results
1 Bob Sowards Dublin, OH 65-68–133 -7 $2,500.00
2 Rob Moss Broadview Heights, OH 72-68–140 E $1,900.00
3 Harold Wallace McDermott, OH 69-72–141 +1 $1,600.00
T4 Steve Parker Akron, OH 70-73–143 +3 $966.67
T4 Mike Kaido Zanesville, OH 70-73–143 +3 $966.67
T4 Jon Jones Warren, OH 76-67–143 +3 $966.67
T7 Jim Karr Columbia Station, OH 72-72–144 +4 $510.00
T7 Dan Sutton Toledo, OH 72-72–144 +4 $510.00
T7 Dennis Miller Youngstown, OH 72-72–144 +4 $510.00
T7 Gary Robison Canton, OH 70-74–144 +4 $510.00
T7 Bob Stephens Springboro, OH 69-75–144 +4 $510.00
T12 Mitchell Camp Aurora, OH 73-72–145 +5 $250.00
T12 Steve Stone Perrysburg, OH 72-73–145 +5 $250.00
T12 Gary Rusnak Painesville, OH 68-77–145 +5 $250.00
T12 Tom Atchison Silver Lake, OH 74-71–145 +5 $250.00
T16 Mike Thomas Loveland, OH 72-74–146 +6 $200.00
T16 Chris Black Lancaster, OH 69-77–146 +6 $200.00
T18 Scott Pollack Chagrin Falls, OH 72-75–147 +7
T18 Lloyd Faulkner Cincinnati, OH 75-72–147 +7
T20 Dennis Wells Cincinnati, OH 73-75–148 +8
T20 Darrin Vaughan Bolivar, OH 72-76–148 +8
T20 Tom Waitrovich Westlake, Ohio 74-74–148 +8
23 Paul Hollenbaugh New Albany, OH 73-76–149 +9
T24 Timothy Krapfel Dayton, OH 76-74–150 +10
T24 Tom Bach Springboro, OH 76-74–150 +10
T26 Craig Goldsberry Lewis Center, OH 77-74–151 +11
T26 Gary Trivisonno Aurora, OH 75-76–151 +11
T28 Eric Morgan Sandusky, OH 81-73–154 +14
T28 Daniel Terry Wadsworth, OH 79-75–154 +14
T28 John Connelly Perrysburg, OH 77-77–154 +14
T28 Sean Arthur Liberty Twp., OH 77-77–154 +14
T32 Randy Neufarth West Chester, OH 81-74–155 +15
T32 Kevin Sullivan Painesville, OH 77-78–155 +15
T32 Larry King Cincinnati, OH 76-79–155 +15
35 Tony Adcock Canton, OH 80-77–157 +17
T36 Rick Towle Columbus, OH 80-78–158 +18
T36 Russell Papa Solon, OH 79-79–158 +18
38 Tom Moore North Canton, OH 77-82–159 +19
39 Andy Santor Youngstown, Ohio 87-77–164 +24
T40 Tony Stritenberger Urbana, OH 87-78–165 +25
T40 Jack Pawelkoski Dayton, OH 82-83–165 +25
T40 Judd Stephenson Avon Lake, OH 81-84–165 +25
T40 Paul Rooney Kings Mills, OH 77-88–165 +25
44 Bill Wentz Galena, OH 82-85–167 +27
45 Larry Stefanov Uniontown, OH 84-85–169 +29
WD Ted Mandes Gates Mills, OH
WD David Bahr Cincinnati, OH
WD Joe Regner New Albany, OH
WD Mike Rankin Marion, OH
WD Tony Milam Concord Twp, OH
WD Richard DelVecchio Warren, OH
JWD Ray Finnearty Delaware, OH
Amateur Division Results
T1 Jeff Mallette (a) North Canton, OH 72-68–140 E $625.00
T1 Michael Kelley (a) Westerville, OH 69-71–140 E $625.00
T3 Kurt Peterson (a) Massillon, OH 72-69–141 +1 $425.00
T3 Tony Hejna (a) Cleveland, OH 69-72–141 +1 $425.00
5 Robert Wakeling (a) Hudson, OH 73-69–142 +2 $350.00
T6 Dave Antill (a) Dublin, OH 70-73–143 +3 $250.00
T6 Robert Gerwin (a) Cincinnati, OH 70-73–143 +3 $250.00
T6 Howard Clendenin (a) Fairlawn, OH 69-74–143 +3 $250.00
9 Gregory Bishop (a) New Franklin, OH 69-75–144 +4 $200.00
10 Dan Belden (a) Massillon, OH 73-72–145 +5 $175.00
11 Robert Spino (a) New Franklin, OH 72-74–146 +6 $175.00
12 Alan Fadel (a) Perrysburg, OH 72-75–147 +7 $150.00
13 Saumil Jhaveri (a) Westlake, OH 70-78–148 +8 $150.00
T14 Craig Stephens (a) Dublin, OH 73-76–149 +9 $75.00
T14 Ken Kinkopf (a) Dublin, OH 76-73–149 +9 $75.00
16 Allen Freeman (a) Brecksville, OH 75-76–151 +11
17 Robert Berkheimer (a) Strongsville, OH 79-73–152 +12
T18 Brian Beebe (a) Uniontown, OH 78-75–153 +13
T18 Stephen Mayes (a) Westerville, OH 74-79–153 +13
T20 Doug Ison (a) Jackson, OH 80-74–154 +14
T20 Nick Lambos (a) Canton, OH 77-77–154 +14
22 Roger Tolley (a) Willard, OH 75-80–155 +15
T23 Ryan Bowen (a) Cedarville, OH 80-76–156 +16
T23 Mark Borlin (a) Stow, OH 78-78–156 +16
T23 Jeff Semple (a) Canton, OH 78-78–156 +16
T23 Brian Huntley (a) Uniontown, OH 76-80–156 +16
T27 Robert Wadsworth (a) North Canton, OH 79-78–157 +17
T27 Jeff Kovalchik (a) Columbus, OH 78-79–157 +17
29 Jay Davis (a) St Clairsville, OH 81-79–160 +20
T30 John Toth (a) Akron, OH 81-80–161 +21
T30 Dennis Berkheimer (a) Strongsville, OH 77-84–161 +21
T32 Mark Telerico (a) Aurora, OH 83-79–162 +22
T32 Daniel Vosel (a) Cincinnati, OH 80-82–162 +22
34 Mark Warden (a) Vincent, OH 82-81–163 +23
35 Jim Groh (a) Hinckley, OH 83-81–164 +24
T36 Rodney Bordman (a) Norwalk, OH 84-83–167 +27
T36 John Bianco (a) Independence, OH 83-84–167 +27
38 Michael Thomas (a) Wintersville, OH 81-87–168 +28
T39 Chris Ramaglia (a) Strongsville, OH 95-77–172 +32
T39 Paul Malkus Jr. (a) Streetsboro, OH 85-87–172 +32
41 Chris Helaney (a) Lakewood, OH 88-86–174 +34
42 Jeffrey Osciak (a) Hudson, OH 90-87–177 +37
WD Michael Ross (a) Hinckley, OH
WD Jamie Ankrom (a) Belpre, OH
WD Mike Haynes (a) Gallipolis, OH
WD Jeff Pawlowski (a) Highland Heights, OH
WD Roy Fankhauser (a) Avon, OH
WD Derek Kesig (a) Delaware, OH
WD Jeff Thrams (a) North Canton, OH
WD Brian Vincelette (a) Wadsworth, OH
WD Mark Wise (a) Westlake, OH
Senior Plus Professional Division Results
1 Scott Spence* Sunbury, OH 71-71–142 +2 $800.00
2 Steven Shaw Seven Hills, OH 67-75–142 +2 $600.00
3 Walt Robertson Cleveland, OH 75-70–145 +5 $450.00
4 Pat Delaney Springfield, OH 74-72–146 +6 $350.00
5 Cory George Lancaster, OH 72-75–147 +7 $200.00
T6 Raymond Bush Massilon, OH 74-77–151 +11
T6 Terry Shell Wintersville, OH 73-78–151 +11
T8 William Germana Auburn Twp. Ohio 75-77–152 +12
T8 Theo Grubb Milford, OH 74-78–152 +12
10 John Wilkinson Beavercreek, OH 80-88–168 +28
WD Jeff Myers Poland, Ohio +17
WD Paul Tessler Warren, OH +20
* – won in playoff
Senior Plus Amateur Division Results:
1 Edward Steiber (a) Cincinnati, OH 72-70–142 +2 $500.00
2 Dan Malloy (a) Avon, OH 72-76–148 +8 $350.00
3 Rick Bryson (a) Akron, OH 73-77–150 +10 $300.00
4 Randy Crider (a) Brunswick, OH 76-76–152 +12 $250.00
5 Philip Russo (a) Cincinnati, OH 74-79–153 +13 $175.00
T6 Mark Boothby (a) Cincinnati, OH 76-78–154 +14 $137.50
T6 Mike Cassell (a) Hudson, OH 75-79–154 +14 $137.50
8 David Clarke (a) Saint Clairsville, OH 76-79–155 +15 $125.00
9 William Downing (a) Akron, OH 74-82–156 +16
T10 Frank Guise (a) Westlake, OH 83-75–158 +18
T10 Raul Mendoza (a) North Lawrence, OH 79-79–158 +18
T10 Tom Baugh (a) Akron, OH 75-83–158 +18
13 Raymond Najda (a) Olmsted Township, OH 80-80–160 +20
14 Ron Rositani (a) Willowick, OH 80-82–162 +22
T15 Keith Pluto (a) Parma, OH 81-84–165 +25
T15 Ron Skirpstas (a) Medina, OH 79-86–165 +25
T17 Steve Bedell (a) Brecksville, OH 83-83–166 +26
T17 Jeff Thompson (a) Cincinnati, OH 82-84–166 +26
19 Bill Martinko (a) Brunswick, OH 84-88–172 +32
WD Randy Reifers (a) Milford, OH
WD Terry Tyson (a) Perrysburg, OH
WD Larry Lahnan (a) Aurora, OH
WD Mark Thomas (a) Jackson Twp, OH
WD Jeffrey Knox (a) Brecksville, OH
WD Leo Szczepanski (a) Seven Hills, OH
WD G.M. Bingman (a) Medina, OH
NC Ronald Miller (a) Willoughby, OH