Amateur golfer and University of Toledo Rockets Men's Golf Team member Barend Botha has won the 2021 Habitec Toledo Open after a strong second round showing. Botha tied for the low round of the day with his Tuesday 4-under par 67, good for a total score of 69-67=136 (-6) and a one shot victory.
Ohio professionals Jake Scott from Strongsville and Blake Sattler from New Philadelphia tied for second place with two round total of 137 (-5).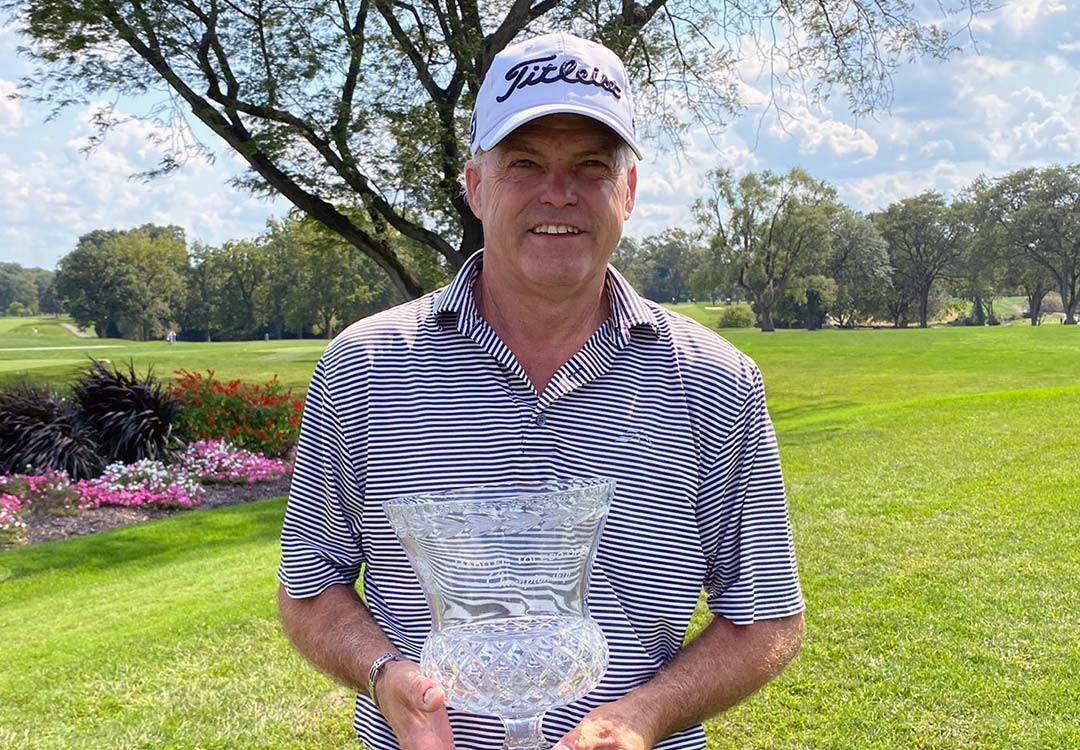 Northern Ohio PGA Professional Mitch Camp won the Senior Division after a playoff with Gary Rusnak, NOPGA. Camp posted a second round 4-under par 67 to chase down first round leader Rusnak; both finished at 5-under par 137.
Camp won after he made birdie on the first playoff hole, the 17th.
Two other senior Northern Ohio PGA Professionals finished third and fourth, Tony Adcock (141) and Steve Stone (142) respectively.
For the second consecutive year, Terry Tyson from Perrysburg, Ohio was the Low Senior Amateur. He shot a score of 80-71=151 (+9).
The 91st Habitec Toledo Open presented by Club Car and Century Equipment was conducted at Highland Meadows Golf Club, Sylvania, Ohio on September 13 & 14, 2021. 145 golfers from all over the country competed in the event, conducted by the Northern Ohio Section of the Professional Golfers Association of America.

FINAL RESULTS: Northern Ohio PGA
91st Habitec Toledo Open
Highland Meadows Golf Club, Sylvania, Ohio
September 13-14, 2021
Championship Division – Amateurs
1 Barend Botha (a) Toledo, OH 69-67–136 -6 $650.00
2 David Amm (a) Toledo, OH 67-73–140 -2 $500.00
3 Jamie Nielsen (a) Toledo, OH 68-73–141 -1 $350.00
T4 Charlie Nikitas (a) Glenview, IL 70-73–143 +1 $200.00
T4 NJ Botha (a) Toledo, OH 73-70–143 +1 $200.00
6 Logan Hooper (a) Toledo, OH 72-72–144 +2
T7 Mason Deal (a) Perrysburg, OH 78-69–147 +5
T7 Jamie Butler (a) Toledo, OH 72-75–147 +5
T7 Lukas Clark (a) Toledo, OH 72-75–147 +5
10 Justin Sui (a) Lake Orion, MI 73-76–149 +7
T11 Palmer Yenrick (a) Oregon, OH 76-75–151 +9
T11 Adam Crisp (a) Fort Myers, FL 74-77–151 +9
T11 Ross Pilliod (a) Reading, PA 71-80–151 +9
14 Ryan Norkin (a) Dublin, OH 74-78–152 +10
15 Max Siegfried (a) Villanova, PA 79-74–153 +11
16 Daniel Mosher (a) North Canton, OH 74-80–154 +12
17 Corbin Stykemain (a) Defiance, OH 74-81–155 +13
18 Nolan Druehl (a) Powell, OH 77-79–156 +14
19 John Sparagowski (a) Toledo, OH 80-81–161 +19
20 Ryan Fries (a) Sylvania, OH 85-78–163 +21
21 Collin Hoops (a) Bowling Green, OH 80-86–166 +24
Championship Division – Professional
T1 Jake Scott Strongsville, Ohio 69-68–137 -5 $3,500.00
T1 Blake Sattler New Philadelphia, OH 67-70–137 -5 $3,500.00
T3 Timothy Wiseman Corydon, IN 69-69–138 -4 $1,133.33
T3 Logan Holt Phoenix, AZ 71-67–138 -4 $1,133.33
T3 Tyler McHugh Aurora, OH 66-72–138 -4 $1,133.33
T6 Bob Sowards Dublin, OH 71-68–139 -3 $683.33
T6 Paul Wackerly Minerva, OH 71-68–139 -3 $683.33
T6 Jake McBride Hartville, OH 69-70–139 -3 $683.33
T6 Cam Lippoldt Midland, MI 69-70–139 -3 $683.33
T6 Wes Homan Cincinnati, OH 69-70–139 -3 $683.33
T6 Nathan Tarter Akron, OH 67-72–139 -3 $683.33
T12 Timothy Pearce Birmingham, MI 70-70–140 -2 $430.00
T12 Jake Kneen White Lake, MI 69-71–140 -2 $430.00
T12 Andrew Ruthkoski Muskegon, MI 70-70–140 -2 $430.00
T12 Eric Wohlfield Brighton, MI 69-71–140 -2 $430.00
T12 Dylan Van Fossen Norwich, OH 68-72–140 -2 $430.00
T17 Jim Troy Strongsville, OH 69-72–141 -1 $337.50
T17 Ryan Lenahan New Hudson, MI 68-73–141 -1 $337.50
T17 Nick Carlson Hamilton, MI 67-74–141 -1 $337.50
T17 Ian Martin Saline, MI 65-76–141 -1 $337.50
T21 Alex Scott Traverse City, MI 71-71–142 E $225.00
T21 Douglas Piesko Davison, MI 69-73–142 E $225.00
T21 Baker Stevenson Hartland, MI 69-73–142 E $225.00
T21 Timothy Ailes Delaware, OH 72-70–142 E $225.00
T25 Kyle Rodes Plymouth, MI 74-69–143 +1
T25 Jamie Guisinger Troy, MI 69-74–143 +1
T25 Michael Balcar Toledo, OH 68-75–143 +1
T25 Beau Breault Howell, MI 71-72–143 +1
T29 Spencer Lendzion Rochester Hills, MI 71-73–144 +2
T29 Kevin Hall Cincinnati, OH 68-76–144 +2
T29 Connor Jones Auburn Hills, MI 71-73–144 +2
T29 Michael Kinkopf Dublin, OH 65-79–144 +2
T33 Randy Dietz Tallmadge, OH 74-71–145 +3
T33 Jaysen Hansen Twinsburg, OH 69-76–145 +3
T33 Zack Wax Downers Grove, IL 72-73–145 +3
T33 Craig Isabel Winona Lake, IN 72-73–145 +3
T33 Drew Pierson Cleveland, OH 68-77–145 +3
T38 Mat Little Warren, MI 77-69–146 +4
T38 Jerred Barley Tipton, MI 74-72–146 +4
T38 Mike Stone Perrysburg, OH 72-74–146 +4
T41 David Wetterich Cincinnati, OH 74-73–147 +5
T41 Richard Denny Germantown, OH 70-77–147 +5
T41 Zach Sudinsky Ypsilanti, MI 74-73–147 +5
T41 Bryce Messner Howell, MI 73-74–147 +5
T41 Brian Bullington Frankfort, IL 73-74–147 +5
T41 Michael Murray White Lake, MI 71-76–147 +5
T41 Sean McGuire Twinsburg, OH 71-76–147 +5
T48 Logan Lagodich Canton, OH 76-72–148 +6
T48 Joe Hooks Farmington Hills, MI 73-75–148 +6
T48 Emanuel Petrich Grand Blanc, MI 73-75–148 +6
T48 Matthew Wininger Westerville, OH 72-76–148 +6
T52 Philip Ritchie Novi, MI 74-75–149 +7
T52 Nick Myers Sylvania, OH 73-76–149 +7
T54 Matthew Orwig Saline, MI 71-79–150 +8
T54 Tommy Sullinger Sylvania, OH 70-80–150 +8
T56 Alex Andrews Kirtland, OH 79-72–151 +9
T56 Milton Carswell Toledo, OH 77-74–151 +9
T56 Earl Singleton Lilburn, GA 75-76–151 +9
T56 Scott Shapin Royal Oak, MI 77-74–151 +9
T56 John Vogelpohl Curtice, OH 76-75–151 +9
T56 Nick Paez Rocky River, OH 74-77–151 +9
T56 Jordan Bohannon Southfield, MI 72-79–151 +9
T63 Cory Kumpf Massillon, OH 78-74–152 +10
T63 Anthony Pozderac Carrollton, OH 77-75–152 +10
T63 Justin Pollock Temperance, MI 76-76–152 +10
T63 Collin Slattery Cleveland, OH 74-78–152 +10
T63 Nicholas Sanscrainte Allen Park, MI 75-77–152 +10
T68 Daniel Terry Wadsworth, OH 80-73–153 +11
T68 Caleb Wittig Glencoe, IL 77-76–153 +11
T68 Patrick Mudd Crown Point, IN 75-78–153 +11
T68 Joe Meglen Mentor, OH 74-79–153 +11
72 Derek Smith Parma, OH 78-76–154 +12
73 John Popeck Washington, PA 79-76–155 +13
74 Jacob Tobias Dayton, OH 77-79–156 +14
T75 Soterios Michalos Bloomfield Hills, MI 81-76–157 +15
T75 Nick Vick Birmingham, MI 78-79–157 +15
77 Jay Schiffbauer Fairport, OH 81-77–158 +16
T78 Matt Urban Maumee, OH 80-79–159 +17
T78 Matt Smith Muncie, IN 76-83–159 +17
80 Jordan Paolini Tallmadge, OH 79-81–160 +18
81 Scott Yancy III Saint Cloud, FL 79-82–161 +19
82 Kegan Riley Toledo, OH 79-83–162 +20
83 Thomas Manial New Baltimore, MI 82-83–165 +23
T84 Thomas Duris Sylvania, OH 84-84–168 +26
T84 Kevin Kuhl Toledo, OH 80-88–168 +26
86 Brian James Pitzen Lakeland, FL 88-81–169 +27
87 June Won Bowling Green, OH 83-87–170 +28
88 Bella Harris Beavercreek, OH 87-85–172 +30
89 Drake Koegel Oregon, OH 92-88–180 +38
Senior Division – Professionals
1 Mitchell Camp Aurora, OH 70-67–137 -5 $1,200.00
2 Gary Rusnak Painesville, OH 66-71–137 -5 $800.00
3 Tony Adcock Canton, OH 69-72–141 -1 $650.00
4 Steve Stone Maumee, OH 70-72–142 E $550.00
5 Gary Robison Canton, OH 70-74–144 +2 $450.00
6 Steve Parker Akron, OH 71-74–145 +3 $350.00
T7 John Bascuk Kailua, HI 74-72–146 +4 $150.00
T7 Tony Milam Concord Township, OH 73-73–146 +4 $150.00
9 Bob Ackerman West Bloomfield, MI 74-73–147 +5
10 Barry Redmond Chelsea, MI 75-73–148 +6
T11 Nick Szymanski Toledo, OH 76-73–149 +7
T11 Walt Robertson Cleveland, OH 73-76–149 +7
T11 Kevin Sullivan Painesville, OH 73-76–149 +7
T14 Gary Trivisonno Aurora, OH 78-72–150 +8
T14 Scott Pollack Chagrin Falls, OH 70-80–150 +8
16 Dan Sutton Toledo, OH 81-72–153 +11
17 Kenny Corliss Columbus, OH 79-76–155 +13
T18 George Edellstein Excelsior, MN 79-81–160 +18
T18 Roy Hobson Plain City, OH 77-83–160 +18
20 Russell Papa Aurora, OH 80-84–164 +22
21 Cody Morse Toledo 89-77–166 +24
22 Brad Heilman Delta, OH 84-85–169 +27
Senior Division – Amateurs,h3>
1 Terry Tyson (a) Perrysburg, OH 80-71–151 +9 $450.00
2 Alan Fadel (a) Perrysburg, OH 78-74–152 +10 $250.00
3 Larry Lahnan (a) Aurora, OH 77-77–154 +12 $150.00
4 Michael McCarthy (a) Toledo, OH 82-77–159 +17
5 Leo Szczepanski (a) Seven Hills, OH 79-84–163 +21
6 Michael Ross (a) Hinckley, OH 93-78–171 +29
7 Mark Riddle (a) Seven Hills, OH 88-93–181 +39