Lyndhurst's Chris Okeson (Stonewater Golf Club) shot a spectacular bogey-free 66 today at Firestone South in Akron to claim the 2021 NOGA Tour Championship, part of the season-long Great Lakes Auto Scratch Series.
Josh Clay (Shady Hollow Country Club) and Kevin Rowe (Avon Oaks Country Club) led Okeson by one shot after Sunday's first round on the West Course. Okeson's sizzling Monday finale gave him a three-shot victory over Clay with a total two-day score of 4-under par 136.
"Josh is an awesome player so I knew I had to play well to compete," Okeson said.
"Things just felt good today," Okeson said. "Everything was clicking, the ball striking felt great. Made some long putts but also missed some short ones. It could have easily been a 63 or 64 but I will take it, of course."
Okeson added "I haven't had a bogey free round in two years and to have it here at Firestone South is really special."
Okeson and Clay were tied at 3-under par for the tournament on the 17th green, but after a Clay bogey, Okeson drilled a 35-foot birdie putt to take a two shot lead.
"I had the speed pretty good all day so that wasn't the issue but it was just picking out the line," Okeson said. "Hit the line and it happened to fall, which was good."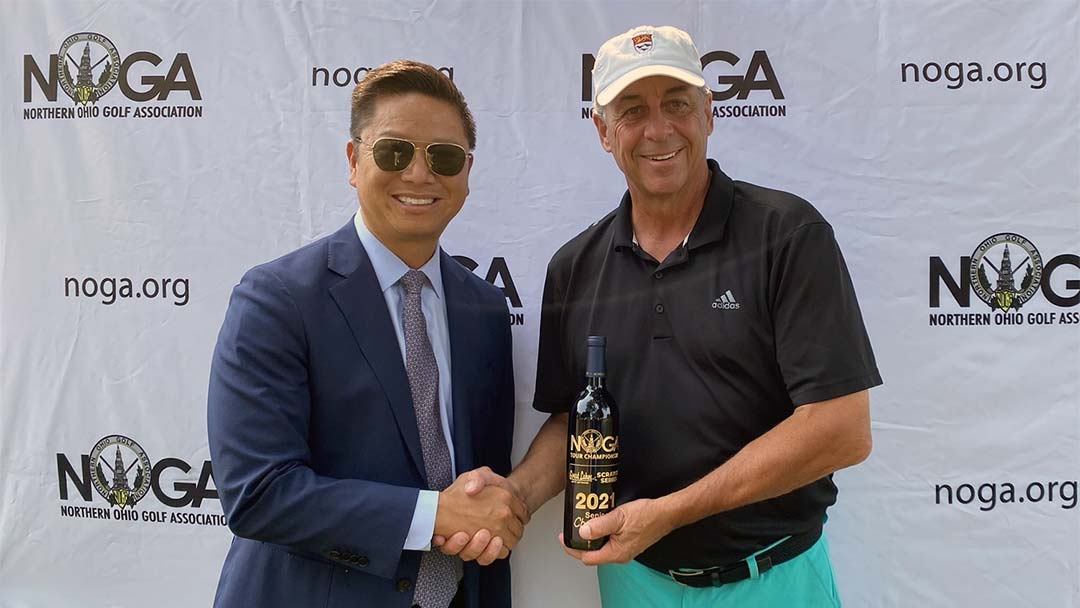 In the Senior Division, Monty Guest (Signature of Solon) earned a come-back victory in the Tour Championship, making for a spectacular 2021 season. Guest shot 72 on the West Course followed by a final round 71 on the South.
Guest and Allen Freeman (NOHIO. GOLF Club) were tied for the tournament lead heading into the 17th hole, but a 15-foot par save for Guest after a Freeman bogey put Guest ahead for good at 3-over par for the Championship.
"Hit the ball real solid today, hit a bunch of greens and hit the putts where I wanted to. But I was reading them wrong, so I didn't make a ton of birdies," Guest said.
"It was a good solid round," Guest added. "There were a lot of great players at the top so I knew it was going to be tough but I am just happy to come out with a win."
Guest added the Tour Championship to his Senior Northeast Ohio Am title, plus a win in the NOGA Four-Ball Match Play with partner Brian Sparrow and a T1 at the NOGA Scratch Series Stroke Play event at Tippecanoe.
Great Lakes Auto president Joey Huang was on site at Firestone to watch the final putts fall and congratulate the champions.
"We have been a proud sponsor of NOGA for five years," Huang said. "It has been a good partnership together. Obviously, NOGA is the prime affiliate of golf here in Northern Ohio, and all of our dealerships are located here in Northern Ohio. So we are pleased to support NOGA in a variety of ways."

FINAL RESULTS: Northern Ohio Golf Association
2021 Great Lakes Auto Tour Championship
Firestone Country Club West and South Courses, Akron
Sunday, Sept 12 – Monday, Sept 13, 2021
Championship Division:
1 Chris Okeson, Stonewater Golf Club 70 – 66 = 136 $500.00
2 Joshua Clay Shady Hollow Country Club 69 – 70 = 139 $400.00
T3 Zach Glassman Stonewater Golf Club 73 – 73 = 146 $250.00
T3 Jack Garswood NOHIO.GOLF Club 75 – 71 = 146 $250.00
5 Doug Barber NOHIO.GOLF Club 71 – 78 = 149 $100.00
T6 Jeff Blechschmidt Mayfield Sand Ridge Club 73 – 77 = 150 $43.75
T6 David Young NOHIO.GOLF Club 78 – 72 = 150 $43.75
T6 Shaun Kloetzer NOHIO.GOLF Club 72 – 78 = 150 $43.75
T6 Kevin Rowe Avon Oaks Country Club 69 – 81 = 150 $43.75
10 Tim Skufca Avon Oaks Country Club 75 – 76 = 151 $25.00
T11 David Stover The Country Club 74 – 80 = 154 $25.00
T11 Patrick Rollins Westwood Country Club 75 – 79 = 154 $25.00
T13 Robert Schustrich Windmill Lakes Golf Club 76 – 82 = 158 $25.00
T13 Brian Polick Weymouth & Fox Meadow CC 75 – 83 = 158 $25.00
15 Brian Beebe Ohio Prestwick Country Club 77 – 84 = 161 $25.00
NS Brian Smith Oberlin Golf Club
Senior Division:
1 Monty Guest, Signature of Solon 72 – 71 = 143 $500.00
2 Allen Freeman, NOHIO.GOLF Club 69 – 76 145 $400.00
3 Nick Lambos, Brookside Country Club 72 – 75 147 $300.00
T4 Jim Durr, Silver Lake Country Club 72 – 76 148 $150.00
T4 Tom Laubacher, Club Walden 77 – 71 148 $150.00
T6 Mark Guadagni, Silver Lake Country Club 73 – 76 149 $50.00
T6 Mark Borlin, Silver Lake Country Club 72 – 77 149 $50.00
T6 Scott Saari, Bob-O-Link Golf Course 72 – 77 149 $50.00
9 Tom Baugh, Portage Country Club 73 – 78 151 $25.00
10 Tim Baker, Chagrin Valley Country Club 75 – 81 156 $25.00
11 Joe Denk, Pine Hills Golf Club 78 – 83 161 $25.00
12 Tom Skidmore, Weymouth & Fox Meadow CC 79 – 83 162 $25.00
T13 John Toth, Fox Den Golf Course 81 – 83 164 $25.00
T13 Ed Marsinek, Windmill Lakes Golf Club 77 – 87 164 $25.00
15 Bob Weaver, Oberlin Golf Club 86 – 87 173 $25.00
DNF Mike Crawford, Bob-O-Link Golf Course 81 – DNF
DNF Paul Lagrotteria, Bob-O-Link Golf Course 82 –  DNF

— story by Justin Golba and Allen Freeman