The four players who led their divisions after Saturday's first round at Skyland Pines converted those leads into victories at the 2020 Stark County Amateur Golf Championship.
Open Division
Maxwell Moldovan used his skill, talent and home course knowledge to earn his second consecutive Stark County Amateur Golf Championship title on Sunday.
Moldovan took the tournament lead on Saturday with a 1-under par 71 at Skyland Pines. Sunday's final round at Ohio Prestwick Country Club, the course where he grew up and where his father John is the Director of Instruction, was expected by most to be a Maxwell run-away.
For awhile, it was.
After a slow start with a bogey at the second, Moldovan was off to the races with birdies at 3, 4, 6, 7 and 9. A 32 on the front side looked like cruise control kicking in, given a five shot lead in the tournament.
But Kyle Jones, an Ohio Prestwick member playing along side Moldovan, rallied on the back nine and made some putts to get to within two shots of the lead with two holes to play. Jones could get no closer, however, and he finished in second place at even par 144, shooting 72 at each golf course.
Canton Central Catholic senior Kyle Freudeman took third place with a 147.
CANTON REPOSITORY GAME STORY: 2020 Stark County Am >
50-59 Senior Division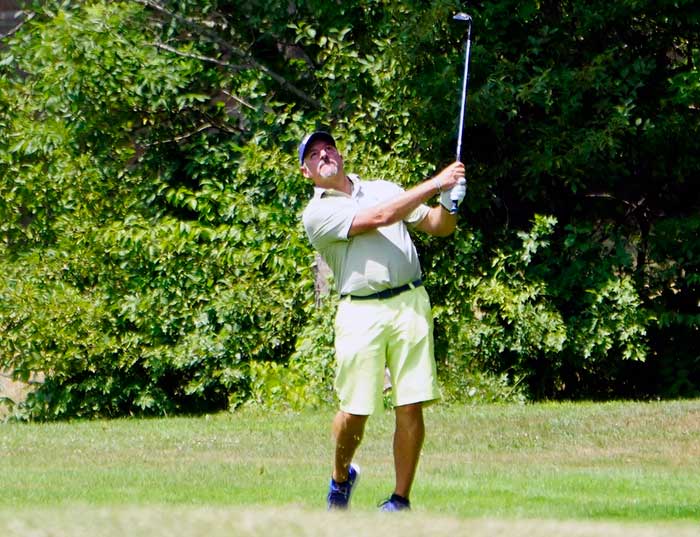 Bobby Spino also used his experience playing at Ohio Prestwick to hold off the challengers in the 50-59 Senior Division.
Pairing his first round 73 with a Sunday 74, Spino edged out Allen Freeman by one shot. Prestwick member Tom McBride finished third.
60-69 Senior Division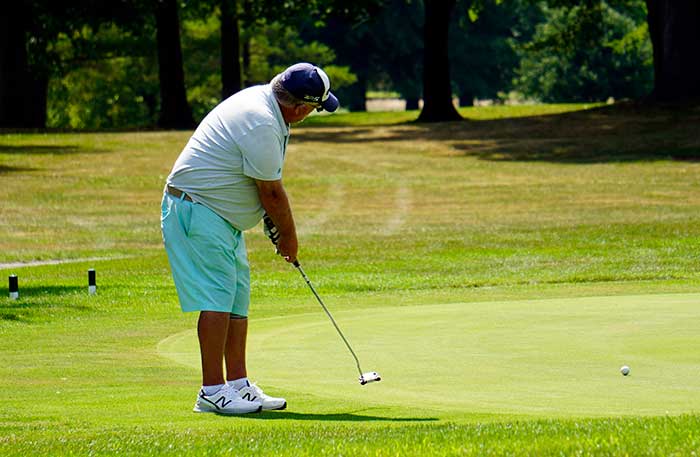 Barry Riggs took advantage of the big lead he built with his 67 on Saturday at Skyland Pines, cruising home to the 60-69 Division title. A Sunday 78 was all he needed for a five-shot win over Ronny Bell.
70+ Senior Division
Dave Goff and Stark County Am Tournament Directory Randy Young finished in a tie at 165. Goff won the playoff on the 18th to take the title.
An Impressive Event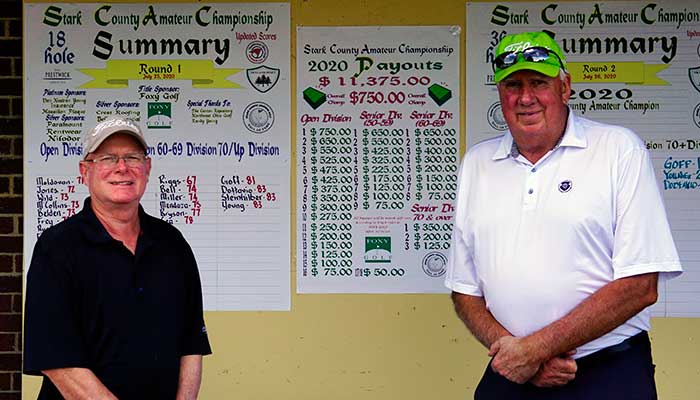 Kudos to event directors Randy Young and Doug Van Nostran. The entire operation — from the selection of the golf courses, to the event day details, to the gaudy amount of the merchandise prize payouts to Foxy Golf for 40% of the field — is as good as a local competitive amateur tournament can be.

Thanks to the event's sponsors for making it happen: Foxy Golf (Title Sponsor), Van Nostran Young and Associates, Massillon Plaque, Kentucky Fried Chicken, Paramount Elite, Bruno Chirumbolo, Belden Financial, Crest Roofing, Rentwear, and Nilodor.
It's a ton of work to put on this two day event, so be certain to thank these gentlemen for all of their efforts.
FINAL RESULTS:
2020 Stark County Amateur Golf Championship
presented by Foxy Golf
Skyland Pines Golf Course, Canton
Ohio Prestwick Country Club, Green
July 25 – 26, 2020
CHAMPIONSHIP DIVISION:
Maxwell Moldovan 71-69-140 $750
Kyle Jones 72-72-144 $650
Kyle Freudeman 74-73-147 $550
Gunnar McCollins 73-75-148 $525
Matt Frey 73-76-149 $450
Shawn Kloetzer 74-75-149 $450
Daniel Mosher 76-74-150 $362
Caden Scarbrough 76-74-150 $362
Dean Austalosh 74-77-151 $300
Josh Clay 79-73-152 $275
Daniel Belden 73-80-153 $180
Brandon Jatich 75-78-153 $180
Ken Keller 76-77-153 $180
Jimmy Wild 73-80-153 $180
Scott Anderson 78-76 154 $70
Josh Prok 78-76-154 $70
Aaron Crewse 75-79-154 $70
Mark Schneider 76-78-154 $70
Jarrod Kasunick 80-74-155
Dave Oates 74-81-155
Robert Belden 79-77-156
Christian Tomak 79-87 156
Maurice Jacobs 76-80-156
Jonathon Knapp 78-79-157
Ben Ramold 77-80-157
Jamison Ellis 77-81-158
Adam Mills 81-78-159
Kyle Buzaki 80-79-159
Charles Belden 81-78-159
Eric Crone 79-82-159
Rob Loomis 78-81-159
Kent Monas 77-82-159
Lance Strang 75-84-159
Zack Drukenbrod 80-80-160
Tim Hepner 80-80-160
Jeff Wenger 81-80-161
Zach Dechco 79-82-161
Rich Mastcko 82-80-162
Brandon Goldsmith 85-78-163
Zac Isla 79-86-165
Scott Loudon 90-77-167
Jaydan Morgan 87-80-167
Alec Adcock 78-90-168
Dylan Erks 82-88-170
Sully Ochs 89-85-174
Drake VanNostran 82-92-174
Ben Barbato 86-89-175
Branden Troyer 93-82-175
Ted Hoover 90-89-179
Chris Vallos 91-94-185
Hunter Lowder 81-WD
Brian Beebe 83-DQ
Bryan Kordupei W/D
Age 50-59 Division:
Bobby Spino 73-74-147 $650
Allen Freeman 75-73-148 $550
Tom McBride 73-77-150 $425
Tom Laubacher 75-76-151 $325
Douglas Fleming 77-75-152 $175
Brian Huntley 77-75-152 $175
Jeff Semple 75-77-152 $175
Dave Trier 78-75-153 $100
Geoffrey Burge 80-74-154 $35
Nick Lambos 80-74-154 $35
Bob Schrustrich 79-75-154 $35
John Toth 81-73-154 $35
Larry Criswell 77-78-155
Mario Pizzino 81-75-156
Scott McVey 73-84-157
Tim Heavner 79-78-157
Doug Rochich 77-81-158
Tim DeMuesy 81-80-161
Dave Allton 94-73-167
Jeff Barbas 85-82-167
Greg Grimsley 84-84-168
Greg Stern 80-88-168
Mark Thomas 85-83-168
Jeff Mirelli 86-90-176
Brian Sovak 91-87-178
Brian Lane 92-89-181
Scott Hawkins 78-N/C
Ken Troutman 80-N/C
Age 60-69 Division:
Barry Riggs 67-78-145 $650
Ronnie Bell 74-76-150 $500
Rick Bryson 77-75-152 $400
Jimmy Cea 78-76-154 $300
Larry Lanhan 81-75-156 $200
Bruno Chirumbolo 84-73-157 $125
Fred Miller 74-83-157 $125
Jim Herchek 79-81-160 $75
Frank Livak 79-84-163
Raul Mendoza 75-89-164
Mike Hart 83-83-166
Jim Rosen 85-82-167
Lon Haidet 83-85-168
Lou Boarman 79-90-169
Doug VanNostran 84-85-169
Dave Freudeman 87-84-171
Steve Wilson 81-87-178
Tim Metzger 91-88-179
Andrew Hanzel 90-94-184
Gary Tentler 96-93-189
Ron Miller 85-N/S
Dennis Barr 83-N/C
Ages 70+ Division:
Dave Goff* 81-84-165 $350
Randy Young 83-82-165 $200
Alex Dottavio 83-83-166 $125
Tom Stack 85-83-168
Steven Steinhiber 83-89-172
Dana Candusso 101-92-193
* – won playoff
Sunday Pot / Skins at Ohio Prestwick
Open Division
Skins:
Josh Prok 2 on #2 $110.00
Kyle Jones 2 on #16 $110.00
Zack Drukenbrod 4 on #18 $110.00
Pot:
Kyle Jones 1st $110.00
Josh Clay 2nd $70.00
Shaun Kloetzer 3rd $40.00

50-59 Division
Skins:
Tom Laubacher 3 on #3 $90.00
Dave Allton 3 on #15 $90.00
Bobby Spino 3 on# 17 $90.00
Allen Freeman 4 on #18 $90.00
Pot:
Allen Freeman $160.00
Dave Allton $90.00

60-69 Division *
Skins:
Rick Bryson 3 on #3 3 on #4 $90.00
Fred Martin 3 on #5 $45.00
Jim Rosen 2 on #9 $45.00
Jim Cea 3 on #11 3 on #15 $90.00
Tim Metzger 2 on #16 $45.00
Steve Wilson 4 on #18 $45.00
* Skins Included 60-69 and 70 and over
Pot:
Bruno Chirumbolo 1st $110.00
Larry Lahnan T 2nd $50.00
Rick Bryson T 2nd $50.00

70+ Division
Pot:
Randy Young $50.00