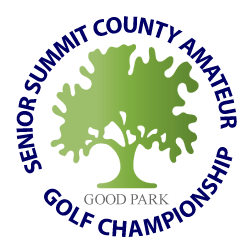 Seville's Howard Clendenin routed the field, winning the 2020 Senior Summit County Am at Good Park by six shots.
Fresh into senior status as a 50-year-old, Clendenin's first round of 3-under par 68 gave him a huge five shot head start after Friday's play. Then Clendenin's first nine holes in Saturday's final round shut the door: he put together a tidy 2-under par 34 — which included an eagle-2 at the par-4 12th hole — leaving the field with no doubt as to who the winner would be.
Runner-up David Trier did his best to close the gap, shooting a 1-under par round of 70 on Saturday. But he began the day another two shots behind the lead chasers, so it was just too far to go.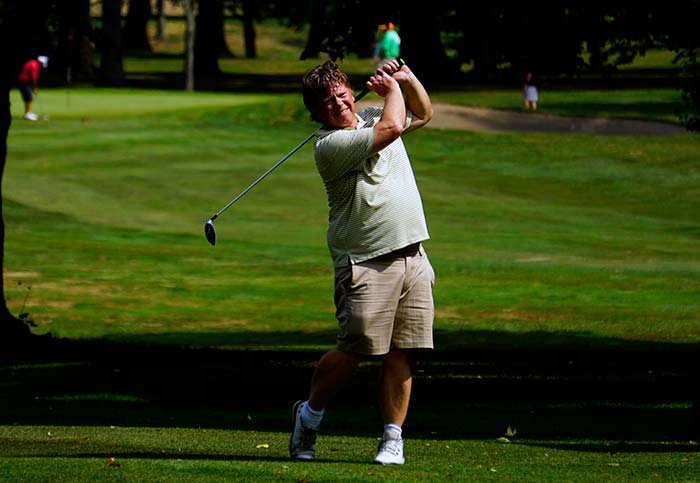 Those lead chasers starting Saturday were Tom Baugh and Rick Bryson, playing along side Clendenin. Both players turned at even par in the final round, but each had an inward nine hiccup to finished with 76. Together they shared the top spot in the Super Senior 60-69 Age Division, however, finishing at 149 for the event.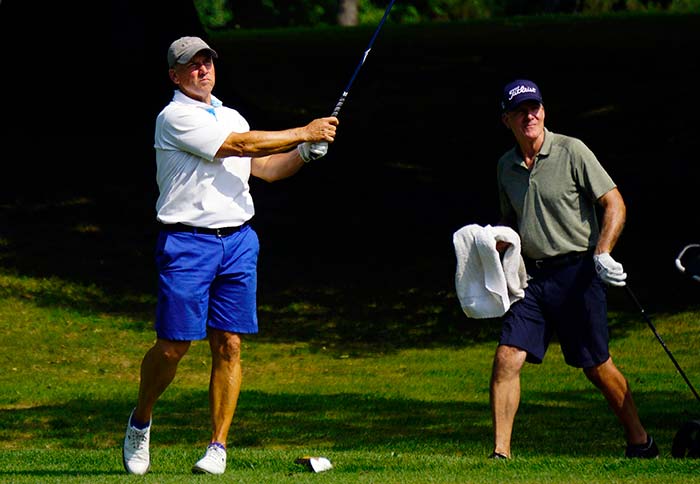 In the 70+ Age Division, Tom Kloetzer captured the win with a 154 total, good for a two shot victory over Bill Downing.
Clendenin, Baugh, Trier, Rob Schustrich and Ty Kovach won skins on Saturday, listed below. Gift card payouts are to Foxy Golf, available after Wednesday.
Thanks to Larry Zimmerman, Dante D'Andrea and Doug Flemming for their efforts in running all of the Summit County Am events!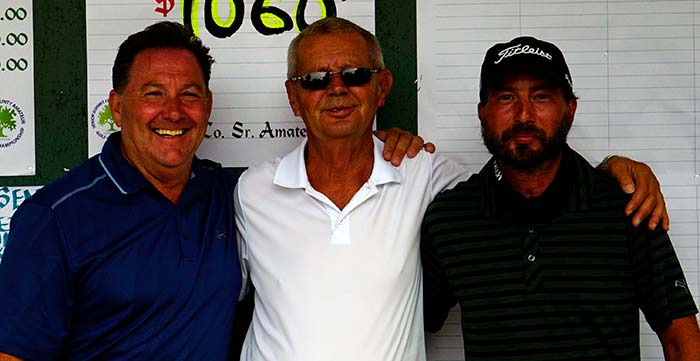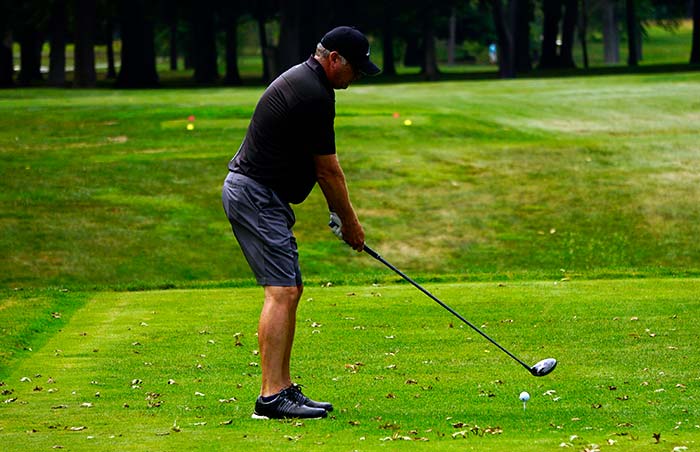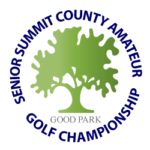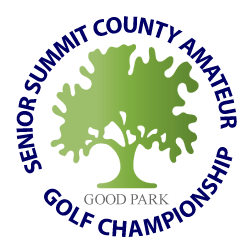 FINAL RESULTS:
2020 Senior Summit County Amateur Championship
Good Park Golf Course, Akron, Ohio
August 14 – 15, 2020
Senior Division (ages 50-59)
Clendenin, Howard 68 – 71 = 139 $500.00
Trier, David 75 – 70 = 145 $300.00
Schustrich, Rob 75 – 71 = 146 $275.00
Heavner, Tim 72 – 75 = 147 $250.00
Kovach, Ty 79 – 70 = 149 $225.00
Spino, Bobby 76 – 75 = 151 $175.00
Bitikofer, Matt 76 – 76 = 152 $150.00
Burge, Geoffrey 76 – 77 = 153 $137.00
Huntley, Brian 76 – 77 = 153 $137.00
Harmon, Bob 78 – 76 = 154 $100.00
Jenkins, William 77 – 77 = 154 $100.00
Armour, Mike 81 – 74 = 155 $25.00
Cutlip, Dean 77 – 78 = 155 $25.00
Freeman, Al 79 – 76 = 155 $25.00
Wadsworth, Bobby 78 – 77 = 155 $25.00
Fleming, Doug 80 – 76 = 156
Grosklos, Steve 76 – 80 = 156
Marsinek, Ed 77 – 79 = 156
Campbelli, Jeff 82 – 75 = 157
Lawler, Dennis 80 – 77 = 157
Carpenter, Jay 83 – 75 = 158
Ciccarello, Mark 79 – 79 = 158
Salem, Greg 83 – 75 = 158
Vincelette, Brian 76 – 82 = 158
Borlin, Mark 78 – 81 = 159
Karic, Zoran 78 – 81 = 159
Lewis, Alan 83 – 76 = 159
Angie, Mike 81 – 79 = 160
Luckenbaugh, Troy 80 – 80 = 160
Rybka, Russ 81 – 80 = 161
Cutlip, Dave 80 – 82 = 162
Troutman, Ken 79 – 83 = 162
Difrancisco, Tom 85 – 79 = 164
Barbas, Jeff 83 – 82 = 165
Demeter, Mike 82 – 83 = 165
Richardson, Chris 82 – 84 = 166
Skeen, Randy 85 – 81 = 166
Helaney, Chris 89 – 78 = 167
Laubscher, Rocky 85 – 84 = 169
Mirelli, Jeff 86 – 84 = 170
Swartz, Russ 86 – 87 = 173
Horrigan, Dan 86 – 90 = 176
Stradwick, Shaun 92 – 84 = 176
Horrigan, Jim 89 – 90 = 179
Swab, Larry Jr. 88 – 91 = 179
Good, John 100 – 98 = 198
Super Senior (ages 60-69)
Baugh, Tom 73 – 76 = 149 $350.00
Bryson, Rick 73 – 76 = 149 $350.00
Loukwood, Doug 77 – 73 = 150 $275.00
Lahnan, Larry 79 – 74 = 153 $225.00
Peck, Dave 79 – 74 = 153 $225.00
Skorman, Randy 79 – 74 = 153 $225.00
Herchek, Jim 76 – 78 = 154 $175.00
Cea, Jim 77 – 78 = 155 $137.00
Crider, Randy 75 – 80 = 155 $137.00
Saari, Scott 81 – 75 = 156 $100.00
Allen, George 79 – 78 = 157 $100.00
Eckman, Kent 78 – 79 = 157 $100.00
Boardman, Lou 77 – 81 = 158 $100.00
Bell, Ron 82 – 79 = 161
Haywood, Jerry 79 – 82 = 161
Luken, Jeff 78 – 83 = 161
Skirpstas, Ron 82 – 79 = 161
Chirumbolo, Bruno 87 – 75 = 162
Miller, Fred 85 – 77 = 162
Cummins, Rob 86 – 77 = 163
Davis, Gary 81 – 82 = 163
Mendoza, Raul 78 – 85 = 163
Rositani, Ron 79 – 84 = 163
Durban, Ray 75 – 89 = 164
Wilson, Steve 84 – 80 = 164
Livak, Frank 83 – 82 = 165
Myers, Brent 86 – 79 = 165
Kerns, Larry 80 – 86 = 166
Pluto, Keith 85 – 81 = 166
Trenta, Paul 83 – 83 = 166
Bedell, Steve 84 – 83 = 167
Butler, Mike 89 – 80 = 169
Congin, Gary 82 – 87 = 169
Cox, Jack 88 – 82 = 170
Tayler, Greg 88 – 83 = 171
Benco, Ron 92 – 81 = 173
Griffith, Mike 86 – 87 = 173
Breen, Kevin 85 – 89 = 174
Granata, Joe 85 – 89 = 174
Najda, Raymond 87 – 87 = 174
Okonek, Phil 92 – 89 = 181
Super Super Senior (ages 70+)
Kloetzer, Tom 76 – 78 = 154 $300.00
Downing, Bill 78 – 78 = 156 $250.00
Niskanen, Jim 76 – 81 = 157 $200.00
Terjesen, Barry 83 – 75 = 158
Stack, Tom 80 – 80 = 160
Horner, Larry 79 – 81 = 161
Krupa, Ken 84 – 79 = 163
Martin, Fred 83 – 80 = 163
Yanko, Rob 85 – 78 = 163
Young, Randy 80 – 86 = 166
Snyder, Dave 88 – 83 = 171
Steinhilber, Steven 89 – 90 = 179
Candusso, Danny 94 – 93 = 187

RD2 SKINS: $212 ea
Schustrich, Rob Eagle 3, Hole #2
Kovach, Ty Birdie 2, Hole #4
Trier, David Birdie 2, Hole #9
Baugh, Tom Birdie 3, Hole #10
Clendenin, Howard Eagle 2, Hole #12