It came down to the final holes for the champions to be crowned in the County, Open and Women's divisions of the 90th Portage County Amateur Championship presented by Windmill Lakes.
In the Open Division, Chris Okeson of Lyndhurst jumped to the top of the standings after round one, carding a two-under-par 68 at Windmill. But Cole Christman of Canfield (pictured above), shot a sizzling round of four-under-par 68 at Sugar Bush after a 2-over par start at Windmill to earn the championship by two strokes over Okeson.
Evan Ferrara of Kent was tied for first after the initial round at Windmill Lakes, but put together a one-over-par 73 for his final round at Sugar Bush to edge out Chris Sloe of Aurora by two strokes to win the County Division.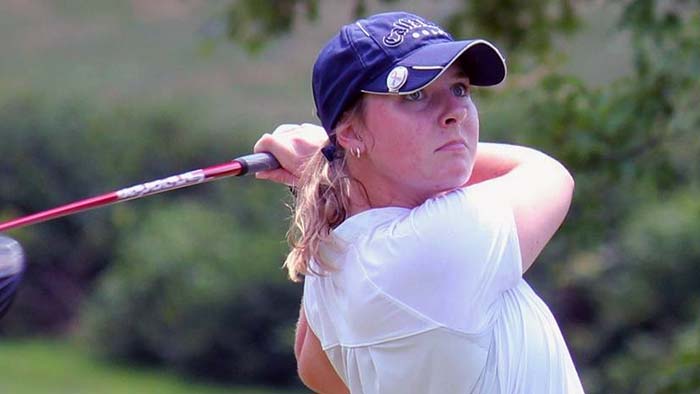 In the Women's Division, Hannah Finley of Kent, a member of the St. Mary's College varsity golf team in Indiana, shot a three-over-par 75 at Sugar Bush for a 163 total, beating Meghan Wright, also of Kent and a College of Wooster varsity golf team member.

FINAL RESULTS:
2020 Portage County Amateur Championship
Windmill Lakes Golf Club, Ravenna
Sugar Bush Golf Course, Garrettsville
July 25 – 26, 2020
County Division
Evan Ferrara, Kent 73-73 146
Chris Sloe, Aurora 75-73 148
Bud Radis, Aurora 73-76 149
Xander Moran, Kent 78-72 150
Derek Miller, Garrettsville 76-75 151
Dove Fall, Windham 157
Jeremy Knight, Streetsboro 159
Randy Wilburn, Deerfield 159
Spencer Cron, Brimfield 159
Ed Marsinek, Streetsboro 159
Laszlo May, Atwater 163
Luke Radis, Aurora 164
James Workman, Garrettsville 168
Jason Seith, Ravenna 169
Chase Roberts, Ravenna 171
Chris Plute, Streetsboro 171
Evan Lerner, Aurora 173
Ben Jenior, Rootstown 173
Brandon Slater, Ravenna 174
David Barry, Mantua 175
Adam Whitacre, Rootstown 176
Evan Dalziel, Kent 176
Toren Roubic, Windham 177
Garrison Rose, Garrettsville 179
Chad Brazill, Streetsboro 179
Bradley Klem, Kent 188
Jacy Yusko-Barracato, Streetsboro 189
James Hensel, Kent 196
Chris LeComte, Rootstown 196
Eric Ernsberger, Diamond 206
Open Division
Cole Christman, Canfield 72-68 140
Chris Okeson, Lyndhurst 68-74 142
Jonathan Reimer, Lyndhurst 77-68 145
Brian Smith, Oberlin 74-71 145
Bob Wadsworth, North Canton 76-74 150
Mark Brower, Cuyahoga Falls 75-75 150
Eric Wonkovich, Lakewood 151
Will Ellison, Akron 154
Kyle Jacob, Medina 155
Zach Baker, Cleveland 157
Carter Hahn, Wooster 161
Alex Loftin, Macedonia 161
Tom Jalbert, Akron 162
Mac Belloush, Grove City, Mich. 162
Michael Furey, Twinsburg 163
Mike Brenner, Macedonia 164
Jake Holland, Akron 165
Dustin Buehler, Akron 171
Tommy Dailey, Canfield 179
Dan Boyd, Cleveland 185
Eric Rush, Sagamore Hills 192
Aryan Ahlawat, Broadview Hs 194
Women's Division
Hannah Finley, Kent 88-75 163
Meghan Wright, Kent 91-80 171
Ava Brunty, Rootstown 106-106 212
Samantha Miller, Streetsboro 106-119 216