Pickerington's Alex Weiss erased the memory of a runner-up finish one year ago and played steady golf in the final round on Wednesday to win the 99th Pyramid Treating/Minute Men Ohio Open Championship at Weymouth Country Club. Presenting Sponsors are Jack Trier & Family and Meritech.
Weiss, 24, outlasted three-time champion Bob Sowards and Kent State assistant coach Ryan Yip to win by one shot after a final-round 69 gave him a 54-hole score of 13-under 203, in what is regarded as one of the most prestigious events in Ohio.
Sowards, seeking to become the first man to win both the Ohio Open and the Ohio Senior Open in the same season, had a two shot lead until uncharacteristically faltering down the stretch with three bogeys on the final four holes. His putter failed him.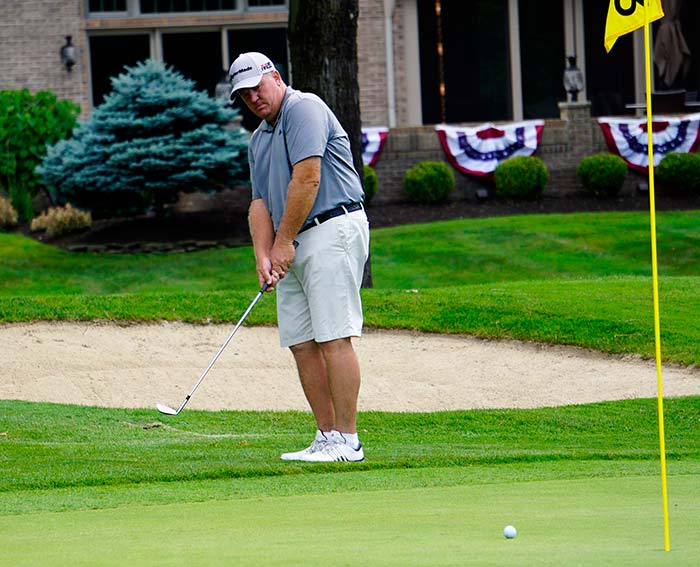 Sowards and Yip finished at 204 after rounds of 71 and 70, respectively.
Yip was never really able to get any momentum going. The former four-time all-Mid-American Conference star had a share of the lead at 13-under at the turn but couldn't buy a putt. He closed with 10 straight pars.
Weiss, who had been competing on the Latinoameric Tour until the COVID-19 pandemic shut it down, earned $8,000 for his victory while Sowards and Yip pocketed $4,500 each.
Weiss, who had earlier rounds of 8-under 64 at Fox Meadow and 2-under 70 at Weymouth, fell behind Sowards by two shots when Sowards made birdie to Weiss's par on the 501-yard par-5 14th hole.
Things changed slowly over the final holes as Sowards, 52, made bogey on three of his last four while Weiss strung together five consecutive pars to finish. The two were tied heading to the final hole, but Sowards three-putted from about 45 feet while Weiss two-putted from the front edge.
Weiss erased the sour memory of losing on the first hole of a three-man sudden-death playoff last year after shooting a scintillating 11-under 61 in the final round. He chipped in on the final hole to get into the playoff but lost to the birdie of eventual champion Stephen Gangluff.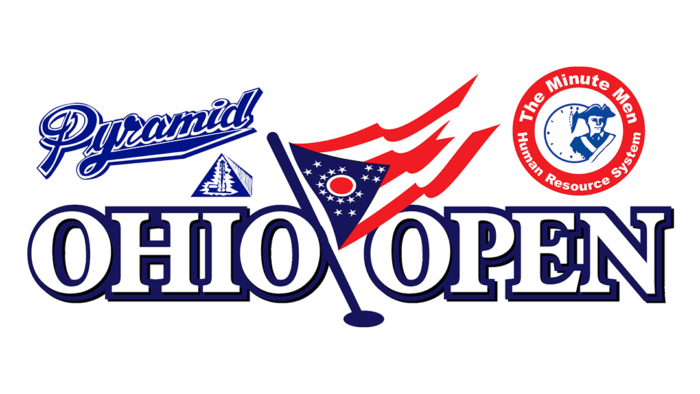 FINAL RESULTS: Northern Ohio PGA
2020 Pyramid Treating / Minute Men Ohio Open Championship
Weymouth Country Club and Fox Meadow Country Club, Medina
Monday, June 29 – Wednesday, July 1, 2020
Professionals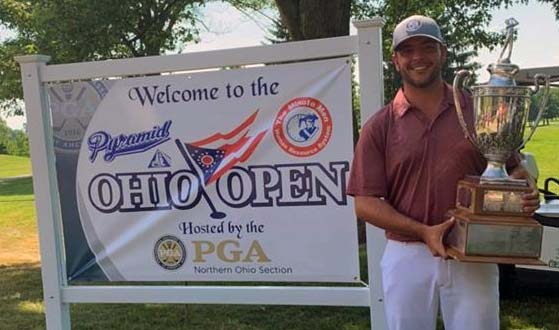 1 Alex Weiss Pickerington, OH 64-70-69–203 -13 $8,000.00
T2 Bob Sowards Dublin, OH 68-65-71–204 -12 $4,000.00
T2 Ryan Yip Kent, OH 66-68-70–204 -12 $4,000.00
4 Tyler McHugh Aurora, OH 69-68-71–208 -8 $2,500.00
T5 Jake Scott Strongsville, OH 71-67-71–209 -7 $1,600.00
T5 Blake Sattler New Philadelphia, OH 69-68-72–209 -7 $1,600.00
7 Ross Beal Uniontown, OH 70-69-72–211 -5 $1,300.00
T8 Nathan Tarter Akron, OH 71-72-69–212 -4 $1,075.00
T8 Jake Daly Cincinnati, OH 70-70-72–212 -4 $1,075.00
T10 Grant Godfrey Delaware, OH 71-72-71–214 -2 $750.00
T10 Nathan Yankovich Blacklick, OH 73-69-72–214 -2 $750.00
T10 Jon Mills Kent, OH 67-71-76–214 -2 $750.00
T10 Caleb Wittig Zanesville, OH 68-69-77–214 -2 $750.00
T14 Ryan Troyer Dover, OH 67-75-73–215 -1 $508.33
T14 Mike Auterson Milford, OH 69-73-73–215 -1 $508.33
T14 Stephen Gangluff Delaware, OH 71-70-74–215 -1 $508.33
T17 Avery Schneider New Albany, OH 73-73-70–216 E $400.00
T17 TT Crouch Mount Vernon, OH 74-72-70–216 E $400.00
T17 Tyler Light Massillon, OH 75-69-72–216 E $400.00
T17 Jake Mcbride Hartville, OH 70-74-72–216 E $400.00
T17 John Powers Bowling Green, OH 75-68-73–216 E $400.00
T22 David Tepe Lewis Center, OH 74-69-74–217 +1 $350.00
T22 Patrick Milkovich Cleveland, OH 71-70-76–217 +1 $350.00
24 Jeff Olson Delaware, OH 75-71-72–218 +2 $350.00
T25 Zack Wax Sardis, OH 72-74-73–219 +3 $350.00
T25 Will Grimmer Cincinnati, OH 69-76-74–219 +3 $350.00
T25 Kevin Hall Cincinnati, OH 74-70-75–219 +3 $350.00
28 Nick Gustin Perry, OH 73-72-75–220 +4 $350.00
T29 Randy Dietz Tallmadge, OH 76-71-74–221 +5 $300.00
T29 Sean McGuire Twinsburg, OH 73-73-75–221 +5 $300.00
T29 Jack Mancinotti Columbus, OH 73-71-77–221 +5 $300.00
T32 Darin de Lelys Westfield Center, OH 79-68-75–222 +6 $275.00
T32 Dennis Holub Twinsburg, OH 74-73-75–222 +6 $275.00
T32 Gary Rusnak Painesville, OH 72-73-77–222 +6 $275.00
35 Joseph Moore Englewood, OH 70-74-79–223 +7 $250.00
36 Paul Wackerly Minerva, OH 69-78-78–225 +9 $250.00
Amateurs
1 Bryce Haney (a) Huber Heights, OH 67-69-69–205 -11 $750.00
2 Camden Solomon (a) Dublin, OH 72-67-68–207 -9 $700.00
3 Austin Schoonmaker (a) Maineville, OH 70-71-68–209 -7 $600.00
4 Rodrigue Vie (a) Bowling green, OH 67-72-71–210 -6 $500.00
5 Ty Gingerich (a) Cincinnati, OH 73-74-66–213 -3 $450.00
6 Cole Corder (a) Beavercreek, OH 67-70-77–214 -2 $400.00
T7 Drew Salyers (a) Howard, OH 75-72-69–216 E $302.50
T7 Christopher Williard (a) Blacklick, OH 70-76-70–216 E $302.50
T7 Zach Mandry (a) Solon, OH 71-73-72–216 E $302.50
T7 Tom North (a) Bowling Green, OH 72-71-73–216 E $302.50
T7 Davis Root (a) Dublin, OH 69-74-73–216 E $302.50
T7 Andy Mayhew (a) Dayton, OH 70-72-74–216 E $302.50
T13 Grant Engle (a) Springfield, OH 71-75-71–217 +1 $245.00
T13 Ken Keller (a) Youngstown, OH 74-71-72–217 +1 $245.00
T13 Jared Wilson (a) Columbiana, OH 71-72-74–217 +1 $245.00
T13 Ben Herman (a) Germantown, OH 72-71-74–217 +1 $245.00
T17 Braden Smith (a) Sterling, OH 73-73-72–218 +2 $215.00
T17 Cole Christman (a) Canfield, OH 73-68-77–218 +2 $215.00
T19 Beau Bayerl (a) Ashland, OH 71-75-73–219 +3 $200.00
T19 Cooper Hrabak (a) Medina, OH 72-74-73–219 +3 $200.00
T21 David Amm (a) Toledo, OH 76-68-76–220 +4 $200.00
T21 Troy Taylor II (a) Westerville, OH 72-72-76–220 +4 $200.00
T23 Robert Kimmel (a) Shaker Heights, OH 70-76-75–221 +5 $175.00
T23 Bryan Kordupel (a) Youngstown, OH 73-73-75–221 +5 $175.00
T25 Jules Blakely (a) Westlake, OH 76-70-77–223 +7 $175.00
T25 Justin Atkinson (a) Brookfield, OH 71-74-78–223 +7 $175.00
T27 Will Kurtz (a) Hudson, OH 74-73-77–224 +8 $150.00
T27 Palmer Yenrick (a) Oregon, OH 72-75-77–224 +8 $150.00
T29 Adam Horn (a) Milford, OH 71-76-81–228 +12 $150.00
T29 Dean Austalosh (a) Campbell, OH 74-72-82–228 +12 $150.00
31 Dan Belden (a) Massillon, OH 76-71-82–229 +13 $150.00

Photos by Allen Freeman, Northeast Ohio Golf