It didn't get any cooler during the second round of the Cleveland Metroparks Golf 2020 Senior Greater Cleveland Amateur Championship at Big Met Golf Course. The rain held off to the south and the players took advantage with some great scores on the final day.
Allen Freeman used his first round lead as the one-shot difference in winning the Cleveland Senior Am. He played his last six holes at 3-under par to shoot 69 and take the overall championship with a 139 (-5).
It was a tough battle on the back nine as Freeman's fellow competitor Scott Saari turned at 2-under par 34, and finished with a 69 as well to take solo second place, at 140 (-4).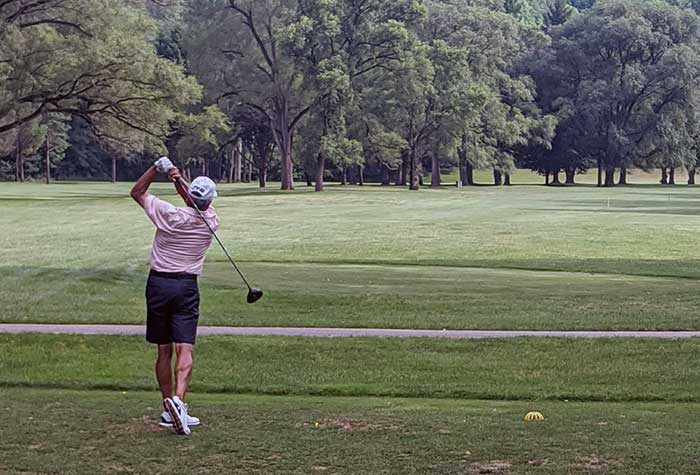 The low round of the day belonged to Robert Schustrich, who shot a bogey free round of 4-under par 68. The best round of the tournament propelled him to a solo 3rd place finish with a 143 (-1).
In the 60-69 Age Division, it was Saari taking home the title with his 140 (-4). Monty Guest followed his 71 with a 74 to shoot 145 and take solo second in the division. Dave Peck and Jeff Dean both finished at 146, good for a third place finish in the bracket.
In the 70+ Age Division, Ken Krupa took 9 shots off his total from the first round to earn a victory over Mike Brady. Krupa fired rounds of 82 and 73 to shoot a tournament total of 155. Mike Brady posted two rounds of 78 to shoot 156 and take solo second place.
Gift certificate amounts for the overall results are listed with the two-day scores below. Following the scores for the entire field are the gift certificates amounts by age division.
The top-5 finishers earn an exemption into the 2020 Greater Cleveland Amateur Championship, to be played at Sleepy Hollow Golf Course in Brecksville on August 8-9th. The Qualifiers are Allen Freeman, Scott Saari, Robert Schustrich, Cary Slabaugh and Monty Guest.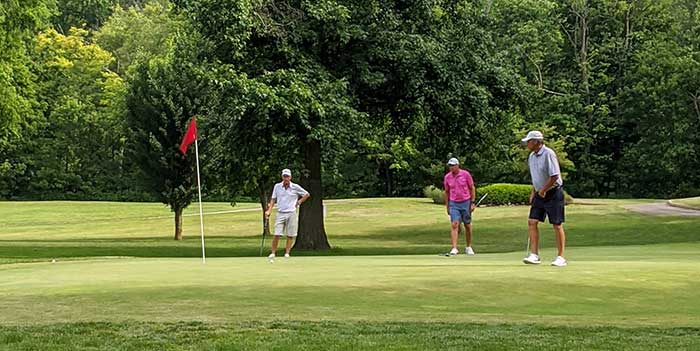 FINAL RESULTS: Cleveland Metroparks Golf
2020 Senior Greater Cleveland Amateur Championship
Big Met Golf Course, Fairview Park, Ohio
Mon, July 6 – Tue, July 7, 2020
Allen Freeman 70 – 69 = 139 $530
Scott Saari 71 – 69 = 140 $430
Robert Schustrich 75 – 68 = 143 $340
Cary Slabaugh 72 – 72 = 144 $260
Monty Guest 71 – 74 = 145 $210
Dave Peck 73 – 73 = 146 $175
Jeff Dean 75 – 71 = 146 $175
Steve Blackburn 71 – 76 = 147 $145
Matt Timmons 73 – 74 = 147 $145
Larry Sivic 75 – 72 = 147 $145
Mike Beres 73 – 75 = 148 $110
Tim Heavner 75 – 73 = 148 $110
Mark Borlin 75 – 73 = 148 $110
Out of the Money:
Lou Boarman 72 – 77 = 149
Jim Cea 74 – 75 = 149
John Iosue 75 – 74 = 149
Joe Denk 77 – 72 = 149
Mike Crawford 76 – 73 = 149
Michael Mintz 77 – 72 = 149
Larry Lahnan 74 – 76 = 150
Mark Thomas 75 – 75 = 150
Randy Crider 75 – 75 = 150
John Toth 76 – 74 = 150
Scott Heran 77 – 74 = 151
Raul Mendoza 80 – 71 = 151
Robert Button 74 – 78 = 152
Rick Jaskolski 75 – 77 = 152
George Allen 76 – 76 = 152
Jim Hercheck 76 – 77 = 153
Geoffrey Burge 77 – 76 = 153
Ray McNiece 75 – 80 = 155
Mike Angie 82 – 73 = 155
Ken Krupa 82 – 73 = 155
Dean Cutlip 80 – 75 = 155
Jeff Luken 78 – 78 = 156
Mike Brady 78 – 78 = 156
Steve Bedell 84 – 72 = 156
Ronald Skirpstas 78 – 79 = 157
Steven Steinhilber 78 – 79 = 157
Paul Kruger 81 – 76 = 157
Keith Pluto 79 – 78 = 157
Randy Wilburn 75 – 83 = 158
Bob Wadsworth 78 – 80 = 158
Dennis Berkheimer 76 – 84 = 160
Robert Karshner 81 – 79 = 160
Ray Durban 79 – 82 = 161
Ray Prokop 81 – 80 = 161
Raymond Najda 83 – 79 = 162
Kevin Breen 83 – 79 = 162
Mark Ciccarello 79 – 83 = 162
Frank Livak 80 – 82 = 162
Greg Navis 86 – 76 = 162
Ron Rositani 81 – 81 = 162
Ron Benco 83 – 80 = 163
Chris Richardson 77 – 86 = 163
David Laudel 82 – 82 = 164
Don Schaeffer 85 – 79 = 164
Patrick Haffey 81 – 83 = 164
Jack Cox 82 – 83 = 165
Joseph Weidner 82 – 83 = 165
Gary Congin 83 – 83 = 166
Robert Berkheimer 88 – 79 = 167
Jeffery Burgett 83 – 84 = 167
Garth McGrail 83 – 84 = 167
Arnold Schueffler 84 – 84 = 168
Scott Chinn 83 – 86 = 169
Mark Knevel 81 – 88 = 169
John Niedzialek 86 – 83 = 169
Stephen Baker 95 – 76 = 171
Frank Passafiume 91 – 86 = 177
Gerald Musiel 93 – 84 = 177
Rick Moncol 91 – 87 = 178
Greg Caspio 91 – 88 = 179
John Betonte 95 – 96 = 191
Donald Labaj 95 – WD
David Stover 79 – WD
Dan Hopkins 83 – WD
Greg Tayler 82 – WD
AGE DIVISION PAYOUTS:
Ages 50-59
1 Freeman $140
2 Schustrich $100
3 Slabaugh $80
T4 Beres $60
T4 Borlin $50
T4 Heavner $45
Ages 60-69
1 Saari $190
2 Guest $140
T3 Peck $90
T3 Dean $90
T5 Blackburn $50
T5 Timmons $50
T5 Sivic $50
T8 Iosue $18
T8 Boarman $18
T8 Cea $18
T8 Mintz $18
Ages 70+
1 Krupa $65
2 Brady $55
3 Steinhilber $45
SKINS
SKINS – DAY ONE: $407 ea
Cary Slabaugh – Birdie 3, Hole #1
Lou Boarman – Eagle 3, Hole #5
Jeff Dean – Eagle 3, Hole #13
SKINS – DAY TWO: $800 ea
Geoffrey Burge – Birdie 3, Hole #1
(Skin winners, please email golf@neohgolf.com to arrange venmo or other payment arrangements.)