The final round of the 2019 Zoar Memorial Amateur Championship was held Sunday at Zoar Golf Club.
Blaise Vanivelt from Flint, Michigan shot a stellar 68 to post a two day total of 141. Tim Hepner from Dover had back-to-back even par days to finish three strokes off his pace. Coleman Lamp (St. Marys, WV) was third at 148 strokes, with a three-way tie for fourth place: Brent Dillon, John Fryman and defending champion Ian Hardesty all carded 150.
Rob Schustrich of Wyndham posted a first day score of 65 and backed that up Sunday with a 67 to win the Senior Division title going away. Brad Baker, the winner of the Senior Division of this tournament the past two years, and John Holzapfel tied for second place with 147. Mark Thomas was fourth at 151 and John Toth was fifth with a 153.
2019 Zoar Memorial Honoree was John Colombo of Roswell, and In Memory of Jack Matchett.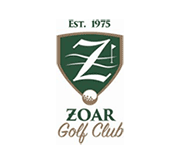 FINAL RESULTS:
2019 Zoar Memorial Amateur Championship
Zoar Golf Club, Zoar, Ohio | Par 72
Sat-Sun, May 25-26, 2019
Open Division
141 Blaise Vanivelt $550
144 Tim Hepner 350
148 Coleman Lamp 250
150 Brent Dillon, John Fryman, Ian Hardesty 143 ea,
152 Nolan Kimberly 80
153 Josh Prok, Evan Gray 20 each
Senior Division
132 Rob Schustrich $300
147 Brad Baker, John Holzapfel 175 ea.
151 Mark Thomas 110
153 John Toth 90
SUNDAY SKINS
Open Division – $123 ea
Jade Waligura – eagle 3 Hole 2
Tim Hepner – birdie 3 Hole 10
Jacob Barth – eagle 3 Hole 12
Senior Division – $ ea
Brad Baker – birdie 2 Hole 6
Kevin Krysty – birdie 4 Hole 7
Mark Ciccarello – eagle 2 Hole 8
Rob Schustrich – birdie 3 Hole 16
Dean Cutlip – birdie 3 Hole 18