Cuyahoga Falls' Michael Klaric III hit shots on a string for two days at Good Park Golf Course in Akron, and because of that precision he cruised to the 2019 Summit County Amateur Championship title.
Klaric played a great first round on Saturday, posting a 4-under par 67 while making just one bogey. He backed that up with a Sunday 70 — again making just one bogey, at his final hole with the tournament already locked up — for a 5-under par 137 total and a three shot victory.
Klaric controlled his ball far better than every other player, staying in between the tight tree lines that dogleg across Good Park. He played from the fairway throughout the weekend, while most of his fellow-competitors spent a good bit of time going under or around trees.
But there was a brief period during Sunday's final round where it looked like defending champion Steve Blackburn Jr. might put some pressure on Klaric.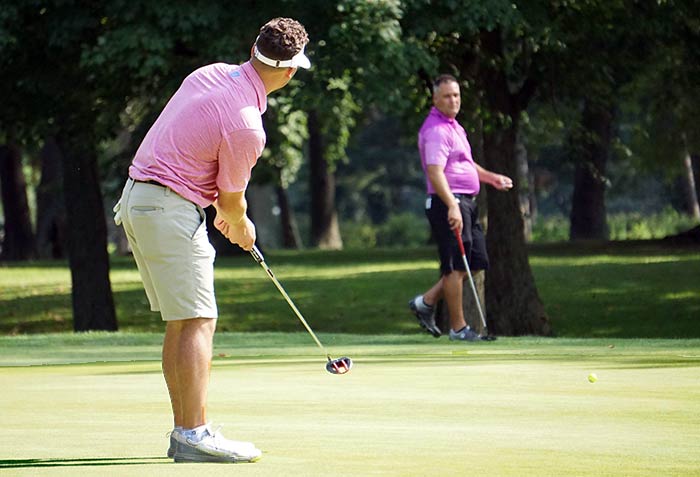 Three shots down on the par-3 sixth hole (the 15th hole on Sunday; the tournament reverses the nines at Good Park for the finale), Blackburn stuffed his tee shot on the 195-yard par-3 to about 10 feet just behind the flagstick. Klaric followed and also hit green, but he was a good 35 feet from the hole. Klaric rolled his birdie attempt a bit past and breaking right, setting up a testy three-and-a-half footer for the comebacker. If Blackburn could make his birdie, a two shot swing was possible.
But for as much as Klaric's putt broke to the right going by, Blackburn's attempt from the opposite side stayed almost dead straight and he missed on the high side. When Klaric buried the par putt, the three shot cushion remained.
Then with his next two tee shots, Klaric closed the door on any notion of a comeback.
On the long par-4 seventh hole, Blackburn's drive hit the trees on the left and dropped straight down, leaving only a long low runner to the green. Klaric stepped up and ripped a bomb down the middle that accelerated even further up the fairway when it hit the down slope. Blackburn had a 180+-yard punch shot for his second; Klaric had less than an 80-yard wedge.
Blackburn hit a solid roller up the fairway, but it drifted right and caught the front-right bunker. Klaric wedged to 10-feet just right of the flag. When Blackburn hit the bunker shot, it was clear from the sound that clay instead of sand was under his ball: it clunked out high right and went over the green. Blackburn made double, Klaric par.
Then Klaric added an exclamation point by driving it dead-center in the fairway on the rolling dogleg eighth hole, blistering it on the sprinkler line just 70 yards out. Game over.
Massillon's Vaughn Snyder, a reinstated amateur with Ohio Open and Ohio Am titles to his credit, followed his first-round 69 with a Sunday even par 71 to slide past Blackburn into second place at 140.
Blackburn finished Sunday with a 74 to take solo third at even par 142.
Brett Kauffman of Westlake, starting one shot behind Klaric in Sunday's final round, had a disastrous opening on the 10th and 11th but fought back the rest of the day. He finished in a tie for fourth place at 143 with Brecksville's Mike Witmer and Chris Okeson of Lyndhurst.
But the talk of tournament Sunday for most of the field was who might win the $2,420 carry-over skins pot that was up for grabs after no one claimed anything on Saturday.
Two players went the hole-out-eagle route to claim half of the big skins pot, while two players made surprising par-4 birdies that held up for the other half.
Copley's Brian Vincelette chipped in for eagle from the front of the reachable par-4 12th hole to claim one-quarter of the Sunday carry-over, good for $605.
AJ Borisa of North Royalton pitched in for eagle from 30 yards out after driving it right in front of the 17th green to earn another quarter of the pot.
Kyle Jacob earned his skin with a birdie on the tough par-4 10th, a hole made even more difficult by a flag that was falling off the back edge of the green.
But the biggest surprise of the four skin winners was the straight-forward par-4 11th hole, with the flag cut in the center of the green. Danny Terry made his birdie there and no one else matched it, giving him a slice of the big pie. Congrats to all four players!
Gift certificate prizes listed below will be available after Thurs, Aug 8th at the Foxy Golf location near Turkeyfoot.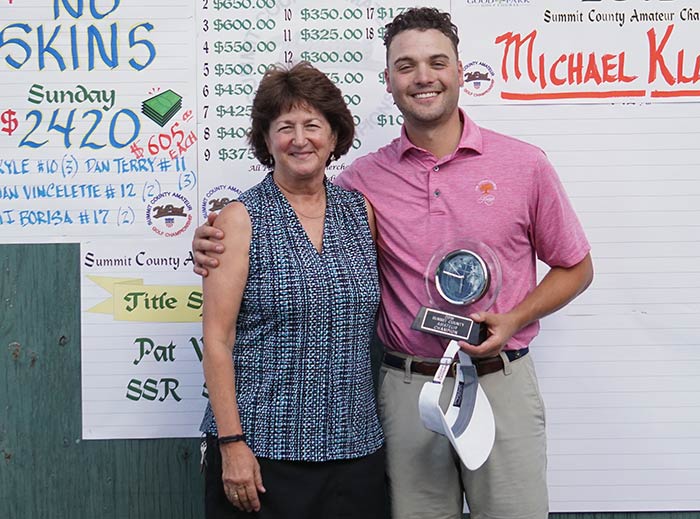 FINAL RESULTS:
2019 Summit County Amateur Golf Championship
Good Park Golf Course, Akron, Ohio
Sat/Sun, August 3 – 4, 2019

Klaric III, Michael 67 – 70 = 137 $750.00
Snyder, Vaughn 69 – 71 = 140 $650.00
Blackburn Jr, Steve 68 – 74 = 142 $600.00
Kaufman, Brett 68 – 75 = 143 $500.00
Okeson, Chris 70 – 73 = 143 $500.00
Witmer, Michael 71 – 72 = 143 $500.00
Crewse, Aaron 70 – 75 = 145 $412.50
Kloetzer, Shaun 72 – 73 = 145 $412.50
Lieser, Jonathan 71 – 75 = 146 $337.50
Puch, Joe 72 – 74 = 146 $337.50
Lahnan, Larry 74 – 72 = 146 $337.50
Clendenin, Howard 75 – 71 = 146 $337.50
Peterson, Kurt 75 – 72 = 147 $262.50
Miano, Tommy 76 – 71 = 147 $262.50
Krivanek, Jim 69 – 79 = 148 $200.00
Stefanski, Ryan 73 – 75 = 148 $200.00
Yacovazzi, Anthony 76 – 72 = 148 $200.00
Henighan, Bob 74 – 75 = 149 $133.00
Vincelette, Colton 74 – 75 = 149 $133.00
Martina, Dan 74 – 75 = 149 $133.00
Sotka, David 72 – 78 = 150 $125.00
Simpson, Mike 72 – 78 = 150 $125.00
Briggs, Anthony 79 – 71 = 150 $125.00
Hewitt, Zach 71 – 80 = 151 $100.00
McPherran, Brian 75 – 76 = 151 $100.00
Bryson, Rick 75 – 76 = 151 $100.00
Borisa, AJ 76 – 75 = 151 $100.00
Kies, Rick 72 – 80 = 152 $50.00
Walker, Dan 74 – 78 = 152 $50.00
Cutlip, Dean 75 – 77 = 152 $50.00
Kohler, Chris 76 – 76 = 152 $50.00
Grace, Brandon 76 – 76 = 152 $50.00
Marr, Dan 79 – 73 = 152 $50.00
Anagnost, Niko 75 – 78 = 153
Schnur, John 75 – 78 = 153
Spalding, AJ 79 – 74 = 153
Drukenbrod, Zach 74 – 80 = 154
Utrop, Christopher 75 – 79 = 154
Spalding, Stephen 76 – 78 = 154
Watkinks, Tyler 76 – 78 = 154
Kasunick, Jarrod 78 – 76 = 154
Guadagni, Mark 79 – 75 = 154
Ferrara, Evan 83 – 71 = 154
Maxwell, Ryan 76 – 79 = 155
Wood, Jamison 77 – 78 = 155
Ellison, Will 78 – 77 = 155
Trier, David 79 – 76 = 155
Jacob, Kyle 80 – 75 = 155
Hung, Jeffrey 74 – 82 = 156
Fleming, Doug 75 – 81 = 156
Kolkovich, Elliot 75 – 81 = 156
Schustrich, Rob 78 – 78 = 156
Furey, Michael 81 – 75 = 156
Gamble, Brian 76 – 81 = 157
Armour, Mike 76 – 81 = 157
Thomas, Mark 78 – 79 = 157
Miller, Fred 78 – 79 = 157
Cea, Jim 80 – 77 = 157
Lukacs, Kasey 82 – 75 = 157
Smith, Brian 77 – 81 = 158
Warren, Matt 78 – 80 = 158
Beebe, Brian 79 – 79 = 158
Radis, Bud 79 – 79 = 158
Niskanen, Jim 79 – 79 = 158
Ankrom, Tyler 77 – 82 = 159
Padgett, Don 78 – 81 = 159
Freeman, Al 78 – 81 = 159
Fricker, Steve 81 – 78 = 159
Loftin Alex 77 – 83 = 160
Prok, Josh 80 – 80 = 160
Chuparkoff, Ken 79 – 82 = 161
Ramaglia, Chris 79 – 82 = 161
Baugh, Tom 81 – 80 = 161
Loomis, Rob 76 – 86 = 162
Barbas, Jeff 77 – 85 = 162
Dimeo, Sam 79 – 83 = 162
Schneider, Mark 80 – 82 = 162
Gorham, Josh 87 – 75 = 162
Hinchliffe, Tim 80 – 83 = 163
Zachardy, Jason 80 – 83 = 163
Vincelette, Brian 79 – 85 = 164
Hartman, Matt 80 – 84 = 164
Walker, Chris 80 – 84 = 164
Hughes, Keith 81 – 83 = 164
Agarenzo, Mychal 83 – 81 = 164
Luken, Jeff 85 – 79 = 164
Toth, John 86 – 78 = 164
Harmon, Bobby 86 – 78 = 164
Kardish, Austin 79 – 86 = 165
Li, Tom 79 – 86 = 165
Distelhorst, Daniel 81 – 84 = 165
Grosso, Jim 81 – 84 = 165
Jambellini,Alex 81 – 85 = 166
Willson, Steve Jr 75 – 92 = 167
Wenger, Jeff 78 – 89 = 167
Berkheimer, Dennis 80 – 87 = 167
Troutman, Ken 84 – 83 = 167
Dillon, Brent 83 – 85 = 168
Mooney, Bill 84 – 84 = 168
Wilson Sr, Steve 86 – 82 = 168
Mullen, Scott 87 – 81 = 168
Krill, Dennis 85 – 84 = 169
Stiller, Mike 89 – 80 = 169
Terry, Dan 87 – 83 = 170
D'andrea, Dante 89 – 83 = 172
King, Jason 82 – 91 = 173
Vaneck, Drew 85 – 88 = 173
Marshall, David 86 – 87 = 173
Gavdio,Derek 87 – 86 = 173
Zolata, Brandon 87 – 86 = 173
Kranek, Mike 85 – 89 = 174
Mirelli, Jeff 86 – 88 = 174
Reed, Dan 88 – 88 = 176
Cona Garrett 89 – 88 = 177
Rice, Cody 94 – 83 = 177
Rush, Eric 85 – 95 = 180
Oberdier, Jason 88 – 92 = 180
Norris, John 89 – 91 = 180
Fairhurst, Grant 92 – 89 = 181
Brazill, Chad 94 – 89 = 183
Regimbal, Matt 98 – 92 = 190
Kulawkk, Justin 83 – 108 = 191
Good, John 106 – 104 = 210
Prospal, Jay 77 – WD
Carney, Chris 79 – WD
Demeter, Mike 80 – NC
Morgan, Josh 83 – WD
Lowry, Rich 88 – WD

SKINS: $605 ea (carry-over)
Kyle Jacob Birdie 3 #10
Danny Terry Birdie 3 #11
Brian Vincelette Eagle 2 #12
AJ Borisa Eagle 2 #17