Cary Slabaugh birdied his final three holes on Tuesday at Big Met to capture this year's Senior Greater Cleveland Amateur Championship title.
Slabaugh fired a 73-72 for a two day total of 145 to win by a single shot over a jam-packed leaderboard. The competition was so close that three players — Mike Borlin, Randy Crider, and David Trier — tied for second place with a two-day total of 146, while five players tied for fifth place at 147 — Allen Freeman, Tim Heavner, Larry Lahnan, Scott Heran, and Steve Blackburn Sr.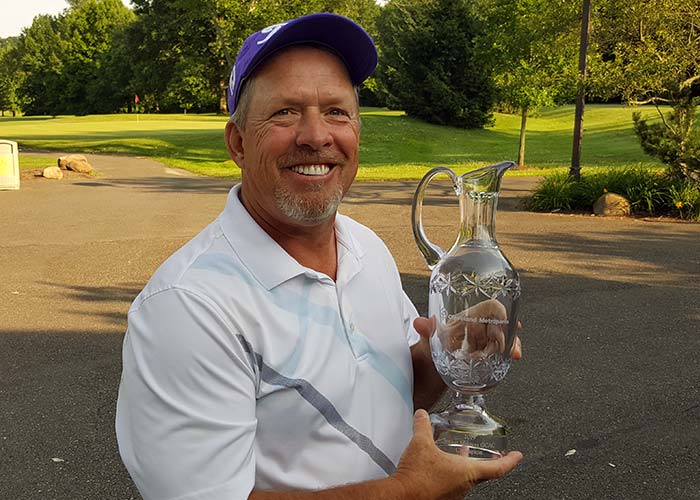 Randy Crider won the age 60-69 Division by a single shot as well, firing rounds of 74-72. Crider fought off three Senior Masters players who finished at 147: Larry Lahnan, Scott Heran, and Steve Blackburn Sr.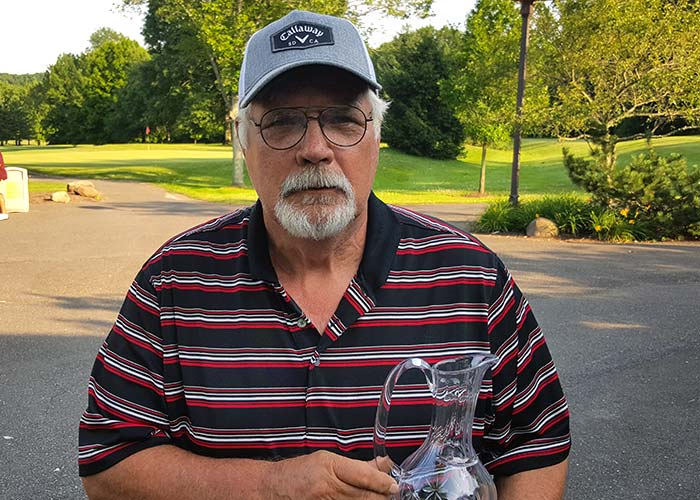 In the age 70+ Division, Joe Weidner took this year's Super Masters title with rounds of 79-77 for a two-day total of 156. Geoffrey Nicely came in second two shots behind at 158.
The top-5 players and ties in the overall championship (not already exempt) earned an exemption into this year's 2019 Greater Cleveland Amateur Championship held at Manakiki Golf Course August 9th – 11th.
Complete results by division listed below…

FINAL RESULTS:
Cleveland Metroparks Golf
2019 Senior Greater Cleveland Amateur Championship
Big Met Golf Course, Fairview Park, Ohio
Mon-Tue, July 8 – 9, 2019
SENIOR CHAMPIONSHIP:
1 Cary Slabaugh 73 – 72 = 145 $450.00
2 Mark Borlin 72 – 74 = 146 $296.00
2 Randy Crider* 74 – 72 = 146 $297.00
2 David Trier 75 – 71 = 146 $297.00
5 Allen Freeman 70 – 77 = 147 $180.00
5 Tim Heavner 71 – 76 = 147 $180.00
5 Larry Lahnan * 73 – 74 = 147 $180.00
5 Scott Heran * 74 – 73 = 147 $180.00
5 Steve Blackburn Sr. * 76 – 71 = 147 $180.00
10 John Toth 73 – 75 = 148 $110.00
10 Jim Cea * 74 – 74 = 148 $110.00
12 John Iosue * 74 – 75 = 149 $50.00
12 Dean Cutlip 76 – 73 = 149 $50.00
12 Scott Saari 76 – 73 = 149 $50.00
15 Paul Woznicki * 73 – 77 = 150
15 Mike Beres 77 – 73 = 150
17 Mark Thomas 74 – 77 = 151
17 Joe Denk 79 – 72 = 151
19 Mike Iosue * 74 – 78 = 152
19 Mike Crawford 75 – 77 = 152
21 Jim Herchek * 78 – 75 = 153
21 Mike Brady * 79 – 74 = 153
23 Frank Livak * 77 – 77 = 154
24 Ron Skirpstas * 75 – 80 = 155
24 Monty Guest * 76 – 79 = 155
24 Dave Peck 77 – 78 = 155
24 Ray McNiece 78 – 77 = 155
28 Ray Prokop * 74 – 82 = 156
28 Joe Weidner ** 79 – 77 = 156
28 Jeff Luken * 81 – 75 = 156
28 Geoffrey Burge 81 – 75 = 156
32 Jeff Dean * 77 – 80 = 157
32 George Allen 78 – 79 = 157
32 Bob Dutton * 78 – 79 = 157
35 Geoffrey Nicely ** 76 – 82 = 158
36 Keith Pluto * 79 – 80 = 159
36 Ron Miller * 79 – 80 = 159
38 Mark Knevel * 79 – 81 = 160
39 Gary Congin* 76 – 85 = 161
39 Gerald Musiel ** 84 – 77 = 161
41 Scott Zielinski 78 – 84 = 162
41 Diyg Schulz 78 – 84 = 162
41 Brian Sokol 83 – 79 = 162
44 Michael Mintz * 77 – 86 = 163
44 Duane Clemens 82 – 81 = 163
46 Rick Moncol * 79 – 85 = 164
47 Steven Steinhilber ** 81 – 84 = 165
47 Jack Cox * 79 – 86 = 165
47 Greg Tayler* 82 – 83 = 165
47 Sam Corabi * 88 – 77 = 165
51 Mike Lingo ** 85 – 81 = 166
51 Randy Wilburn 85 – 81 = 166
51 Raymond Najda * 85 – 81 = 166
54 Mark Beltavski * 80 – 87 = 167
55 Ron Benco * 81 – 87 = 168
55 David Laudel * 81 – 87 = 168
55 Greg Navis * 82 – 86 = 168
58 Randy Steele * 81 – 88 = 169
58 Steve Bedell * 84 – 85 = 169
58 Mark Ciccarello 84 – 85 = 169
58 Donald Labaj * 84 – 85 = 169
62 Dave Kaldy * 86 – 86 = 172
63 Ron Rositani * 87 – 86 = 173
64 Stephen Baker 82 – 92 = 174
64 Dale Feith * 88 – 86 = 174
66 Kevin Breen * 88 – 89 = 177
67 Dave Wible * 89 – 90 = 179
68 Richard Nester * 94 – 94 = 188
– Bob Wadsworth 76 – NC
MASTERS DIVISION AGE 60-69:
1 Randy Crider 74 – 72 = 146 $290.00
2 Larry Lahnan 73 – 74 = 147 $167.00
2 Scott Heran 74 – 73 = 147 $166.00
2 Steve Blackburn Sr. 76 – 71 = 147 $167.00
5 Jim Cea 74 – 74 = 148 $110.00
6 John Iosue 74 – 75 = 149 $80.00
7 Paul Woznicki 73 – 77 = 150 $65.00
8 Mike Iosue 74 – 78 = 152 $50.00
9 Jim Herchek 78 – 75 = 153
10 Mike Brady 79 – 74 = 153
11 Frank Livak 77 – 77 = 154
12 Ron Skirpstas 75 – 80 = 155
13 Monty Guest 76 – 79 = 155
14 Ray Prokop 74 – 82 = 156
15 Jeff Luken 81 – 75 = 156
16 Jeff Dean 77 – 80 = 157
17 Bob Dutton 78 – 79 = 157
18 Keith Pluto 79 – 80 = 159
19 Ron Miller 79 – 80 = 159
20 Mark Knevel 79 – 81 = 160
21 Gary Congin 76 – 85 = 161
22 Michael Mintz 77 – 86 = 163
23 Rick Moncol 79 – 85 = 164
24 Jack Cox 79 – 86 = 165
25 Greg Tayler 82 – 83 = 165
26 Sam Corabi 88 – 77 = 165
27 Raymond Najda 85 – 81 = 166
28 Mark Beltavski 80 – 87 = 167
29 Ron Benco 81 – 87 = 168
30 David Laudel 81 – 87 = 168
31 Greg Navis 82 – 86 = 168
32 Randy Steele 81 – 88 = 169
33 Steve Bedell 84 – 85 = 169
34 Donald Labaj 84 – 85 = 169
35 Dave Kaldy 86 – 86 = 172
36 Ron Rositani 87 – 86 = 173
37 Dale Feith 88 – 86 = 174
38 Kevin Breen 88 – 89 = 177
39 Dave Wible 89 – 90 = 179
40 Richard Nester 94 – 94 = 188
SUPER MASTERS DIVISION AGE 70+:
1 Joe Weidner ** 79 – 77 = 156 $155.00
2 Geoffrey Nicely ** 76 – 82 = 158
3 Gerald Musiel ** 84 – 77 = 161
4 Steven Steinhilber ** 81 – 84 = 165
5 Mike Lingo ** 85 – 81 = 166
SKINS
MONDAY SKINS: $285 ea
Allen Freeman – Eagle-3 on Hole #13
Scott Saari – Eagle- 3 on Hole #16
TUESDAY SKINS: $285 ea
David Trier – Eagle-3 on Hole #16
Dean Cutlip – Eagle-2 on Hole #17